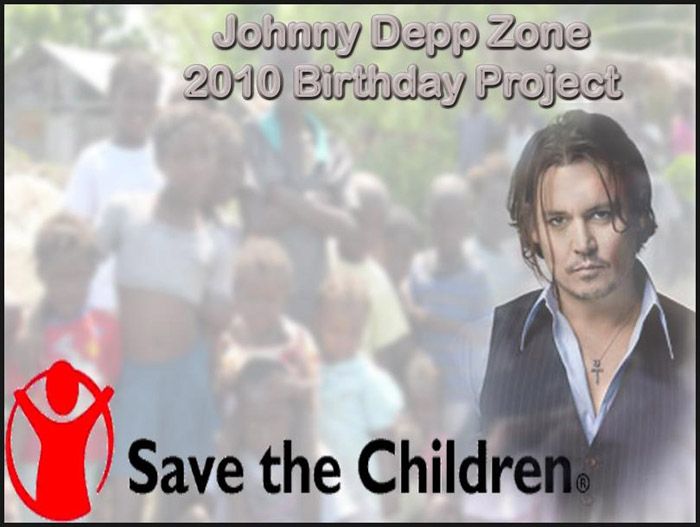 Guess what?
It's Birthday Project time again!


One of the Zone's most cherished traditions is our annual birthday gift for Johnny Depp.

Each year we choose a charity which is connected to Johnny's philanthropic interests—particularly his interest in helping children in need. We pool our modest contributions
and make a Zone donation to a worthy cause in honor of Johnny Depp, as a way of celebrating and thanking Johnny for all the joy he has given us over the year.

This year, Haiti's children desperately need our help. A massive earthquake struck the island nation on January 12, 2010, killing 220,000 people and leaving more than a million homeless and hungry, many of them children.

So the 2010 Birthday Project will benefit . . .

Save the Children's Haiti Emergency Relief for Children!

Save the Children has been assisting children and families in Haiti for more than three decades. Currently Save the Children has more than 800 staff members on the ground in Haiti. Since the earthquake, Save the Children, according to their website, "has reached an estimated 553,000 people — at least 240,000 of them children — with lifesaving and life-sustaining assistance" that includes "providing food, shelter, health, child protection, clean water, sanitation, education and livelihoods programs for affected families."

Save the Children has distributed food to more than a quarter of a million Haitians, provided access to clean water and sanitation facilities to more than 221,000 people, and provided classroom tents and supplies so 41 schools could reopen.

You can learn more about Save the Children's impressive work in Haiti here:



Their three-month report on "Helping Haiti's Children" explains what is needed and what can be done to make things better.

As in past years, the Zone has set up a Paypal account strictly for 2010 Birthday Project contributions to benefit Save the Children's Haiti Emergency Relief for Children.

This is the easiest way to donate and the best way for Save the Children, too. They deal with an enormous volume of donations and many, many fundraising events. They recommend sending one check from any organization (like the Zone) collecting multiple donations, so we ask you to donate via Paypal if at all possible: this simplifies their recordkeeping, and ours, too.





We will be accepting donations through Johnny's birthday, June 9, 2010.



In these times of financial hardship, we know that it is not easy to find money in the budget to donate to charity. But somehow Zoners always find a way to say "Happy Birthday" and "Thank You" to Johnny, and to help children whose need is far greater than our own. When we pool our small gifts together, we can do a lot of good for others.


Please join us in wishing Johnny Depp a very happy birthday, and in saying
for all the joy he has given us, by donating to the 2010 Birthday Project.




Part-Time Poet