This is a list of the past, present and future books of ONBC. The list contains only books that we've already discussed or that are actually on the calendar. They are organized by date and contain name, author and the reasoning behind choosing the book.

November 2003


Secret Window, Secret Garden

by Stephen King
Johnny was filming the movie (Secret Window) at the time we were reading it.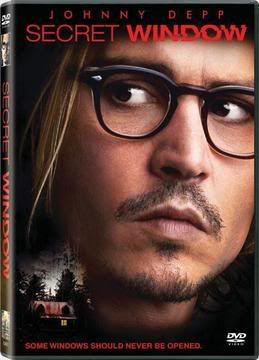 February 2004


Perfume, the Story of a Murderer

by Patrick Süskind
From
USA Weekend
"I'm re-reading it."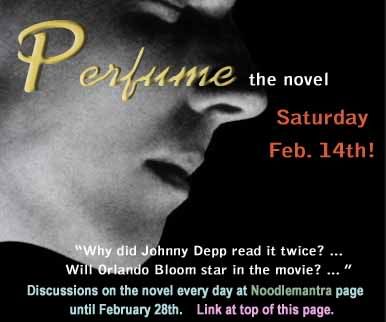 March 2004


The Time of Your Life

by William Saroyan
Taken from the
Le Musée Imaginaire interview
,
25 August 2002 (in reference to TTOYL)
JD: "Fantastic! Unbelievable! Just… crazy. Beautiful. And perfect. And a kind of -- for me, like a bible. A bible because, yeah: 'The time of your life' - which is tiny - live! And don't hold anything against others. But if someone comes in and you have to take care of it, you have to take care of it. Take 'em out."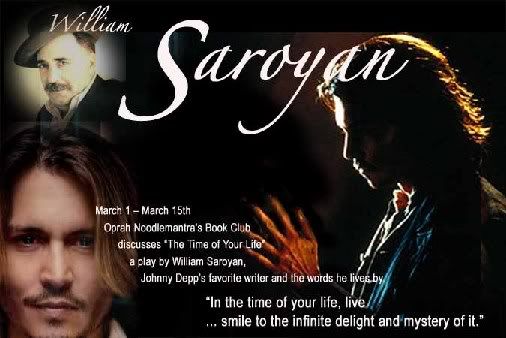 April 2004


The Rum Diary

by Hunter S. Thompson
Johnny Depp was supposed to have started filming this with Hunter and Benecio Del Toro in December 2003, but the movie was delayed. Apparently Johnny has taken over production, but there is no date as of yet on the filming.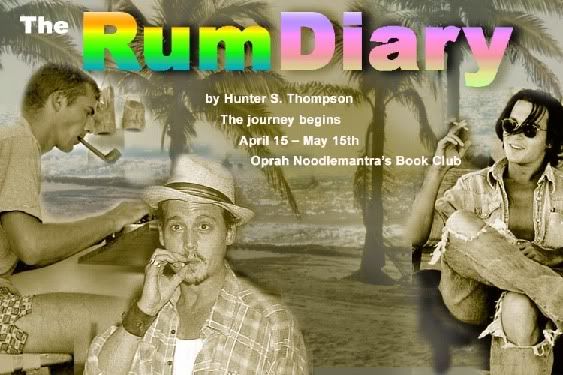 June 2004


On the Road

by Jack Kerouac
In

VIBE Interview

:


"On The Road was my bible for years. I went back and forth in my head about it. Do you do that to that book? The other side of me was saying jump on it, because someone else will do it and they'll f*** it up. But I decided it was one of those things you shouldn't touch. Just let the characters live in your head. Don't force images on people. They'll get their own if they read the book."




Also in an article written in his own hand:


THE NIGHT I MET ALLEN GINSBERG
An appreciation of KEROUAC, BURROUGHS, CASSADY and the other bastards who ruined my life

"I had found the teachers, the soundtrack and the proper motivation for my life. Kerouac's train-of-thought writing style gave great inspiration for a train-of-thought existence -- for better or for worse. The idea to live day to day in a 'true pedestrian' way, to keep walking, moving forward, no matter what. A sanctified juggernaut."




JD liked Jack so much he paid $15,000 for his raincoat and $10K for his tweed coat.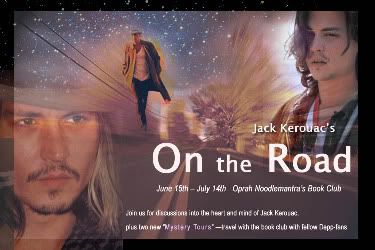 August 2004


J.M. Barrie and the Lost Boys

by Andrew Birkin
The bio of the author of Peter Pan played by Johnny Depp in Finding Neverland. Johnny was subsequently nominated for Critics Choice, Golden Globe, BAFTA, SAG and an Academy Award.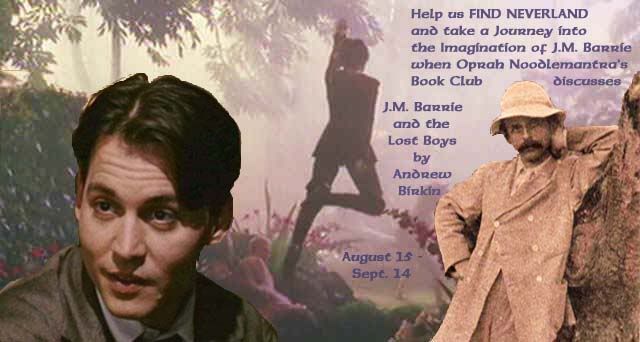 October 2004


The Libertine

by Stephen Jeffreys
Johnny Depp's film of the same name is based on this play.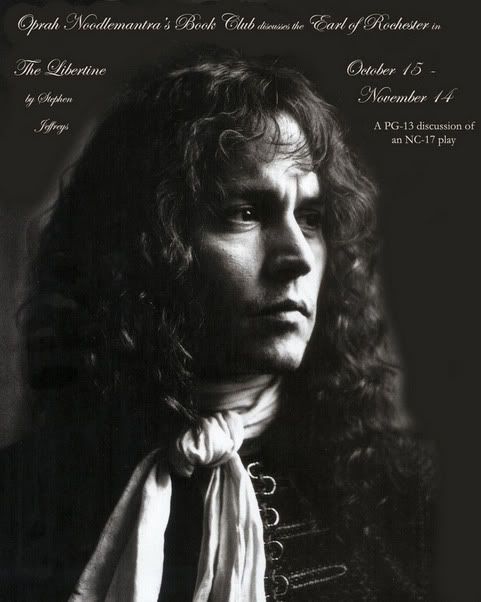 January 2005


Fierce Invalids Home from Hot Climates

by Tom Robbins
Johnny recommended it in
In Style Magazine, Culture Club Celebrity Tips on What to Spin, Rent and Read,
pg. 260.
"It's about a CIA agent who has a taste for sex, drugs and rock and roll, plus the supernatural. What a combo."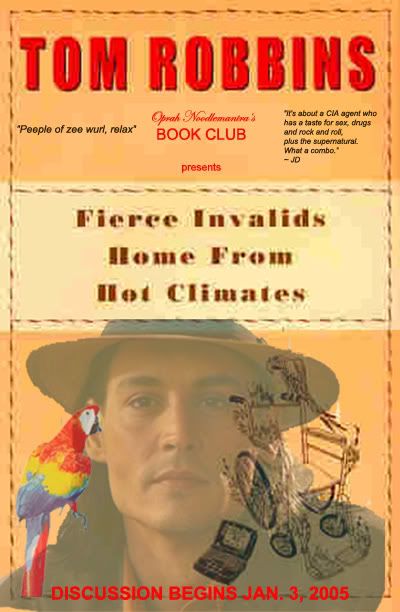 March 2005


Charlie and the Chocolate Factory

by Raold Dahl
CATCF was released in July 2005. Johnny was subsequently nominated for best actor in a musical or comedy for his role as Willy Wonka at the Golden Globes.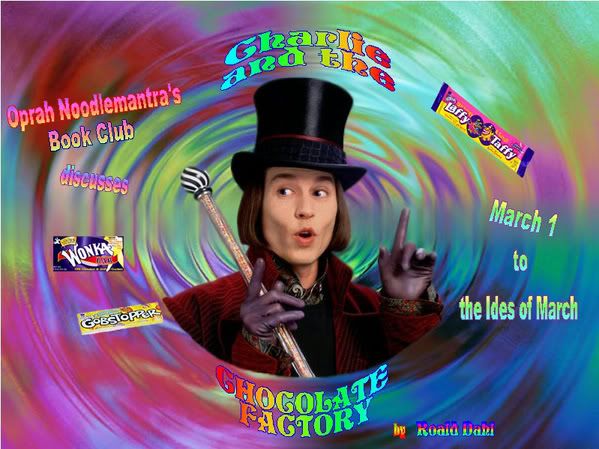 May 2005


Shantaram

by Gregory David Roberts
Johnny's production company, Infinitum Nihil, has purhcased the rights to Shantaram; and Johnny will star as the Australian adventurer, Lin.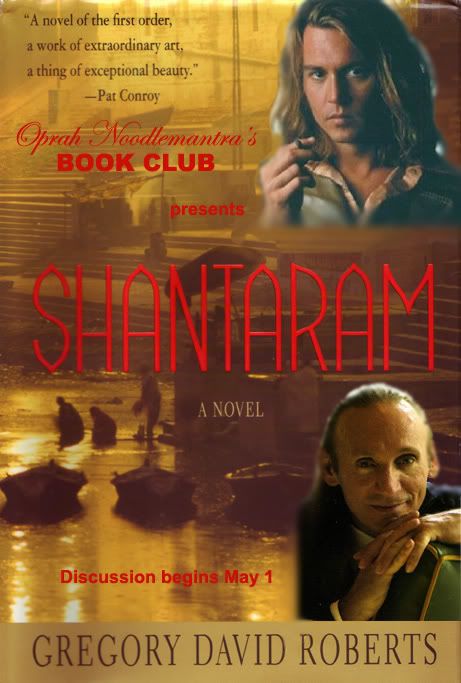 July 2005


I, Fatty

by Jerry Stahl
Johnny has always been a fan of the early silent film actors. I, Fatty is another book recommended by Johnny and also a movie to be made by his production company.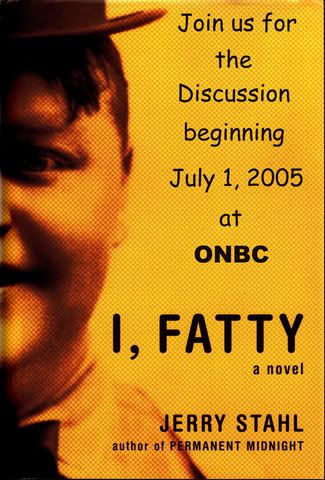 September 2005


Fear and Loathing in Las Vegas

by Hunter S. Thompson
Johnny was a great admirer of Hunter S. Thompson's writing and a very good friend of his. Johnny spoke fondly of Hunter S. Thompson on the Tonight Show, July 2005:
"Hunter S. Thompson was…is still one of the most important writers of the 20th Century, as far as I am concerned. He wrote a classic book called Fear and Loathing in Las Vegas."
Depp starred as the man himself in Fear and Loathing in Las Vegas, the movie.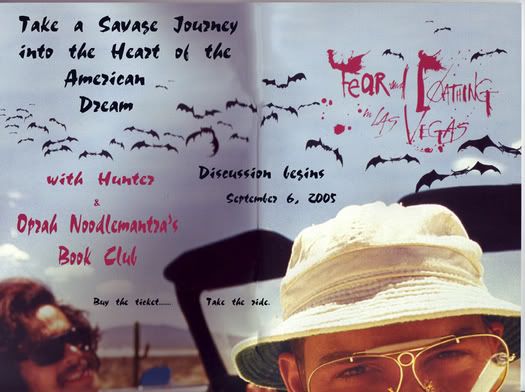 November 2005


A Long Way Down

by Nick Hornby
ALWD was also optioned by Infinitum Nihil.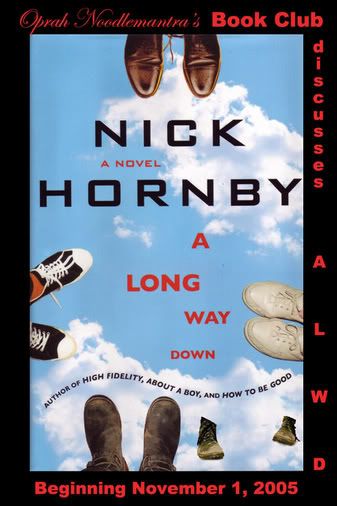 February 2006


Inamorata

by Joseph Gangemi
Another future IN production.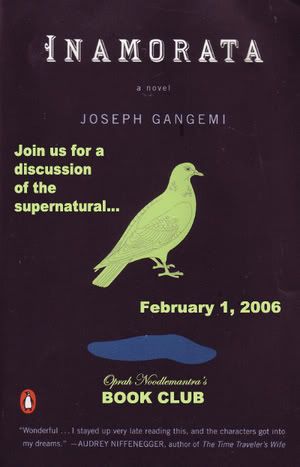 April 2006


The Ginger Man

by J.P. Donleavy
From the Irish Independent, January 21, 2006:
"Donleavy has a new spring in his step following the news that Johnny Depp, an admirer of Donleavy's work, wants to bring The Ginger Man to the screen. The pair recently met up in New York and got on swimmingly. Depp will try where countless others - including John Huston and Robert Redford - have failed."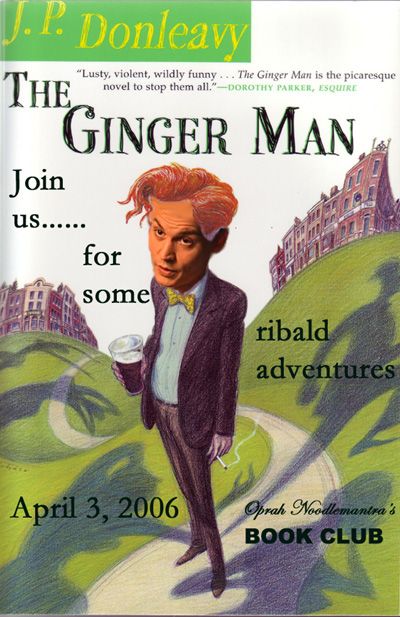 June 2006


Chocolat

by Joanne Harris
Johnny starred in the part of Roux in the 2000 movie adapted from the novel.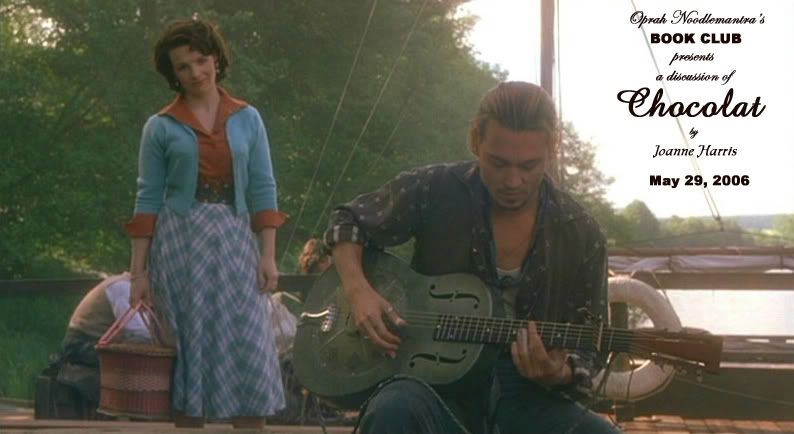 August 2006


Good Omens

by Neil Gaiman and Terry Pratchett
Johnny was slated to star with Robin Williams in Terry Gilliam's production of the novel, but funds for the project fell through.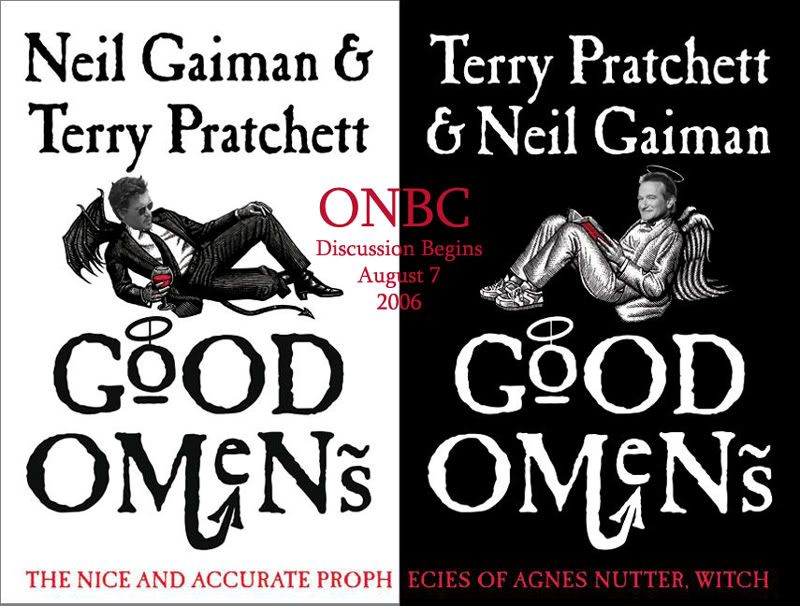 October 2006


Sweeney Todd: The Demon Barber of Fleet Street

by George Dibdin Pitt
This collaboration with Tim Burton was released in December 2007. It earned Johnny his first Golden Globe Award, and the film a GG also, both in the Musical/Comedy category. Johnny was also nominated for an Oscar for his performance as Sweeney Todd.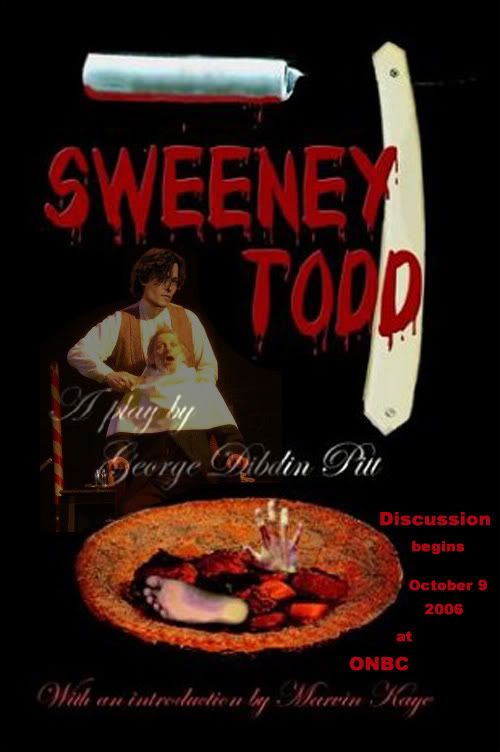 December 2006
Happy Days by Laurent Graff
Another future IN production. The last word (from Le Parisien) is that filming is planned to begin in 2008.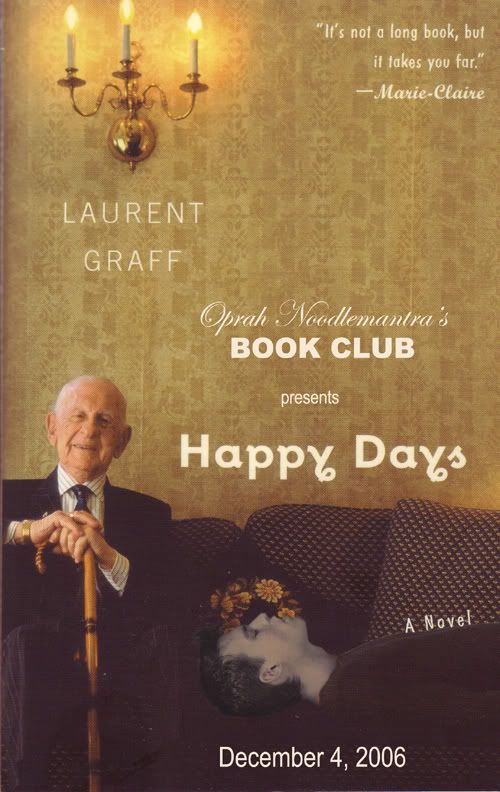 February 2007
The People's Act of Love by James Meek
Another future IN production. Johnny is quoted as saying:
"As with any great work, James Meeks' The People's Act of Love is bound to raise comparisons – and as in almost all cases, being wrangled into that snare is a trap that should be avoided at all costs. This incredible book should and will rest on its own laurels as a treatise on the complicated nature of love and humanity. The author has himself earned every brilliant word, sentence and chapter of this divine masterpiece."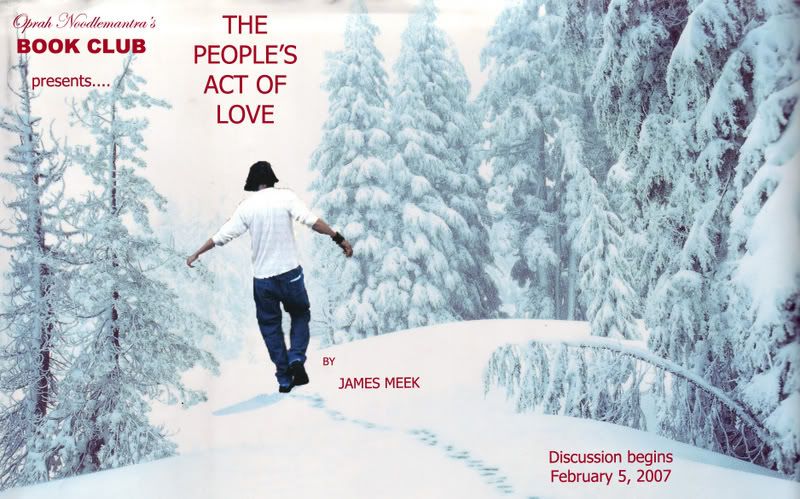 April 2007
What's Eating Gilbert Grape by Peter Hedges
Johnny starred as Gilbert Grape in the 1993 movie adapted from the novel.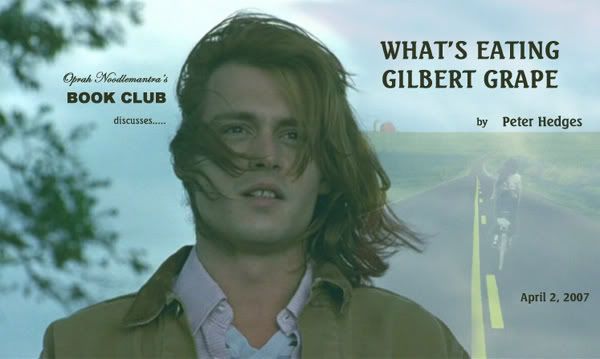 July 2007
The Bomb in My Garden by Dr. Mahdi Obeidi & Kurt Pitzer
Another future IN production. From the Robert Edwards (writer/director) website:
"Currently, Edwards is adapting the book THE BOMB IN MY GARDEN for Warner Brothers, Initial Entertainment Group, and Johnny Depp's production company Infinitum Nihil. "The Bomb in My Garden," co-written with journalist Kurt Pitzer, is the memoir of Dr. Mahdi Obeidi, who until his escape from Iraq in 2003 had been the architect of Saddam Hussein's covert program to enrich uranium for a nuclear weapon."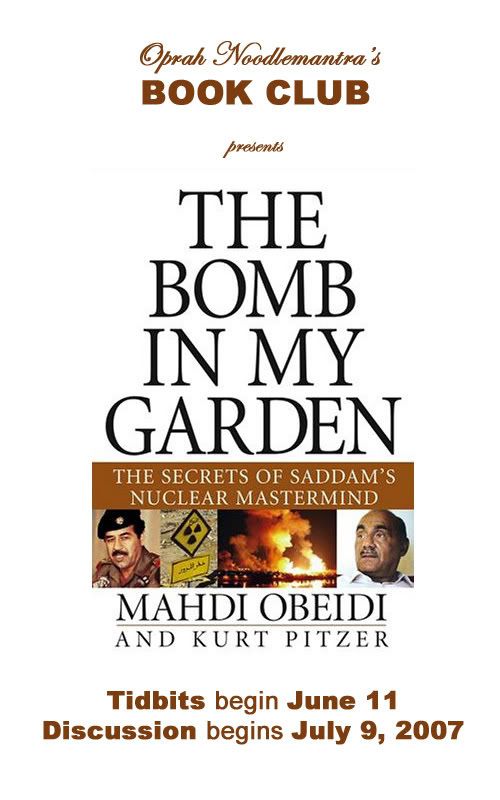 September 2007


Wait Until Spring, Bandini

by John Fante
Johnny was originally supposed to write an introduction for this book. In fact, Amazon UK and Canongate were both advertising it on their websites. That is why we chose the book. But when Noodlemantras began receiving their copies in the mail from Amazon, they found the intro to be written by John Fante's son, Dan. We thought Amazon had sent the wrong books out. After much persistence from us, the managing editor of Canongate (the publisher) emailed the following to Liz and explained the confusion:
"Johnny Depp was writing an introduction to this, but became so busy with filming and also with his daughter being ill, that in the end - despite delaying publication considerably - we had to go ahead and publish without his introduction, using Dan Fante's excellent and knowledgeable words instead. It's possible Johnny Depp may produce an introduction at some point in the future, as he is a big fan of John Fante's."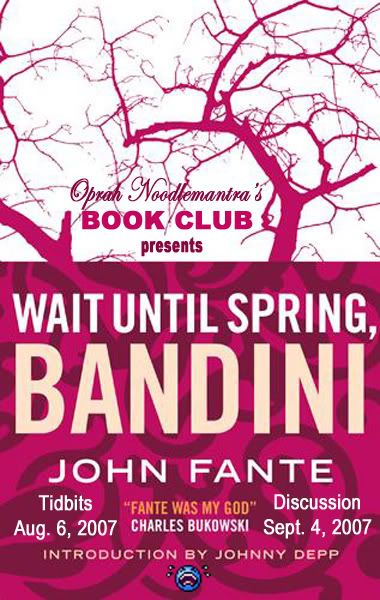 November 2007


Ask The Dust

by John Fante
Being that we know that Johnny is a "big fan of John Fante's", why not continue the adventures of Arturo Bandini and read Fante's most well-known novel and a favorite of Charles Bukowski's.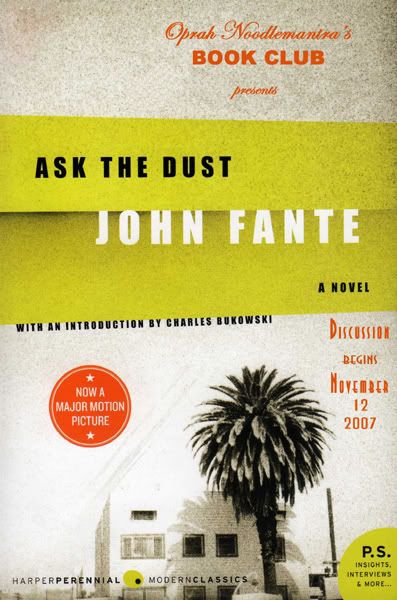 February 2008


Public Enemies

by Bryan Burrough
Johnny is currently filming Public Enemies, based on Burrough's true account of the public enemies of 1933-34 and the birth of the FBI. Johnny is cast as Public Enemy #1 – John Dillinger.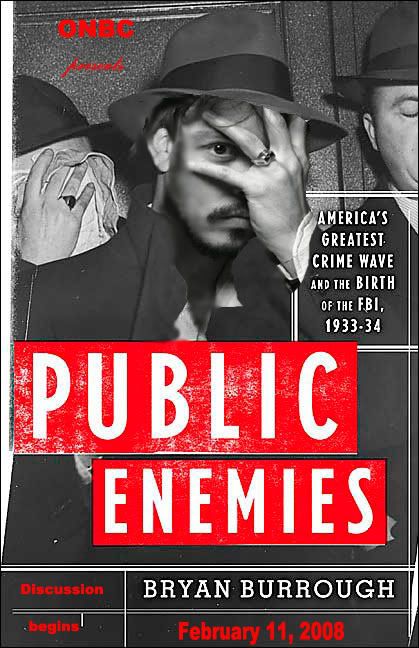 May 2008


The Diving Bell and the Butterfly

by Jean Dominque Bauby
Producer, Kathleen Kennedy, wanted Johnny to play Jean Dominique Bauby in the film, The Diving Bell and the Butterfly. And Johnny wanted Julian Schnabel to direct. Schnabel remained with the project. However, in the end, Johnny was unable to play Jean-Do due to his commitment to Pirates.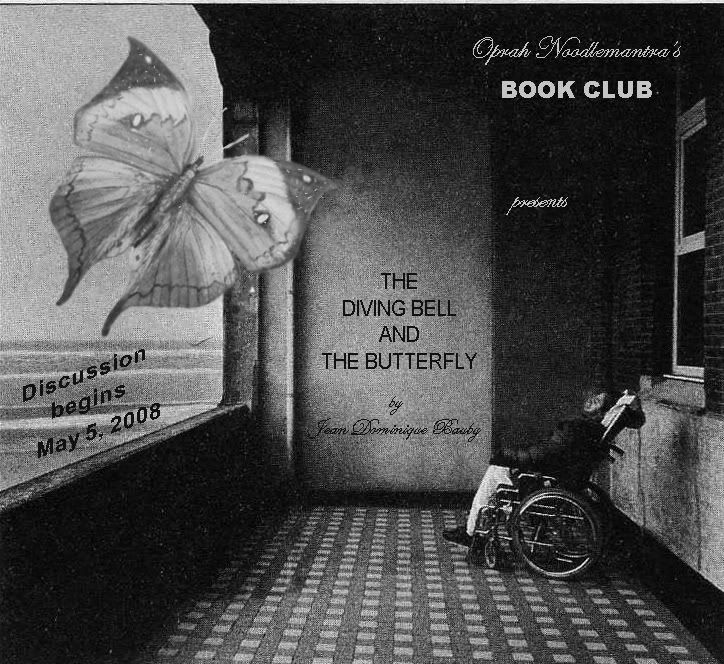 August 2008
The Club Dumas by Arturo Pérez-Reverte
The Club Dumas was the inspiration for the film, The Ninth Gate (1999), in which Johnny Depp plays Dean Corso (Lucas Corso in the book).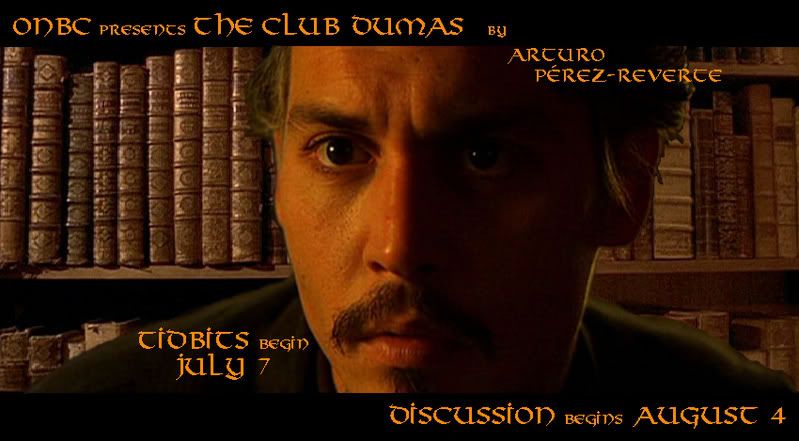 October 2008
A Moveable Feast by Ernest Hemingway
Johnny has mentioned AMF numerous times, and his fondness for Paris and the era of the 1920s. Ernest Hemingway was also one of Hunter S. Thompson's favorites.
From
The Irish News:
"When I was a kid reading Ernest Hemingway's reminiscences of Paris in the 20s, I thought, 'that's what I want to do. That's where I want to go'. Now I'm there and I love it,"
From
La Repubblica (Italian daily):
"I was charmed by France and its way of life as I read Hemingway's A Movable Feast, and I went to Paris two and a half years ago and I met Vanessa so I never left."
From
Rolling Stone - 30TH ANNIVERSARY SPECIAL:
"It's not easy in Hollywood. It's all about trying to force commerce and art together. I don't think that's possible. I don't believe movies can be art now. We accept formula. And people don't read. That's a drag. When you read A Moveable Feast, by Ernest Hemingway, and you look at how he and Fitzgerald were living in Paris as expatriates in the Twenties it's unbelievable that somebody could have lived that life. The newness of experience it's unfair that we don't get it."
January 2009
The Glass Books of the Dream Eaters by Gordon Dahlquist
On August 25, 2008, The Hollywood Reporter announced that (Jayson) "Rothwell, repped by Paradigm and Zero Gravity Management, is writing "Glass Books of the Dreameaters" [by Gordon Dahlquist] for Warner Bros. and Johnny Depp's Infinitum Nihil."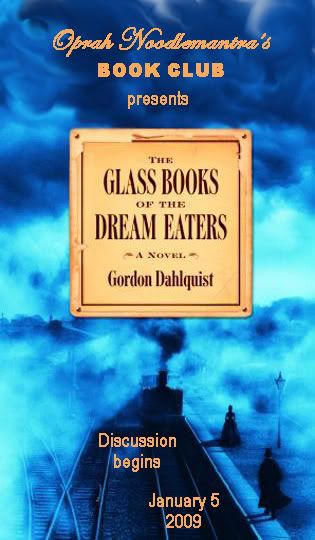 February 2009
Parallel Worlds by Dr. Michio Kaku
In the wee hours of the morning on August 30, 2008 (after the Kids Concert at Club Cinema, Pompano Beach, FL), Johnny shared with Noodlemantra Charlene that he was currently reading Parallel Worlds:
"It's a bit scientific, but it's good."
April 2009
Loser's Town by Daniel Depp
A first novel full of Hollywood intrigue by Johnny's brother, Daniel Depp.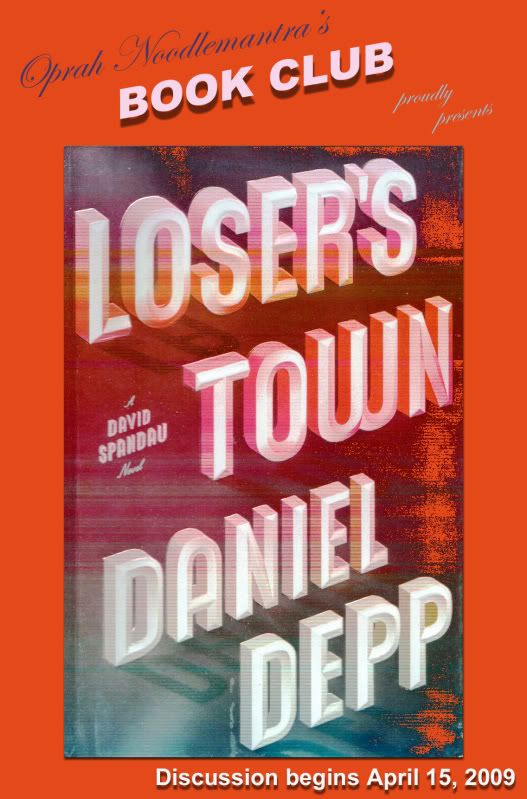 July 2009
Dillinger - The Untold Story by William J. Helmer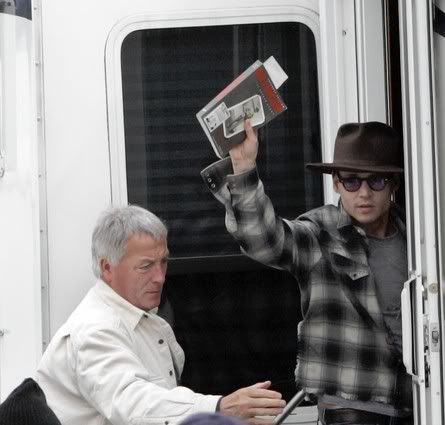 Johnny on the set of Public Enemies reading about his character,
John Dillinger.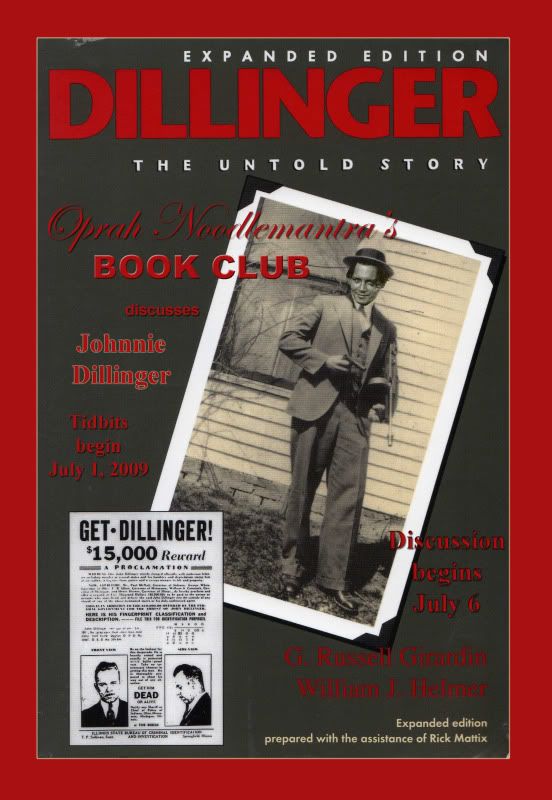 September 2009
Attica by Garry Kilworth
Kilworth's book about three intrepid explorers in a fantastical world
has been optioned by Infinitum Nihil.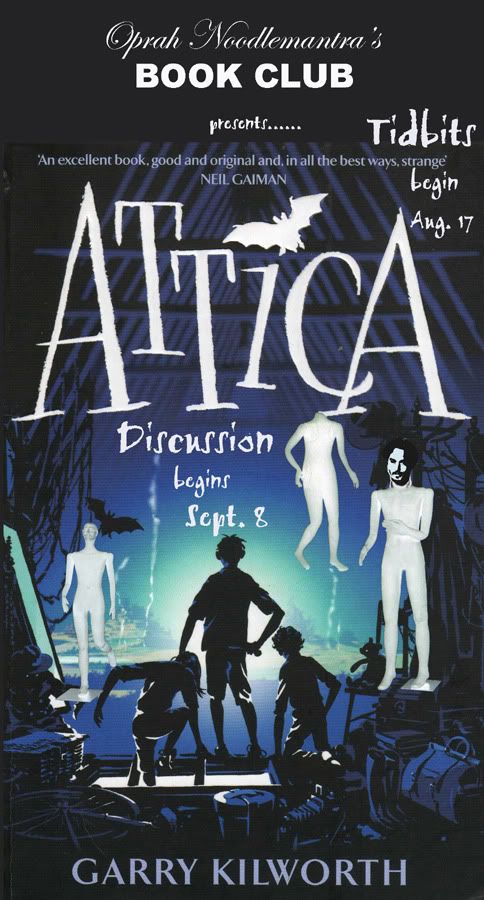 February 2010
(we were late for an important date)
Alice's Adventures in Wonderland & Through the Looking Glass and What Alice Found There by Lewis Carroll
Johnny and Tim Burton reunite for their 7th film in a sequel to Lewis Carroll's Alice's Adventures in Wonderland and Through the Looking Glass.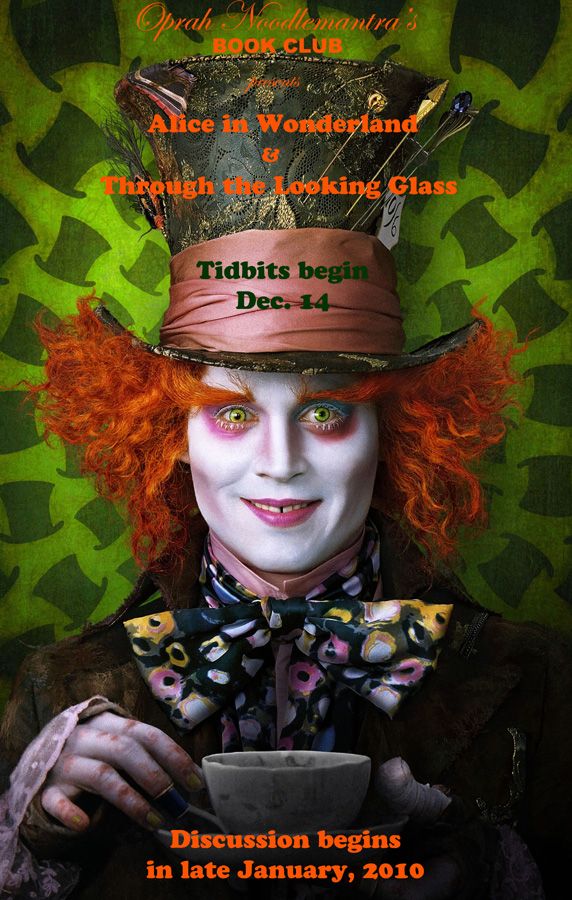 April 2010
The Rum Diary by Hunter S. Thompson
Hunter's novel was first discussed on ONBC in April of 2004. In celebration of the release of the film we revisited Paul Kemp in Puerto Rico (although the film was delayed until October 2011).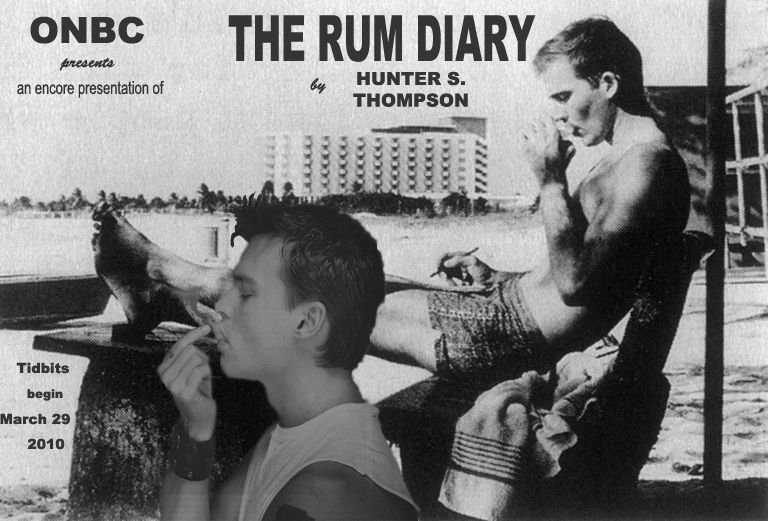 July 2010
The Invention of Hugo Cabret by Brian Selznick
Infinitum Nihil is the production company producing Martin Scorsese's film by the same name, which is slated to be released in November 2011 (according to IMDb).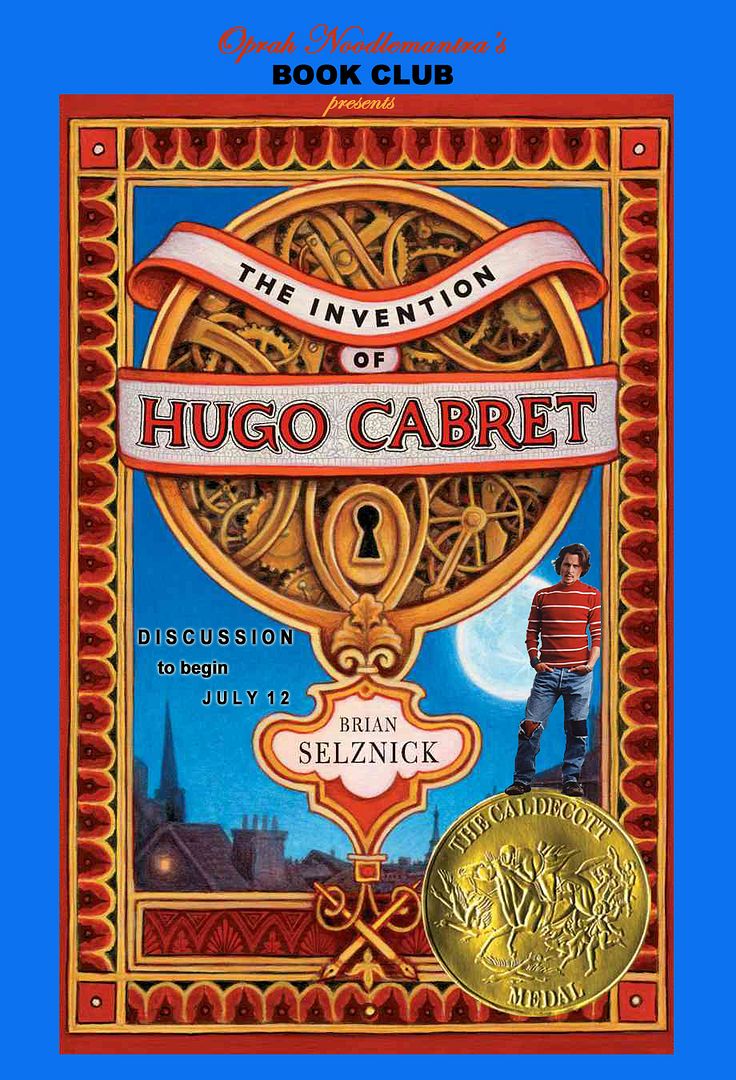 October 2010
A Transatlantic Love Affair - Letters to Nelson Algren from Simone de Beauvier
In the winter of 2010, news came out that Johnny Depp and Vanessa Paradis are slated to make My American Lover together with Lasse Hallström directing. It is said to be based on the letters of Simone de Beauvier to her American lover, Nelson Algren. According to IMDb, the film is "in development."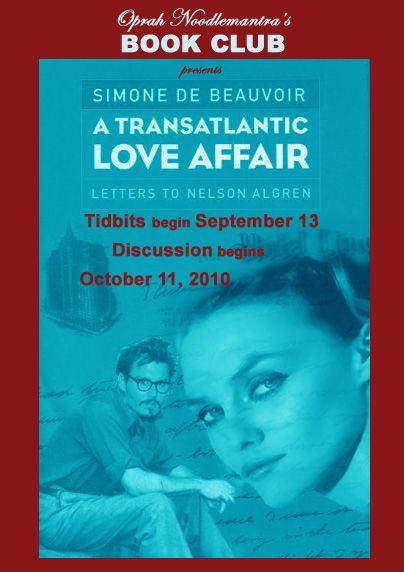 January 2011
Babylon Nights by Daniel Depp
Babylon Nights is the second in a series a planned series of three by Johnny's brother, Daniel, on the adventures of private detective, David Spandau.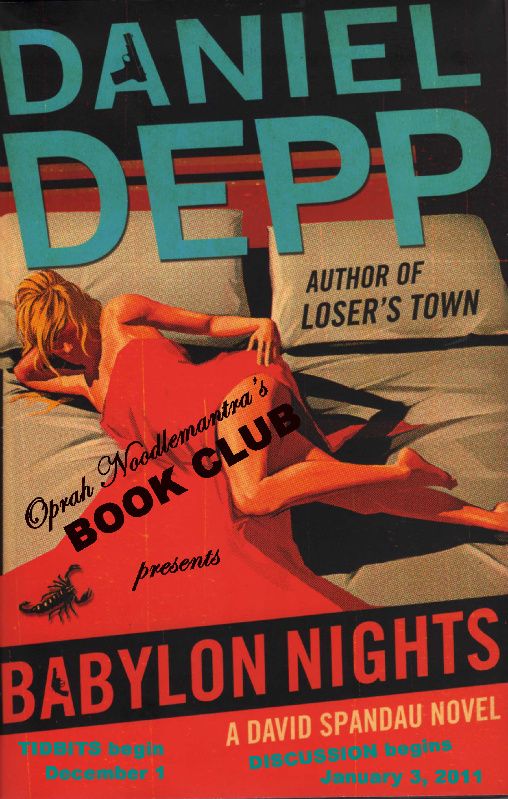 March 2011
On Stranger Tides by Tim Powers
On Stranger Tides was the inspiration for the POTC series and the name of the most recent POTC film.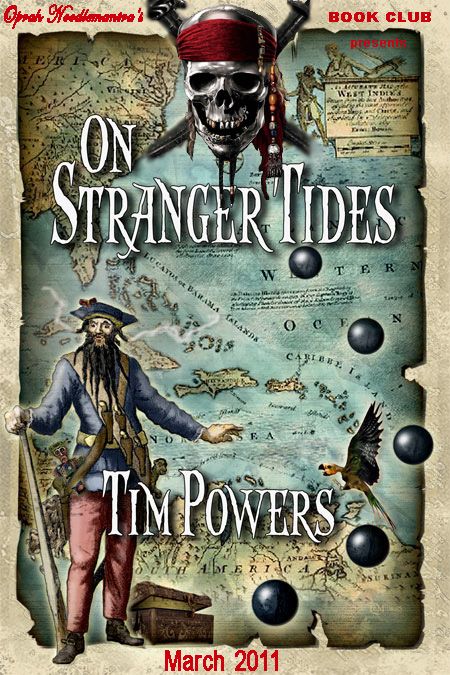 July 2011
The Price of Freedom by A.C. Crispin
The Price of Freedom is the back story of Captain Jack Sparrow published by Disney.