Dear friends and fellow Zoners,

I have some very happy news to share with all of you. That happy news is a letter from Johnny Depp—yes, the man himself—thanking the Zone for his birthday gift.

How very generous of JD to interrupt his vacation at Plan de la Tour to write to us! I am continually amazed and astonished by his kindness. I really don't know what to say to express my gratitude: some gestures bankrupt words, and Johnny Depp is a master at doing that, as those of you who have met him face-to-face can testify. My heart is so full of wonder and amazement that I cannot describe it.

Wow.

I will post the letter here in a boardsize version; click on the thumbnail below to see it full-size.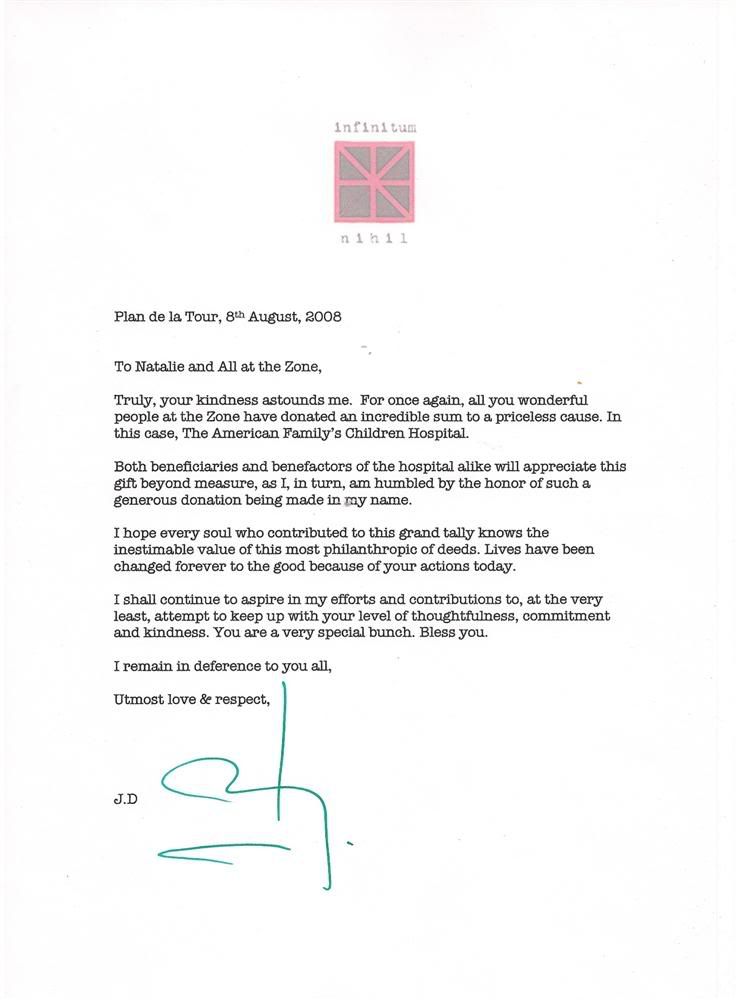 I offer my deepest thanks to all of you who contributed to this year's Birthday Project in support of American Family Children's Hospital. You somehow found the resources to help others, even in this year of great economic hardship, and I think you are absolutely amazing.
You have had the satisfaction of knowing you gave comfort to sick children and worried parents; now you have the pleasure of receiving a thank-you from Johnny Depp himself. The sweetness of this moment belongs to you.

We thank Johnny Depp very much for his beautiful letter and for including us in his world. To have his "utmost love and respect" is the greatest compliment the Zone could ever receive. We will cherish his kind words always—and we send our utmost love and respect right back to him, every day.




Natalie/Part-Time Poet