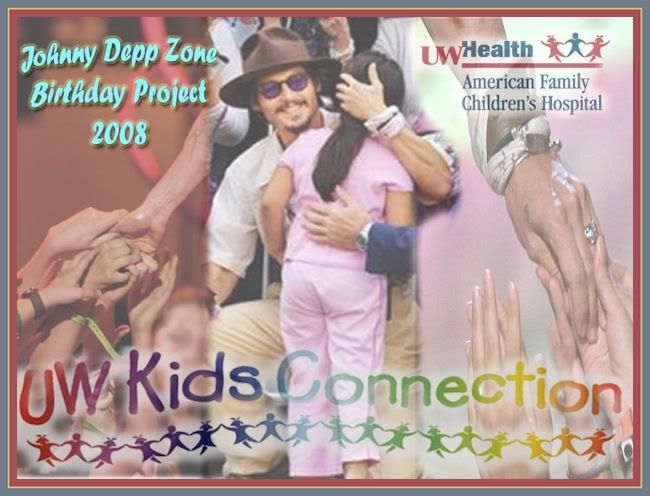 It's Birthday Project time again!


One of the Zone's favorite traditions is our annual birthday gift for Johnny Depp, in which we pool our modest contributions and donate them to a worthy cause in honor of Johnny and all the joy he has given us over the year.

This spring has been an extraordinary one for all of us who love Johnny Depp. The filming of PUBLIC ENEMIES has brought JD out into the public day after day (and night after night), as he stopped to say hello and shake hands with thousands of well-wishers. Many Zoners attended those meet-and-greets in person, and have generously shared their photos and first-hand accounts with us; and everywhere that PUBLIC ENEMIES has traveled, local journalists, bloggers and photographers have shared every moment of the filming process with the world. For those of us living far away, it has been as if we were invited onto the set ourselves. What a joy!

We thought it would be fitting for this year's Birthday Project to give something back to the area which has been Johnny's home this spring, and which has given him—and all of the thousands of Depp-related visitors—such a warm welcome and so many cherished memories. Without the state of Wisconsin and its timely film incentives, we might not have had the great pleasure of PUBLIC ENEMIES at all, so we have chosen a Wisconsin charity for our project this year:

American Family Children's Hospital in Madison, Wisconsin.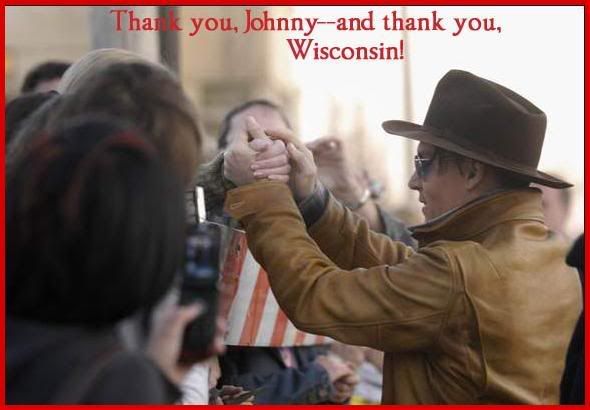 American Family Children's Hospital is a complete children's medical and surgical center with a pediatric intensive care unit, an internationally recognized transplant surgery program, a children's cancer center and—very important!--a family-friendly atmosphere. It is the pediatric unit of UW Health, the academic medical center and health system for the University of Wisconsin (director Michael Mann's alma mater). You can read more about American Family Children's Hospital here:



And you can take a video tour of the hospital here:





We will be making our donation to the Child Life fund at American Family Children's Hospital.

The Child Life fund helps make the hospital stays of ill children and their parents and siblings more pleasant, bringing some unexpected comfort into a trying time. The Child Life fund provides toys and games for the children, and supports an on-site school for those who want to continue their studies while undergoing treatment. The Child Life fund gives birthday and end-of-treatment parties to mark milestone events. It also feeds the weary, worried parents so they don't have to leave their sick child's room to find nourishment. We chose Child Life from several charitable options, because it seems to echo what Johnny Depp gives us in his public appearances—that special moment of warmth and consideration
that lifts our spirits and chases away the stress of daily life.

You can learn more about the Child Life program here—and don't miss the video tour of the playroom:





The Zone has set up a Paypal account strictly for 2008 Birthday Project contributions to benefit the Child Life fund at American Family Children's Hospital. Members with a Paypal account who would like to make a donation in any amount can donate to the 2008 Birthday Project here:







If you would prefer to donate directly to the Child Life fund at the hospital, you can use their website here:



If you donate directly via the hospital website, in order to have your donation count toward our Birthday Project total,

please enter Johnny DEPP ZONE BIRTHDAY PROJECT 2008 in the first box

, after "Gift Option." Please email theresa@johnnydepp-zone.com with your screen name and the amount of your donation, so we can add you to our donor list and keep our donation totals accurate.

We will be accepting donations through Johnny's birthday, June 9, 2008.


I know these are rough times financially for many Zoners, and rising prices are pinching all our pocketbooks. In times like these, kindness and generosity
mean more than ever. As we know from the past, when we pool our small gifts together,
we can do a lot of good for others. Please join us in wishing Johnny Depp a very happy birthday, and in saying
for all the joy he has given us.




Part-Time Poet