Dear friends and fellow Zoners,

When we began this year's Birthday Project in support of Great Ormond Street Hospital, I never imagined writing a post like this one, and I am finding it very hard to locate words to express the tremendous joy and gratitude—the sheer amazement—that is in my heart. All I can do is to tell you what happened, and hope that your own souls can supply the emotions that my inadequate prose cannot convey.


Earlier this week I received a letter by Federal Express, sent from London and dated November 27th. It came from Johnny Depp and was addressed "To Natalie and All at the Zone" . . . and it was a thank-you message for this year's Birthday Project!


Yes—in the middle of all the hubbub of the SWEENEY TODD press junket, Johnny Depp stopped to write to the Zone. What an extraordinary act of kindness . . . now you see why I don't know what to say, except Thank you very much and How amazing! I hope that wherever he is, Johnny knows how deeply moved we all are by his message, how much we appreciate his thoughtfulness, and how happy we are that he and his family are thriving and well this holiday season. I will cherish this message always, and I hope you will too, because this letter is for all of you who call the Zone home.


I am posting a scan of Johnny's letter in black-and-white because it is easier to read; that is followed by a link to a scan of the original letter: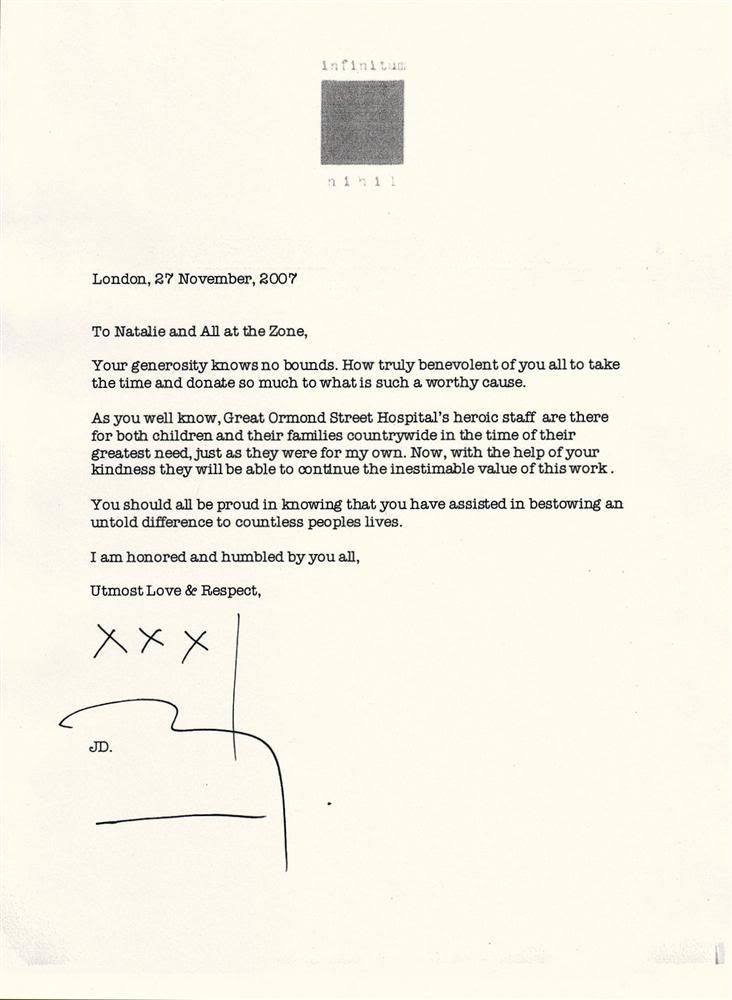 http://img.photobucket.com/albums/v13/P ... lorbig.jpg



Our "utmost love and respect" is what the Zone has always given to Johnny; what a joy to learn that he returns those feelings.


Thank you a thousand times to all our wonderful donors for making this year's Birthday Project so successful, and may the happiness you have given warm your heart this holiday season.




Natalie/Part-Time Poet
JDZ Webmaster