A final word on the Zone's 2007 Birthday Project:

We raised a grand total of $5,000 for Great Ormond Street Children's Hospital this year. Congratulations and a huge
to all who donated in Johnny's honor.

The process of translating from dollars to British pounds is complicated at best; furthermore, although most of our donations--$4,818 worth--came in to the Zone via Paypal (and were then sent via bank check to GOSH), some of our members donated directly to GOSH, in either pounds or dollars, and those donations came in at different times, so the exchange rates varied over the course of the campaign. This gave our contact at GOSH a real headache, to try to determine an end-total for the campaign in pounds.
It is also almost certain that the actual total given by Zone members is higher than GOSH's records show, since not all of the private donations we heard about from members were tagged as being specifically for the Birthday Project. So we'll stick to $5,000 as a total . . . it's simple and easy to remember.

And it's absolutely amazing.


Here is an official thank you letter I received from Great Ormond Street Children's Hospital (I have removed some personal information which I wouldn't want circulating around the Internet):




When I received this letter in late September, I realized that there was one private donation missing from GOSH's calculations (at least—as I said, there may be others that we don't know about), so rather than have the official total be "off" by $30, I sent a personal check to GOSH to duplicate that member's donation. I have just received another letter from GOSH confirming receipt of my check, so now the Johnny Depp Zone has officially donated $5,000 to Great Ormond Street Children's Hospital in honor of Johnny Depp's birthday.

Woo hoo!


If you have wondered what your donation might be used for, here is a brochure sent to me by GOSH that sheds some light on that subject: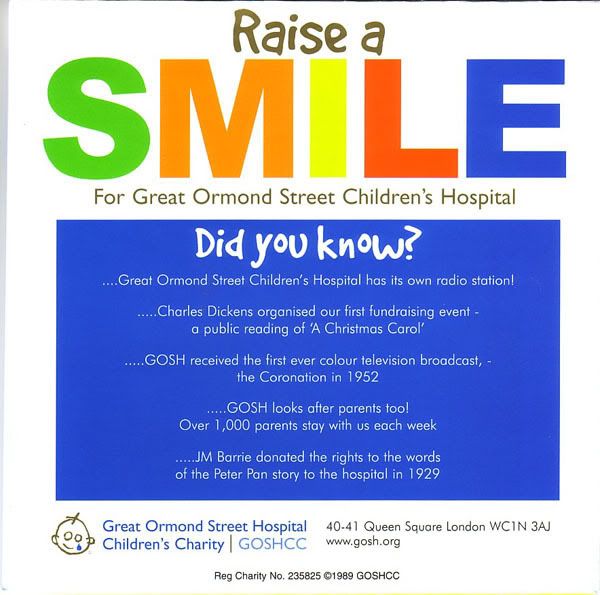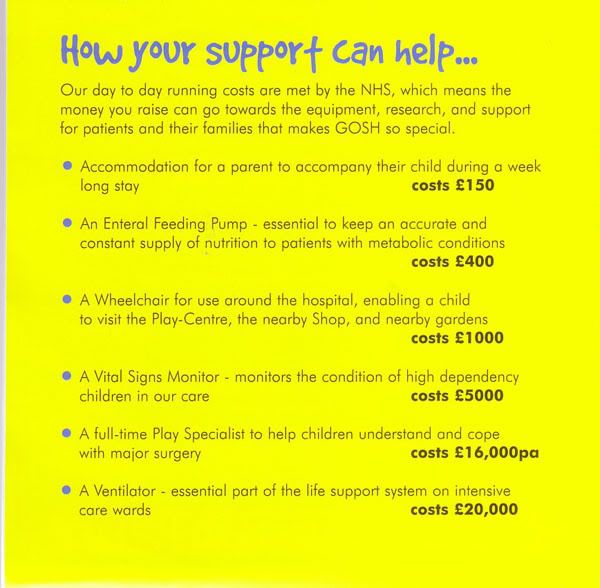 I am always astonished by the generosity of the Zone's members. I know how many of us are living on tight budgets and have to choose if we will eat lunch or go to one more matinee showing of Johnny's latest film. (Ah . . . who needs lunch?) Individually, most Zoners could never hope to give a charitable donation that reached into three figures, let alone four. Now the Zone is very close to having donated $10,000 to children's charities in the past two years . . . and if you count the donations for hospice bracelets, we are well over $10,000.

You have taken your love and admiration for Johnny Depp and turned it into a way to do good in the world—to bring comfort and help to seriously ill children and their families. It is a gesture worthy of the man who inspires us all. Cheers to all of you,
and may you be blessed in return.

Happy Thanksgiving!




Part-Time Poet