Dear friends and fellow Zoners,

I have some wonderful news to share with all of you! We have received a letter from Johnny Depp—yes, the man himself—sent from The Lone Ranger location in Creede, Colorado, thanking the Zone for his birthday gift.

What a beautiful gesture from Johnny! I'm amazed and humbled to hear from him so quickly--his birthday was just one week ago. I think his response says volumes about how deeply he cares about the Navajo people . . . and maybe it says something very kind about how he feels about our Zoners as well.

It is with the deepest happiness and pride in all of you and your generous hearts that I share Johnny's words with you. You can be truly proud of what you have done for Project Pueblo and for the Navajo families they will be helping this summer. Please accept Johnny's words as a tribute to you, with my heartfelt thanks for all you have done.

I will post the letter here in a boardsize version; click on the link below to see it in a larger version.

And do print out a copy to keep in your Depp files--this letter is for you!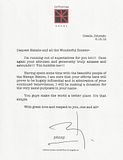 On behalf of all the members of the Zone around the world, I want to thank Johnny Depp very much for his beautiful letter and for including us in his world. To have his "great love and respect" is the highest compliment the Zone could ever receive. We will cherish his kind words always—and we send our great love and respect back to him, every day.

We thank Johnny for bringing us together and inspiring us to make the world a better place. As individuals, we would never have accomplished what we have learned to do as Zoners. So thank you, Johnny, for helping us to find our best selves, and to act on our highest impulses. It is our great privilege to follow where you lead.






Natalie/Part-Time Poet