Dear friends and fellow Zoners,

What a way to celebrate the Zone's 7th Birthday! We have received a letter from Johnny Depp—yes, the man himself—sent from London, thanking the Zone for his birthday gift.

How kind of JD to take time from his work on Dark Shadows to write to us! It's hard to find words to express my gratitude—amazed, honored, and that JD favorite "stupefied" come to mind, but they barely scratch the surface. I am particularly delighted to be able to share this letter with all the contributors to this year's Birthday Project; I know it will bring you joy. Bring you joy? It will knock you off your feet! You'd better sit down before you read it.

Wow.

I will post the letter here in a boardsize version; click on the link below to see it in a larger version.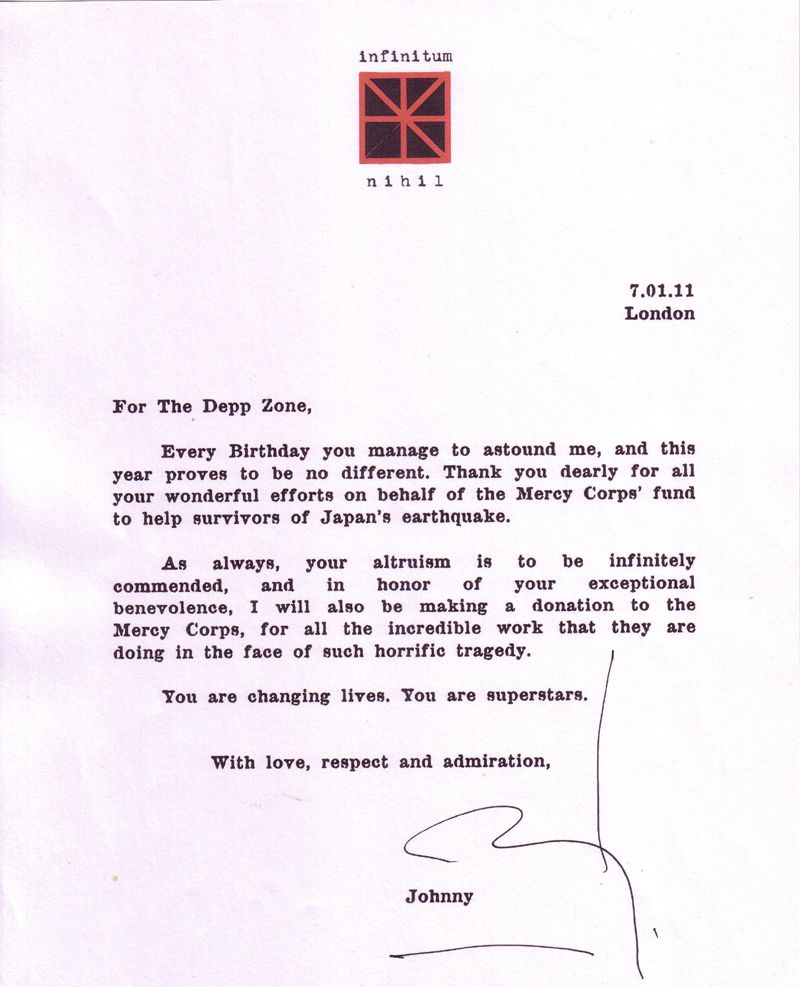 Many, many thanks to everyone who contributed to this year's Birthday Project in support of Mercy Corps' Fund to Help Survivors of Japan's Earthquake. I know this was not an easy year to give to others—times are tough and budgets are lean. But your compassion led you to want to help our friends in Japan, and to answer JD's personal call for donations. I hope you are proud of what you have done to comfort those who have borne this tragedy—I am so proud of all of you, and of the generous spirit of the Johnny Depp Zone. Now you have the pleasure of receiving a thank-you from Johnny Depp himself. The sweetness of this moment belongs to you.

We thank Johnny Depp very much for his beautiful letter and for including us in his world. To have his "love, respect and admiration" is the greatest compliment the Zone could ever receive. We will cherish his kind words always—and we send our love, respect and admiration back to him, every day. But with all due respect, JD, the word "superstar" belongs properly only to you, not us. You are the one who changes lives: you have changed all of our lives for the better, and through your example have led us to help others. We will always be grateful to you for bringing us together and encouraging us to make the world a better place. It is a privilege to follow where you lead.






Natalie/Part-Time Poet