GARRY KILWORTH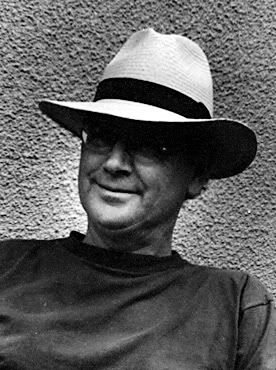 "I love writing. If it were outlawed tomorrow I would be a criminal. It's a compulsion."
– Garry Kilworth, GK official website
Garry Kilworth's writing has spanned many genres, drawing audiences quite varied in age. He has published science fiction, mystery, fantasy, horror, family sagas, historical fiction, and more than two dozen young adult titles. Kilworth says of himself and his website:
"I like to do something different each time, so if you want an author who has a string of books set in the same world with the same characters you're in the wrong web site."
Kilworth was 20 when he wrote his first full-length novel, a children's book that has never been published. His break came in 1974 when one of his science fiction short stories won the Gollancz/Sunday Times short story competition. Three years later his first novel, In Solitary, was published. Like several of his other science fiction titles, In Solitary concerns itself with the human race of the future and its efforts to thwart the enslavement of alien overlords. Gemini God likewise explores the troubled relationship between futuristic humans and a race of aliens.

Kilworth stayed with science fiction through his first few titles, but as he told Contemporary Authors Online,
"my natural bent took me towards the retelling of old mythologies and the inventing of new."
Among these are animal fantasies, Polynesian tales, and a reworking of Shakespeare's Midsummer Night's Dream. Kilworth's military background as a seventeen-year veteran of the Royal Air Force has also come to the fore in historical war novels, such as The Devil's Own: Sergeant Jack Crossman and the Battle of the Alma and other "Jack Crossman" adventures. Kilworth also writes what he calls "Country Sagas," under the name F.K. Salwood, his grandmother's maiden name.

His first, rather slender novel, In Solitary, depicts an Earth conquered by the bird-like alien Soal, who rule by separating man from his fellow man . . . and woman. It's a tautly told yet subtle story of human courage and ingenuity, much of it set in the South Sea Islands. The Night of Kadar draws upon the Koran for its inspiration. A starship lands on a new world and settlers--awakened and matured from their pre-frozen embryonic state--struggle to understand their purpose on the planet, unaware of the malfunction in the machinery that ought to have instructed them. Split Second saw Kilworth give the Jekyll and Hyde tale a new twist as experiments with the Wiederhaus Repeater--an archaeological tool used to hologrammatically reanimate objects from the past--accidentally send a young boy, Richard, 33,000 years into the past, where he shares the mind and experiences of a juvenile boy from that time. Gemini God charts the degeneration of the human race and its attempts to solve its problems through alien contact. Another strand of the novel involves empathic contact between identical twins.

Kilworth's excursions into "animal" novels, Hunter's Moon and Midnight's Sun, are much more than the usual animals-as-speaking-humans fare; they disdain the usual anthropomorphic tendencies of this subgenre. The detailed research behind both books is telling (without overwhelming the storyline), and Kilworth's robust enjoyment of the savage animal natures of his protagonists raises these two distinct (yet dovetailing) novels to a point somewhere between realism and fable.

Kilworth originally planned The Brontë Girls as an adult title, but he could not place the book because it did not fit tidily into a genre. Instead he subsequently sold it as a young adult title, writing it exactly as if it were intended for the adult market. In The Brontë Girls, Kilworth blends his interest in history and fantasy to craft a tale of the three Brontë sisters--Emily, Anne, and Charlotte--inhabiting a farm in the twentieth century. But past and present soon collide and ultimately force the reader to decide which of the two times and societies is best.

Kilworth's adult series of historical novels featuring Jack Crossman have earned the author fans on both sides of the Atlantic. Sometimes published under the pseudonym Garry Douglas, sometimes under Garry Douglas Kilworth, and sometimes just as Garry Kilworth, the military series' popularity has had little to do with the author's name. The saga begins with The Devil's Own and continues with 7 more installments, all set against the backdrop of the British participation in the Crimean War beginning in 1854. "Fancy Jack" Crossman is the nom de guerre of Alexander Kirk, an illegitimate offspring of a Scottish baronet. Raised to be of high social class, Kirk cannot overcome his illegitimacy, and he resents his station enough to accept a command that consists of irregular forces (including Americans, Turks, and a woman impersonating a man) ordered into irregular missions. How "Fancy Jack" and his soldiers survive on bravery and wit forms the crux of all the novels in the series. A Kirkus Reviews critic, examining The Winter Soldiers, found "Fancy Jack" an "attractive hero." A Publishers Weekly contributor noted of the same title that "Crossman has been entertaining British readers for some years" with Kilworth's talent for "fastpaced military adventure." Another Publishers Weekly reviewer, this time critiquing Attack on the Redan, noted that Kilworth "is particularly good at evoking the pointlessness of the Crimean slaughter." A Kirkus Reviews critic put it another way, calling Attack on the Redan "lots of mud and lots of blood. Historical fun for the lads."

The above covers only a handful of Garry's writings. A full list (I hope) follows. But before we get to that, let's talk a little bit about Mr. Kilworth's personal life and career. I was nary to find much about Kilworth's childhood other than that on his website, , which I found quite interesting.

He was born on July 5, 1941, in York, England.
"My childhood was spent travelling with my mum and dad and two brothers to various parts of the globe - my dad was in the RAF - my favourite years being in Aden (now Yemen) where I lived the life of Kipling's 'Kim' and read a great deal, mostly William books and Rudyard Kipling. At 15 I had been to 22 different schools and was about to go to another one, Boy Entrants training school for youths who wanted to join the Royal Air Force. I spent 17 years in the RAF before joining Cable and Wireless for 8 years (1974-82, having been promoted to a senior executive). During all that time I was writing stories. My break came with 'Let's Go to Golgotha' a short story which won the Gollancz/Sunday Times short story competition. I still felt a little under-educated so later I went to King's College, London University and obtained an English degree with honours."
He received his degree in 1985.

Garry married Annette Jill Bailey in 1962.
"I'm now in my sixties, married to the same person who took me for worse or better at 21, Annette. We have two kids, Richard and Chantelle, who are married to Julie and Mark, respectively. We also have 5 grandkids in descending order of age: Conrad, Christian, Jordan, Alexander and Chloe. They're all well-loved."
Garry Kilworth has been a freelance writer since 1982. He is also a public speaker and presenter of lectures and programs at schools.
"I go into the schools to give talks to the kids about writers and writing and I find them receptive and bright, even in so-called 'failing' schools. They ask a lot of searching questions and I have to give sensible answers or they boo me. It's good fun and I learn a lot."
Awards and Prizes



Gollancz/Sunday Times Best SF Prize for a short story, 1974, for "Let's Go to Golgotha!"; World Fantasy Award for best novella, 1992, British Science Fiction Association Award and Interzone magazine readers' Short Fiction Poll, both 1994, and all for The Ragthorn (written with Robert Holdstock); Interzone magazine readers' Short Story Poll winner, 1992, for "The Sculptor"; British Library Association's Carnegie Medal Commendation, 1992, for The Drowners; Children's Book of the Year Award, Lancashire County Library/National Westminster Bank, 1995, for The Electric Kid. Many of Kilworth's other short stories, short story collections, and novels have been shortlisted for various British literary awards, including the Carnegie Medal and the World Fantasy Award.



Writings





Adult Fiction



In Solitary
Faber & Faber, 1977

Night of Kadar
Faber & Faber, 1978

Split Second
Faber & Faber, 1979

Gemini God
Faber & Faber, 1981

Theatre of Timesmiths
Gollancz, 1984

The Songbirds of Pain (collection)
Gollancz, 1984

Tree Messiah (poems)
Envoi Poets, 1984

Highlander (writing as Garry Douglas)
Grafton, 1986

Witchwater Country
the Bodley Head, 1986

Spiral Winds
the Bodley Head, 1987

The Street (writing as Garry Douglas)
Grafton, 1987

Cloudrock
Unwin Hyman, 1988

Abandonati
Unwin Hyman, 1988

Trivial Tales (collection)
the Birmingham Science Fiction Group, 1988

Hunter's Moon
Unwin Hyman, 1989

In the Hollow of the Deep-Sea Wave (collection)
the Bodley Head, 1989

Midnight's Sun
Unwin Hyman, 1990

Standing on Shamsan
HarperCollins, 1992

Frost Dancers
HarperCollins, 1992

In the Country of Tatttooed Men (collection)
HarperCollins, 1993

Angel
Gollancz, 1993

The Oystercatcher's Cry (writing as F K Salwood)
Headline, 1993

Hogfoot Right and Bird-Hands (collection)
Edgewood Press, 1993

Archangel
Gollancz, 1994

The Saffron Fields (writing as F K Salwood)
Headline, 1994

The Ragged School (writing as F K Salwood)
Headline, 1995

House of Tribes
Bantam Press, 1995

The Roof of Voyaging: Book I of the Navigator Kings
Orbit, 1996

A Midsummer's Nightmare
Bantam Press, 1996

The Princely Flower: Book II of the Navigator Kings
Orbit, 1997

The Devil's Own (writing as Garry Douglas)
HarperCollins, 1997

Land-of-Mists: Book III of the Navigator Kings
Orbit, 1998

The Valley of Death (writing as Garry Douglas)
HarperCollins, 1998

Shadow-Hawk
Orbit, 1999

Soldiers in the Mist (writing as Garry Douglas)
Harper Collins, 1999

The Winter Soldiers
Constable Robinson, 2002

Attack on the Redan
Constable Robinson, 2003

Brothers of the Blade
Constable Robinson, 2004

Moby Jack and Other Tall Tales (collection)
PS Publishing, 2006

In the Country of Tattooed Men and Other Cyphers (collection)
Humdrumming Ltd, 2006

Rogue Officer
Severn House Publishers, 2007

Kiwi Wars
Severn House Publishers, 2008




Children's



The Wizard of Woodworld
Dragon, 1987

The Voyage of the Vigilance
Armada, 1988

The Rain Ghost
Hippo, 1989

Dark Hills, Hollow Clocks (collection)
Methuen, 1990

The Third Dragon
Hippo, 1991

The Drowners
Methuen, 1991

Billy Pink's Private Detective Agency
Methuen, 1993

The Phantom Piper
Methuen, 1994

The Electric Kid
Bantam, 1994

The Bronte Girls
Methuen, 1995

Cybercats
Bantam, 1996

The Raiders
Mammoth, 1996

The Gargoyle
Mammoth, 1997

Thunder Oak: Book I of the Welkin Weasels
Corgi, 1997

Drummer Boy
Mammoth, 1998

Heavenly Hosts versus Hell United (Graphic novel with artist Mark Oliver)
Mammoth, 1998

Castle Storm: Book II of the Welkin Weasels
Corgi, 1998

The Lantern Fox
Mammoth, 1998

Windjammer Run: Book III of the Welkin Weasels
Corgi, 1999

Hey, New Kid!
Mammoth Books, 1999

Gaslight Geezers: Book I of the 2nd Welkin Weasels
Corgi, 2001

Soldier's Son
A & C Black, 2001

Vampire Voles Book II of the 2nd Welkin Weasels
Corgi, 2002

Nightdancers
Orion, 2002

Monster School (Graphic novel with artist Scoular Anderson)
A & C Black, 2002

Spiggot's Quest: Book I of the Knights of Liofwende
ATOM, 2002

Heastward Ho! Book III of the 2nd Welkin Weasels
Corgi, 2003

Mallmoc's Castle: Book II of the Knights of Liofwende
ATOM, 2003

Boggart and Fen: Book III of the Knights of Liofwende
ATOM, 2004

The Silver Claw
Corgi, 2005

Attica
ATOM, 2006

The Hundred-Towered City
Little Brown Books, 2008

Jigsaw
Little Brown Books, 2008




Collections



The Songbirds of Pain
Gollancz, 1984
Let's Go to Golgotha; God's Cold Lips; The Man Who Collected Bridges; Lord of the Dance; The Rose Bush; Sumi Dreams; Scarlet Fever; Oubliette; Almost Heaven; Blind Windows; The Invisible Foe; The Dissemblers; The Songbirds of Pain

Tree Messiah (poems)
Envoi Poets, 1984

Trivial Tales
The Birmingham Science Fiction Group, 1988
The Cave; The Town; The Wall

In the Hollow of the Deep-Sea Wave
The Bodley Head, 1989
In the Hollow of the Deep-Sea Wave (a novel); The River Sailor's Wife; Island with the Stink of Ghosts; Glory of the Seas; Blood Orange; Thunder of the Captains; Feral Moon; Filming the Making of the Film of the Making of Fitzcarraldo

Dark Hills, Hollow Clocks
Methuen, 1990
Dark Hills, Hollow Clocks; The Goblin Jag; The Hungry Ghosts; The Orkney Trows; The Dragon Slayer; Warrior Wizards; Changelings; Scarecrow; Dogfaerie; The Sleeping Giants

In the Country of Tattooed Men
HarperCollins, 1993
Spiral Sands; Hobblythick Lane; Dop*legan*er; Murderers Walk; The Black Wedding; Hogfoot Right and Bird-Hands; On the Watchtower of Plataea; Beyond Byzantium; The Wall; The Men's Room; Usurper; Truman Capote's Trilby: The Facts; Surfing, Spanish Style; X-Caliber; Bronze Casket for a Mummified Shrew-mouse; Networks; In the Country of Tattooed Men; Memories of the Flying Ball Bike Shop; 1948; Giant

Hogfoot Right and Bird-Hands
Edgewood Press, 1993
Spiral Sands; 1948; Dop*legan*er; Murderers Walk; Truman Capote's Trilby: The Facts; Island with the Stink of Ghosts; White Noise; The Vivarium; Hogfoot Right and Bird-Hands; Inside the Walled City; On the Watchtower of Plataea; The Looking-glass Man; Usurper

Moby Jack and Other Tall Tales (collection)
PS Publishing, 2006
The Sculptor / Black Drongo / Bonsai Tiger / Attack of the Charlie Chaplins / Cherub / The Council of Beasts / The Frog Chauffeur / Hamelin, Nebraska / Hunter's Hall / Something's Wrong with the Sofa / Exploding Sparrows (previously published as Punctuated Evolution) / Death of the Mocking Man / Wayang Kulit / Inside the Walled City / My Lady Lygia / Oracle Bones / Paper Moon / Store Wars / The Megowl / The Silver Collar / Moby Jack

In the Country of Tattooed Men and Other Cyphers
Humdrumming Ltd, 2006
Truman Capote's Trilby: The Facts / In the Country of Tattooed Men / Surfing, Spanish Style / Island with the Stink of Ghosts / Alien Embassy / Triptych: Black Wedding, Murderer's Walk, Hogfoot Right and Bird-Hands / The Stray / Filming the Making of the Filming of the Making of Fitzcarraldo / The Men's Room / The Green Man Tennis Club / Feral Moon / Dop*elgan*er / Murders in the White Garden / The River Sailor's Wife / 1948 / Fossil / Usurper / Networks / The Thunder of the Captains / Hobblythick Lane / Giant / Beyond Byzantium / Spiral Sands / On the Watchtower at Plataea / The Glory of the Seas / The Wall / Memories of the Flying Ball Bike Shop / X-Calibre / The Human Child / The Phoenix Man / Bronze Casket for a Mummified Shrew Mouse / Blood Orange




Media Adaptations



The Drowners was adapted for a audiocassette by Chivers, 1993; Billy Pink's Private Detective Agency was adapted for broadcast on the BBC's "Jackanory" program.



Click here to read what Garry Kilworth has to say about The Hundred-Towered City.






Sources:



Amazon
Contemporary Authors Online
Garry-kilworth.com
St. James Guide to Science Fiction Writers
St. James Guide to Fantasy Writers