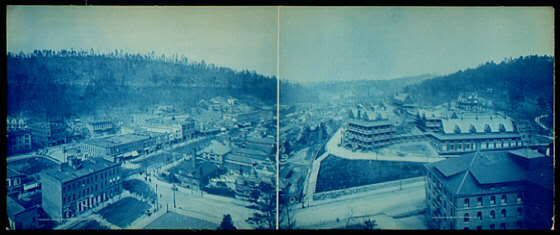 Pg. 40: "two agents of the Bureau of Investigation cruised the downtown streets of Hot Springs, Arkansas, looking for a fugitive. The Roman-nosed agent behind the wheel was Joe Lackey; beside him sat a white-haired, grandfatherly Cowboy named Frank Smith, a former Dallas police officer. They had driven from their office in Oklahoma City to check a tip that the old yegg Frank Nash was in town…..In the summer of 1933, Hot Springs was a corrupt resort town famed for the red carpet it rolled out for vacationing gangsters who came from across the country to enjoy is mineral baths and freewheeling casinos…..The town's main thoroughfare, Central Avenue, cut between two wooded hills. On one side stretched seven ornate bathhouses. On the other were a line of pool halls and taverns that ended at two casinos…"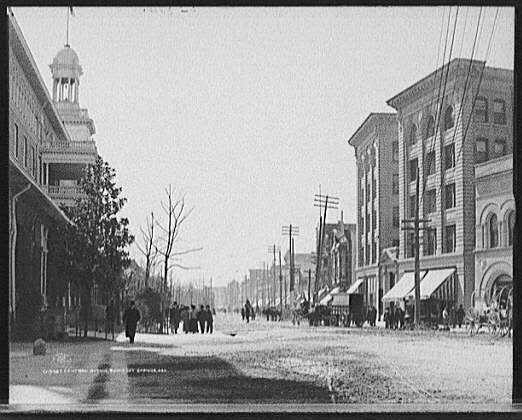 Central Avenue South, Hot Springs, AK, 1906
Library of Congress,
Prints and Photographs Division,
Detroit Publishing Company Collection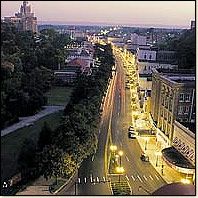 Central Avenue South Today

On a chilly day in December of 1804, naturalist William Dunbar and chemist George Hunter located the steaming waters and stunning mineral deposits of the legendary "Hot Springs of the Washita."
Sent by President Thomas Jefferson on a fact finding mission after the land that is now Arkansas came under U.S. ownership as part of the vast 1803 Louisiana Purchase, Dunbar and Hunter published their findings in leading periodicals and made famous a geological wonder rare in mid-America.

By 1828, a simple hotel was accommodating visitors, and crude structures had been built over some of the natural hot spring water to shelter bathers. In 1832, Congress declared the area a federal reservation in order to protect this amazing natural wonder.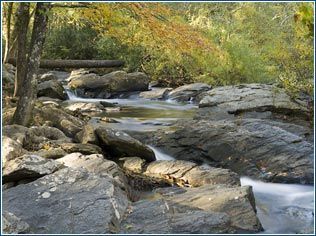 Gulpha Gorge, Hot Springs National Park

By 1921 Hot Springs had developed into a popular resort destination featuring gambling, a national park, healing thermal water spas and horse racing. With the closing of the casinos in the mid-1960's, Hot Springs became a popular family vacation and convention destination.
Today, the city boasts beautifully restored national landmarks such as Bathhouse Row, Hot Springs National Park, and the boyhood home of Bill Clinton.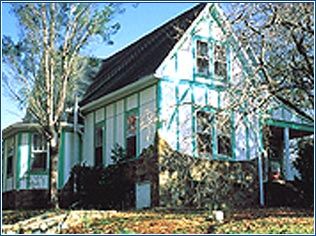 Bill Clinton's Boyhood Home. He moved to Hot Springs in 2nd Grade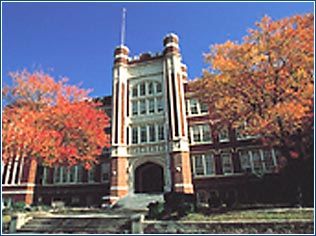 Clinton attended Hot Springs High School



Bathhouse Row



The first bathhouses were crude structures of canvas and lumber, little more than tents perched over individual springs or reservoirs carved out of the rock. Later businessmen built wooden structures, but they frequently burned, collapsed because of shoddy construction, or rotted due to continued exposure to water and steam. Hot Springs Creek, which ran right through the middle of all this activity, drained its own watershed and collected the runoff of the springs. Generally it was an eyesore-dangerous at times of high water, and mere collections of stagnant pools at dry times. In 1884 the federal government put the creek into a channel, roofed over it over, and laid a road down above it. Much of it runs under Central Avenue and Bathhouse Row today. This allowed room for sidewalks and landscaping in front of the bathhouses, creating the Bathhouse Row you see today.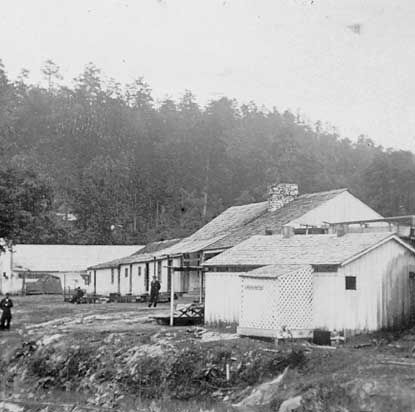 1867 stereograph

The Rector Bathhouse in the foreground is a good example of a bathhouse in the 1860s. Buildings for bathing were built primarily on the east side of Hot Springs Creek.

Bathhouse Row today consists of eight bathhouse buildings that were constructed between the years of 1892 and 1923. This area along with the Grand Promenade was designated as a National Historic Landmark District in 1987.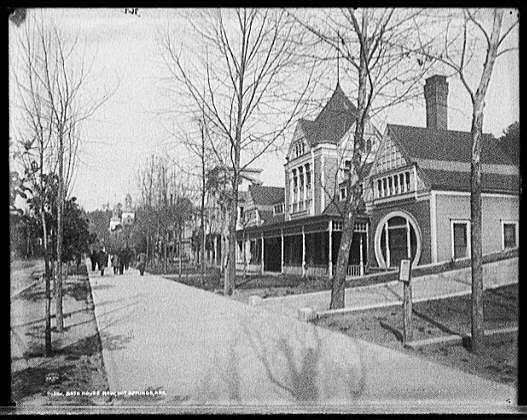 Bathhouse Row, 1900
Library of Congress,
Prints and Photographs Division,
Detroit Publishing Company Collection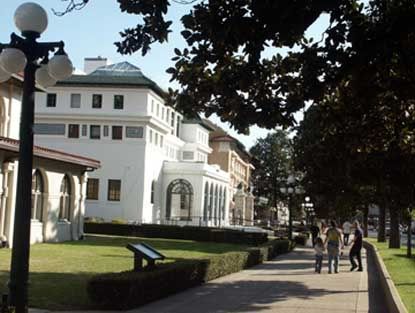 Bathhouse Row, 2006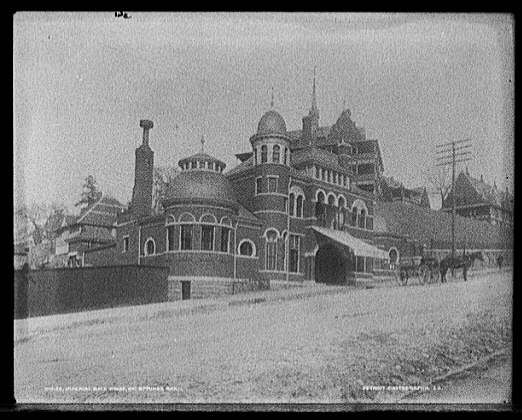 Imperial Bathhouse, 1900
Library of Congress,
Prints and Photographs Division,
Detroit Publishing Company Collection

The Maurice Bathhouse opened for business on January 1, 1912. With a total floor space of 23,000 square feet, the three-story bathhouse had ample room for a complete range of services and amenities, including a gymnasium, staterooms, a roof garden, twin elevators, and in the 1930s a therapeutic pool, situated in the basement. It was the only bathhouse on the Row to have a pool. The Maurice closed in November 1974.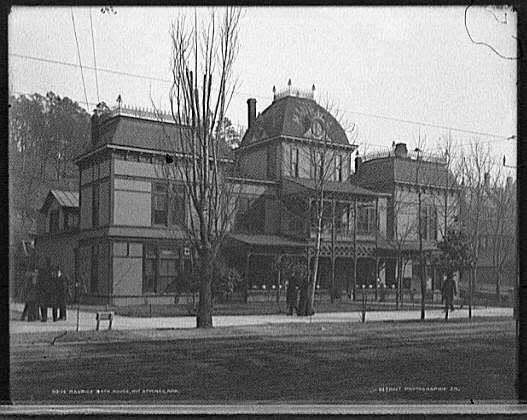 Maurice Bathhouse, 1900
Library of Congress,
Prints and Photographs Division,
Detroit Publishing Company Collection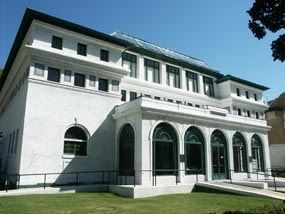 Maurice Bathhouse Today

The Public Health Service operated a venereal disease clinic in the Government Free Bathhouse (1922-1948) in Hot Springs National Park, Arkansas. It was one of the first facilities in the United States to use penicillin.




Government Free Bathhouse
Pg. 46:

"Fort Smith, Arkansas
8:30 P.M.

The train to Kansas City was ten minutes late, and the three lawmen--Frank Smith, Joe Lackey, and Otto Reed—were nervous…..The reporter motioned to Nash: Who was the prisoner?

For the rest of his life, Joe Lackey swore he never answered the reporter's questions. But someone did. A half hour after the three men and their prisoner boarded the train for Kansas City, the reporter's dispatch crossed the AP wire…"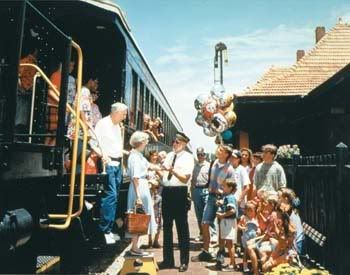 A & M Scenic Railway

Today the Arkansas and Missouri Railway offers Fort Smith visitors a variety of unique trips -- with spectacular views of the rugged Ozark Mountains - aboard an authentic 19th century railroad passenger car. The train leaves the historic Fort Smith Frisco Depot for Sunday afternoon and Saturday evening excursions and the Van Buren station Wednesday and Saturday mornings -- in season - on a 70-mile round trip over high trestles, mountain streams, and even a mountain tunnel.
Pg. 33: "Raised in Tulsa, their younger brothers, Fred and Dock, fell in with a rowdy group of teenage burglars and car thieves known as the Central Park Gang, several of whom would join the Barker-Karpis Gang fifteen years later."
Tulsa Trivia



Tulsa MSA population (estimated 2005): 887,968

Tulsa has more convenience stores on street corners than any other city per capita in the U.S.

Facilities & Destinations magazine recently selected the Tulsa Convention Center as a recipient of its 2007 Prime Site Award.

Tulsa also is currently on time (and on budget) to complete its brand new $178 million Bank of Oklahoma Center (BOk Center), designed by world-famous architect Cesar Pelli, in September 2008. The 550,000 square-foot, multi-purpose arena will have 18,041 permanent and retractable seats and features 37 luxury suites.

The Oklahoma Aquarium is home to the world's largest bull sharks in captivity.

Tulsa is the 46th largest city in the United States and the 93rd largest city in North America.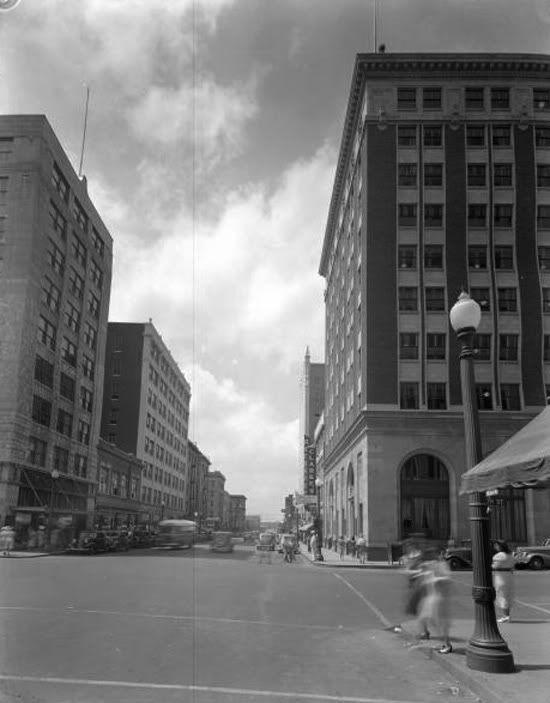 4th and Main, Tulsa, 1936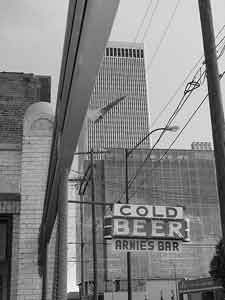 Downtown Tulsa Today
Pg. 68: "Two miles west of the Oklahoma Capitol, in a beige-brick mansion topped by a burgundy Mission-style roof, two couples were sitting in wicker chairs around a card table in their sunroom, playing bridge."

This is the scene of oil man Charles F. Urschel's kidnapping.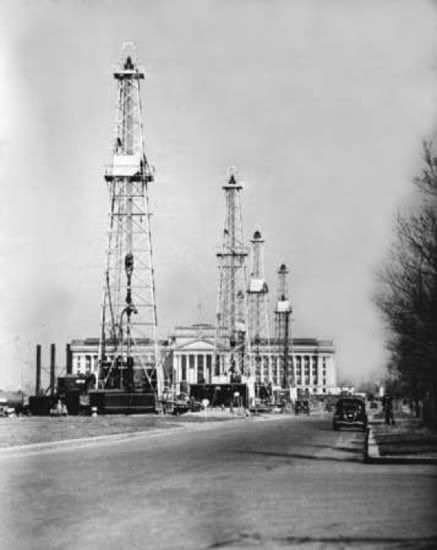 OIL WELLS / OIL DERRICKS / OIL FIELDS / OKLAHOMA / OKLAHOMA CITY, OKLAHOMA / STATE CAPITOL / Oil.Zone.030637: Front-yard derricks in the state capitol parkway. View of oil derricks on east side of Lincoln Boulevard median looking north towards the Oklahoma State Capitol Building. Staff photo by C.J. Kaho taken 3/6/37, photo ran in the 3/7/37 Daily Oklahoman and the 4/5/65 Daily Oklahoman.




About Oklahoma City



The largest city in the state, Oklahoma City is located at the crossroads of I-35, I-40 and I-44 in the heart of Oklahoma. The second largest city in the continental U.S. based on geographical size, more than 1.1 million people call the Metro Oklahoma City area home. With more than a dozen communities surrounding it, Oklahoma City offers a diverse landscape of hip, urban culture and charming, old-fashioned neighborhoods for visitors and residents alike.

Oklahoma City's climate is mild, with four distinct seasons and an average temperature of 60F /15C. With more than 3,000 hours of sunshine per year, outdoor recreation and activities are plentiful in Oklahoma City.

As a city that redefines itself, Oklahoma City's hip, spirited environment blends with its deep western heritage to create a place where culture and commerce thrive. With renowned festivals, national sporting events, treasure-filled museums and a variety of districts highlighting arts and entertainment, the possibilities for adventure and fun in Oklahoma City are endless.

In 1928…..

On December 4, 1928, oil was discovered on the corner of SE 59th and Bryant Ave. in Oklahoma City. In the 27 days before the great gusher could be capped, it spewed 110,496 barrels of oil. The Oklahoma City Field had been discovered, creating the city's most important financial resource and making Oklahoma City the world's newest boom town. Oil continues to be one the most important players in the city's economy.

The Oklahoma City bombing was a terrorist attack on April 19, 1995 aimed at the U.S. government in which the Alfred P. Murrah Federal Building was bombed in an office complex in downtown Oklahoma City, Oklahoma. The attack claimed 168 lives and left over 800 injured. Until the September 11, 2001 attacks, it was the deadliest act of terrorism on U.S. soil. Timothy McVeigh and Terry Nichols were both arrested for their roles in the bombing. McVeigh was executed by lethal injection on June 11, 2001. Nichols was sentenced to life in prison. A third conspirator, Michael Fortier, who testified against the two conspirators, was sentenced to 12 years in prison for failing to warn the U.S. government.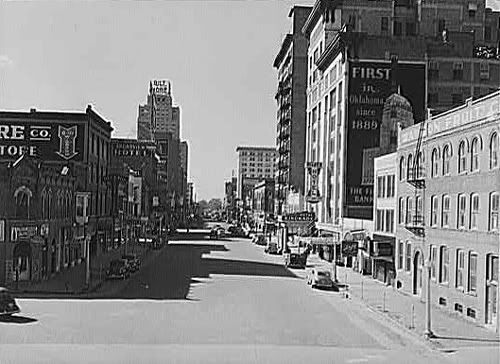 Oklahoma City in 1942, courtesy of Library of Congress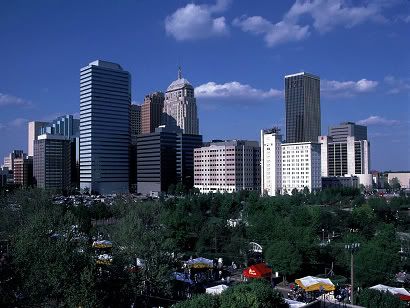 Oklahoma City Today
Commerce, OK
On April 6, 1934, Clyde Barrow of "Bonnie and Clyde" fame and Henry Methvin shot two lawmen near this town — one fatally.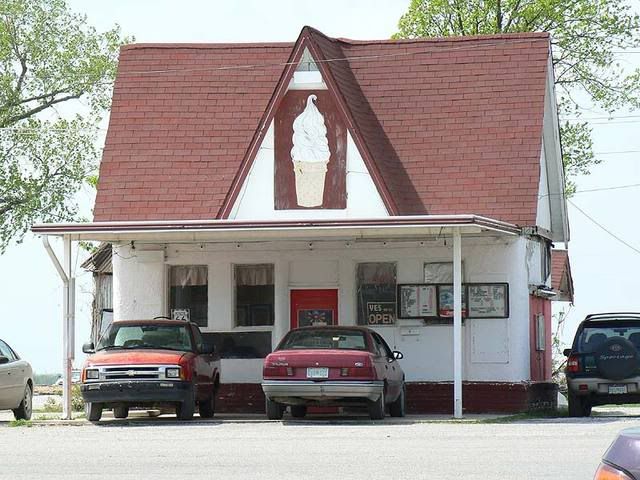 The only picture I could find of Commerce