Today's tidbit will be considerably lighter than yesterdays and will mostly be a pictorial. However, I will give a brief summary of the less well-known makes. Most of the cars shown here are not the actual cars but representative of the make and the date as referenced in the book (page number are in parentheses). It will be indicated as such if it is the actual car.




HUDSON



Dillinger's Essex Terraplane (120):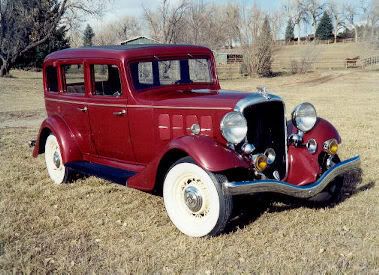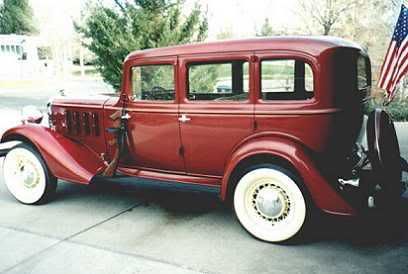 Dillinger's Hudson Sedan (203) & Nelson had one too (244):



The 1932 Hudson Brougham, a two-door sedan, was
part of the Greater Eights line of 1931-32

Eight Detroit businessmen pooled resources to found the Hudson Motor Car Company in February 1909. Among them was retailing magnate Joseph L. Hudson. Another was Roy D. Chapin, Sr., who led the new firm to high prosperity as its president from 1910 to 1923.

Hudson built some of America's fleetest and finest cars during its 48-year history and was often among the industry's sales leaders through 1950. A key early success was the low-priced four-cylinder Essex introduced in 1919.

By 1925, it had boosted Hudson to third place behind Ford and Chevrolet. Hudson then ran third, fourth, or fifth on volume that reached 300,000 cars by 1929. Unfortunately, total sales fell sharply in the devastated Depression market. Had it not been for the speedy, inexpensive Essex Terraplane, Hudson might have folded by 1940.

The firm forged an enviable reputation in the 1920s largely with its Super and Special Sixes: big, smooth, solid cars offering good performance for the money and fine reliability. But with the advent of an Essex Six in 1924, Hudson decided to move upmarket.

The result was a single 1930 line called Great Eight. Great it wasn't. At 213.5 cubic inches, its engine was actually smaller than previous Hudson sixes, had just 80 horsepower to move a heavy chassis, and wasn't as sturdy. Hudson stayed with this engine for the optimistically named Greater Eights of 1931-32 -- in retrospect it was a mistake for a depressed market where sixes would surely have sold better.

Another 1930 setback was the Depression-related closure of Biddle and Smart, Hudson's longtime supplier of magnificent open bodies. The company thus turned to Murray and Briggs for phaeton and speedster bodies. A few eight-cylinder Hudsons of this period also sported dashing coachwork by the renowned firm LeBaron.

Through 1933, Hudson Eights offered numerous body styles on wheelbases of 119-132 inches: roadsters, Victorias, convertibles, sedans, town sedans, coupes, and Broughams (two-door sedans). It was an attractive line that would have done justice to far-costlier brands, but it wasn't successful. The Greater Eight managed only 22,250 sales for 1931. The '32 total was below 8000, despite unchanged prices and lush new Sterling and Major series.

Seeing the error of its ways, Hudson launched a new Super Six for its 1933 "Pacemaker" line -- the car was essentially the 73-bhp 193-cid Essex Terraplane engine in the 113-inch Hudson chassis. That year's Eights comprised four 119-inch-wheelbase standard models and five luxurious Majors on a 132-inch platform. But production bottomed out at under 3000. Interesingly, Eights outsold Sixes nearly 2-to-1. For 1934, Hudson again abandoned sixes, reserving them for the new Terra¬plane line that replaced Essex as the firm's "companion" marquee.

In 1954, Hudson merged with Nash-Kelvinator Corporation to form American Motors (AMC). The Hudson name was continued through the 1957 model year, after which it was dropped.





NASH



Sheriff Holley's 1927 Nash, which had no keys (238):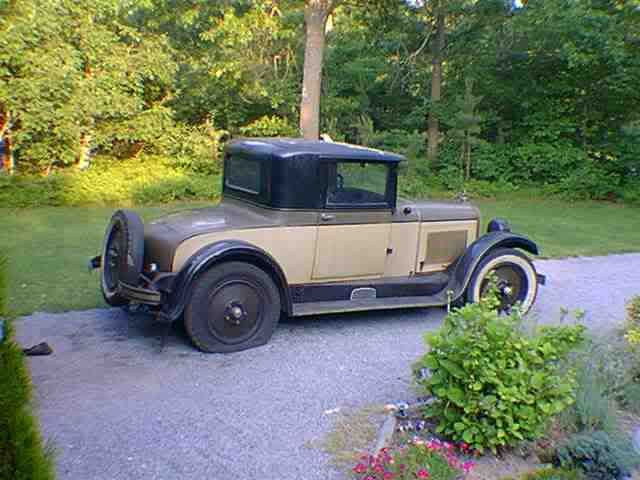 Nash Motors was founded in 1916 by former General Motors president Charles W. Nash who acquired the Thomas B. Jeffery Company. Jeffery's best known automobile was the Rambler. Nash enjoyed decades of success by marketing mid-priced cars for middle class buyers. From 1938 to 1954, Nash was the automotive division of the Nash-Kelvinator Corporation.

Nash's slogan from the late 1920s and 1930s was "Give the customer more than he has paid for" and the cars pretty much lived up to it. Innovations included a straight-eight engine with overhead valves, twin spark plugs, and nine crankshaft bearings. The 1932 Ambassador Eight had synchromesh transmissions and free wheeling, automatic centralized chassis lubrication, a worm-drive rear end, and its suspension was adjustable from within the car.

In January 1954 Nash announced the acquisition of the Hudson Motor Car Company as a friendly merger, creating American Motors Corporation (AMC).




CORD



Deputy Ted Hinton drove a Cord Sedan (166):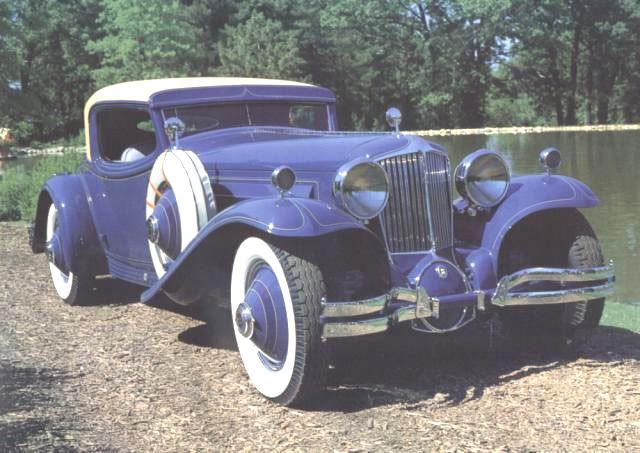 Cord was the brand name of a United States automobile, manufactured by the Auburn Automobile Company from 1929 through 1932 and again from 1936 to 1937.

The Cord Corporation was founded and run by Errett Lobban Cord as a holding company for his many transportation interests, including the Auburn Automobile Company. Cord was noted for its innovative technology and streamlined designs. It is said that Mr. Cord had a philosophy to build truly different, innovative cars, believing they would also sell well and turn a profit. This did not always work well in practice.

Cord innovations included front wheel drive on the L-29 and retractable headlights on the 810, neither of which were common on other makes until many years later. The early Oldsmobile Toronados, whose GM stylists later stated they were trying to capture the "feel" of the Cord's design, also featured retractable headlights.

Early reliability problems, including slipping out of gear and vapor lock, cooled initial enthusiasm. Although most new owners loved their sleek fast cars, the dealer base shrank rapidly. In 1937, after producing about 3000 of these cars, Auburn ceased production of the Cord. The Cord empire was sold to the Aviation Corporation, and E.L. Cord moved to Nevada where he earned millions in real estate and other enterprises.

The design of the Cord 810/812 remains the most distinctive of the entire 20th century. In 1996, American Heritage magazine proclaimed the Cord 810 sedan, "The Single Most Beautiful American Car." The "Classic Cord" Hot Wheels toy car of the 1960s, a convertible coupe, is one of the most valuable, and commands up to $800 (2006) if still in an unopened package.

The deputies returned the Cord and leased
a powerful Cadillac limousine (167):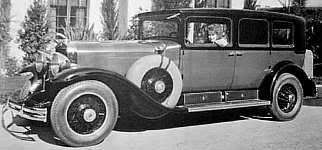 Clara Bow's 1928 Cadillac Limo

*




STUDEBAKER



Dillinger's Black Studebaker (143):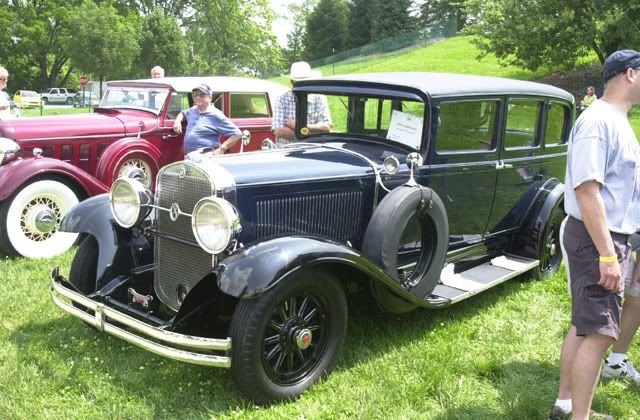 The 1929 Studebaker President



Studebaker Corporation, or simply Studebaker, was a United States wagon and automobile manufacturer based in South Bend, Indiana. Originally, the company was a producer of industrial mining wagons, founded in 1852 and incorporated in 1868 under the name of the Studebaker Brothers Manufacturing Company. While Studebaker entered the automotive business in 1902 with electric vehicles and 1904 with gasoline vehicles, it partnered with other builders of gasoline-powered vehicles until 1911. In 1913, Studebaker introduced the first gasoline-powered automobiles under its own "Studebaker" brand name. Acquired in 1954 by Packard Motors Company of Detroit, Michigan, Studebaker was a division of the Studebaker Packard Corporation from 1957 to 1962. In 1962, it reverted to its previous name, the Studebaker Corporation. While the company left the automobile business in 1966, Studebaker survived as an independent closed investment firm until 1967 when it merged with Worthington to become Studebaker-Worthington Corp.

In addition to cars, Studebaker added a truck line, which in time, replaced the horse drawn wagon business started in 1852. In 1926, Studebaker became the first automobile manufacturer in the United States to open a controlled outdoor proving ground; in 1937 the company planted 5,000 pine trees in a pattern that when viewed from the air spelled "STUDEBAKER."

From the 1920s to the 1960s, the South Bend company originated many style and engineering milestones, including the classic 1929-1932 Studebaker President and the 1939 Studebaker Champion. During World War II, Studebaker produced the Studebaker US6 truck in great quantity and the unique M29 Weasel cargo and personnel carrier. After cessation of hostilities, Studebaker returned to building automobiles that appealed to average Americans and their need for transportation and mobility.

However, ballooning labor costs, quality control issues, and the new car sales war between Ford and General Motors in the early 1950s wreaked havoc on Studebaker's balance sheet. There was also a labor strike at the South Bend plant in 1962.

Hoping to stem the tide of losses and bolster its market position, Studebaker allowed itself to be acquired by Packard Motor Car Company of Detroit; the merged entity was called the Studebaker-Packard Corporation. Studebaker's cash position was far worse than it led Packard to believe and, in 1956, the nearly bankrupt auto-maker brought in a management team from aircraft maker Curtiss-Wright to help get it back on its feet. At the behest of C-W's president, Roy T. Hurley, the company became the American importer for Mercedes-Benz, Auto Union, and DKW automobiles, and many Studebaker dealers sold those brands as well. In 1958, the Packard name was discontinued, although the company continued to bear the Studebaker-Packard name through 1962.

With an abundance of tax credits in hand from the years of financial losses, at the insistence of the company's banks and some members of the board of directors, Studebaker-Packard began diversifying away from automobiles in the late 1950s. While this was good for the corporate bottom line, it virtually guaranteed there would be little spending on Studebaker's mainstay products, its automobiles.

The automobiles that came after the diversification process began, including the ingeniously-designed compact Lark (1959) and even the Avanti sports car (1963), were based on old chassis and engine designs. The Lark, in particular, was based on existing parts to the degree that it even utilized the central body section of the company's 1953 cars, but was a clever enough design to be quite popular in its first year, selling over 150,000 units and delivering an unexpected $28 million profit to the automaker.




PACKARD



Dillinger's Green Packard Sedan (244):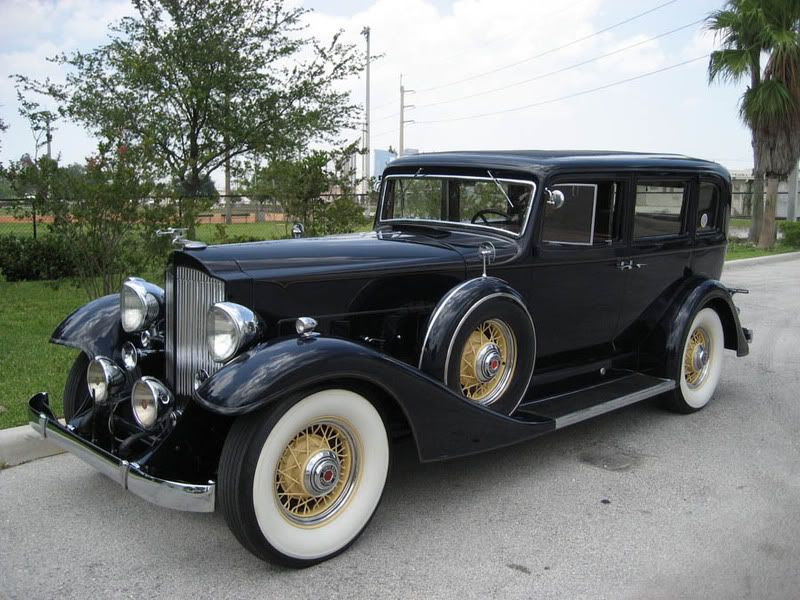 33 Packard Super 8



Packard was a United States based brand of luxury automobile built by the Packard Motor Car Company of Detroit, Michigan, and later by the Studebaker-Packard Corporation of South Bend, Indiana. The first Packard automobiles were produced in 1899; and the brand went off the market in 1958. Packard automobiles are highly sought after by collectors today, and the marque enjoys an active collectors club system.

Packards were advertised with the slogan "Ask the Man Who Owns One".

Packard was founded by brothers James Ward Packard, William Doud Packard and his partner George Lewis Weiss in the city of Warren, Ohio. James Ward believed that they could build a better horseless carriage than the Winton cars owned by Weiss (An important Winton stockholder) and James Ward, himself a mechanical engineer, had some ideas of how to improve on the designs of current automobiles. By 1899, they were building vehicles. The company, which they called the Ohio Automobile Company, quickly introduced a number of innovations in its designs, including the modern steering wheel and, years later, the first production 12-cylinder engine.

While Henry Ford was producing cars that sold for $440, the Packards concentrated on more upscale cars that started at $2,600. Packard automobiles developed a following not only in the United States, but also abroad, with many heads of state owning them.

In need of more capital, the Packard brothers would find it when Henry Bourne Joy, a member of one of Detroit's oldest and wealthiest families, bought a Packard. Impressed by its reliability, he visited the Packards and soon enlisted a group of investors that included his brother-in-law, Truman Handy Newberry. On October 2, 1902, Ohio Automobile Company became Packard Motor Car Company, with James as president. Packard moved its automobile operation to Detroit soon after and Joy became general manager and later chairman of the board.

Throughout the nineteen-tens and twenties, Packard built vehicles that were consistently were among the elite in luxury automobiles. The company was commonly referred to as being one of the "Three P's" of American motordom royalty, along with Pierce-Arrow of Buffalo, New York and Peerless of Cleveland, Ohio. Packard's leadership of the luxury car field was supreme.

Entering into the 1930s Packard attempted to beat the stock market crash and subsequent depression by manufacturing ever more opulent and expensive cars than it had prior to October 1929. The Packard Twin Six was introduced for 1932, and renamed the Packard Twelve for the remainder of its run (through 1939). For one year only, 1932, Packard tried fielding an upper-medium-priced car called the Light Eight.

As an independent automaker, Packard did not have the luxury of a larger corporate structure absorbing its losses as Cadillac did with GM and Lincoln with Ford. However, Packard did have a better cash position than other independent luxury marques. Peerless fell under receivership in 1929 and ceased production in 1932; by 1938 Franklin, Marmon, Ruxton, Stearns-Knight, Stutz, Duesenberg and Pierce-Arrow had all closed.

Packard also had one other advantage that some other luxury automakers did not; a single production line. By maintaining a single line, and inter-changeability between models, Packard was able to keep its costs down. Packard did not change cars as often as other manufacturers did at the time. Rather than introducing new models annually, Packard began using its own "Series" formula for differentiating its model change-overs in 1923. New model series did not debut on a strictly annual basis, with some series lasting nearly two years, and others lasting as short a time as seven months. In the long run, though, Packard did average approximately one new series per year. By 1930, Packard automobiles were considered part of the "Seventh Series". By 1942, Packard was in its "Twentieth Series". There never was a "Thirteenth Series".

To address the depression, Packard started producing more affordable cars in the medium-price range. In 1935, it introduced its first sub-$1,000 car, the Packard 120. Car production more than tripled that year and doubled again in 1936. In order to produce the 120, Packard built and equipped an entirely separate factory. By 1936, Packard's labor force was divided nearly evenly between the high-priced "Senior" lines (Twelve, Super Eight and Eight) and the medium-priced "Junior" models, although more than 10 times more Juniors were produced than Seniors. This was because the 120 models were built using thoroughly modern mass production techniques, while the Senior Packards used a great deal more hand labor and traditional craftsmanship. The Junior models were very fine cars; they were just not in the same quality league as the Seniors. Although Packard most certainly could not have survived the Depression without the highly successful Junior models, the Juniors did have the effect of diminishing the Senior models stellar and exclusive image among those few who could still afford an expensive luxury car. Adding insult to injury, the 120 models were more modern in basic design than the Senior models. For example the 1935 Packard 120 featured independent front suspension and hydraulic brakes, both features that would not appear on any Senior Packards until 1937.

In 1957 and 1958, a Studebaker President-based car bearing the Packard Clipper nameplate appeared on the market, but sales were slow. These badge engineered Studebakers were derisively referred to as Packardbakers by the press and consumers and failed to sell in sufficient numbers to keep the marque afloat.

While the 1957 Packard Clipper was less Packard than it was a very good Studebaker, the cars sold in limited numbers – which was attributed to Packard dealers dropping the franchises and consumers fearful of buying a car that could be an orphaned make soon. Of note: Former Packard designer Richard A. Teague, seeing the new "Packardbaker" for the first time, commented that seeing his beautiful Packard taillights "...on that tired old Studebaker body, was enough to make a maggot vomit!"

The 1958 models bowed with no series name, simply as "Packard". In addition to the knowledge that these cars were the last gasp by what had been thirty years before the biggest selling luxury car in the United States, their annual make-over on a budget usually set aside for a door-handle design at General Motors was awkward.

Studebaker-Packard pulled the Packard nameplate from the marketplace in 1959 to focus instead on its compact Lark.

In the Early 1960s, Studebaker-Packard was approached by French car maker Facel-Vega about the possibility of rebadging the company's Facel-Vega Excellence sedan as a "Packard" for sale in North America. Daimler-Benz, which was under a distribution agreement with Studebaker-Packard, threatened to pull out of the 1958 marketing agreement, which would have cost Studebaker-Packard more in revenue than they could have made from the badge-engineered Packard.

In 1961 Sherwood Egbert was hired to be the company president. He was expected to help diversify the company. In the spring of 1962, four years after the last Packard car rolled off the assembly line, and eight years following the merger between Packard and Studebaker, the company dropped Packard from its legal name and reverted to the Studebaker Corporation name.
The Studebaker Corporation still exists today. And this site claims there is still a Packard Motor Car Corp. located in Goodyear, AZ; but I can't readily find it.
http://www.studebakermotorcompany.com/index.phtml




THE FORD V8



Clyde's Ford V-8 (166) /Dillinger also had one
(189 & 239, which was the escape car):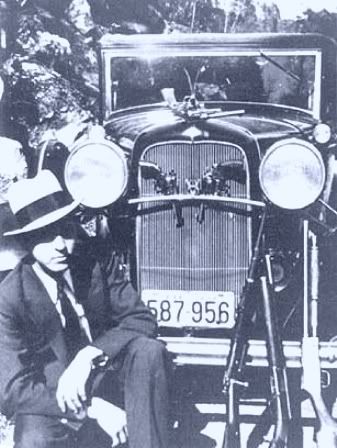 Clyde Barrow and his V-8 (actual)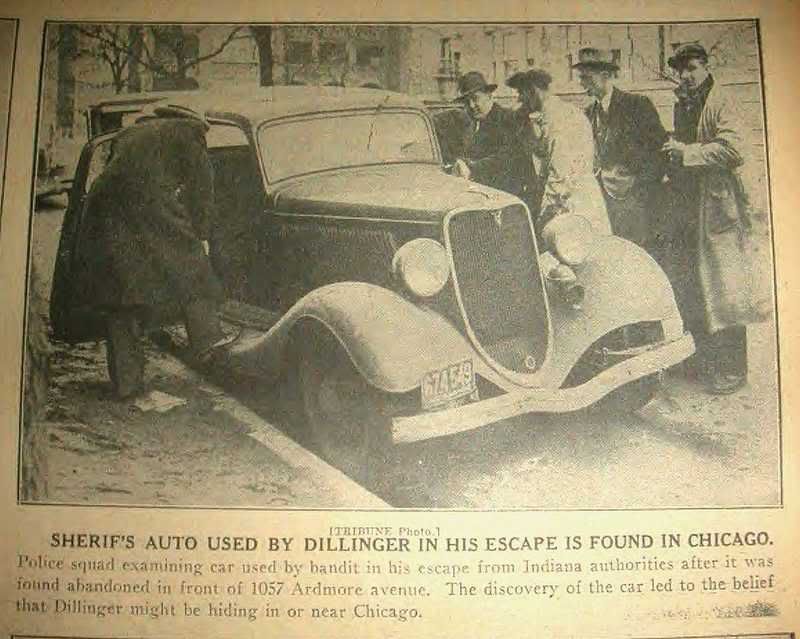 Crown Point Getaway Car (actual)



The "Ford V8" has historically referred to the Ford Flathead engine designed by Henry Ford. The Ford Flathead engine was introduced in the 1932 Model Year with its last year of production being 1953 for inclusion in U.S. manufactured Ford vehicles. The Flathead was the first Ford Motor Company V8 engine, other than the V8 that Lincoln was producing and had been producing since before Ford bought Lincoln, and ranks as one of the company's most important developments. Before the 1932 introduction of this engine (and the accompanying Ford V-8 automobile), almost all production cars aimed at the average consumer used straight-4 and straight-6 engines. "Multi-cylinder" engines (like V-8s and even V-16s) were produced, but were not intended for mass-consumption. In the United States the Flathead was replaced by the Ford Y-block engine in 1954.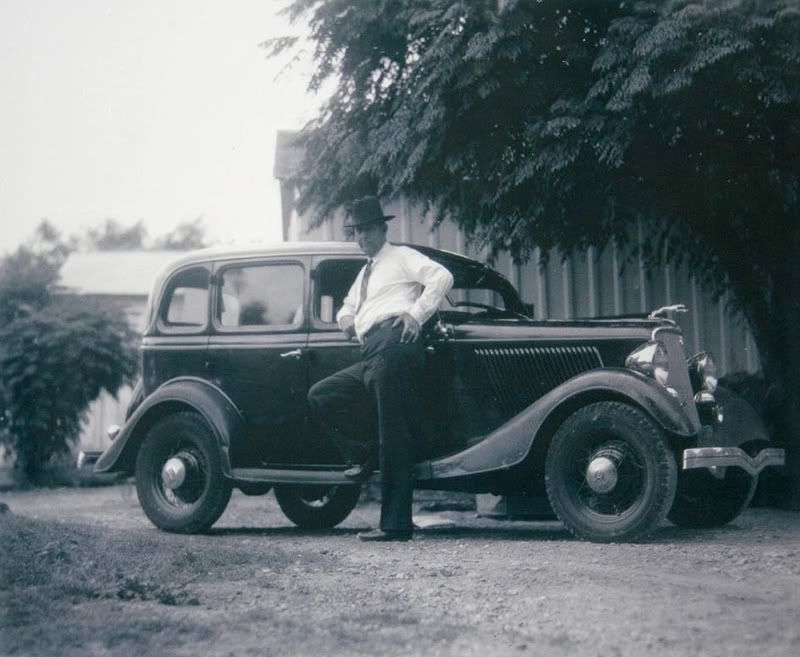 And the law used them too: "On February 10, I took the trail and followed it for exactly 102 days."
"Like Clyde Barrow I used a Ford V8, and like Clyde I lived in the car most of the time" - Frank Hamer (actual)




OTHER MAKES & MODELS….



Onlookers of the Destroyed Cars
in the Kansas City Massacre (actual):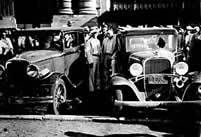 The Baptist Deacon's Pontiac (44):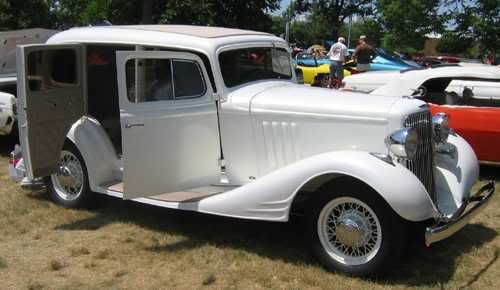 33 Pontiac Sedan




Dillinger's first car, a 1928 Chevrolet Sports coupe (63):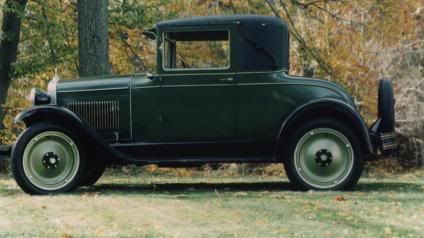 Machine Gun Kelly and his wife
(could that be his Cadillac behind them?):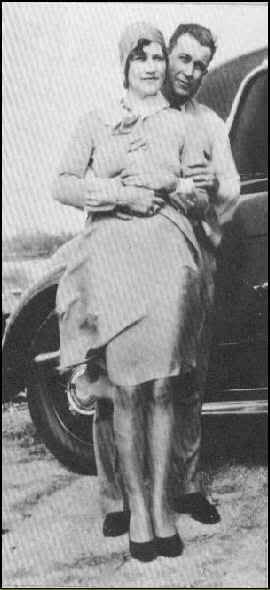 Kelly's Cadillac (92):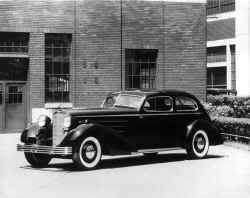 33 Fleetwood




Dillinger's Blue Chrysler Sedan (95):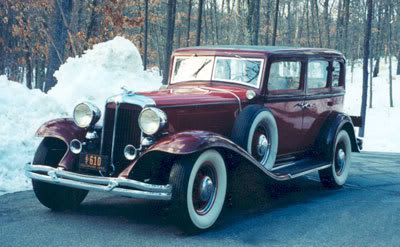 32 Chrysler Imperial




Dillinger's Black Ford Coupe (189):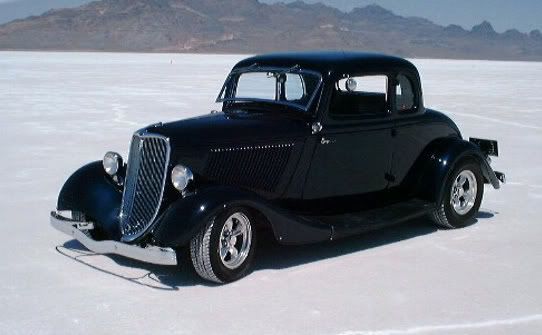 33 Ford Coupe




The Barker's Buick (214):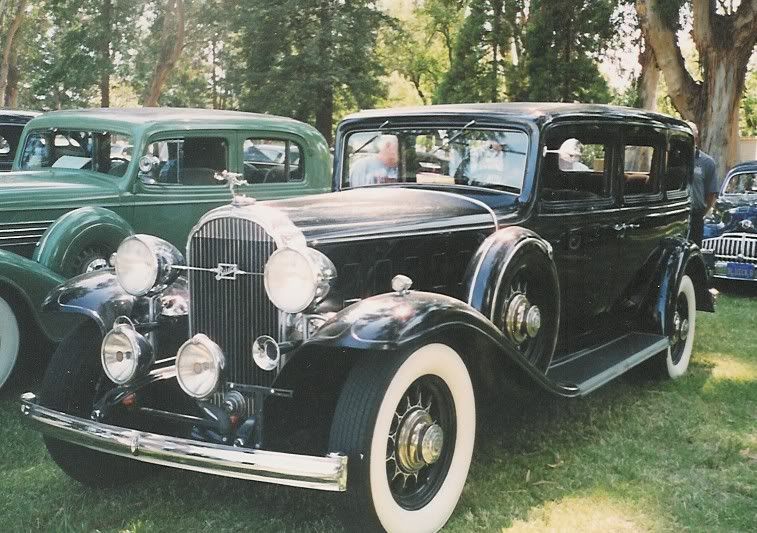 31 Buick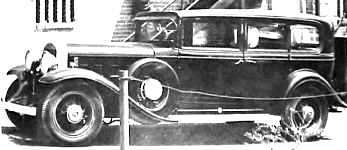 Ma Barker's Series 370 V12 Cadillac Limousine (actual—I think)

*


Dillinger's Ford Red Panel Truck – Model A(342):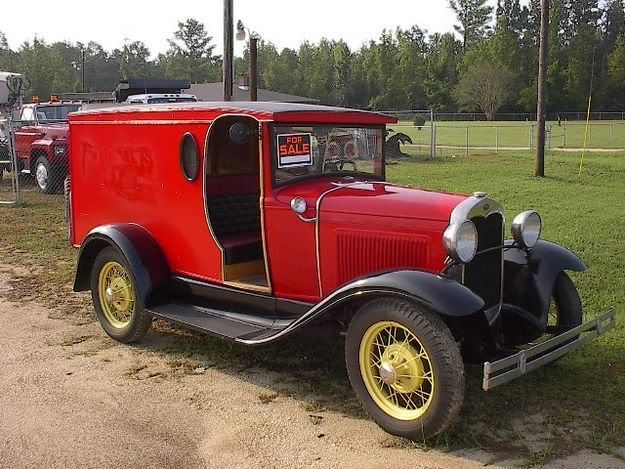 The one is red from 1930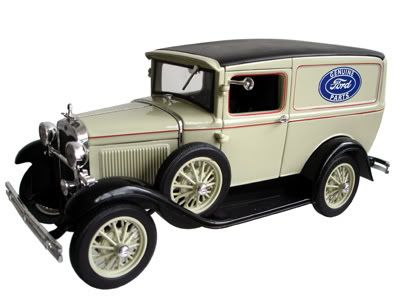 A model of a 1931 Model A Panel Truck, which might be closer to the style of Dillinger's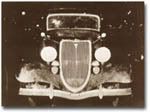 Car at Little Bohemia (actual)




*From: www.car-nection.com/yann/Dbas_txt/Starcar2.htm