It's good to be back after a brief Thanksgiving holiday!
I hope you all had a wonderful weekend and have been getting your reading done!
Today we will meet Jean Ragnotti, previous owner of the Renault race car in Happy Days. Information on him was a bit sketchy so if anyone has anything to add, please do!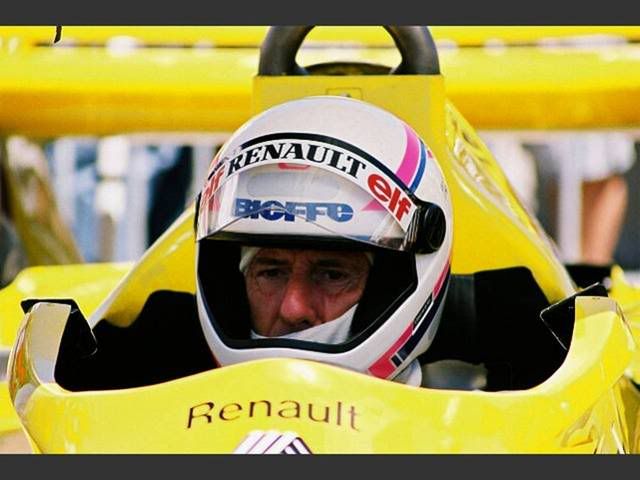 First a little background on the World Rally Championship race circuit where Ragnotti became so famous.



The World Rally Championship (WRC) is a rallying series organized by the FIA (Fédération Internationale de l'Automobile), culminating with a champion driver and manufacturer. The driver's championship and manufacturer's championship are separate championships, but based on the same point system. This means, for example, that a driver driving for Subaru can win the driver's championship but Citroën can win the manufacturer's championship, which is what happened in 2003. The competition first received the designation of WRC in 1973.

The Championship currently features 16 rallies and production-based 2.0 L turbocharged four-wheel drive cars built to World Rally Car regulations racing across tarmac, gravel and snow. The power output has been limited to around 300 bhp (225 kW). The WRC was formerly held for Group A and Group B rally cars.

Under Group A in the World Rally Championship, the cars used were modified road cars, often based on turbocharged, four wheel drive versions of standard small cars. Group A referred to production-derived vehicles limited in terms of power, weight, allowed technology and overall cost. The base model had to be mass produced (5000 units/year) and had to have 4 seats. Group A was aimed at ensuring a large number of privately-owned entries in races. Group A is still used as the basis for most rally competitions around the world, but the most competitive cars are limited-production prototypes.

Group B had few restrictions on technology, design and the number of cars required for certification to compete (only 200). Minimum weight was low, high-tech materials were permitted, and there were no restrictions on boost, which turned out to mean almost unlimited power. The category was aimed at car manufacturers by promising outright race victories and the subsequent publicity opportunities without the need for an existing production model.

Group B was initially a very successful concept, with many manufacturers joining the premier World Rally Championship, and increased spectator numbers. But the cost of competing quickly rose, and the performance of the cars proved too much, resulting in a series of fatal crashes. As a consequence Group B was cancelled at the end of 1986 and Group A regulations became the standard for all cars until the advent of World Rally Cars in 1997.

The 2006 rallies are, in order, Monte Carlo, Sweden, Mexico, Spain, France, Argentina, Italy, Greece, Germany, Finland, Japan, Cyprus, Turkey, Australia, New Zealand and Great Britain.


Jean Ragnotti's career started in 1967 at the wheel of a Renault 8 Gordini and by the early 1980s he had been signed by Renault as one of the team's official drivers. On the 1981 Monte Carlo Rally, Ragnotti achieved a famous outright victory and later had similar success on the Tour de Corse Rally in 1982 and 1985.

In 1988 he also won the French Super Production title in the flame-spitting 4x4 Renault 21 Turbo before going on to be crowned French Group N Champion two years later in a Renault 5 GT Turbo. This wasn't the limit of his success, however, as Ragnotti took an endless number of rally victories during his career and is also an impressive circuit driver.

It was at the wheel of a Renault 5 Alpine Group 2 that Jean Ragnotti showed off his talents at the 1978 Monte Carlo Rally. Two rear punctures, followed up by two broken front wheels forced him to continue with different wheels. Further on, he misjudged a bend and ran into a spectator, who would later ask Jean to sign his plaster at the finish! Jean still managed to finish second overall and win the Group 2 category. Jean's heroics in Monte Carlo led to the creation of limited edition Renault 5TS which sported his famous black and yellow colors.
Another unexpected turn of events awaited Jean at the Rallye du Bandama – this time, it was a sheep that he found in his way! Jean Ragnotti and Jean-Marc Andrié still finished third overall and first in Group 2.

DITHOT note: Perhaps the best way to learn about Jean Ragnotti is in his own words…The following interview is from Motors TV and is a bit confusing because we don't see the video they are referring to in the interview.



Motors TV has something a little bit different on offer in the latest edition of Motors Legend. Laurent Frederic Bolle had the opportunity to sit down and chat with one of France's legendary rally stars, Jean Ragnotti. Ragnotti was the last Frenchman to win the famous Monte-Carlo Rally at the wheel of a French built car,( Renault R5 Turbo) before Sebastien Loeb accomplished the feat this year in the Citroen Xsara. But Ragnotti was not just a rally expert, he also won the French Touring Car Championship in 1984 with still a Renault. He participated in the LeMans 24-Hour classic for the Regie, and he even had ago with the Renault TurboF1 car and even turned a few heads with his speed in the very sophisticated turbo car. The following is a transcript of the two discussing the very successful career of Ragnotti and also his legendary sense of humour.





LFB : Hello everyone. Today, we've got a Jean Ragnotti special for you. Jean, thank you for joining us… how are you ?



J R : Fine thanks…



We are going to spend an hour in your company, Jean, we'll go through your career and see some footage of you that is really rather special… The film that we are going to see straight away is called « Jeannot, la tendresse » or « Jeannot, gentleness personified »… That's a great title ? Are you really gentleness personified ?



The journalist was very nice, and a bit generous perhaps ! It's true that that in the world of motor sport I have many more friends than I have enemies and I have spent a lot of evenings with drivers and journalists that have left everyone with happy memories… may be that's why it he gave me that definition !



Are you really known as "Jeannot"?



"Jeannot" quite often, or "Jean". "Monsieur", is pretty rare !



Just to get us a bit more in the mood, have you got any good stories to tell us ? We know you've got lots up your sleeve, how about one about television…



About television ?… Well, when I was competing on the circuits, I had some cameraman friends and at the end of the warm ups, when the tyres had had it and I was going to go back into the pits, I used to tell them to wait at certain spots and I would do a 360° spin for them ! Sometimes I gave them a scare, because they didn't think I was going to make the full 360 ! That's the kind of mischief that I used to get up to with television, but there was nothing nasty in it…



Jean Ragnotti... let's go back to that last scene… You were playing a joke, pretending to be a flower delivery man…



I took flowers to Mme Gérard Larousse, who you recognised, I imagine. Gérard Larousse was my boss for many years and we set up that little number together with the explosion at the end, it was great fun !



Let's go back over the scenes that we saw in the film… we'll start with the most prestigious : you in an F1 car !



I had the chance to drive F1s three or four times… the pictures we saw must have been taken in 1981 – but after that I drove some tests for Williams with the Renault V10 engine and after that I had a chance to try the 93 Williams with which Alain Prost was world champion and which was equipped with everything : traction control, power steering, assisted brakes… even the body height was adjustable in the corners, it was amazing !



Were they giving you a treat ?



Yes, it was during some special test sessions with ex-Formula 1 drivers who were doing some tests for the television and some journalists. I was with Jochen Mass, James Hunt, Jean-Pierre Jarier, and John Watson... And they said that I could come and have a go if I was interested ! Usually, it was for 12 or 15 laps or something like that.



What did it feel like at the wheel of those Formula 1 cars ?



It's always nice to drive top-level cars. It's interesting, even if you can't push them to their limits… When I first drove an F1 in 80-81, behind the wheel of the Renault, I managed times that would have qualified me for the Grand Prix ! But it was a few years after my « racing track » period : I still remembered how to attack !

I also drove the Renault Le Mans prototypes in 1978 – they were fast, powerful cars… I have had problems with that kind of car but I was really impressed in 93 because the road holding was amazing although there was a lot of turbulence… The Renault 3.5 litre engine seriously impressed me !



Let's go over some of the details of your career… You were born in 1945…



Yes, I was born at Carpentras in the Vaucluse on August the 29th, 1945. My parents were farmers and I've got a sister. I went to school a bit but spent most of my time on the farm tractor ! When I was about 14, I wanted to go into motor sport but I was told that it was for the rich, so I forgot that idea. But when I passed my driving licence when I was 18, I immediately became a lorry driver. And I decided that if I saved my money, I might be able to buy myself a racing car. At the time, the best known was the R8 Gordini. After three or four years, I was able to get a loan to buy one and my friends persuaded me to try a few races because they thought that I had a bit of a talent for racing… So I entered my first rally in October 1967 – the Vaucluse rally.


Why did you want to become a racing driver at 14 ?

As far as I was concerned, anything with wheels, (scooter, bicycle, two wheels or four !) was an excuse to go mad ! I pushed everything to its limits.



It was in your blood ! But was for the speed, the risk or the just the pure fun of it ?



The acrobatics ! Acrobatics have always been important to me and I still like to demonstrate what I can do… It was also the pure fun of driving and showing off. It was a bit of all that.



And then you were a lorry driver ?



Until I was 18, I worked on parents' farm. I passed my driving licence when I was just 18 as well as my HGV licence and I was a lorry driver from 1963 to 1970. I used to go all over France and Europe too : I covered a lot of miles ! Driving lorries was a kind of racing for me too. I used to skid around with my lorry ! I often carried flowers – they were sometimes a bit the worse for wear when they arrived ! But I had most fun with the lorry at the end of the day, when it was almost empty !



Wasn't it a bit hard, as a job ?



At that time there weren't any time discs, the 35-hour working week didn't exist – we did a lot more than that ! But it was good practice for me for endurance in my first few years of rally driving. I remember during my first rallies, driving day and night, with no sleep for three days ! It didn't bother me ! I'd get a bit tired from time to time but I could keep going very well. That's not the case now – I've got used to an easier life !