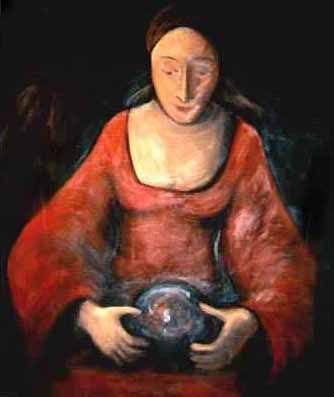 Scrying comes from the Old English word descry meaning "to make out dimly" or "to reveal." Adding the prefix/suffix 'be' (often 'gye' in Germanic languages), gives us the modern word 'describe'. Scrying is the occult practice of using a medium, most commonly a reflective surface or translucent body, to aid perceived psychic abilities such as clairvoyance. The media often used to "see" are water, polished precious stones, crystal balls, or mirrors. Scrying, in this context, uses a "visual" process. There are some who believe the art of scrying is not limited to the use of "reflective" or "translucent" bodies only, but includes other media. Scrying has been used in many cultures as a means of seeing the past, present, or future; in this sense scrying constitutes a form of divination. The term Crystallomancy refers to scrying using with crystals, crystal balls, precious stones, polished quartz, or any transparent body. The term Hydromancy refers to scrying using water, or any reflective surface such as black glass, a bowl of water, mirrors, or sometimes a sword's blade.


Scrying is an auto-deepening trance process that progresses in stages using a crystal ball, or other medium. Initially, the medium serves as a focus for the attention, removing unwanted thoughts from the mind in the same way as a mantra. Once this stage is achieved, the scryer begins a free association with the perceived images suggested, for instance in a crystal ball, by the tiny inclusions, web-like faults and/or the cloudy glow within the ball under low light (i.e. candlelight). The technique of deliberately looking for and declaring these initial images aloud, however trivial or irrelevant they may seem to the conscious mind, is done with the intent of deepening the trance state, wherein the scryer hears their own disassociated voice affirming what is seen within the concentrated state in a kind of feedback loop. This process culminates in the achievement of a final and desired end stage in which rich visual images and dramatic stories seem to be projected within the medium itself, or directly within the mind's eye of the scryer, like an inner movie. This overall process reputedly allows the scryer to "see" relevant events or images within the chosen medium.

Ancient Egypt:

There is archeological evidence that people have inhabited Egypt since the 10th millennium, though the official "unified" Egypt is considered to have begun around 3000 BC. By the late 4th century, the "Late Period," one of many goddesses worshipped in Egypt was Hathor, the Egyptian Sky Goddess of joy and love. The Egyptian priest and priestesses believed that Hathor carried a shield that could reflect back all things in their true light. From this shield she allegedly fashioned the first magic mirror to "see." Throughout Egyptian history, many forms of scrying have been used. Mirror scrying, dream scrying, and oil scrying are among the few.

Ancient Europe:

Around 2,000 BC, Greece, as well as "early" Britain and its subsequent Celtic population, was practising many forms of scrying. The mediums often used were beryl, crystal, black glass, polished quartz, water, and other transparent or light catching bodies.

Ancient Persia:

The Shahnama, a semi-historical epic work written in the late 10th century, gives a description of what was called the Cup of Jamshid, used in pre-Islamic Persia, which was used by wizards and practitioners of the esoteric sciences for observing all the seven layers of the universe.


One of the oldest known forms of scrying is dowsing, whereby a forked or L-shaped rod made of wood is used to "point" to the wanted information. The art of scrying needed to perform this type of divination is called "Empathic Psychogenics," whereby one focuses on their internal energies, bringing unconscious information to the conscious. Dowsing has been reported to have been in practice for nearly 7,000 years.

Ancient China:

There has been evidence of scrying in ancient China for thousands of years. In particular, tasseomancy, the art of reading tea leaves for signs and omens. Another scrying method the Chinese practiced was physiognomy, the art of reading lines, contours, and proportions of the face and head to reveal the nature of one's character. A physiognomist can deduce many elements in regard to a person's past and/or future.

Michel de Notre-dame, or Nostradamus as he was commonly known, is believed to have employed a small bowl of water as a scrying aid.

Other historical figures include Dr. John Dee's assistant Edward Kelley, who employed the more familiar form of a small crystal ball or shew stone. The crystal ball and wax tablets used by Dee and Kelley are on display at the British Museum in London.