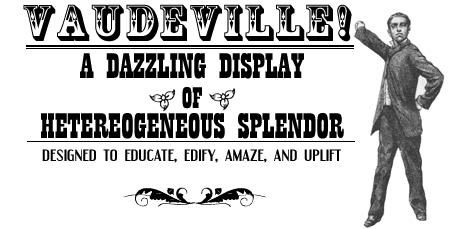 American Vaudeville, more so than any other mass entertainment, grew out of the culture of incorporation that defined American life after the Civil War. The development of vaudeville marked the beginning of popular entertainment as big business, dependent on the organizational efforts of a growing number of white-collar workers and the increased leisure time, spending power, and changing tastes of an urban middle class audience. Business savvy showmen utilized improved transportation and communication technologies, creating and controlling vast networks of theatre circuits standardizing, professionalizing, and institutionalizing American popular entertainment.

In the years before the war, entertainment existed on a different scale. Certainly, variety theatre existed before 1860. Europeans enjoyed types of variety performances years before anyone even had conceived of the United States. On American soil, as early as the first decades of the nineteenth century, theatre goers could enjoy a performance of Shakespeare, acrobats, singers, presentations of dance, and comedy all in the same evening. As the years progressed, seekers of diversified amusements found an increasing number to choose from. A handful of circuses regularly toured the country, dime-museums appealed to the curious, amusement parks, riverboats, and town halls often featured "cleaner" presentations of variety entertainment, while saloons, music-halls, and burlesque houses catered to those with a taste for the risqué. In the 1840's, minstrel shows, another type of variety performance, and "the first emanation of a pervasive and purely American mass culture," grew to enormous popularity and formed as Nick Tosches writes, "the heart of nineteenth-century show business." Medicine shows traveled the countryside offering programs of comedy, music, jugglers and other novelties along with their tonics, salves, and miracle elixirs, while Wild West Shows provided romantic vistas of the disappearing frontier complete with trick riding, music, and drama. Vaudeville incorporated these various itinerant amusements into a stable, institutionalized form centered in America's growing urban hubs.

Problematically, the term "vaudeville," itself, referring specifically to American variety entertainment, came into common usage after 1871 with the formation of "Sargent's Great Vaudeville Company" of Louisville, Kentucky, and had little if anything to do with the "vaudeville" of the French theatre. Variety showman, M.B. Leavitt claimed the word originated from the French "vaux de ville" ("worth of the city, or worthy of the city's patronage"), but in all likelihood, as Albert McLean suggests, the name was merely selected "for its vagueness, its faint, but harmless exoticism, and perhaps its connotation of gentility." Leavitt and Sargent's shows differed little from the coarser material presented in earlier itinerant entertainments, although their use of the term to provide a veneer of respectability points to an early effort to cater variety amusements to the growing middle class.

In the early 1880's, Tony Pastor, a former ringmaster with the circus turned theatre manager, capitalized on middle class sensibilities and spending power when he began to feature "polite" variety programs in several of his New York theatres. Hoping to draw a potential audience from female and family-based shopping traffic uptown, Pastor barred the sale of liquor in his theatres, eliminated questionable material from his shows, and offered gifts of coal and hams to attendees. Pastor's experiment proved successful and other managers soon followed suit.
Benjamin Franklin Keith, however, earns the distinction of "the father" of American Vaudeville. Keith began his career in show business working variously as a grifter and barker with traveling circuses in the 1870's, and for dime museums in New York. He returned to his home state of Massachusetts and in 1883 established his own museum in Boston featuring "Baby Alice the Midget Wonder" and other acts. His success in this endeavor allowed Keith to build the Bijou Theatre. The Bijou, a lavishly appointed, state-of-the-art, fireproof theatre, set the standard for the shape of things to come. At the Bijou, Keith established a "fixed policy of cleanliness and order." He strictly forbade the use of vulgarity or coarse material in his acts "so that the house and the entertainment would directly appeal to the support of women and children. . ."Keith strictly enforced his policies at the Bijou as he would in all his subsequent theatres. He ruled with an iron fist, censuring and censoring performers whose acts fell below his standards of decency. Keith posted signs backstage ordering performers to eliminate "vulgarity and suggestiveness in words, action, and costume" while performing in his theatre "under fine of instant discharge."As an added measure, Keith invited (with publicity) "a Sunday School dignitary to judge propriety at rehearsals."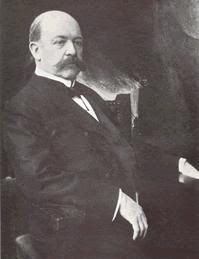 Keith's triumph as a showman lay chiefly in his ability to bridge the gulf between notions of "high" and "low" entertainments that grew increasingly wider in the years following the Civil War. He reinforced his theatres' image of gentility by including acts from the "legitimate" stage, drawing an audience previously unavailable to variety amusements. Simultaneously, he maintained a number of acts whose forms would have been familiar to fans of the earlier variety stage without alienating either constituency. As his partner Edward F. Albee would later write, the programs at Keith's theatres ensured "there is something for everybody." Keith's appeal to the growing middle class sense of refinement not only won him the business of women and children, but attracted the notice of Boston's powerful Catholic Church as well. The Church amply funded the expansion of the Keith enterprise on the promise of more clean entertainment. Keith and Albee built even more elaborate theatres in Boston with help from the Church and they duplicated their success in other Northeastern cities.

Within a few short years, imitators sprung up around the country. Managers like S. Z. Poli, Klaw and Erlanger, F.F. Proctor, Marcus Loew, and Martin Beck began their own profitable enterprises, following the lead of Keith and Albee. By the 1890's vast theatre circuits spanned the country and "comprehensive networks of booking offices" handled promotion and production. Subscribing to a business acumen that mirrored the policies of captains of industry, Keith and Albee consolidated their control of vaudeville, first through the United Booking Artists and later through the establishment of the Vaudeville Manager's Association, establishing a virtual monopoly that lasted well past Keith's death in 1914.

While in Boston, Keith also developed the policy of the continuous performance that dominated vaudeville for almost two decades before the big-time theatres returned to the two-a-day in the early twentieth century. The continuous ran up to twelve hours, in which scheduled acts would appear two or three times. The continuous provided the illusion of a constant and thriving business, eliminating what Keith saw as "hesitancy" on the part of patrons to enter the theatre until they were "reassured by numbers." Keith's idea revolutionized variety entertainment and tailored it perfectly to the conditions of life in the surrounding metropolis. A continuous twelve hours of performances opened vaudeville to wider audiences than previously possible. It caught as, Tony Pastor had hoped in New York, the overflow of uptown shopping traffic, and catered to both a middle class population with unprecedented leisure time and workers constrained by shift work. According to Keith it didn't matter "what time of day you visit, the theatre is always occupied by more or less people, the show is in full swing, everything is bright, cheerful, and inviting." Keith's comments point to his recognition of the importance of managed spectacle to attract urban audiences.

Alan Trachtenberg writes: "[that] Of all city spectacles, none surpassed the giant department store, the emporium of consumption born and nurtured in these years." Arguably, Trachtenberg did not fully consider the vaudeville theatre as spectacle. Vaudeville theatres, often known as "palaces," fiercely competed trying to outdistance each other in luxury, elegance, and grandiosity. As one journalist wrote at the opening of B.F. Keith's New Theatre in Boston in 1894: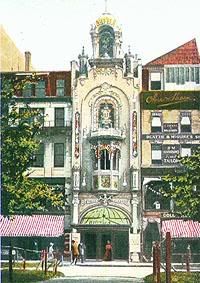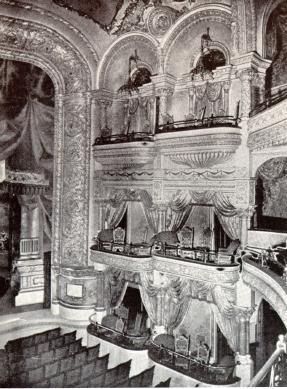 The age of luxury seems to have reached its ultima thule. The truth of this has never been impressed upon one so forcibly as in a visit to Keith's dream palace of a theatre . . . .It is almost incredible that all this elegance should be placed at the disposal of the public, the poor as well as the rich.

Keith's New Theatre, like F.F. Proctor's Pleasure Palace and many other vaudeville theatres to come, adapted the excessive and opulent architectural styles of Southern European palaces to create buildings with few precedents in American cities. The front of Keith's New Theatre featured a wealth of decorative detail. Wrought iron decorations, stained glass, incandescent lighting, gargoyles, arches, and marble pillars proclaimed an emphatic message of gentility, elegance, and success to all passersby. Keith's display continued inside the theatre. He filled the lobby and foyer with white and green marble, burnished brass, leather upholstered furniture, large plate mirrors, and enormous panel paintings by the "eminent artist Tojetti." Keith commissioned Tojetti to create more panel paintings above the huge and heavily gilded proscenium arch inside the auditorium, complimenting the ornate white and gold balconies, twelve private boxes, and walls of green and "rich" rose "in a brocaded silk effect." The design of Keith's New Theatre overlooked nothing. From the elaborate hand-painted ceiling to "the finest toilet and retiring rooms in the country" to the number oft "fragrant floral displays," the offering of "the purest artesian well water" and the "writing materials furnished free--gold pens, sterling silver handles, monogrammed paper and envelopes," Keith's New Theatre conveyed a feeling of lavish abundance coupled with an inescapable air of refinement. Reportedly, even the boiler room featured a thick carpets and a whitewashed coal bin.

Other theatres in the Keith-Albee circuit, as well as those of their competitors, followed along similar standards of luxury. Like the department stores of the era as discussed by Trachtenberg, vaudeville palaces were "lavishly designed palaces of consumption" using calculated spectacle to attract customers. Vaudeville palaces offered entertainment, rather than strictly consumer goods per se, but they also hoped to encourage customers to purchase concessions and relied heavily on the advertisement of goods in their theatre programs. Also like department stores, vaudeville theatres functioned as a type of educational institution. Certainly, the emphasis on the high moral character of his shows implied a set of ideals regarding appropriate behavior, but Keith's theatres offered a more direct education to the audience as well. His "fixed policy of cleanliness and order" extended equally to the patrons of his theatres and the acts on the stage. A vigilant army of ushers and uniformed attendants handed customers printed cards from silver trays asking female patrons to remove their hats or requesting that:

Gentlemen will kindly avoid carrying cigars or cigarettes in their mouths while in the building, and greatly oblige. The Management

Gentlemen will kindly avoid the stamping of feet and pounding of canes on the floor, and greatly oblige the Management. All applause is best shown by clapping of hands.

Please don't talk during acts, as it annoys those about you, and prevents a perfect hearing of the entertainment. The Management

As Keith would explain, "Our rule was to have the party approached by the usher first, second by the assistant head usher, then by the head usher, and lastly by the management who would request the party to leave . . ." Keith's theatres and their policies informed his audiences about changing standards of behavior acceptable for the middle class. As he would later note, "The public needed to be educated in these matters."

Prior to the Civil War, American audiences boisterously voiced their approval or disapproval at theatrical performances by screaming, hollering, stomping, throwing vegetables and other missiles, or in certain instances even rushing the stage to attack performers or plead for encores. As the century drew to a close, and the process of incorporation discussed by Alan Trachtenberg accelerated along with its related processes of industrialization and the formation of stricter cultural hierarchies, entertainment and audiences were forced to change. In creating and maintaining the air of refiement associated with his theatres, Keith successfully developed a form of variety amusements well-suited for the new middle class and their urban lifestyles. The sheer abundance, variety, and spectacle offered at Keith's theatres helped to educate and transform American audiences in their new roles as passive spectators and consumers of experience and sensation.

To hear songs, sketches and recitations from the Vaudeville stage click on the link below and then click on the links on the poster:

http://images.google.com/imgres?imgurl=http://xroads.virginia.edu/~ma02/easton/vaudeville/audiohead.gif&imgrefurl=http://xroads.virginia.edu/~ma02/easton/vaudeville/audio.html&h=300&w=500&sz=29&tbnid=eFO6TakmMAkJ:&tbnh=76&tbnw=127&hl=en&start=5&prev=/images%3Fq%3Dvaudeville%2Bsongs%26hl%3Den%26lr%3D%26client%3Dfirefox-a%26rls%3Dorg.mozilla:en-US:official_s

To see Stupendous Acts of the Stage click on the link below and then click on the links on the poster:

http://xroads.virginia.edu/%7Ema02/easton/vaudeville/movies.html

Source: xroads.virginia.edu

To learn more: American Vaudeville Museum:
http://vaudeville.org/index_files/Page1676.htm