Having previously done tidbits that are relevant here during the Fear and Loathing in Las Vegas discussion I will include links so you can go back and find them if you are interested. One thing not covered during Fear and Loathing was the phenomenon of Mods and Rockers that took place in the UK so that will be featured here.

A Trip Back in Time - Part 1 - The 50's
A trip back in time - Part 2 - The 60's
1960's Fashion
Mods and Rockers

were the first post-war style-based subcultures of Europe. The Mod (or, to use its full name, Modernism or sometimes Modism) lifestyle was based around fashion and music that developed in England in the late 1950 and 60s but with constant resurrection with every generation since then.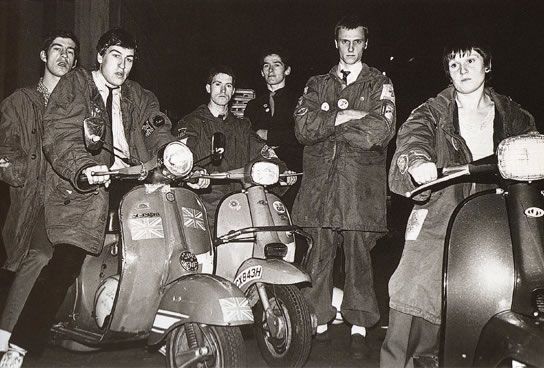 The Mods

- In 1960, Britain was shaking off its post-war torpor and becoming more affluent. There were exciting things happening in music, film and fashion. Out of this creative energy emerged the Mod (short for Modernist) movement. Mods embraced the coolest blues and jazz and dressed as sharply as their wage packets (or pocket money) allowed. Mohair suits, smart shoes and pressed shirts were de rigueur for a weekend on the town - along with a U.S. Army surplus fishtail parka to protect all this finery from the elements. The best-dressed, coolest Mods were known as 'faces'. Lesser individuals were 'numbers' or 'tickets'.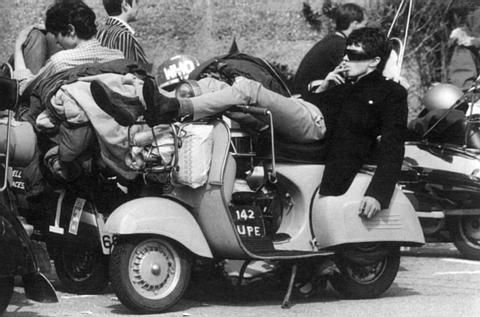 Mods, or modernists, were a mainly urban, southern phenomenon. They showed an affinity for scooters, such as the Italian Lambrettas and Vespas (These were sometimes adorned with many lights and mirrors and were intended to gain attention.), were obsessed with clothes and music, including Black American R&B and Soul, Jamaican Ska, and Bluebeat and a select few British groups such as the Small Faces, the Kinks, The Spencer Davis Group and The Who. They would gather at all-night clubs to show off their clothes and dance.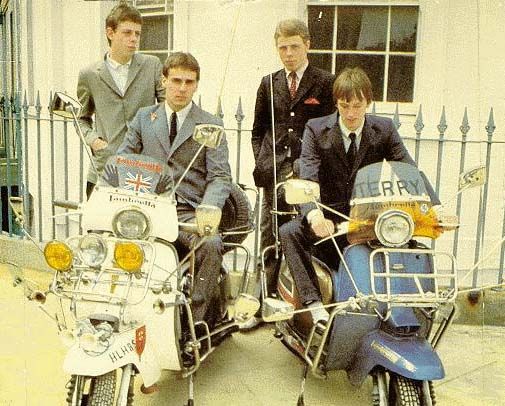 A Mod was a product of working class British youth of the mid-sixties. Jobling and Crowley called the mod subculture a "fashion-obsessed and hedonistic cult of the hyper-cool" young adults who lived in metropolitan London or the new towns of the south. Due to the increasing affluence of post-war Britain, the youths of the early 1960s were one of the first generations that did not have to contribute their money from after-school jobs to the family finances. As mod teens and young adults began using their disposable income to buy stylish clothes, the first youth-targeted boutique clothing stores opened in London in the Carnaby Street and Kings Road districts. Maverick fashion designers emerged, such as Mary Quant, who was known for her increasingly short miniskirt designs, and John Stephen, who sold a line named "His Clothes", and whose clients included bands such as Small Faces. The song "Dedicated Follower of Fashion" by The Kinks from 1966 jokes about the fashion obsession of the mod community.

Mod fashion adopted new Italian and French styles in part as a reaction to the rural and small-town rockers, who were seen as trapped in the 1950s, with their leather motorcycle clothes and American greaser look. Male mods adopted a smooth, sophisticated look that emphasized tailor-made Italian suits (sometimes white) with narrow lapels, mohair clothes, thin ties, button-down collar shirts, wool or cashmere jumpers (crewneck or V-neck), pointed-toe leather shoes that were nicknamed winklepickers, as well as Chelsea or Beatle boots, Tassel Loafers, Clarks Desert Boots and Bowling shoes, and hairstyles that imitated the look of the French Nouvelle Vague cinema actors of the era, such as Jean-Paul Belmondo.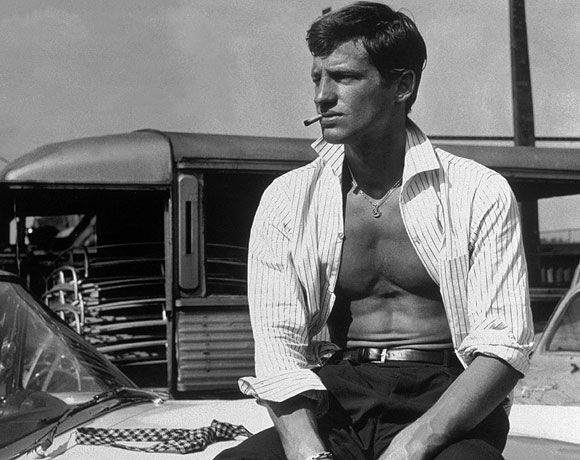 (DITHOT aside...what the heck is a winklepicker? Didn't this come up before? It seems to have got its illustrious name from its resemblance to the pointed tool used to extract winkles from their shells. Somehow the term for the new pointed footwear craze took its name from the above.)




Female mods dressed androgynously, with short haircuts, men's trousers or shirts (sometimes their boyfriend's), flat shoes, and little makeup — often just pale foundation, brown eye shadow, white or pale lipstick and false eyelashes.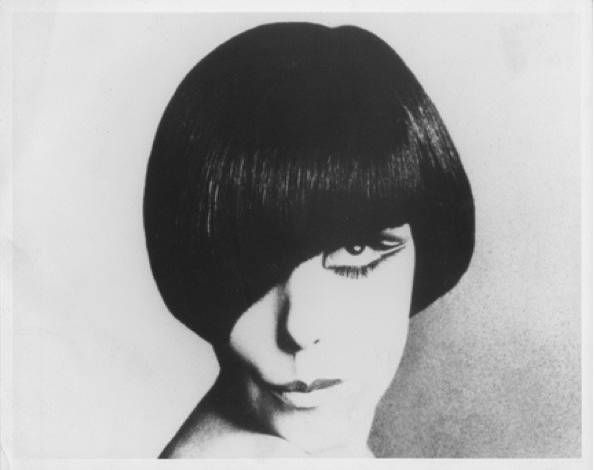 Peggy Moffat

Female mods pushed the boundaries of parental tolerance with their miniskirts, which got progressively shorter between the early and mid-1960s. As female mod fashion went from an underground style to a more commercialized fashion, slender models like Jean Shrimpton and Twiggy began to exemplify the high-fashion mod look. The television programmed Ready Steady Go!, presented by Cathy McGowan, helped to spread awareness of mod fashions and music to a larger audience.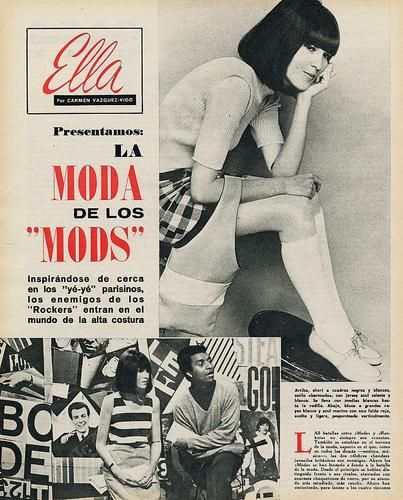 Cathy McGowan

Like most gangs of their time, The Mods had a very distinct, yet common interest in music. While the Beatles were enjoying immense popularity and success among Britain's mainstream society in the early 1960's, the first-wave of Mods pursued a different sound. They adopted modern jazz, which was a style of music originated in Black America. Through the jazz music of Black America, the Mods appeared to distinguish themselves from mainstream society. They seemed to be attracted to the "cool" demeanor and elegant clothing possessed by jazz musicians, and strived to emulate their style.

The American Jazz records were difficult to obtain in Liverpool, but the Mods preferred it this way. They hated commercialism and were drawn towards obscurity in their taste of music. As jazz grew in popularity, Mods began listening to Blues, Soul, Rhythm & Blues, and then moved on to Jamaican Bluebeat and Ska to stay ahead of the mainstream.

The Mods sparked a nationwide enthusiasm for Rhythm & Blues music that surpassed Jazz as the music of choice for young adults. They preferred the British bands who played a Rhythm & Blues style of music, such as The Rolling Stones, The Yardbirds, The Pretty Things, The Kinks, The Cyril Davis All-Stars, The Downliners, and The Small Faces.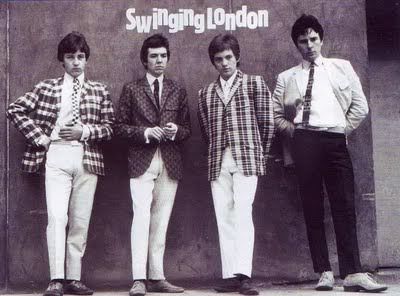 The Small Faces

The most popular and revolutionary band who could be labeled as Mods themselves were the High Numbers, later renamed The Who. They wore Mod outfits, had Mod hairstyles, and sang blues-based songs about being Mods, such as "I'm the Face", and "My Generation". The Who's performance often included Pete Townshend (guitarist) smashing his guitar into the speakers, as well as Keith Moon (drummer) knocking over his drums.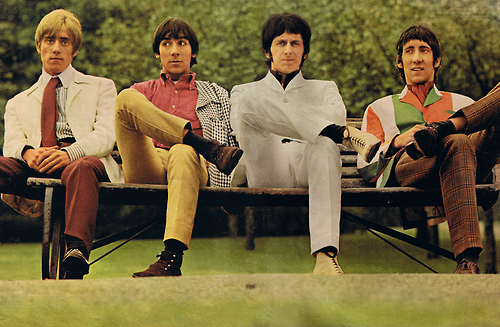 The Who

The Mods frequented clubs such as the Crawdaddy Club in Richmond, and the Flamingo and Marquee in Soho. These clubs provided Mods with a place to exchange records and create new dances such as the Shake, the Block, and the Bang.

The television show "Ready, Steady, Go!" recreated the Mod club scene on a larger scale. Mods outside of London could tune in and stay current with the latest fashions, music, dances, and slang each week. Bands such as The Who and The Small Faces performed in front of a live audience of dancers and spread the Mod culture throughout Britain.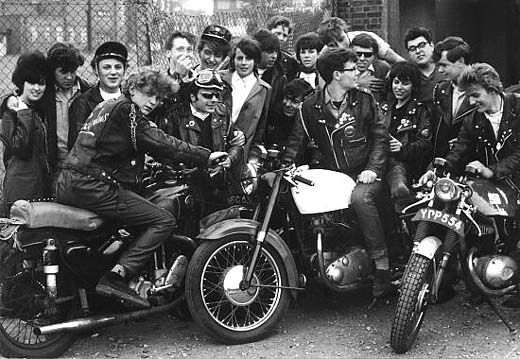 The Rockers

wore black leather and studs, had anti-authority beliefs, and projected an easy rider nomadic romanticism. They lived for the present, with a scruffy, masculine, 'bad boy' image. Rockers were essentially from the working class and despised any fashion. Rockers favored American rock and roll music by artists like Little Richard, Chuck Berry, Bo Diddley and early Elvis Presley.

Motorbikes were also integral to the scene, with British brands Triumph and Norton being favorites. Rockers bought standard factory-made motorcycles and stripped them down, tuning them up and modifying them to appear like racing bikes and were often called "cafe racers". These machines were capable of 100mph, or a 'ton': the Rockers who rode them were also known as 'ton-up boys'. They tore from cafe to cafe along Britain's new trunk roads -. They raced on public roads and hung out at transport cafes such as The Ace Cafe, Chelsea Bridge tea stall, Ace of Spades, Busy Bee and Johnsons. Hence the term cafe racer, (pronounced caff racer). Serious injuries and even deaths in motorcycle accidents were all part of the macho culture.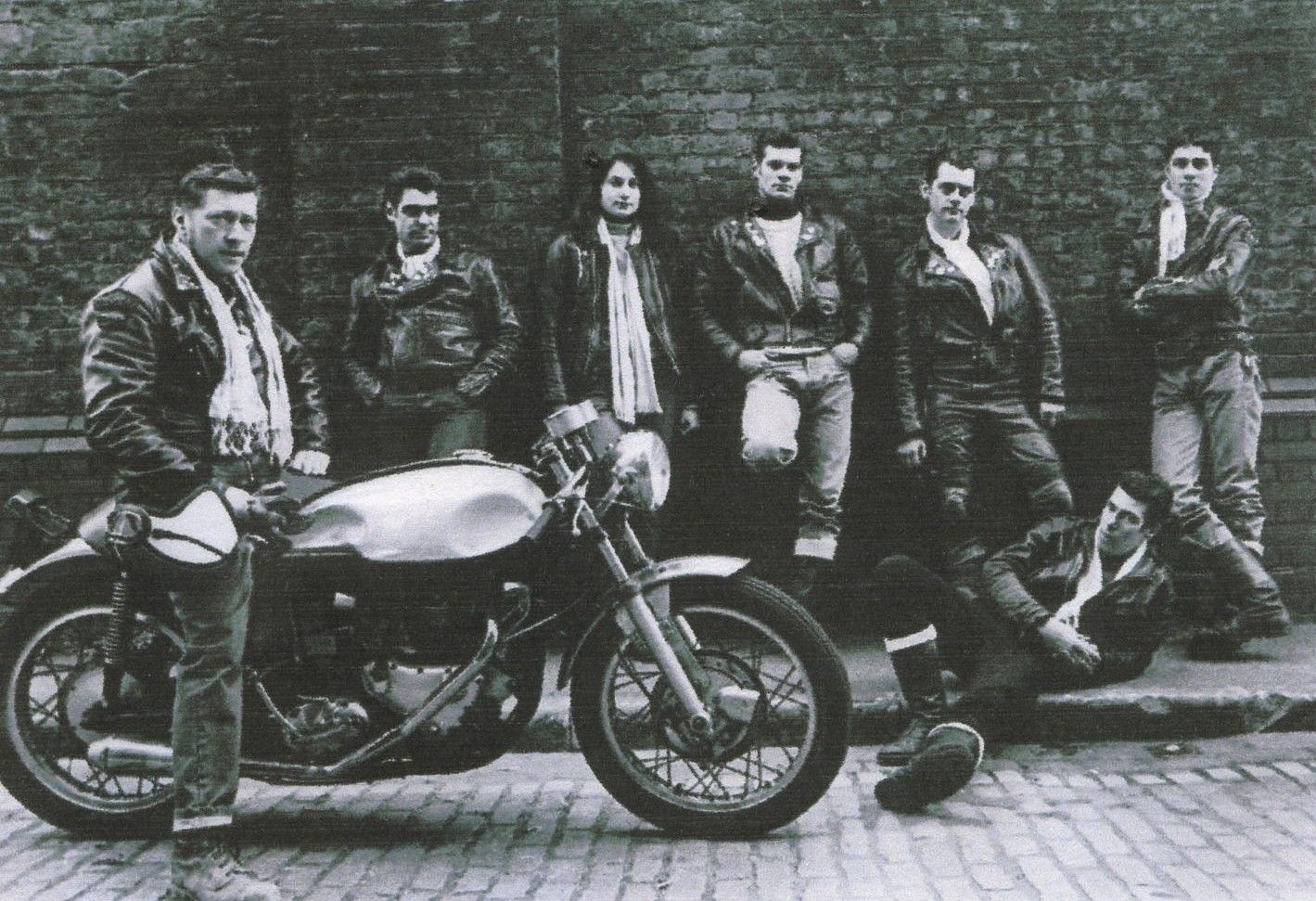 First seen in the United States and then England, the rocker fashion style was born out of necessity and practicality. Rockers wore heavily-decorated leather motorcycle jackets, often adorned with metal studs, patches, pin badges and sometimes an Esso gas man trinket. When they rode their motorcycles, they usually wore no helmet, or wore a classic open-face helmet, aviator goggles and a white silk scarf (to protect them from the elements). Other common items included: T-shirts, leather caps, Levi's or Wrangler jeans, leather trousers, tall motorcycle boots (often made by Lewis Leathers) or brothel creepers. Also popular was a patch declaring membership of the 59 Club of England, a church-based youth organization that later formed into a motorcycle club with members all over the world. The rocker hairstyle, kept in place with Brylcreem, was usually a tame or exaggerated pompadour hairstyle, as was popular with some 1950s rock and roll musicians.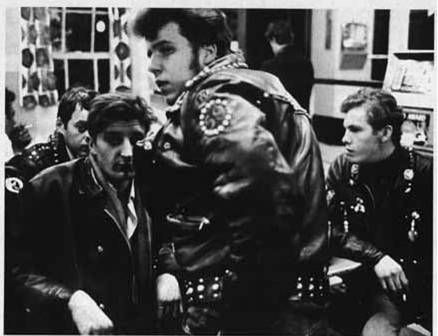 (DITHOT aside...Had to look up brothel creepers! They found their beginnings in the years following World War II, as soldiers based in the deserts in North Africa wore suede boots with hardwearing crepe soles because of the climate and environment. Having left the army, many of these ex-soldiers found their way to the nightspots of London wearing the same crepe-soled shoes and these became known as Brothel Creepers.)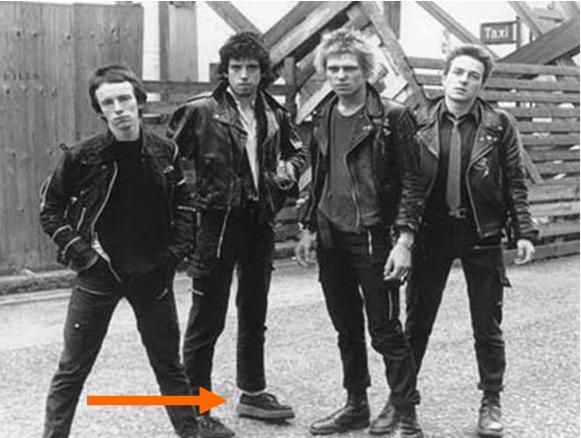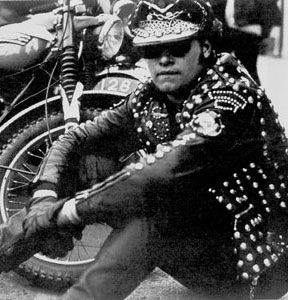 Mods and Rockers were poles apart. And each tribe was readily identifiable to the other. So clashes between them were no surprise. But fighting among members of the same subculture was just as common.

Antagonism between Mods and Rockers reached its peak during the spring bank holidays of 1964. Hundreds of youths fought running battles with each other and with the police in the seaside resorts of Clacton, Margate, Bournemouth and Brighton. The national press was outraged but the violence probably wasn't as bad as the newspaper reports claimed. The 1964 clash between Mods and Rockers on Brighton Beach is legendary. It inspired the film 'Quadrophenia' and on Bank Holidays the seafront is still lined with scooters and motorbikes.

Before the Whitsun bank holiday, police heard rumors that Mods and Rockers were planning to visit Brighton over the weekend. All police leave was cancelled and police local to Brighton were standing by to help. AA and RAC patrols were set up to warn police of large numbers of scooters or motor bikes making for Brighton.

Saturday passed peaceably. Only small groups of the rivals had arrived and were well behaved. Sunday, however, was different. Temperatures soared. Large numbers of visitors arrived in Brighton. The AA reported that 2,250 vehicles per hour were heading for Brighton via the A23. The beaches were packed.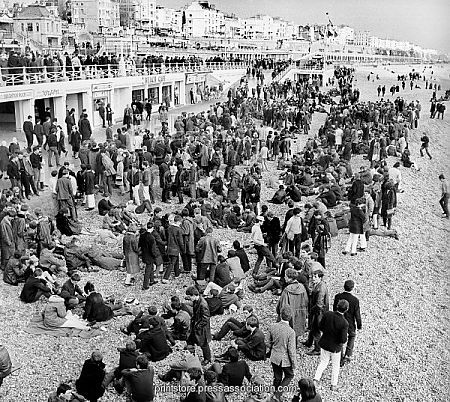 Clashes began on the Sunday evening. Mods and Rockers threw stones at each other on the sea front. The window of the ABC cinema was broken. Sporadic fighting continued. A crowd of Mods tried to drag two Rockers off their motorbikes as they rode off. By midnight, however, the police had managed to clear the streets. Hundreds slept on the beach or under boats for the night.

Fighting began early on Monday morning. Stones, deck chairs and waste bins were thrown during clashes at the Aquarium. Later, Rockers were again cornered at the Aquarium. They escaped by jumping twenty feet into the arms of the police. Until mid-afternoon, the two groups were kept apart. Then, they again threw stones at each other by the Palace (now Brighton) Pier.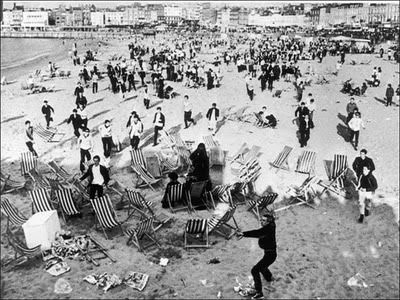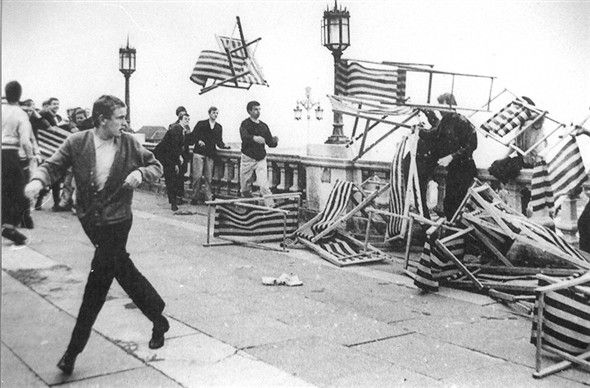 As the sun set, police reinforcements arrived. They began moving groups to the railway station, barred all the exits at the station and searched people for weapons. Mods and Rockers began to ride out of town. The AA reported that at 8.30pm, the line of Mods trying to hitch hike, stretched from Brighton to Bolney.

Some people say that the media whipped up the conflict between Mods and Rockers. Wild newspaper reports attracted people who were looking for a fight. 'They were just gangs of kids…,' one Mod claimed. 'No real Mod wanted to roll about in the dirt.'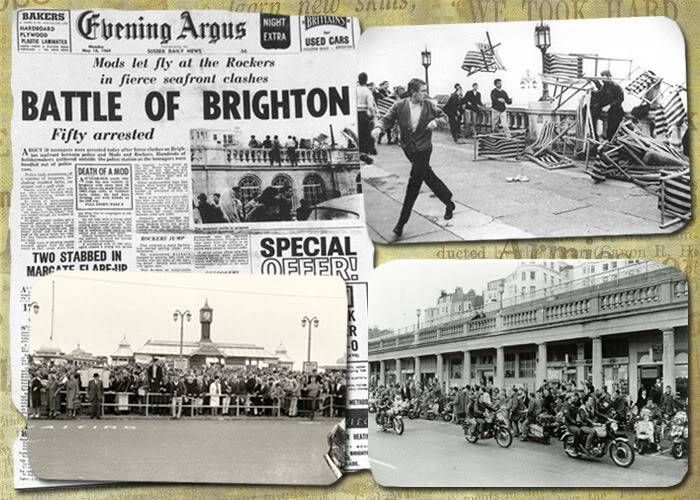 Brighton has continued to remain a favorite location for Bikers, Rockers, Mods and Scooter boys to visit over bank holiday weekends. Indeed, far from continuing to foster their violent reputations from the 1960s, the show of bikes and scooters along the seafront has become a tourist attraction in its own right.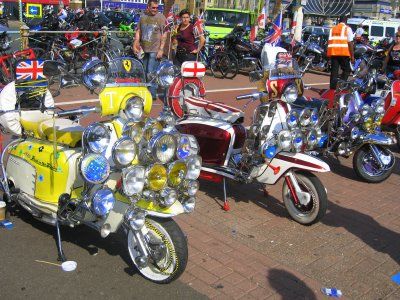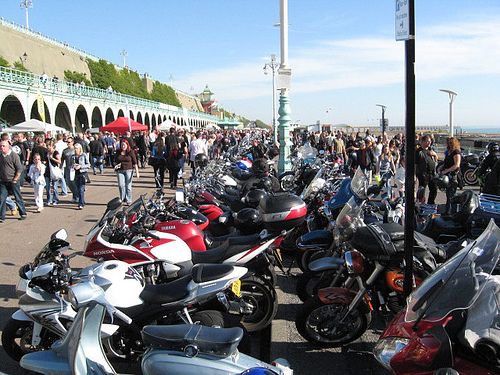 Here is a link to an interesting interview with John Leo Waters on his memories of being a mod back in the day...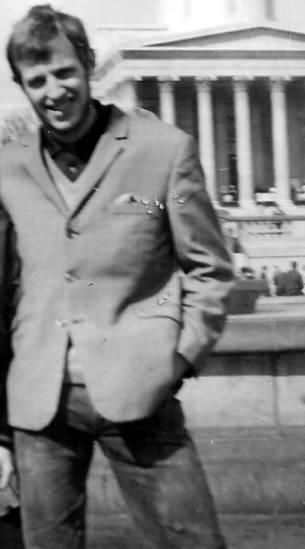 The Mod Generation
[youtube]jSVMD4fMiD4[/youtube]
Ton Up Boys
[youtube]MvLSBvUIZSo[/youtube]