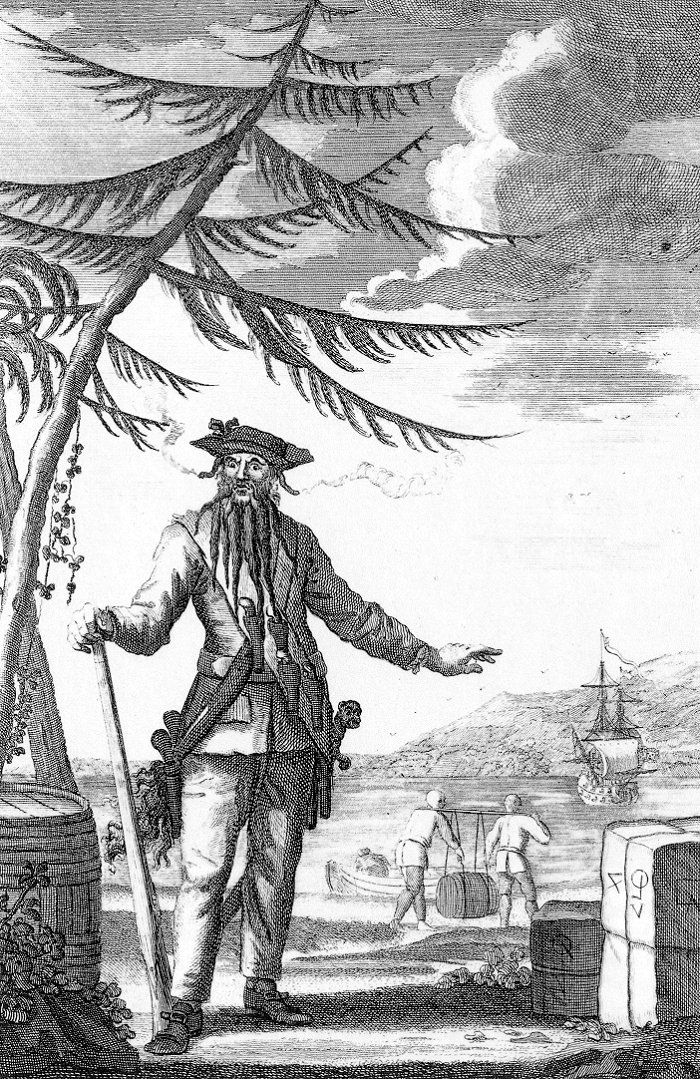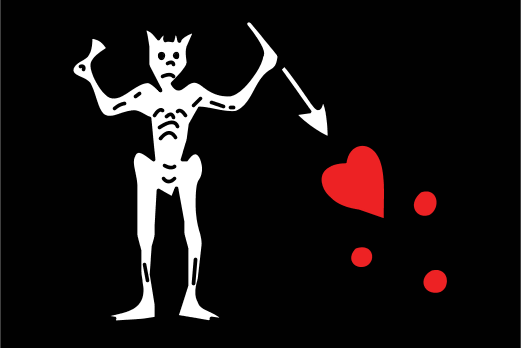 Today Edward Teach, better known as "Blackbeard," is perhaps the best known non-fictional pirate even though he was not the most successful. He is remembered mainly because of his image that he himself helped to create. Teach's life story is basically only known within the few years before his death when he was a pirate. Little is known about Blackbeard's early life. It is commonly believed that at the time of his death he was between 35 and 40, and thus born in about 1680 most likely in Bristol, England. (Although some unverifiable reports say he was from Jamaica, London, or Philadelphia). In contemporary records his name is most often given as Blackbeard, Edward Thatch, or Edward Teach, and it is the latter which today is most often used, but several spellings of his surname exist—Thatch, Thach, Thache, Thack, Tack, Thatche, and Theach. One early claim was that his surname was Drummond, but the lack of any supporting documentation makes this unlikely. It was the custom of pirates to use fictitious surnames while engaging in the business of piracy, so as not to tarnish the family name, and Teach's real name will likely never be known.

Personally Teach was said to be a somewhat amiable man, who was almost forgiving and generous to those that cooperated with him, but at the same time he did not waste time with those who fought him or did not cooperate with him. There is a story of a man that refused to give Blackbeard his jewelry so rather than fighting with him, Blackbeard simply cut the man's hand off. Unlike some other pirates, Teach was not known to be a very barbaric and demented pirate who tortured victims for fun, but instead he usually just went after valuables. His demonic image he created actually added to the stories of his wickedness. Teach could almost certainly read and write; he communicated with merchants and on his death had in his possession a letter addressed to him by the Chief Justice and Secretary of the Province of Carolina, Tobias Knight.

Teach was also apparently a ladies man, as it is said that he had around 14 wives. Only his last marriage to a 16 year old young lady (thought to be Mary Ormond) is believed to be legitimate since he was properly married, but this happened during his last year of his life. His previous marriages were conducted on board his ship and were almost a common-place ritual to the crew.




Teach understood the value of appearances; better to strike fear into the heart of one's enemies, than rely on bluster alone. Teach was tall, with broad shoulders. He wore knee-length boots and dark clothing, topped with a wide hat and sometimes a long coat of brightly-colored silk or velvet. He was always well-armed with three braces of cocked and primed pistols, daggers, and two cutlasses. Eyewitness accounts state that Blackbeard was a large, tall man with a long black beard which he braided and tied with ribbons. To add to his imposing looks, he would light cannon fuses that had been dipped in lime water or salt peter and stuff them under the edge of his hat (some say in his beard). The smoke would encircle his head and certainly give him an intimidating flair. There is even speculation in pirate folklore that the infamous Blackbeard met a howler monkey while at leisure in a Port Royal alehouse whom he named Jefferson and formed a strong bond with during the expedition to the island of New Providence. Despite his ferocious reputation, there are no verified accounts of his ever having murdered or harmed those he held captive.

Teach may have arrived in the Caribbean in the last years of the 17th century, on a merchant vessel (possibly a slave ship). The 18th-century author Charles Johnson claimed that Teach was for some time a sailor operating from Jamaica on privateer ships during Queen Anne's War, and that "he had often distinguished himself for his uncommon boldness and personal courage". At what point during the war Teach joined the fighting is, like most of his life before he became a pirate, unknown.

Probably shortly after the signing of the Treaty of Utrecht he moved to New Providence from Jamaica, and along with most of those who had been privateers during the war became involved in piracy. Possibly about 1716, Teach joined the crew of Captain Benjamin Hornigold, a renowned pirate who operated from New Providence's safe waters. Hornigold took Teach on as an apprentice and he proved to be a quick study. Sometime in early 1717, Hornigold gave Teach his own command of a sloop and together they wreaked havoc in the following months. Later in the year, off of the island of St. Vincent, the two pirate sloops closed on a merchantman and soon captured it. The ship was a large Dutch-built French guineaman named Concord which Teach had a liking for.

In September, 1717, Teach and Hornigold encountered Stede Bonnet. A landowner and military officer from a wealthy family, he had turned to piracy earlier that year but his crew of about 70 were reportedly dissatisfied with his command. Teach "convinced" Bonnet of this and so he sent one of his own lieutenants to take over command of Revenge while Bonnet went aboard Queen Anne's Revenge as a "guest." Bonnet's crew heartliy cooperated with Blackbeard's idea since they also knew of Bonnet lacking pirating ability. The two Revenge's were soon joined by another captured sloop, the Adventure, which Blackbeard assigned Israel Hands to command. (As a sidenote, Robert Louis Stevenson used the name "Israel Hands" as one of Long John Silver's fellow pirates in his classic fiction novel Treasure Island. More on Israel Hands to come.)

The pirate flotilla now consisted of three ships; Teach on Revenge, accompanied by his old sloop, and Hornigold's Ranger. By October, another vessel had been captured and added to the small fleet. The sloops Robert of Philadelphia and Good Intent of Dublin were stopped on 22 October 1717, and their cargo holds emptied.

As a former British privateer, Hornigold attacked only his former enemies. For his crew, the sight of British vessels filled with valuable cargo passing by unharmed became too much, and at some point toward the end of 1717 Hornigold was demoted. Whether Teach had any involvement in this decision is unknown, but Hornigold soon retired from piracy. Hornigold took with him Ranger and one of the sloops, leaving Teach with Revenge and the remaining sloop. The two never met again, and along with many of the other occupants of New Providence Hornigold accepted the King's pardon from Woodes Rogers in June the following year.

On 28 November Teach's two ships attacked a French merchant vessel off the coast of Saint Vincent. They each fired a broadside across its bulwarks, killing several of its crew, and forcing its captain to surrender. The ship turned out to be La Concorde of Saint-Malo, a large French guineaman carrying a cargo of slaves. Teach and his crews sailed the vessel south along Saint Vincent and the Grenadines, to Bequia, where they disembarked her crew and cargo, and converted the ship for their own use. The smaller of Teach's two sloops was left for the crew of La Concorde, who renamed her Mauvaise Rencontre (Bad Meeting) and sailed for Martinique. Teach may have recruited some of the slaves, but the remainder were left on the island and were later recaptured by the returning crew of Mauvaise Recontre.

Teach immediately renamed La Concorde as Queen Anne's Revenge and equipped her with 40 guns.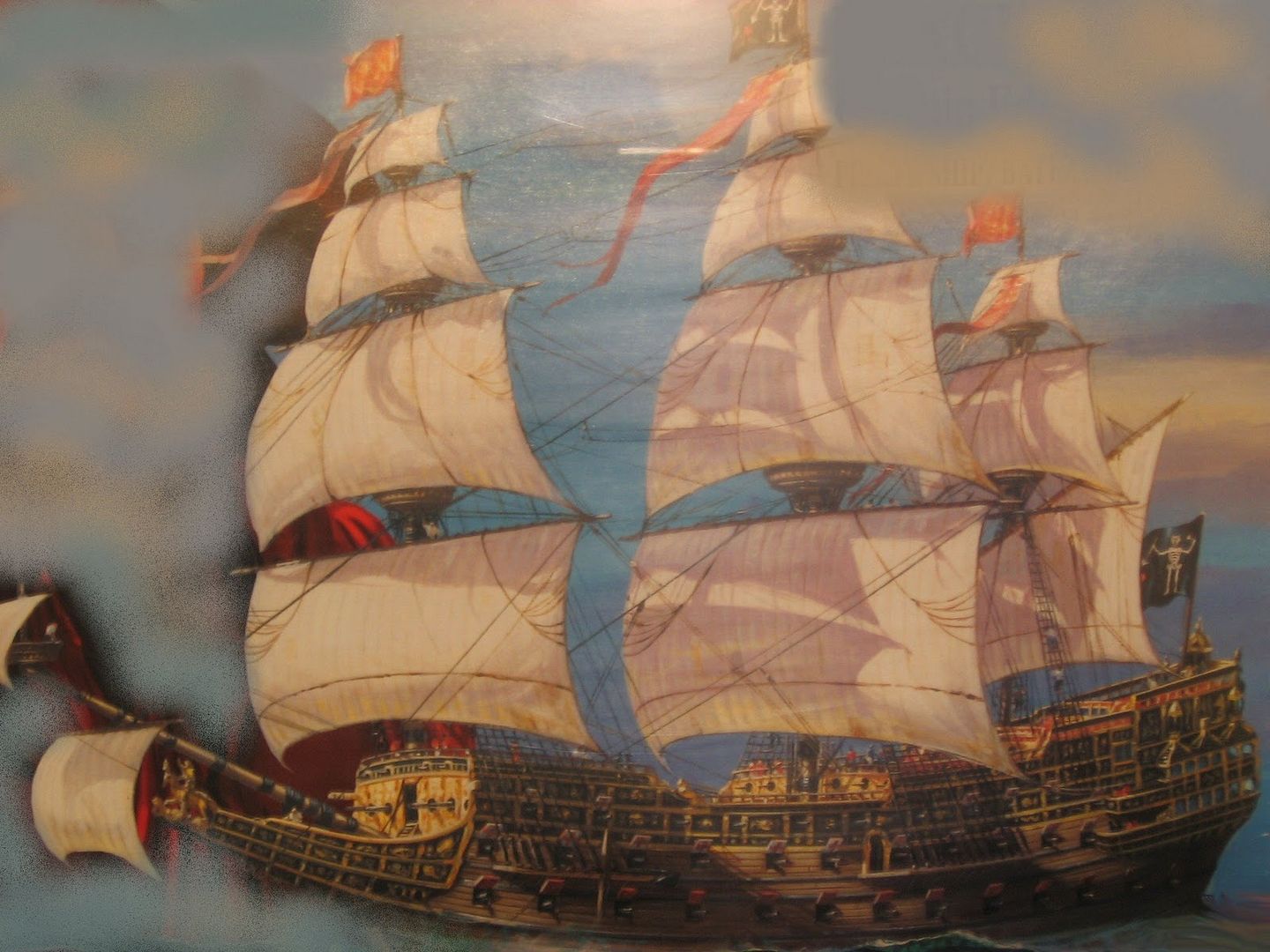 In late November he attacked the Great Allen, near Saint Vincent. Teach forced the large and well-armed merchant ship to surrender after a lengthy engagement. He ordered the Great Allen to move closer to the shore, disembarked her crew and emptied her cargo holds. The ship was then burned and sunk. The incident was chronicled in the Boston News Letter, which described Teach as in command of a "French ship of 32 Guns, a Briganteen of 10 guns and a Sloop of 12 guns." When or where Teach collected the ten gun Briganteen is unknown, but by this time it is estimated he was in command of at least 150 men, split between three vessels.

Teach's movements from late 1717 to early 1718 are a mystery. He and Bonnet were probably responsible for an attack off Saint Eustatius in December 1717. Henry Bostock claimed to have heard the pirates say they would head toward the Spanish-controlled Samaná Bay in Hispaniola, but a cursory search revealed no pirate activity. In March 1718, while taking on water at Turneffe Island east of Belize, both ships spotted Adventure (a sloop from Jamaica) making for the harbour. The sloop was quickly stopped and its captain, David Harriot, invited to join the pirates. Harriot and his crew agreed and Teach sent over a crew to run Adventure. They sailed for the Bay of Honduras, where they added another ship and four sloops to their flotilla. On 9 April Teach's enlarged fleet of ships looted and burnt Protestant Caesar. His fleet then sailed to Grand Cayman where they captured a "small turtler". Teach probably sailed toward Havana, where he may have captured a small Spanish vessel that had left the Cuban port. They then sailed to the wrecks of the 1715 Spanish fleet, off the western coast of Florida. There he disembarked the crew of the captured Spanish sloop, before proceeding north to the port of Charleston, South Carolina, attacking three vessels along the way.

In May 1718, Blackbeard's pirate fleet appeared at Charleston, South Carolina, and were soon stopping every vessel entering and leaving the harbor. Almost ten vessels were plundered before Charleston acted on the reoccurring problem. All incoming vessels were soon diverted from entering Charleston harbor and all vessels already within the harbor remained in port because of the siege from Blackbeard's fleet. Before this happened though, Blackbeard was able to take many important high ranking citizens as prisoners hoping they would be useful. He held them for ransom for medical supplies and threatened to kill them all if he did not get his wish. Several days after sending one of the hostages and two of his crew to deliver the ransom note, he received his medical trunk and true to his word he released all the prisoners without loss of life —albeit relieved of their valuables, including the fine clothing some had worn.

While at Charleston, Teach had learned that Woodes Rogers had left England with several men-of-war, with orders to purge the West Indies of pirates. Teach's flotilla of ships sailed northward along the Atlantic coast and into Topsail Inlet (commonly known as Beaufort Inlet), on the coast of North Carolina, to careen the ships for the purpose of scraping their hulls. Queen Anne's Revenge ran aground on a sandbar, cracking her main-mast and severely damaging many of her timbers. Teach then ordered several sloops to throw ropes across the flagship in an attempt to free her from the obstruction. One of the sloops, commanded by Israel Hands of Adventure, also ran aground; both vessels appeared to be damaged beyond repair, leaving only Revenge and the captured Spanish sloop.

Teach had at some stage learned of the offer of a royal pardon and probably confided in Bonnet that he intended to accept it. The pardon was open to all pirates who surrendered on or before 5 September 1718, but contained a caveat which stipulated that immunity was offered only against crimes committed before 5 January. Although in theory this left Bonnet and Teach at risk of hanging for their actions at Charleston Bar, most authorities could waive such conditions. Teach thought that Governor Charles Eden was a man he could trust, but to make sure he waited to see what would happen to another captain. Bonnet left immediately for Bath Town on a small sailing boat where he surrendered to Governor Eden and received his pardon. He then travelled back to Beaufort Inlet to collect the Revenge and the remainder of his crew, intending to sail to Saint Thomas Island where he would receive his commission. Unfortunately for him, Teach had stripped the vessel of all its valuables and provisions and marooned its crew; Bonnet set out for revenge, but was unable to find him. He and his crew returned to piracy and were captured on 27 September 1718 at the mouth of the Cape Fear River. All but four of those caught were later tried and hanged in Charleston. The captured Revenge was later included in a fleet of ships commanded by the Governor of South Carolina, which made a ferocious attack on a group of pirates near the entrance to Charleston Harbour, resulting in the execution of 49 pirates inside a month. Their bodies were hung in gibbets near White Point.

The author Robert Lee surmised that Teach and Hands ran both ships aground on purpose, to reduce the crew complement of the fleet and therefore increase their share of the spoils. During the trial of Bonnet's crew Revenge's boatswain Ignatius Pell testified that "the ship was run ashore and lost, which Thatch [Teach] caused to be done." Lee also considers it plausible that Teach let Bonnet in on his plan, which was to accept a pardon from Governor Eden. He suggested Bonnet do the same and to consider taking a privateer's commission from England in prospect of a threatened war between the Quadruple Alliance of 1718 and Spain. Teach offered Bonnet the return of his ship, Revenge.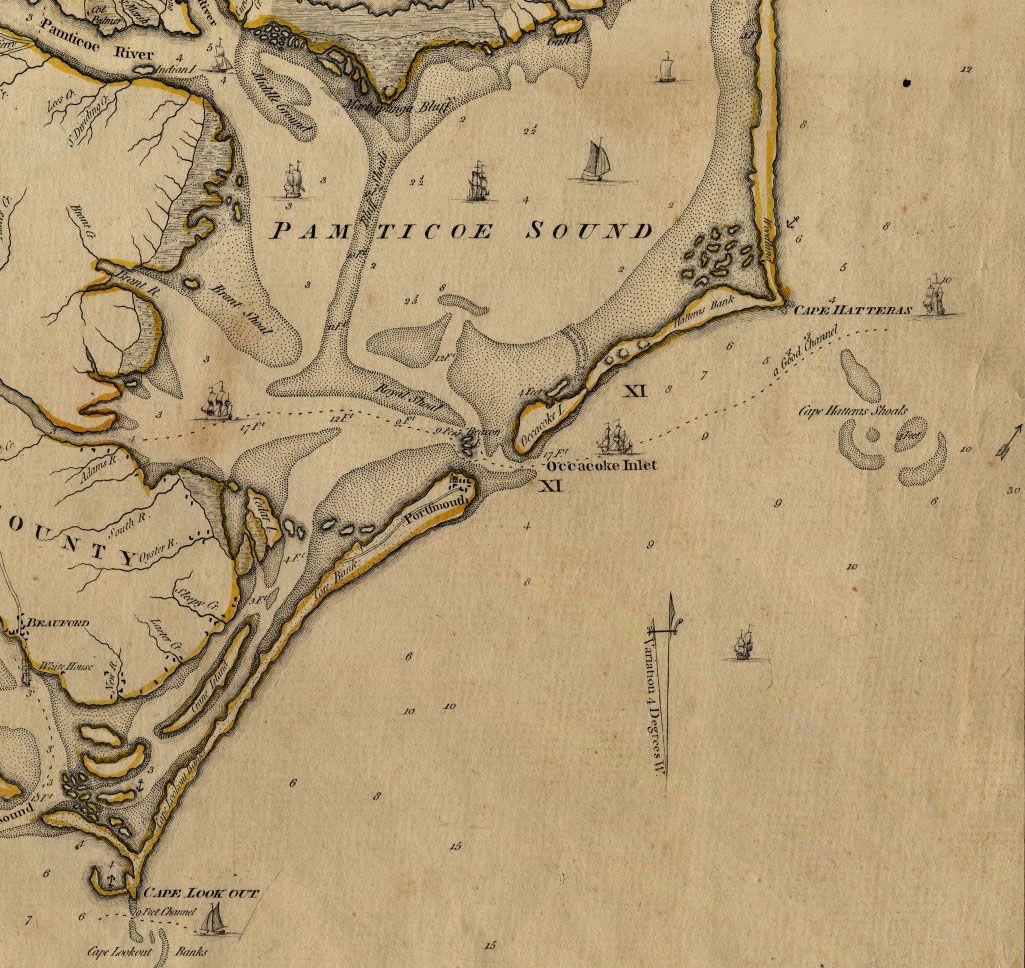 A map of the area around Ocracoke Inlet, 1775

Blackbeard and his men went to receive their pardons from North Carolina Governor Charles Eden and Teach soon settled in Bath Town. Eden and Teach spent much time together so it is believed Eden had access to Blackbeard's loot since the two become friends. Teach eventually met his last wife here while in his retirement, and this time around the governor legally married them. Eden gave Teach permission to sail to St Thomas to seek a commission as a privateer (a useful way of removing bored and troublesome pirates from the small settlement), and Teach was given official title to his remaining sloop, which he renamed Adventure. By the end of August, Teach had returned to piracy and in the same month the Governor of Pennsylvania issued a warrant for his arrest, but by this time Teach was probably operating in Delaware Bay, some distance from the colony. Teach then took two French ships leaving the Caribbean, moved one crew across to the other, and took the remaining ship back to Ocracoke. In September 1718 he told Eden that he had found the French ship at sea, deserted. A Vice Admiralty Court was quickly convened, presided over by Tobias Knight and the Collector of Customs. The ship was judged as a derelict found at sea, 20 hogsheads of sugar were awarded to Knight, and sixty to Eden; Teach and his crew were given the rest of the boat's cargo.

Ocracoke Inlet was Teach's favorite anchorage. It was a perfect location from which to view ships travelling between the settlements of northeast Carolina, and it was from this vantage point that Teach first spotted the approaching ship of another English pirate, Charles Vane. Vane had rejected the pardon brought by Woodes Rogers and escaped the men-of-war the English Captain brought with him to Nassau, on 26 July 1718. He had also been pursued by Benjamin Hornigold (Teach's old commander, now turned pirate-hunter). The two captains spent several nights on the southern tip of Ocracoke Island, accompanied by such notorious figures as Israel Hands, Robert Deal and Calico Jack. (More to come on these pirates!)

Soon citizens and neighboring Virginia Governor Alexander Spotswood feared the large gathering of pirates and rumors began to spread that a planned pirate haven would be set up. Spotswood began to organize a military force to rid Blackbeard. HMS Pearl and HMS Lyme were selected for the task but their captains informed the governor that their large ships would not be able to navigate the waters. Spotswood then offered up his own money to lease two sloops for the specific job, Ranger and Jane, which would be crewed by the warship men. First lieutenant Robert Maynard of HMS Pearl was selected to lead the two ships for the hunt while Captain Brand of HMS Lyme would lead ground forces. Extra incentive for Teach's capture was given by the offer of a reward from the Assembly of Virginia, over and above any that might be received from the Crown.

The two sloops set out for Blackbeard's hideout at Ocracoke Island and arrived on late November 21, 1718. The next morning, the battle began. The two leased sloops were unarmed so they had to fight only with small guns and swords, but Blackbeard's sloop Adventure had 9 guns so he was able to fire at the approaching sloops. At their approach, Adventure set sail and fired at the sloops but there was very little wind so there was not much speed in the chase so oars were needed. Ranger was essentially knocked out from a lethal broadside shot from Adventure so Maynard moved in alone with Jane. Jane managed to damage Adventure enough, and Maynard ordered most of his crew below decks to bluff Blackbeard into thinking the crew was killed. His bluff worked, when the two ships were alongside one another Blackbeard and several of his crew boarded Jane. At this time, Maynard's armed and waiting crew belowdeck surfaced and a raging hand-to-hand battle ensued. Soon Maynard and Blackbeard were fighting each other in duel of naval officer versus pirate. After Blackbeard wounded Maynard's fingers with a cutlass blow, Maynard moved back and shot him but had little effect in stopping Blackbeard. Several other Jane crewmen fought with Blackbeard after this before he was eventually overcome by his numerous wounds. (It has also been stated that Blackbeard was decapitated by a sword blow to the back of the head during the fighting rather than getting his head removed after his death.) Maynard later commented that Blackbeard fell with at least five gun shot wounds and at least 20 sword wounds. Blackbeard's severed head was hung from Maynard's sloop's bowsprit as a trophy and also to prove that the legendary Blackbeard the pirate was indeed dead.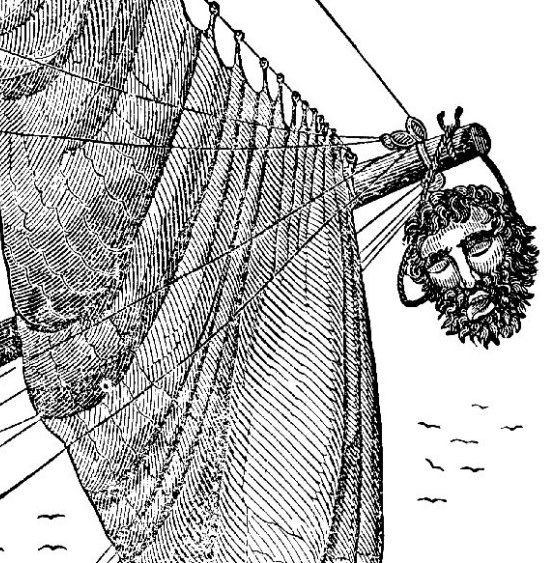 Lieutenant Maynard remained at Ocracoke for several more days, making repairs and burying the dead. Teach's loot—sugar, cocoa, indigo and cotton—found "in pirate sloops and ashore in a tent where the sloops lay", was sold at auction along with sugar and cotton found in Tobias Knight's barn, for £2,238. Governor Spotswood used a portion of this to pay for the operation. The prize money for capturing Teach was to be about £400, but was split between the crews of both HMS Lyme and HMS Pearl. Maynard thought this extremely unfair as Captain Brand and his troops had not been the ones fighting for their lives. Maynard lost much of his support when it was discovered that he and his crew had helped themselves to about £90 of Teach's booty. The two companies did not receive their prize money for another four years, and despite his bravery Maynard was not promoted; instead he faded into obscurity.

The remainder of Teach's crew and former associates were found by Brand, in Bath, and transported to Williamsburg, Virginia, where they were jailed on charges of piracy. Several were black and Spotswood asked his council if anything could be done about "the Circumstances of these Negroes to exempt them from undergoing the same Tryal as other pirates." This request was refused and they were tried with their comrades in Williamsburg's Capitol building, under admiralty law, on 12 March 1719. No records of the day's proceedings remain but 14 of the 16 accused were found guilty; one was found not guilty, having proven that although he had partaken of the fight out of necessity, he had been on Teach's ship only as a guest at a drinking party the night before and was not a pirate. Thirteen pirates were hanged and left to rot in gibbets along Williamsburg's Capitol Landing Road (later known as Gallows Road).

Since the end of this so-called golden age of piracy, Teach and his exploits have become the stuff of lore, inspiring books, films and amusement park rides. Much of what is known about him can be sourced to Charles Johnson's A General Historie of the Robberies and Murders of the Most Notorious Pyrates, published in Britain in 1724. Despite his infamy, Teach was not the most successful of pirates. Henry Every captured a fortune and retired on the proceeds, and Bartholomew Roberts took an estimated five times the amount Teach stole. Treasure hunters have long busied themselves searching for any trace of his rumored hoard of gold and silver, but nothing found in the numerous sites explored along the east coast of the US has ever been connected to Teach. The only treasure so far recovered from Teach's exploits is the wreckage of the Queen Anne's Revenge. In 1997, it was found and excavated, and as of 2007 more than 15,000 objects have been rescued and preserved, some of which are on display at the North Carolina Maritime Museum.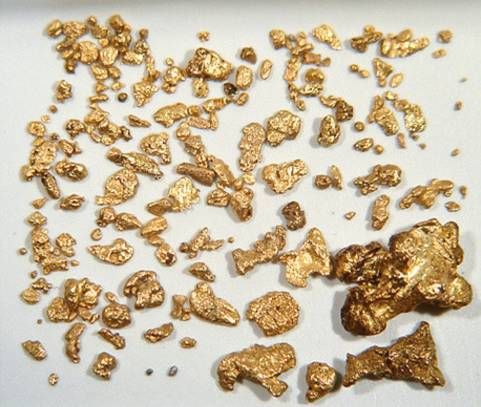 Gold discovered on board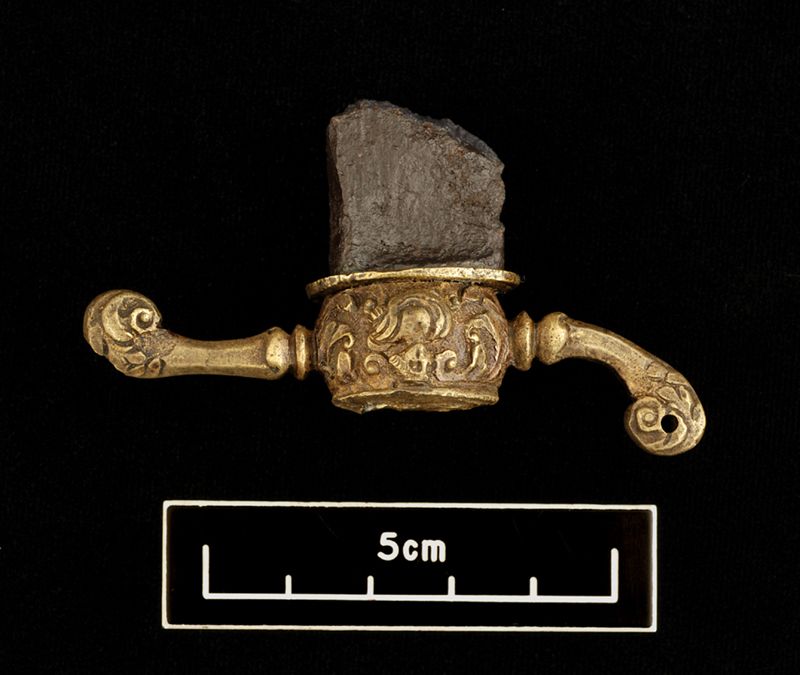 The handle of a sword guard

Buster provided us with this link information on the site in a previous tidbit:



Various superstitious tales exist of Teach's ghost. Unexplainable lights at sea are often referred to as "Teach's light" and some recitals claim that the notorious pirate now roams the afterlife searching for his head, for fear that his friends, and the Devil, will not recognize him. A North Carolinian tale holds that Teach's skull was used as the basis for a silver drinking chalice; a local judge even claimed to have drunk from it one night in the 1930s. The name of Blackbeard has been attached to many local attractions, such as Charleston's Blackbeard's Cove. Blackbeard's name and persona have featured heavily in literature.

In case you are ever in the area...

THE "HAMMOCK HOUSE" c. 1700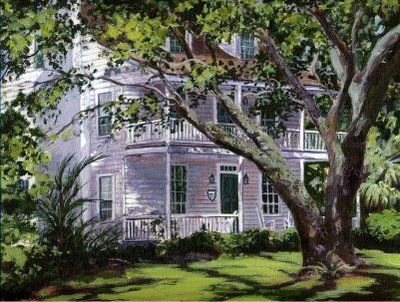 A painting of the original house circa 1700

Blackbeard headquartered out of what was shown on ancient maps as the "white house" which was located on what is now Taylor's creek, overlooking the inlet to the Atlantic Ocean at Beaufort. After nearly 300 years, things have changed. Today the house is known as the Hammock House, and the the house is over 500 feet from water due to build up and filling in over the centuries.

The Hammock House, oldest home in Beaufort dates back to approximately 1700 and has been used for a variety of purposes during its nearly 300 year history. It has had 31 owners who held it for periods varying from less than one year to over 21, the average possession being a little over 9 years. It is probable that it was originally built as an "ordinary", or inn - the owners hoping to profit from sea or land travelers overnight needs. But it's been used, also, as a home, a residence for Union soldiers, a summer house and a school.

The name comes from the fact that the house was built on a "hammock", a "fertile raised area." Because its' two stories made it visible from considerable distance and it occupied land at the entry to the inlet, it served as a shipping landmark until the late 18th century. Originally Taylor's Creek came up to the front lawn of the house and one could paddle up to the area in a small boat and dock.

There are many legends and stories connected with the house. Some people have believed it to be haunted and it is told that Blackbeard stayed here for a while with an 18 year old French common-law wife who was not a willing occupant. The pirate got so angry with her that he hanged her on an oak tree in the back yard when he departed. Some people say her screams can be heard to this day when conditions are just right. (A scale model of Blackbeard's sloop, "Adventurer", commissioned by the owners and created by Harkers Island boat builder and model makes, James Allen Rose, is on display in the Hammock House today.)

Another tale frequently told has to do with one Richard Russell, Jr., who, upon his return from a sea voyage decided to take a slave up into the Hammock House attic to punish him. The slave overpowered Russell and pushed him down the stairs, breaking his neck.

Another story has it that a British Navy Captain, engaged to a Beaufort women, upon arriving in town mistakenly thought that his fiancee has been untrue and killed her alleged lover in the upper area of the house; traces of the victim's blood can be detected on the treads of the steps.

During the Civil War Union officers were quartered in the house. Three of them set out for the building and were never seen again. In 1915 workmen digging near the back porch found their remains. Recently, during renovations, a human scapula bone was uncovered.

So many tragic stories were associated with the house that many citizens became uneasy. Was it really haunted? Could it be that the voices of all these unfortunates can be heard from time to time? This may account for the years of neglect, abuse and vandalism to which the Hammock House fell victim.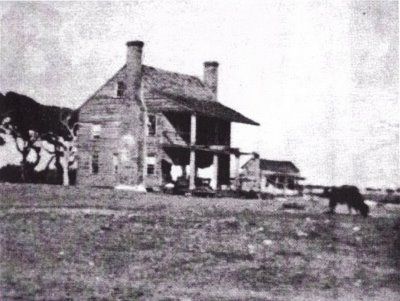 Earliest known photograph circa early 1900s

The late Maurice Davis is credited with rescuing the structure from destruction as well as doing considerable research culminating in his book, The History of the Hammock House.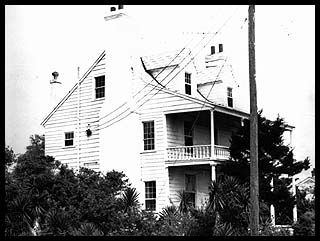 Circa 1960s

Since so many years have passed, the use to which the house has been put has varied, necessitating changes. Originally, the kitchen and the eating area were in separate structures to reduce the possibility of fire. The double front porch, typical of Bahaman style architecture which clearly dominated the house, originally ran only half way across the front.

Sturdily built of Scottish Heart Pine and joined together by hand-hewn pegs, the house has withstood nearly three centuries of occupancy as well as neglect. An example of the strength of construction may be seen in the massive pine beam which runs the width of the house; it consists of two pieces and measure 4 by 16 inches. The present owners have illuminated and left exposed some fine examples of early construction techniques.
Tall matching chimneys at each end of the house are free standing and made of English paving brick on ballast stone foundations. Undoubtedly built by men used to construction ships, it was crafted to endure - with secondary attention being paid to its appearance. Therefore, its exterior does not match many old plantations and large country homes.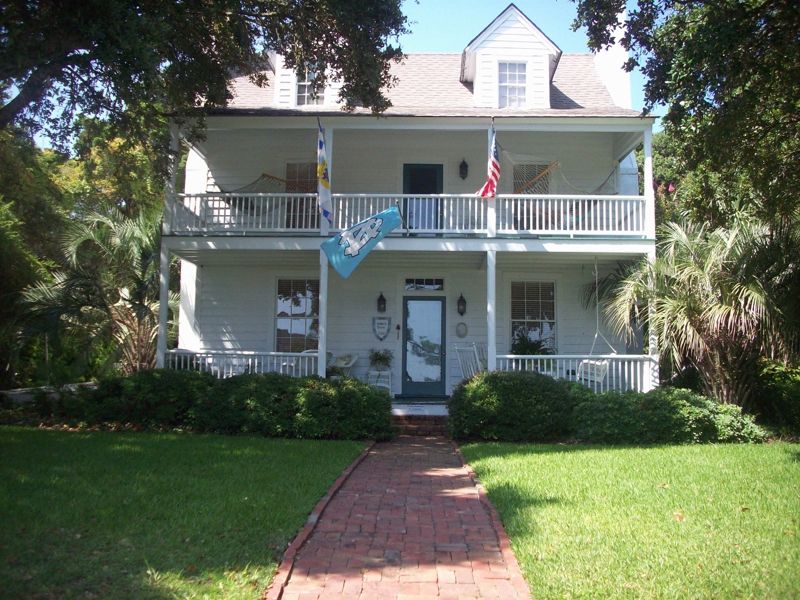 The house is furnished in a beautiful style to match its history, wherever possible. Of course, certain additions have been necessary to make the home comfortable and habitable in accordance with our time. Look for the pine blanket chest dating from 1725' the two pre-Civil War pieces- a pine "sugar" chest and a deacon's bench. In addition, you will find a hundred year old primitive pine school desk from Quebec which complements the antique Windsor chair in the study. Hanging on one wall is a collection of commercially reproduced images of the Hammock House, including a Sears' advertisement, using the house to promote the company's exterior paint.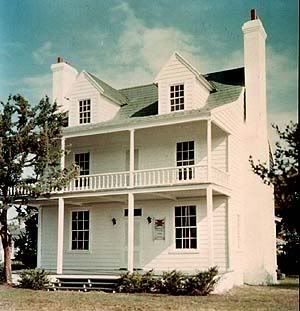 Sears Ad