Pg 374-376:
Hugo smiled, and then Isabelle wound up the mouse. They watched it skitter across the counter.

Hugo thought about his father's description of the automaton. "Did you ever notice that all machines are made for some reason?" he asked Isabelle. "They are built to make you laugh, like the mouse here, or to tell the time, like clocks, or to fill you with wonder, like the automaton. Maybe that's why a broken machine always makes me a little sad, because it isn't able to do what it was meant to do."

Isabelle picked up the mouse, wound it again, and set it down.

"Maybe it's the same with people," Hugo continued. "If you lose your purpose...it's like you're broken."

"Like Papa Georges?"

"Maybe...maybe we can fix him."

"How do we do that?"

"I don't know, but maybe Rene Tabard can help us when he visits next week. He'll know what to do..."

Hugo and Isabelle were quiet for a moment, and then Isabelle said, "So is that your purpose? Fixing things?"

Hugo thought about it. "I don't know," he said. "Maybe."

"Then what is my purpose?" wondered Isabelle.

"I don't know." said Hugo.

The two of them stared at the clock, and then they put away all the toys, including the little mouse, and closed the booth. They collected the money they had made, and Isabelle put it in her pocket.

"Before you go home, come with me," Hugo said, and he helped Isabelle through the nearest air vent into the walls. Between Hugo's injured hand and Isabelle's sprained foot, it was extremely difficult for them to get up the staircases and the ladder, but they helped each other and at last they came to the glass clocks that overlooked the city. The clocks were supposed to be lit from the inside, but the wiring had long ago stopped working.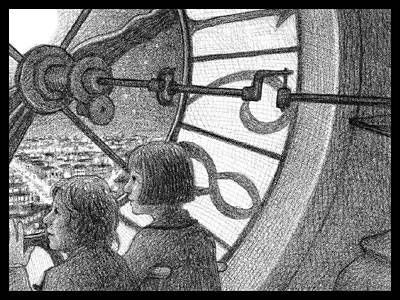 "It's so beautiful," said Isabelle. "It looks like the whole city is made out of stars."

"Sometimes I come up here at night, even when I'm not fixing the clocks, just to look at the city. I like to imagine that the world is one big machine. You know, machines never have any extra parts. they have the exact number and type of parts they need. So I figure if the entire world is a big machine, I have to be here for some reason. And that means you have to be here for some reason, too."
Comment on Hugo and Isabelle's discussion.