Pg. 347:
"Hugo opened to the beginning of the book, and read:

In 1895, one of the very first films ever shows was called A Train Arrives in the Station, which was nothing more than what the title suggests, a train coming into a station. But when the train came speeding toward the screen, the audience screamed and fainted because they thought they were in danger of being run over. No one had ever seen anything like it before."
"The cinema is an invention without a future" - Louis Lumière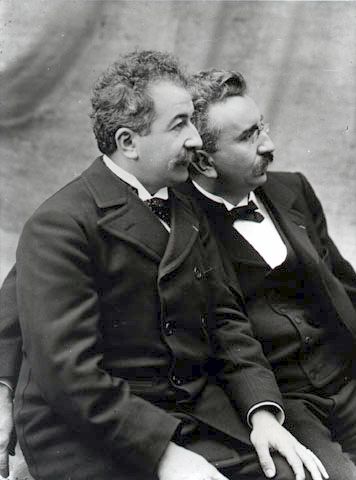 The Lumière brothers, Auguste and Louis, were sons of well known Lyons based portrait painter Antoine Lumière. They were both technically minded and excelled in science subjects and were sent to Technical School.

Antoine, noting the financial rewards of new photographic processes, abandoned his art and set up a business manufacturing and supplying photographic equipment. Joining him in this venture was Louis who began experimenting with the photographic equipment his father was manufacturing.

During his experimentation, Louis discovered a process which assisted the development of photography. Louis developed a new 'dry plate' process in 1881 at the age of seventeen, it became known as the 'Etiquette Bleue' process and gave his father's business a welcome boost, and a factory was built soon after to manufacture the plates in the Monplaisir quarter of the Lyons Suburbs. By 1894 the Lumières were producing around 15,000,000 plates a year and employed 300 people. Lumiere and Sons were second only to Kodak in the entire world.

Antoine, by now a successful and well known businessman, was invited to a demonstration of Edison's Peephole Kinetoscope in Paris. He was excited by what he saw and returned to Lyons. He presented his son Louis with a piece of Kinetoscope film, given to him by one of Edison's concessionaires and said, "This is what you have to make, because Edison sells this at crazy prices and the concessionaires are trying to make films here in France to have them cheaper. You can do better. Try to get the image out of the box."

The brothers worked through the Winter of 1894, Auguste making the first experiments. Their aim was to overcome the limitations and problems, as they saw them, of Edison's peephole Kinetoscope. They identified two main problems with Edison's device: firstly its bulk - the Kinetograph - the camera, was a colossal piece of machinery and its weight and size resigned it to the studio.




Secondly - the nature of the kinetoscope - the viewer, meant that only one person could experience the films at a time.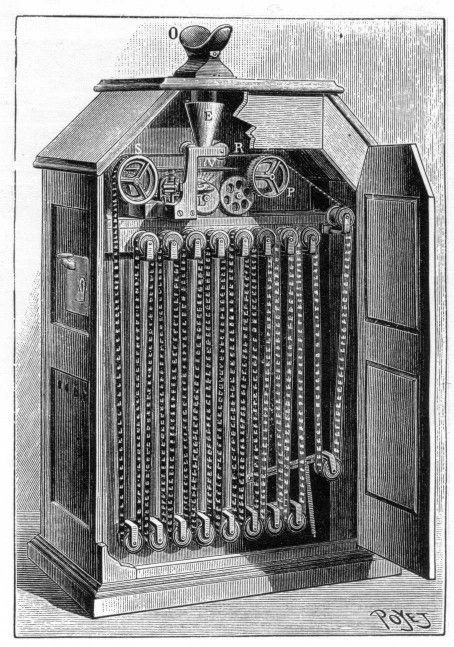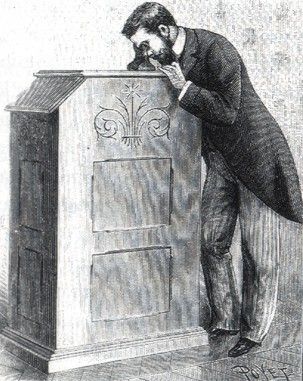 With the Kinetoscope, people went into a parlor and paid a quarter to peep into a box and watch about sixteen seconds of film - people dancing, boxing matches, brief slapstick routines, trained animals and whatnot - and they must have been rather amazed at the sensation at first. But the fact that it was private, the image small, the duration brief, made it familiar to some degree, similar to the magic lantern or flip book experience. It did not occur to Edison that seeing the moving image on a large screen, in the company of others, would open a new dimension that differed not merely in terms of size, but of essential quality. Older brother Auguste wrote later, "We had observed, my brother and I, how interesting it would be if we could project on a screen, and show before a whole gathering, animated scenes faithfully reproducing objects and people in movement."

Auguste worked on it for awhile, but it was Louis who came up with the great innovation - a sort of claw device that would move the film strip. The Cinématographe - it roughly translates as "writing the movement" - was both camera, printer and projector. It was such a well-built machine - more compact and creating a better quality image than its predecessors - that when a film historian, out of curiosity, set it in motion fifty years later, it functioned perfectly.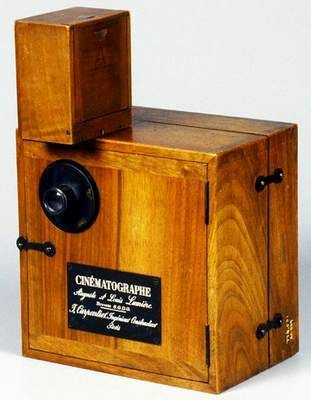 Patenting it on February 13th 1895, the Cinématographe was much smaller than Edison's Kinetograph, was lightweight (around five kilograms), and was hand cranked unlike the Edison Kinetographm, which relied on electrical power, which few premises had at that time.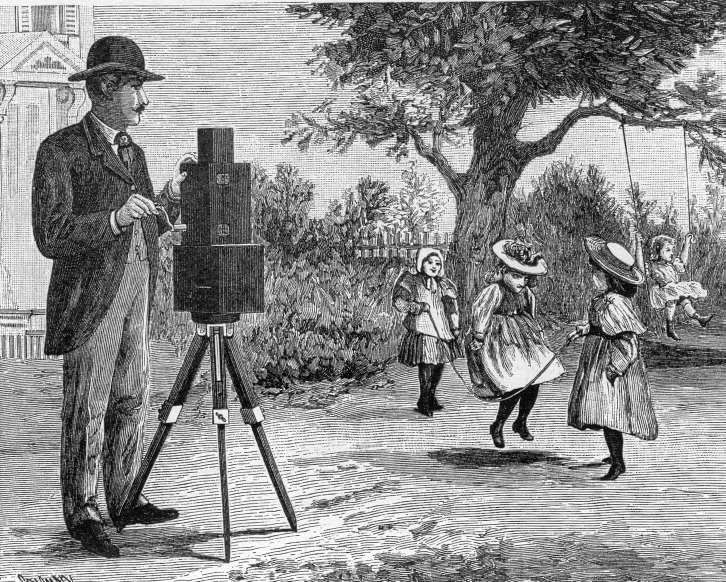 Thus the Cinématographe could be taken anywhere, either to shoot film or to use as a projector - all that was required was a magic lantern lamphouse with a gas or limelight illuminant. The Lumières used a film speed of 16 frames per second, much slower compared with Edison's 48 fps - this meant that less film was used an also the clatter and grinding associated with Edison's device was reduced.

The brothers kept their new invention a closely guarded secret with Auguste organizing private screenings to invited guests only. The first of such screenings occurred on 22nd March 1895 at 44 Rue de Rennes in Paris at an industrial meeting where a film especially for the occasion. The Lumières' first film (in fact, they made three versions) was shot outside their factory as the workers left at the end of the day. It was shown to the Société d'Encouragement à l'Industrie Nationale in Paris: this was probably the first public screening of moving pictures. A few hundred of them pour out of the gates, including a man on a bicycle, a dog, and a horse. You can tell that they've been asked to not look at the camera. What a simple scene! And yet how shattering in effect. For it was not only the sensation of seeing the living, breathing reality around us reproduced in motion on a screen - it was not only this that was so novel, but the sense of seeing time itself recaptured. Photography, and to a much greater extent motion pictures, changed our relationship to memory forever. Unlike Edison, the Lumière Brothers were quick to patent the Cinématographe outside of their native France, applying for an English Patent on April 18th 1895. The brothers continued to show their invention privately, again on June 10th to photographers in Lyon.

Later that year, the Lumières made a number of other films, all around a minute long, showing scenes such as Auguste and his wife feeding their baby, a train arriving at La Ciotât in the south of France and possibly the first film comedy, L'arroseur arrosé, in which a mischievous boy tricks a gardener into being soaked with water and is chased and spanked. Another public demonstration of the Cinématographe was given to the French Photographic Congress held in Lyon in June 1895, when the delegates were particularly impressed at seeing film of themselves taken the previous day. Against his sons' wishes (they thought it premature), Antoine Lumière decided to launch the Cinématographe publicly in Paris on 28 December 1895. The screening was organized by Antoine and Clément Maurice, with three members of the Lumière staff in charge of projection. The Lumière brothers and Carpentier were not there. The first show was given to an invited audience of journalists, theatre directors (including Georges Méliès) and friends.

Such screenings generated much discussion and widespread excitement surrounding this new technology - in preparation for their first public screening on 28th December at the Grand Cafe on Paris's Boulevard de Capuchines. The programme of films on show that day was as follows:
La Sortie de usines Lumière (1894) (workers leaving the factory)



La Voltige (1895)



[youtube]Bpt7zm9pAjU[/youtube]




La Peche aux poissons rouges (1895)




[youtube]iYR0Gf8JfI8[/youtube]



La Debarquement du congres de photographie a Lyons (1895)



[youtube]eL0ZtVu6bwQ[/youtube]



Les Forgerons (1895)



[youtube]ROw6_C96M28[/youtube]



L' Arroseur arrose (1895)



[youtube]Kd4jSTBhYDw[/youtube]



Repas de bebe (1895)



[youtube]DcKOdfpHJpM[/youtube]




Place des Cordeliers a Lyon (1895)



[youtube]FV20uJ-2MQ8[/youtube]



La Mer (1895)



[youtube]7oVgC7co_5w[/youtube]


Louis photographed the world around him and some of his first films were 'actuality' films, like the workers leaving the factory. The brothers began to open theatres to show their films (which became known as cinemas). In the first four months of 1896 they had opened Cinématographe theatres in London, Brussels, Belgium and New York. They were a sensation. Imagine if you can the astonishment experienced by the audiences, to see a projected moving image on a large screen. One effect was fright. It is said that when the Lumieres showed their film of the arrival of a train at a station, the audience jumped back from the screen as if they were going to be run over by the oncoming train.

[youtube]1dgLEDdFddk[/youtube]

Each show comprised ten films and lasted about 15 minutes. There were twenty shows a day, starting at 10.00am and ending at 1.30am the next morning, with breaks between noon and 2.00pm and 7.00-8.00pm. Admission was one franc. There was little public interest at first – the few papers that reported on it criticized the name 'Cinématographe' – but curious passers-by who ventured into the hall were astonished at what they saw and returned with their friends. News soon spread. On some days, queues extended a quarter of a mile, and the takings amounted to 2,500 francs.

Louis Lumiere, the genius of the family, was also something of an artist. The Lumiere films are each about fifty seconds long. They display a fine sense of visual composition. The camera is almost always placed to maximum effect - often in a diagonal relationship to the action, which creates a free, quite modern feeling of spaciousness. In the 1890s, Lumiere hired assistants to make films all over the world. These pictures are often intensely beautiful, capturing the feeling of being on a street in London, or Dublin, or Jerusalem, or Moscow, in less than a minute. They have become priceless documents of their era, scholars studying the minute details of each frame for clues about life in those days.

One of the Lumiere cameramen photographed a gondola ride in Venice. It is the first moving shot. Just as studio owners were afraid of moving shots years later because they said it would disorient the audience, so this cameraman was afraid that Lumiere would be angry at this radical approach. Instead, Louis was delighted. He ordered all his cameramen to do the same thing. The moving shots from trains and ships in the Lumiere films provide amazing glimpses of the life of cities, conveying a feeling of freedom, of liberation from the bonds of space, that wouldn't be rediscovered in commercial film for another 25 years.

It is commonly thought that Lumiere was strictly a documentarian. He did love filming the streets and the people. But many of the shorts are fictional vignettes or comedies. There was of course the film about the boy who steps on the hose. The man who is watering looks at the nozzle in puzzlement, then the boy steps off and the man is squirted in the face. The first gag. There are many films involving children, such as the gorgeous one where a child is playing with a cat.

[youtube]g1ysm75bfvc[/youtube]

Their catalogues grew from 358 titles in 1897 to 1000 in 1898 to 2113 in 1903; although out of the 2113 titles in the 1903 catalogue, less than 50 were the brothers. The rest were taken by other operators like Promio, Doublier and Mesguich. In 1900 the brothers projected a film on a huge 99 x 79 foot screen at the Paris Exposition, after which they decided to curtail their film exhibitions and devote their time to the manufacture and sale of their inventions. When it became clear that movies promised big business, people moved in who were faster and more ambitious. The Lumieres sold their camera rights to Pathe in 1900. Louis continued to work on technical developments and in 1900 devised a camera which took large format 75mm films. By 1905, however, the Lumières withdrew from the cinema business. They worked instead on inventing the first successful photographic color process - the Lumière Autochrome - in 1907. Louis also worked on a process of stereoscopic cinematography. He died at the age of 84 in 1948. Antoine, after the initial cinematic explosion, returned to his art and continued to paint until his death in 1895.

The two brothers lived long enough to be feted as pioneers of the cinema - as Louis stated, 'on December 28, 1895, was really born the expression: "I have been to a movie."'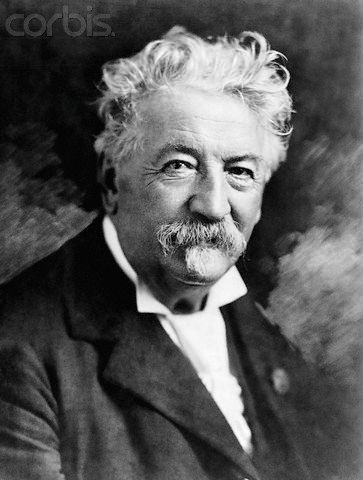 Antoine Lumiere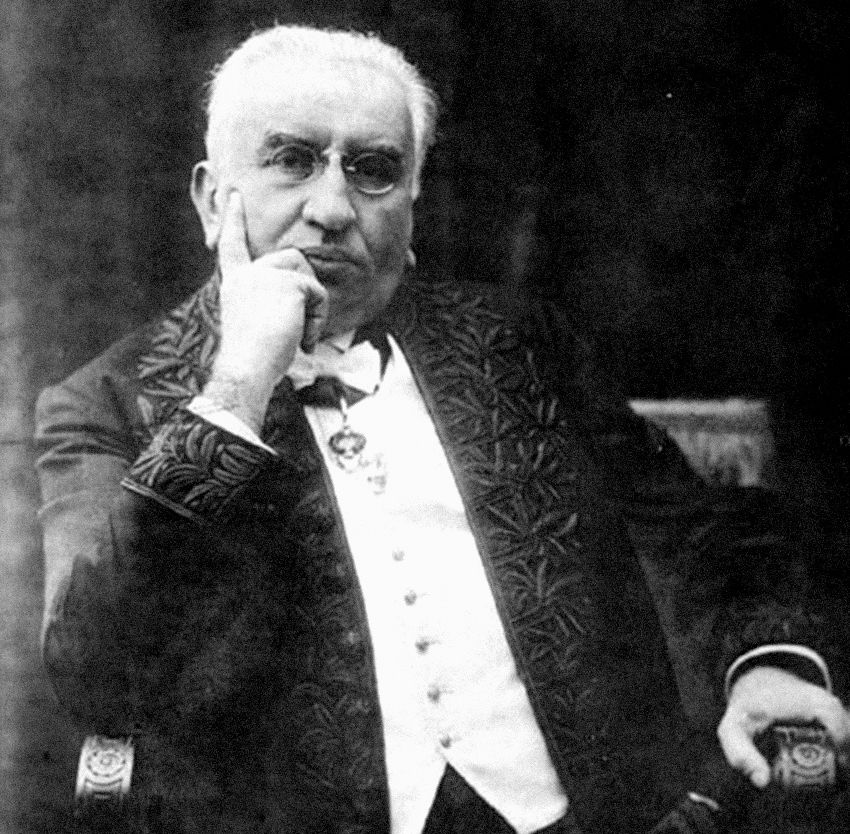 Louis Lumiere