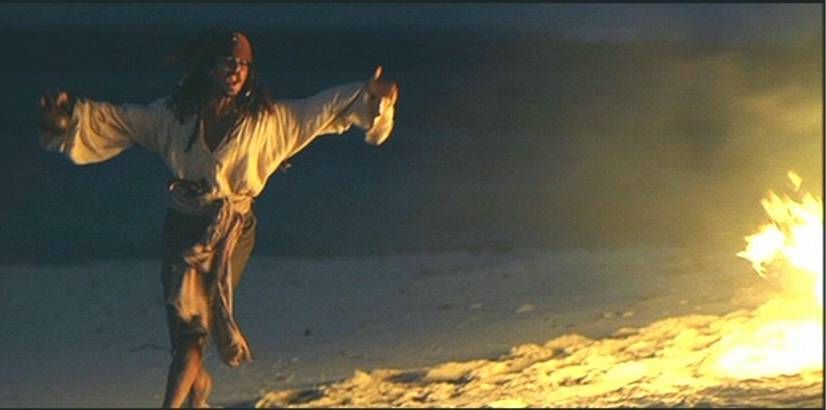 Rum is a distilled alcoholic drink made from sugarcane by-products such as molasses and sugarcane juice by fermentation and distillation. The clear distilate liquid is then usually aged in oak and other casks. Though rum is produced in a variety of places around the world, including Australia and India, the main hub of production is around the Caribbean as well as along the Demerara river in South American Guyana.

Rum has always tended to favor and flavor rebellion, from the pirates and buccaneers of the seventeenth century to the American Revolution onward. In addition, sugar and rum pretty much introduced globalization to a waiting world, tying together Europe, the Americas, Africa and the Caribbean in a complex alcoholic web of trade and credit. Not until oil was any single commodity so important for world trade.

The precursors to rum date back to antiquity. Its development is traced back to ancient India or China. Brum is an example of one such early drink. Produced by the Malay people, brum dates back thousands of years. Marco Polo also recorded a 14th-century account of a "very good wine of sugar" that was offered to him in what is modern-day Iran.

The first distillation of rum took place on the sugarcane plantations of the Caribbean in the 17th century. The ability of molasses, a by-product of sugar refining, to be fermented into alcohol was discovered by plantation slaves. Later, the impurities of the fermented molasses was removed by distillation concentrating the alcohol and removing impurities, producing the first true rums.

The history of rum is inseparably linked to the sea and its legacy is traced through the naval explorations of the sixteenth century, the slave trade and the seafaring tales of the pirates who made a name for themselves on the back of many a rum infused journey.

So romantic is the history of rum that it has long since been adopted as the drink of the working class man throughout the world. This might be due to its association with the "fighting man" and the strength of victorious sailors fighting for the New World; or perhaps, the defeat of Napoleon's fleet by Admiral Nelson's rum drinking crew at the crucial battle of Trafalgar; or maybe down to the swashbuckling, freedom-tales of Caribbean pirates handed down through the centuries. Whichever, it is clear that rum has had a checkered history undeniably linked to the riskier business of the day.

One of the main challenges of sixteenth century sea voyages was providing their crews with a liquid supply to last long journeys. Navy captains turned to the most readily available sources of liquid in the day – water and beer, with no real discrimination made between the two. Water contained in casks was the quicker of the two to spoil by algae, but beer also soured when stored for too long. Royal Navy sailors took to drinking their rations of beer first and water second, sweetening the spoiling water with beer or wine to make it more palatable. The longer the voyage, the larger the cargo of liquid required, and the larger the problems of storage and spoilage would be.

As seafaring vessels entered the Caribbean regions captains took advantage of a cheaper and more readily available source of liquid sold by local sugar cane plantations called "kil devil" – a foul tasting by-product of sugar cane processing which later became known as rum. Rum quickly replaced the beer rations and became an official ration on British navy ships from 1655 onwards. Reportedly these rum rations were causing such a "rumbullion" (drunkenness and discipline problems) amongst the seamen that in 1740 Vice-Admiral Edward Vernon issued an order to dilute rum rations with sugar and lime juice (possibly why the mixture was reputed to fight off the sailors 'lurgy' or scurvy). Due to his nickname – the 'old grog' – this new mixture attained the new name of 'grog'.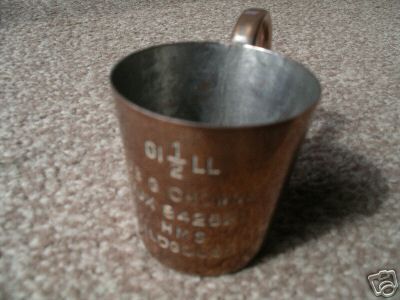 1/2 gil measure from a British naval ship

Dilution ratio's varied aboard different ships and over time but the tradition continued until 'black tot day' on July 30, 1970 when the last "tot" measure was served aboard Royal Navy ships forever.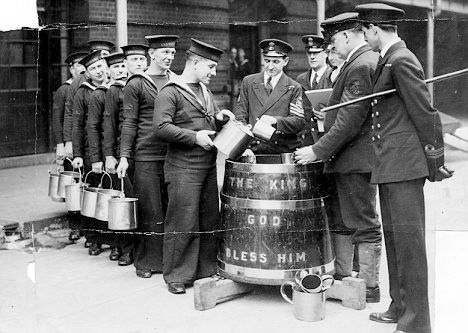 circa 1933


Today the rum ration (tot) is still issued on special occasions by H.M. Queen Elizabeth II order "Splice the main brace"! Such recent occasions have been Royal marriages/birthdays, special anniversaries. Splice the main brace in the days of the daily ration meant double rations that day.

A story involving naval rum is that following his victory at the Battle of Trafalgar, Horatio Nelson's body was preserved in a cask of rum to allow transport back to England. Upon arrival, however, the cask was opened and found to be empty of rum. The pickled body was removed and, upon inspection, it was discovered that the sailors had drilled a hole in the bottom of the cask and drunk all the rum, in the process drinking Nelson's blood. Thus, this tale serves as a basis for the term Nelson's Blood being used to describe rum. It also serves as the basis for the term "Tapping the Admiral" being used to describe drinking the daily rum ration. The details of the story are disputed, as many historians claim the cask contained French brandy whilst others claim instead the term originated from a toast to Admiral Nelson. It should be noted that variations of the story, involving different notable corpses, have been in circulation for many years.

Many of the famous pirates of the seventeenth and eighteenth centuries were recruited from plundered naval ships and consisted of sailors tired of poor pay, limited rum rations, nutritional diseases and the harshness of their ships captain. Possessing seafaring skills and offered an equal share in any loot pirated, it's not hard to see why many chose a pirates life of freedom, democracy and frivolity instead. Notorious pirates,

Captain Kidd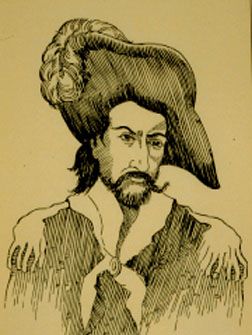 and Morgan Nelson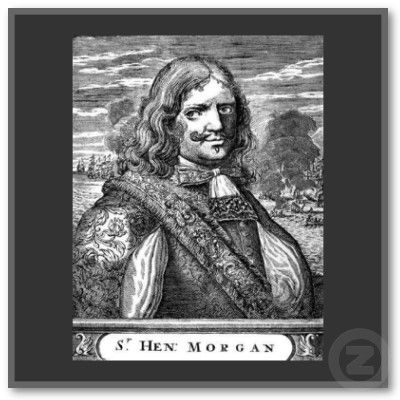 both started their seafaring careers as naval officers.


Pirate captains capitalized on the popularity of rum to gain the favor of crew and rum was often the larger cargo and the preferred bounty aboard their ships. The search for rum was constant and, without the Crown's strict rum rationing guidelines, many a vessel plundered as a result of its crew being too drunk to take proper charge of the ship. So favored was rum, that the scarcity of it could be the cause of out and out rebellion on pirate ships. The meanest of all pirates from history, Blackbeard, once stated: "Such a day; rum all out. Our company somewhat sober; a damned confusion amongst us! Rogues a plotting. Talk of separation. So I looked sharp for a prize [and] took one with a great deal of liquor aboard. So kept the company hot, damned hot, then all things went well again."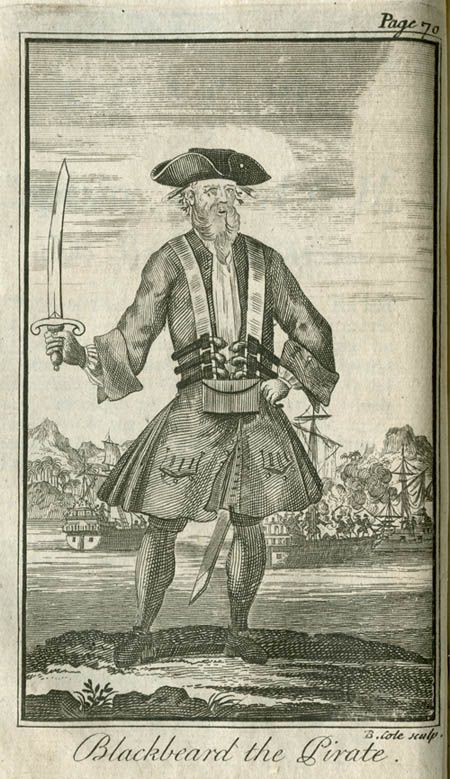 It is therefore no accident that rum became so popular around the most prosperous pirating "Golden Era" of 1650 to 1740. This was also, coincidentally, about the time that the slave trade began to take off and New England entered the triangle between Africa and the Caribbean with rum being used as the currency of the slave trade.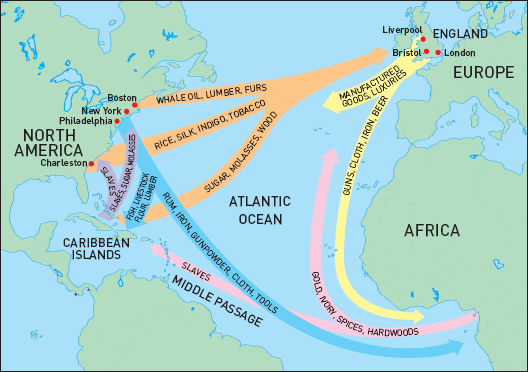 Molasses would leave the Caribbean for New England, be distilled into rum, which would be shipped to Africa in exchange for slaves, who would then be shipped to the Caribbean regions to tend the sugar plantations and harvest more sugar cane, to be converted to molasses. So prolific was this industry that by the mid seventeenth century tiny Rhode Island had more than thirty distilleries, twenty-two of them in Newport and in Massachusetts, sixty-three distilleries produced 2.7 million gallons of rum.

New Englanders had a special penchant for making rum; not only was the rum industry their most profitable industry, but the rum they produced was considered to be of higher quality than all others. In the fledgling American colonies, precious few alcoholic options existed. Wine and beer often spoiled en route from Europe. And neither beer-making grains nor wine-making grapes grew well in the soils and climate of the original colonies. Rum from the islands was cheap and plentiful. For American colonists, it was "never mind the terrible, just bring the heat!" However, cheaper than importing barrels of rum into the colonies was simply importing molasses and then converting it into rum themselves. Soon rum distillation became a substantial part of the New England economy.

The manufacture of rum became early Colonial New England's largest and most prosperous industry. New England became a distilling center due to the superior technical, metalworking and cooperage skills and abundant lumber; the rum produced there was lighter, more like whiskey, and was superior to the character and aroma of the West Indies product. Rhode Island rum even joined gold as an accepted currency in Europe for a period of time.

In the American colonies, meanwhile, trouble was brewing with Mother England. Rum production was enriching the colonies, and the crown wanted its cut. Not only that, but much of New England's molasses was being purchased from French sugar plantations, not English, at a time when France was England's dearest enemy.

In 1733, the crown levied a tax on all molasses imported from French islands. Though the colonists mostly ignored the decree, it nevertheless began a series of conflicts over taxation between the colonies and England that would become increasingly heated and eventually result in outright rebellion. "Molasses was an essential ingredient in American independence," John Adams would later remark. Estimates of rum consumption in the American colonies before the American Revolutionary War had every man, woman, or child drinking an average of 3 Imperial gallons of rum each year. (And all this time we thought it was tea!
)

The popularity of rum continued after the American Revolution, with George Washington insisting on a barrel of Barbados rum at his 1789 inauguration.
Today, production location determines the grades and variations rum. There is no single standard for what constitutes rum. Instead rum is defined by the varying rules and laws of the nations that produce the spirit. The differences in definitions include issues such as spirit proof, minimum aging, and even naming standards.

Within the Caribbean, each island or production area has a unique style. For the most part, these styles can be grouped by the language that is traditionally spoken. Due to the overwhelming influence of Puerto Rican rum, most rum consumed in the United States is produced in the Spanish-speaking style.

• Spanish-speaking islands and countries traditionally produce light rums with a fairly clean taste. Rums from Guatemala, Cuba, Panama, the Dominican Republic, Nicaragua, Puerto Rico, Colombia and Venezuela are typical of this style. Rum from the U.S. Virgin Islands is also of this style.

• English-speaking islands and countries are known for darker rums with a fuller taste that retains a greater amount of the underlying molasses flavor. Rums from Barbados, Belize, Bermuda, Saint Kitts, Trinidad & Tobago, the Demerara region of Guyana, and Jamaica are typical of this style.

• French-speaking islands are best known for their agricultural rums (rhum agricole). These rums, being produced exclusively from sugar cane juice, retain a greater amount of the original flavor of the sugar cane and are generally more expensive than molasses-based rums. Rums from Haïti, Guadeloupe, Marie-Galante and Martinique are typical of this style.

The following is a short list of commonly names used to describe the different grades of rum:

• Light Rums, also referred to as light, silver, and white rums. In general, light rum has very little flavor aside from a general sweetness, and serves accordingly as a base for cocktails. Light rums are sometimes filtered after aging to remove any color.

• Gold Rums, also called amber rums, are medium-bodied rums which are generally aged. The rum can obtain its flavor through addition of spices and caramel/color (a variation often sold as Spiced Rum), but historically gains its darker color from aging in wooden casks (typically oak).

• Dark Rum, classes as a grade darker than gold rum. It is generally aged longer, in heavily charred barrels. Dark rum has a much stronger flavor than either light or gold rum, and hints of spices can be detected, along with a strong molasses or caramel overtone. It is used to provide substance in rum drinks, as well as color. In addition to uses in mixed drinks, dark rum is the type of rum most commonly used in cooking.

• Flavored Rum, some manufacturers have begun to sell rums which they have infused with flavors of fruits such as mango, orange, citrus, and coconut. These serve to flavor similarly themed tropical drinks which generally comprise less than 40% alcohol.

• Overproof Rum, is rum which is much higher than the standard 40% alcohol. Most of these rums bear greater than 75%, in fact, and preparations of 151 to 160 proof occur commonly.

• Premium Rum, as with other alcohols, such as Cognac and Scotch, a market exists for premium and super-premium spirits. These are generally boutique brands which sell very aged and carefully produced rums. They have more character and flavor than their "mixing" counterparts, and are generally consumed without the addition of other ingredients.