Noodlemantas, this is a first for ONBC. I have collaborated with the author to write his bio. In contacting him prior to the discussion, I decided to send him the bio I put together and asked for his feedback. I've indicated in blue what he added to what I had already discovered. As you will see, Bill has quite a sense of humor.
WILLIAM J. HELMER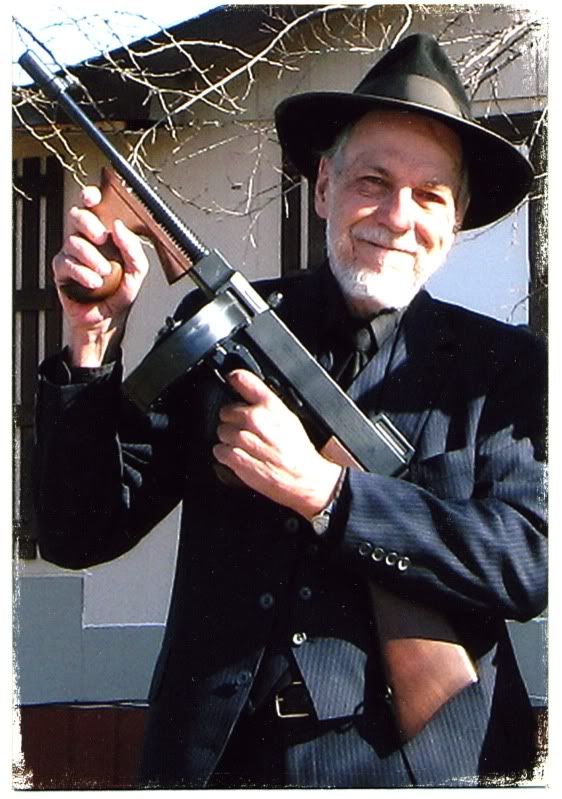 "
After servicing as mascot of the Pharr Volunteer Fire Department (they couldn't afford a Dalmatian),
I got into and have remained in writing, editing and journalism mainly because I never figured out another way to make a living.
I still want to be a fireman when I grow up.
I confess to an impulse to do good things for mankind, to dispel ignorance and combat stupidity, but I recognize this as a neurotic personal need and a waste of time." ~ Bill Helmer
PERSONAL INFORMATION





Family:

Born March 6, 1936, in Iowa City, IA to Albert Joseph and Myrtle (Curl) Helmer;
He left Iowa City before age one, grew up in the Mexican border town of Pharr, TX, and prefers to celebrate March 6 as one hundred years to the day after the Fall of the Alamo.)
He married Pat Thompson, September, 1958 (divorced, 1966); married Jean Brockman (a free-lance illustrator), August 6, 1971; Children: Marc & Jan; Granddaughter Jessie, largely constructed his Gangsters and Outlaws website.
(LIZ NOTE: The book is dedicated to her and Helmer's mother.)
Education:

University of Texas at Austin, Bachelor of Journalism, 1959, MA in History, 1968.



Politics:
"Formerly an FDR Democrat turned fanatically moderate libertarian."
Military/Wartime Service:

U.S. Naval Reserve, 1953-61; became Radioman First Class.



Memberships:
Amateur Radio operator W5AJR (retired),
Discordian Society, Bavarian Illuminati. Founding Member of The John Dillinger Died for You Society.
Residence:

Currently lives in Boerne, TX.
(Pronounced Burr-nee for non-Texans.)
(LIZ NOTE: How did he know that I was Texas pronunciation challenged? DITHOT, can we go to Mann-or again?)
Say it with me, Liz...MANE-ER...MANE-ER...MANE-ER...
~DITHOT
AWARDS
President's Commendation, National Association Criminal Defense Lawyers.
Honorary deputy sheriff of Travis County, TX, 1964.
(LIZ NOTE: I found this little tidbit on my own and asked Bill if he could expand on it. His response in blue)
(Frankly, I forget. As a photo-journalist and ambulance-chaser, might have been when I once stopped arterial bleeding until an ambulance arrived, or for kicking in the door to enter a burning house. Deputy friend just put me on the list.)
NON-AWARDS



Avoided posterity for failing to report himself as a "victim" of a miniscule neck wound from a bullet fragment fired by Texas Tower Sniper Charles Whitman.
CAREER
Editor of the following:
The Texas Caver, The Texas Ranger
, Escapade, Aramco World, True West,
1955-1995
University of Texas at Austin:

Supervisor of Student Magazines, 1965-66



National Commission on the Causes and Prevention of Violence:

Staff Member, Washington, DC, 1968-69



Playboy

(in Chicago): Senior Editor, 1969-1995.
Harper's, Texas Observer, Texas Monthly,
Chicago Magazine, Chicago Reader, other magazines

, 1955-present:
Contributor of articles (including humor, under pseudonym Horace Naismith)
WRITINGS BY THE AUTHOR:



The Gun That Made the Twenties Roar: A Social History of the Thompson Submachine Gun, 1969

The Quotable Al Capone (with Mark Levell), 1990

Dillinger: The Untold Story, 1994

Public Enemies: America's Criminal Past, 1919-1940 (with Rick Mattix), 1998

"The Madman in the Tower" in Texas Crime Chronicles. (This book is a compilation of Texas Monthly articles, one of which is written by Helmer. It is about Charles Whitman, the sniper who killed students with a rifle from The University of Texas Tower). See link to Texas Monthly articles below. 2000

Baby Face Nelson: Portrait of a Public Enemy (with Steven Nickel), 2002
The St. Valentines Day Massacre (with Arthur J. Bilek), 2004

The Complete Public Enemy Almanac: New Facts and Features on the People, Places, and Events of the Gangster and Outlaw Era, 1920-1940 (with Rick Mattix), 2007
Turner Publishing is supposed to be remarketing it, maybe adding a new cover for a slightly expanded version.
Current project: Al Capone and His American Boys, the Unpublished Memoirs of the Wife of a St. Valentine's Day Massacre Shooter.
OTHER INTERESTING BITS:
Below are some excerpts from the Texas Monthly Archives. I especially like his writing in Light My Fire.
("My own favorites are The Hub Café, published in Texas Monthly, and The Man Who Stole Dillinger's Brain in Chicago Magazine.")
Click to view Texas Monthly Archives
I highly recommend that you check out the following websites. Be sure to click on everything on Gangsters and Outlaws:
Click to view Gangsters and Outlaws, Bill Helmer's website
Click to view My Al Capone Museum, Mario Gomes' website, which shows Johnny holding Dillinger: The Untold Story.
Sources:



Contemporary Authors Online, Gale, 2002, Reproduced in Biography Resource Center.
Farmington Hills, Mich.: Gale, 2009
Gangsters and Outlaws
My Al Capone Museum
William J. Helmer