Gun that killed Dillinger can be yours





It may go for more than projected $12K



June 18, 2009
BY SANDRA GUY sguy@suntimes.com

A Colt Army Special revolver used by East Chicago, Ind., police Capt. Timothy A. O'Neil to fatally shoot John Dillinger could be yours for what auctioneers say may be much more than their conservative $8,000 to $12,000 estimate.

The .38-caliber, 5-inch-barrel gun and its holster will be auctioned at noon July 28 -- six days after the 75th anniversary of Dillinger's fatal shooting -- at Chicago's Leslie Hindman Auctioneers, 1338 W. Lake. The new Dillinger movie, "Public Enemies," premieres in Chicago tonight and opens July 1.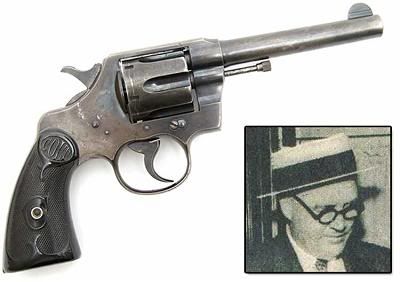 A Colt Army Special revolver used by East Chicago, Ind., police Capt. Timothy A. O'Neil (inset) to fatally shoot John Dillinger is going up for auction in July.




An image of the gun, owned by O'Neil's family, will be projected on a screen at auction because Chicago bans handguns and automatic weapons within city limits. Anyone who wants to view the gun must go to Shore Galleries at 2218 W. Devon in Lincolnwood, where it is stored. Potential bidders must comply with state and federal gun laws.

O'Neil, dubbed "Dillinger's nemesis," is credited with either firing the fatal shot or firing one of five shots that killed Dillinger after the bandit left the Biograph Theater on July 22, 1934, according to newspaper reports of the day.

O'Neil and fellow East Chicago police Sgt. Martin Zarkovich provided the tip that the "lady in red" would finger Dillinger, and they, along with three FBI agents, fired shots at Dillinger after he emerged from the theater. O'Neil and Zarkovich split a $5,000 federal reward for "information that led to the slaying of Dillinger." They received letters of commendation from FBI Director J. Edgar Hoover.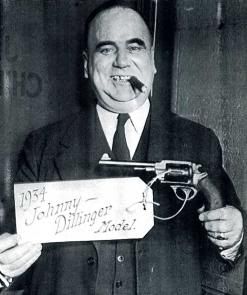 Zarkovich's gun sold at auction for $17,550 on Nov. 20, 2007.



Local newspapers reported in September 1945, when the movie "Dillinger" opened in theaters, that O'Neil, Zarkovich and the rest of the East Chicago police department were haunted by the slaying of three of their fellow officers by members of Dillinger's gang. The newspapers noted other northwest Indiana connections: that Dillinger plotted in the Indiana Harbor section of East Chicago the escape of his gang from the state prison at Michigan City, and Dillinger made his famed wooden-gun escape from the county jail in Crown Point.

O'Neil later became deputy state fire marshal in Indiana and served as vice president of the Grand Lodge Fraternal Order of Police in East Chicago.