Daniel mentioned at the San Jose book signing that he was advised not to do an Irish character. He said there and on the RTÉ Radio interview that it was a "very dangerous thing to do" because "I didn't want to create a caricature". At the book signing he said that "the character of Terry knows that everyone likes that Barry Fitzgerald type" and that he uses that knowledge to his advantage. "He gets a lot of mileage out of it." From the RTÉ Radio interview Daniel said that Terry is in America, and he plays on the whole idea of the American idea of an Irishman. I've done a small tidbit on Barry Fitzgerald for those of you (like myself) who are unfamiliar with the actor.

Do you think Daniel pulled off the Irish/Fitzgerald character?

Did you like the Terry character?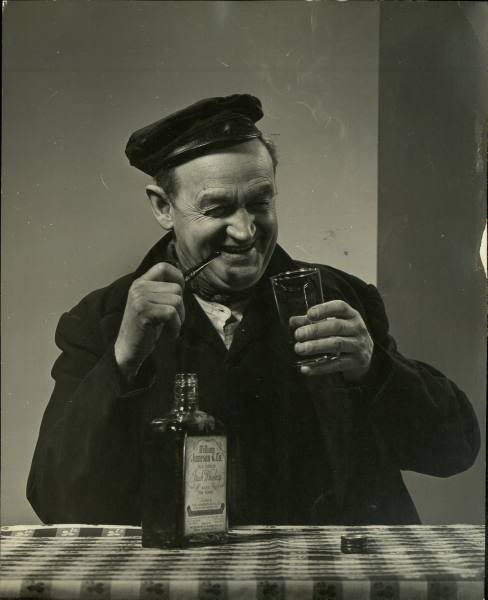 Barry Fitzgerald (10 March 1888 - 14 January 1961), one of Hollyood's finest character actors and most accomplished scene stealers, was born William Joseph Shields in Walworth Road, Portobello, Dublin, Ireland on March 10, 1888. He is the older brother of Irish actor Arthur Shields. He went to Skerry's College, Dublin, before going on to work in the civil service, while also working at the Abbey Theatre. By 1929, he turned to acting full-time. He was briefly a roommate of famed playwright Sean O'Casey and starred in such plays as O'Casey's Juno and the Paycock'.

Fitzgerald went to Hollywood to star in another O'Casey work, The Plough and the Stars (1936), directed by John Ford. He had a successful Hollywood career in such films as The Long Voyage Home (1940), How Green Was My Valley (1941), And Then There Were None (1945), and The Quiet Man (1952).

Fitzgerald achieved a feat unmatched in the history of the Academy Awards.....he was the only actor ever nominated for the Academy Award for both Best Actor and Best Supporting Actor in the same year for the same role, where he played a priest in Going My Way (1944). After he received this double nomination, the Academy immediately changed their rules to prevent this from happening again, rules which have remained unchanged to this day. He won the Best Supporting Actor Award. An avid golfer, he later broke the head off his Oscar statue while practicing his golf swing. (During World War II, Oscar statues were made of plaster instead of gold, owing to wartime metal shortages.)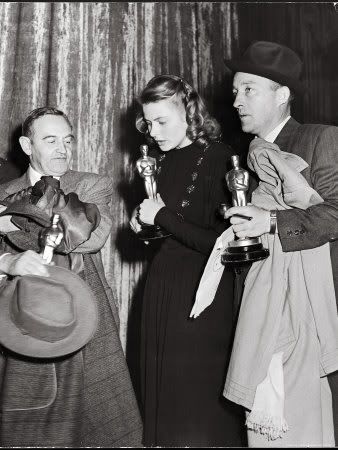 Backstage at the Academy Awards, 1945 with
Ingrid Bergman and Bing Crosby

Despite his penchant for portraying priests, Fitzgerald was a Protestant (and a nationalist), whose brother Arthur Shields was a republican during the upheaval of the early 20th century in Ireland.

Fitzgerald has two stars on the Hollywood Walk of Fame, one for movies and one for television.

My personal favorite of these three is the first You Tube video:


[youtube]jaw8neBieeA[/youtube]


[youtube]0XO4W1MOVv4[/youtube]


[youtube]x5BjMTVnNuE[/youtube]




Filmography:

1. Broth of a Boy (1959) .... Patrick Farrell
... aka The Big Birthday (Ireland: English title)
2. Rooney (1958) .... Grandfather
3. The Catered Affair (1956) .... Uncle Jack Conlon
... aka Wedding Breakfast (UK)
4. "Alfred Hitchcock Presents" .... Harold 'Stretch' Sears (1 episode, 1955)
- Santa Claus and the Tenth Avenue Kid (1955) TV episode .... Harold 'Stretch' Sears
5. "General Electric Theater" (1 episode, 1954)
... aka "G.E. Theater" (USA: informal short title)
... aka "G.E. True Theater" (USA: new title)
- The White Steed (1954) TV episode
6. Happy Ever After (1954) .... Thady O'Heggarty
... aka Tonight's the Night (USA)
7. "Lux Video Theatre" (1 episode, 1952)
... aka "Summer Video Theatre" (USA: summer title)
- The Man Who Struck It Rich (1952) TV episode
8. The Quiet Man (1952) .... Michaleen Oge Flynn
9. Ha da venì... don Calogero! (1952) .... Don Calogero
... aka Il filo d'erba (Italy: alternative title)
... aka L'inganno della sposa (Italy)
10. Silver City (1951) .... R.R. Jarboe
... aka High Vermilion (UK)
11. "The Ford Theatre Hour" (1 episode, 1950)
- The White-Headed Boy (1950) TV episode
12. Union Station (1950) .... Inspector Donnelly
13. The Story of Seabiscuit (1949) .... Shawn O'Hara, Seabiscuit's Trainer
... aka Pride of Kentucky (UK)
14. Top o' the Morning (1949) .... Sergeant Briany McNaughton
15. Miss Tatlock's Millions (1948) .... Denno Noonan
16. The Sainted Sisters (1948) .... Robbie McCleary
17. The Naked City (1948) .... Det. Lt. Dan Muldoon
18. Welcome Stranger (1947) .... Dr. Joseph McRory
19. Easy Come, Easy Go (1947) .... Martin L. Donovan
20. California (1946) .... Michael Fabian
21. Two Years Before the Mast (1946) .... Terence O'Feenaghty
22. The Stork Club (1945) .... Jerry B. 'J.B.'/'Pop' Bates
23. And Then There Were None (1945) .... Judge Francis J. Quinncannon
... aka Rene Clair's 'And Then There Were None' (USA: complete title)
... aka Ten Little Niggers (UK)
24. Duffy's Tavern (1945) .... Bing Crosby's father
25. Incendiary Blonde (1945) .... Michael 'Mike' Guinan
26. None But the Lonely Heart (1944) .... Henry Twite
27. I Love a Soldier (1944) .... Murphy
28. Going My Way (1944) .... Father Fitzgibbon
29. Corvette K-225 (1943) .... Stooky O'Meara
... aka The Nelson Touch (UK)
30. Two Tickets to London (1943) .... Capt. McCardle
31. The Amazing Mrs. Holliday (1943) .... Timothy Blake
32. Tarzan's Secret Treasure (1941) .... O'Doul
33. How Green Was My Valley (1941) .... Cyfartha
... aka Richard Llewellyn's How Green Was My Valley (USA: complete title)
34. The Sea Wolf (1941) .... Cooky
35. San Francisco Docks (1940) .... The Icky
36. The Long Voyage Home (1940) .... Cocky
37. Full Confession (1939) .... Michael O'Keefe
38. The Saint Strikes Back (1939) .... Zipper Dyson
39. Pacific Liner (1939) .... Britches Webley
40. The Dawn Patrol (1938) .... Bott
41. Marie Antoinette (1938) (uncredited) .... Peddler
42. Four Men and a Prayer (1938) .... Trooper Mulcahay
43. Bringing Up Baby (1938) .... Aloysius Gogarty
44. Ebb Tide (1937) .... Huish
45. The Plough and the Stars (1936) .... Fluther Good
46. Juno and the Paycock (1930) .... The Orator
... aka The Shame of Mary Boyle (USA)
47. Land of Her Fathers (1924)