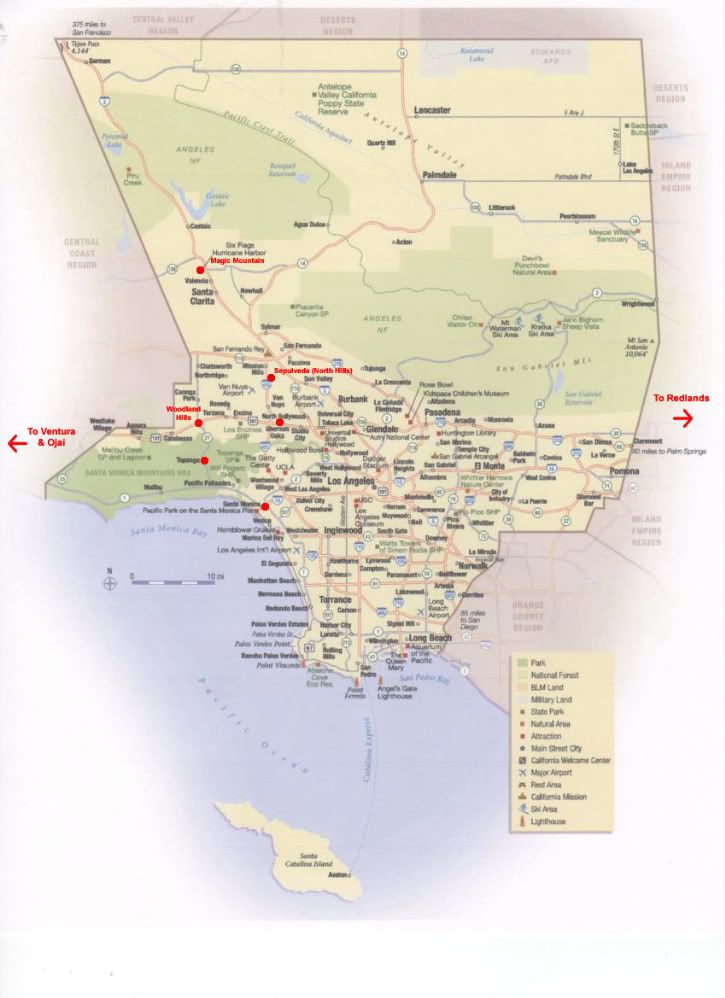 Pg. 11-12:
'Squiers came trudging up the hill. "
brakes, man," he said happily, as if he'd just stepped off some ride at Magic Mountain.'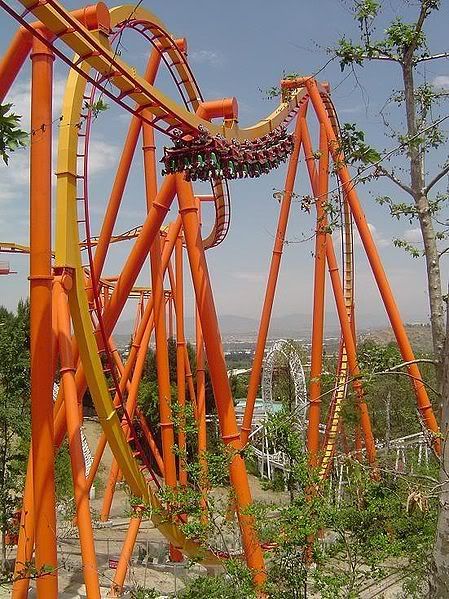 Click here for more information on Magic Mountain
WOODLAND HILLS



Pg. 50:
"After leaving Coren's office it was nearly 3 p.m. when Spandau got back to his home in Woodland Hills."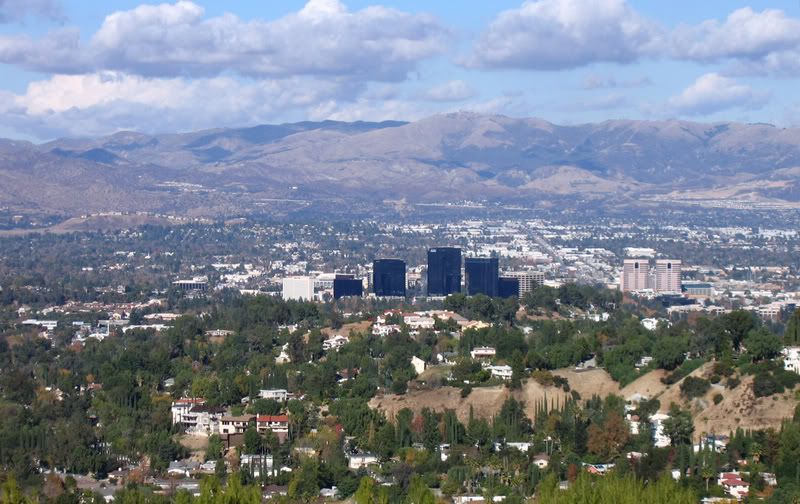 Woodland Hills is a district in the City of Los Angeles. As of the 2000 census, and according to the Los Angeles Almanac there were 67,006 people. Running east-west through the community is U.S. Route 101 (Ventura Freeway).

Little is known about the Chumash Indians, who were this community's earliest recorded settlers. When the first white men rode in with the Portola Expedition in 1769 to explore the beautiful hills and valleys, they encountered the Indians and called the area the Valley of the Oaks.

Just east of Woodland Hills, in North Hollywood, the Treaty of Cahuenga was signed in 1847 to end hostilities in California as part of the Mexican–American War. This cleared the way for California to be admitted to the union in 1850 as the 31st state.

Victor Girard Kleinberger bought 2,886 acres in the area and founded the town of Girard in 1922. He sought to attract residents and businesses by developing an infrastructure, advertising in newspapers, and planting 120,000 trees. Although his early efforts were criticized as providing only dubious facade of economic activity (local lore has it that in order to attract development he erected false store fronts on Ventura Boulevard, for which he spent time in jail), the Girard Golf Course completed in 1925 continues to operate today as the Woodland Hills Country Club, and his scheme was ultimately successful in attracting interest in the community. In 1941, the community was renamed Woodland Hills, an appropriate name owing to all the trees that Girard had planted years earlier.

During the Great Depression, Harry Warner, of Warner Bros. Pictures, bought 1,000 acres to breed thoroughbred horses. When Warner liquidated his real estate holding in fifty years later, many corporations and financial institutions put down roots in the area, creating one of the most densely populated business centers in the world.

The area is known around "The Valley" and is known as having the warmest weather in the City of Los Angeles. Woodland Hills is often very hot during the summer. In July 2006, Woodland Hills recorded the highest temperature ever in Los Angeles County, hitting 119 °F.

A short drive from Hollywood and Santa Monica, Woodland Hills boasts an upscale residential properties, world-class health care facilities, excellent educational institutions, and outstanding eateries. Culturally, the "Concert in the Park" series in Valley Cultural Center has been home to folk, jazz and pop concerts year-round for over 30 years.





TOPANGA



Pg. 121:
"and Terry, a Tolkien fan, thought this a clear sign from God, in spite of the fact that he knew bugger all about boats or sailing. He'd just been excavated from a cabin in Topanga where he'd lived for all four weeks with a female singer named Gooch, who threw him out when he drunkenly sat on her guitar."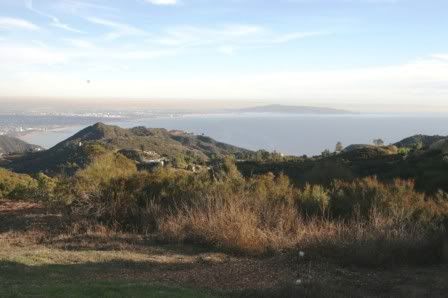 Inland from Malibu, Topanga (often times referred to as Topanga Canyon) is an unincorporated area in LA County. It is approximately 18 square miles has an elevation of 720' at Topanga Fire Station #69. As of the 2000 census, the population of the Topanga was 5,441.




Topanga Canyon



Topanga Creek drains Topanga Canyon and is the third largest watershed entering the Santa Monica Bay. The creek is one of the few remaining undammed waterways in the area, and is a spawning ground for steelhead trout. The area typically receives about 22" of rain annually. Topanga State Beach lies on the coast at the outlet of Topanga Creek. Topanga Canyon Boulevard, State Route 27, is the principal thoroughfare, connecting the Ventura Freeway (US 101) with Pacific Coast Highway (SR 1). The southern portion of the boulevard largely follows Topanga Creek. North of the Old Topanga Canyon Road intersection, the boulevard traverses the Santa Monica Mountains.

Topanga Canyon contains lands of both Topanga State Park, which is the largest park in the Santa Monica Mountains, and the Santa Monica Mountains Conservancy. It is part of the Santa Monica Mountains National Recreation Area.

Topanga Canyon has had its share of fires and floods, the worst fire in 1993, which lasted 10 days, burned 16,516 acres and resulted in the largest mobilization of emergency resources in a 24-hour period in California history. And of course, fires and then too much rain result in this: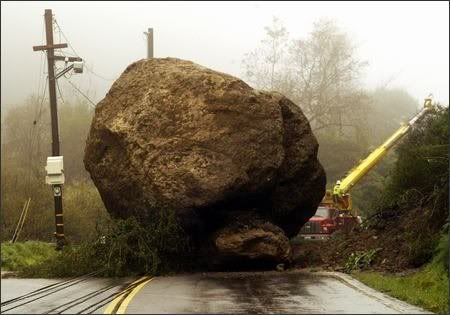 300-ton boulder on Topanga Canyon Road, one mile north of
PCH, January 9, 2005. Record winter rains generated
numerous mud, rock, and debris flows in the Malibu area.




History



Topanga is the name given to the area by the Tongva tribe, and may mean "a place above." It was the western border of their territory, abutting the Chumash tribe that occupied the coast from Malibu northwards. Bedrock mortars can be found carved into rock outcroppings in many locations.

Topanga was first settled in 1839. Among the first settlers were the Trujillo and Cheney families.

In the 1920s, Topanga Canyon became a weekend getaway for Hollywood stars with several cottages built for that purpose. The rolling hills and ample vegetation served to provide both privacy and attractive surroundings for the rich and famous.

During the 1960s, Topanga Canyon became a magnet to many new artists. In 1965 Wallace Berman settled in the area. For a time, Neil Young lived in Topanga, first living with producer David Briggs then later buying his own house. He would record most of his "After the Gold Rush" album in his basement studio in 1970. Charles Manson had previously been living in Topanga, where he had briefly befriended both Neil Young and Dennis Wilson of The Beach Boys. Members of Manson's "family" began their campaign of murder on July 31, 1969 with the murder of Topanga resident Gary Hinman, a music teacher who had opened his home to anyone needing shelter.

The Topanga Corral was a nightclub that featured an eclectic mix of performers, including then Topanga locals Canned Heat, Spirit, Little Feat, Spanky and Our Gang, Taj Mahal, Emmylou Harris, Etta James, Neil Young & Crazy Horse, Geronimo Black and many others. It is rumored that Jim Morrison was inspired to write "Roadhouse Blues" about the drive up Topanga Canyon Blvd to The Corral. (More on Jim in a later tidbit.) Later in the 1970s, after being destroyed by fire and rebuilt, the club featured many up and coming bands from the L.A. punk scene. In 1986, the Corral again burned to the ground but was not rebuilt. Today, many musicians, artists and actors continue to make Topanga their home.

Due to its location in the Santa Monica Mountains, Topanga is a favorite spot for hikers, as well as bicycle, and motorcycle riders/racers. Many movie/TV car/bike chases were filmed on the winding road with the picturesque cliffs in the background.

Topanga State Park is one of the largest urban preserves in the world, boasting beautiful cliffs overhanging the canyon and the Pacific ocean. The thick vegetation, steep terrain and frequent (and dry) Santa Ana winds combine to make Topanga an extreme fire danger.




Culture



Topanga is known as a bohemian enclave attracting artists, musicians, and others. Numerous music festivals have been organized in the canyon, including the Topanga Days Festival and Topanga Earth Day.

In the 1950s blacklisted actor Will Geer had to sell his large Santa Monica home and move his family to a small plot in the canyon where they could grow their own produce. Geer's friend Woody Guthrie had a small shack on the property. They unintentionally founded what became an artists' colony. Since its founding in 1973, the Geer family has continued to operate the Will Geer Theatricum Botanicum. It has grown into an Equity theater, and occupies a natural outdoor amphitheater. It features Shakespearean plays, modern classics, and original productions, as well as musical concerts. Performers have included Pete Seeger, Arlo Guthrie, Della Reese, and Burl Ives.

A famous venue in the canyon was the Elysium Institute, also known as Elysium Fields, a nudist club for 30 years. After surviving extended battles with county officials the 9-acre property was sold in 2002 by its founder's heirs.

Every Memorial Day weekend on the grounds of the Topanga Community House, Topanga has an annual fair and parade, called Topanga Days. Recently dubbed the Biggest Bohemian Bash in Southern California, Topanga Days Country Fair now features three stages of diverse nonstop music, belly dancing, fun and games for all ages, over 80 unique craft vendors and a variety of mouthwatering food from Cajun to hot tamales to comfort-loving sausages. Local and national acts perform and a parade is held on Memorial Day. The parade is said to have inspired the more famous Doo-Dah Parade in Pasadena.

Each year in June, Topanga artists host the Topanga Canyon Artists' Studio Tour, opening their studios to invite the public to peek into their private, creative world. The tour is sponsored by Topanga Canyon Gallery, an artists-owned venue to promote local fine art. Known for its generations of artists and magical canyon vistas on the outskirts of Los Angeles, the studio tour is a unique experience for both lovers of art and nature. Since 2005, the Studio Tour has also been known informally as the "Topanga Art Safari" to differentiate it from typical urban art walks & tours. As art lovers on the tour travel to the various art venues, they enjoy mountain greenery and grand vistas. Winding lanes replace crowded freeways, and "urban scrawl" gives way to open parkland. The Tour, now in its 5th year, draws larger crowds each June and is regarded as the Big Kahuna of art events in the area.

The hit 1990's ABC sitcom Boy Meets World feature the character Topanga Lawrence (played by Danielle Fishel) named after this location.




Notable Residents



In the music field, Woody Guthrie was one of the first musicians who found a home there. As nearby Los Angeles grew into a major music capital, Topanga became a preferred residence for many performers, including Neil Young, Devendra Banhart, Billy Preston, Marvin Gaye, Joni Mitchell, Steven Stills, Bernie Leadon of the Eagles and the Flying Burrito Brothers, Don Felder of the Eagles, Gram Parsons, Jim Morrison and John Densmore of the Doors, Mick Fleetwood, Spanky McFarland, Lowell George, JC Crowley,Toni Basil, Julia Fordham, Richie Hayward and Fred Tackett of Little Feat, Amy Smart, Al Enomoto, Taj Mahal, Pee Wee Crayton, Big Joe Turner, Alice Cooper, Van Morrison, Ryan Bingham, Leif Eason and Mark Andes, Jay Ferguson and John Locke of Spirit (band), Matt Andes of Jo Jo Gunne, Kirby Cohee of Free Beer - Tonight Only, Justin Chancellor & Adam Jones of Tool and the house music production artist & DJ, Rithma, Bob Hite and Alan Wilson of blues band Canned Heat. Children's musician residents include Hap Palmer and Peter Alsop. So many orchestral musicians live in the canyon that the Topanga Symphony Orchestra was formed in 1982.

Actors who have lived in Topanga include Emile Hirsch, Viggo Mortensen, Will Geer, Dean Stockwell, Lisa Bonet, Teri Garr, Wendie Malick, Eric Mabius, Keith Carradine, Robin Williams & Valerie Velardi, Dennis Hopper, Amber Tamblyn, and Barry Watson from 7th Heaven. Lynn Redgrave and husband John Clark raised their children there. Billy Gray ("Bud" of Father Knows Best) and Kyle Chandler ('Coach Eric Taylor' of Friday Night Lights) currently live there.

In addition, well-known writer and L.A. Times columnist Al Martinez lives there with his wife, and often comments on the nature of life in Topanga.




Lower Topanga Canyon



Click on this thumbnail to see an aerial of Lower Topanga Canyon and Topanga Beach: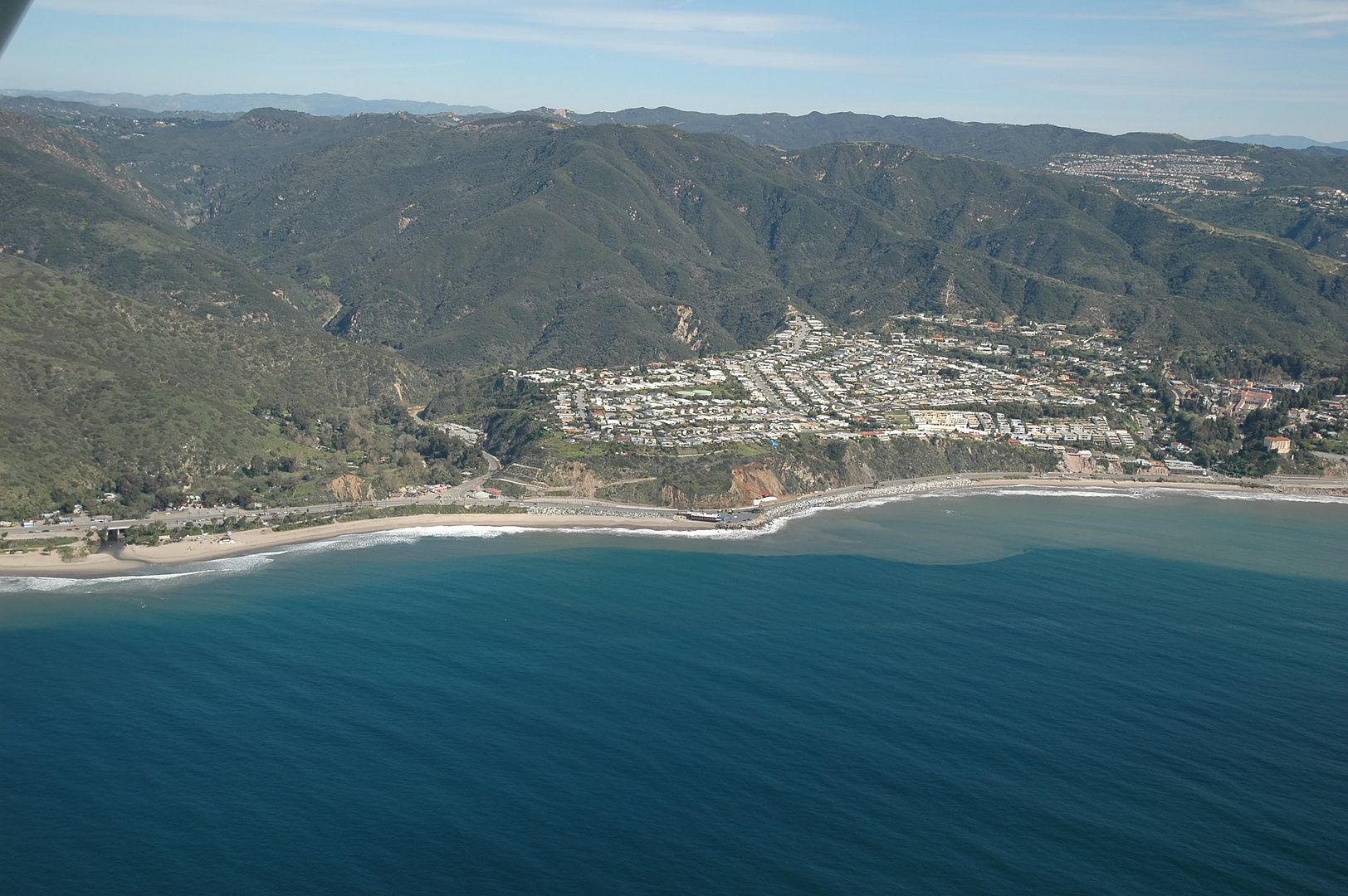 The bottom of Topanga Canyon, where it meets Pacific Coast Highway and the ocean, was owned for many years by the Los Angeles Athletic Club, a wealthy private club in downtown Los Angeles. The 1,659 acre (6.7 km²) parcel was rented out to a variety of businesses and residents for decades at remarkably low rents, considering that it borders the city of Malibu. Thus Lower Topanga became unique as one of the last outposts of the classic Topanga Canyon bohemian hippie lifestyle.

The Chumash considered Lower Topanga a sacred, economic, and cultural meeting place for tribes all along the coast. One of the main neighborhoods, the "Rodeo Grounds," takes its name from an actual rodeo arena that existed there on a Mexican Ranch in the 1800s. (Another neighborhood, "The Snake Pit," was named both for its abundance of rattlesnakes and for the shifty characters who passed through like Charles Manson.)

In the early 1900s, Lower Topanga was a Japanese fishing village. William Randolph Hearst owned the property for a time and turned it into a weekend getaway spot with beach shacks for his and Marion Davies' guests.

Famous residents of Lower Topanga include Humphrey Bogart, Peter Lorre, Bertolt Brecht, Carole Lombard, Shirley Temple, Johnny Weissmuller, and Ida Lupino.

In the '60s, a lively community of artists and surfers sprang up in Lower Topanga. They maintained their houses without assistance: sometimes digging them out of the mud after floods, or setting backfires to prevent a spreading wildfire from burning down their neighborhood. The roads remained unpaved.

In 2001, Lower Topanga was sold to California State Parks. Even though the Lower Topanga community occupied less than 2% of the total purchased land, State Parks had an aggressive policy to relocate everyone and bulldoze all of the houses. (State Parks had already evicted residents who lived directly on Topanga Beach in the late '70s.)

Arundo, a type of giant reed resembling bamboo that characterizes the Lower Topanga landscape, became a totemic plant for the residents because it was first on a long list of non-native plants that State Parks also condemned to be uprooted in an attempt to restore the land to its natural state.

A group of 10 Lower Topanga poets calling themselves the "Idlers of the Bamboo Grove" published a book of the same name in 2002, celebrating their community and lamenting the prospect of having to leave. Their publisher, Brass Tacks Press, continued publishing works by (and about) Lower Topangans including "Rat Tales" by Baretta (2005), "The Snake Pit" by Baretta (2006), a "Lower Topanga Calendar" (2005), and "Prevenge of the Androgynous Cyborg Pyrates from the Future: A Graphic Novel" by Toylit (2006— ).

In addition, Austrian filmmakers Natalie Lettner and Werner Hanak shot a documentary film about the neighborhood called Malibu Song (2006).

Many Upper Topanga residents (including the local Native American population) realized that the destruction of the Lower Topanga community would be a terrible cultural loss.

Even though Lower Topanga residents were given money to leave, they fought bitterly against their relocation in court. However, the last holdouts were forced off the land in March 2006.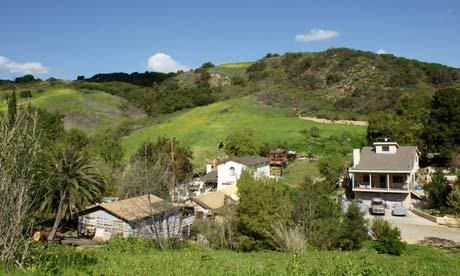 By now you've probably realized that Topanga is a tad "different". Click on the link below for an interesting story of the Twilight Zone variety:
SEPULVEDA



Pg. 135:
"Her
(Allison's)
house was in Sherman Oaks not far from Sepulveda."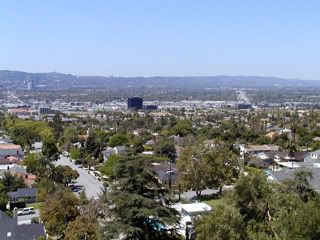 Sepulveda is now called North Hills. North Hills is a district in the San Fernando Valley region of the City of Los Angeles. One of the oldest communities in the San Fernando Valley, Sepulveda was renamed North Hills in 1992. The Sepulveda family, for which it is named, has roots back to the founding of Los Angeles. Sepulveda Boulevard begins at the north end of the San Fernando Valley and extends all the way south to Long Beach, running through most of the populated section of Los Angeles County. Northridge is to the west of North Hills, Panorama City is to the east, Van Nuys is to the south, and Granada Hills to the north. The 405 Freeway (San Diego Freeway) runs through North Hills. The small area varies a great deal; some parts of North Hills still preserve a small town feeling and are characterized by considerable neighborhood activism to preserve quality of life.





SHERMAN OAKS



Pg. 155:
"It was around ten in the morning when Allison Graff and her four-year-old son, Cory, went into the Denny's restaurant in Sherman Oaks."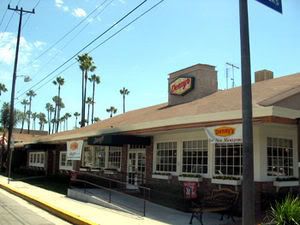 The Denny's in Sherman Oaks is at 5525 Sepulveda Boulevard. It is attached to the Best Western Carriage Inn.
I find this interesting because I ate breakfast there about 25 years ago. But I don't think it was a Denny's back then. It was just the Carriage Inn.
Sherman Oaks is an 8.1-square-mile district in the San Fernando Valley region of the City of Los Angeles. In contrast to much of the Valley, the area is relatively urbanized, with commercial skyscrapers along Ventura Boulevard as well as scattered throughout. In addition, residential densities are highly mixed, with apartment and condominium neighborhoods alongside single-story residential ones. The area is a hub for regional transportation, business, and shopping. As of the 2000 census, and according to the San Fernando Valley Almanac, Sherman Oaks has a population of 52,677.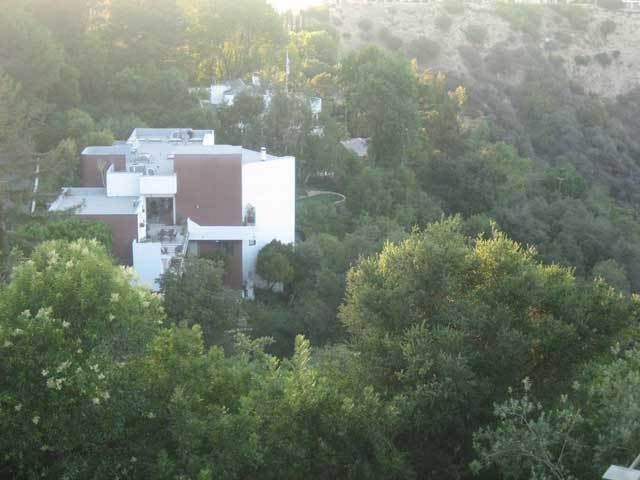 The neighborhood is roughly bounded by Studio City to the east, Van Nuys to the north, Encino to the west, Bel Air and Beverly Hills to the south. Sherman Oaks is situated along the Los Angeles River, Ventura Freeway, San Diego Freeway, Beverly Glen Boulevard, and Sepulveda Boulevard.

Sherman Oaks was one of the first Valley communities to experience intensive real estate development. Anticipating the development of the Los Angeles Aqueduct in 1913, Los Angeles Suburban Homes Co. purchased 47,500 acres of the southeast Valley in 1910.




Culture & Economy



Many financial corporations, including banks and brokerage houses, are located in the area. Sunkist Growers, one of the country's oldest and largest agricultural cooperatives, has been rooted in Sherman Oaks for almost 30 years.

Sherman Oaks is an affluent neighborhood, with several high-end fashion boutiques, and features many upscale houses and restaurants. One of the city's main claims to fame is the presence of the Sherman Oaks Galleria, a shopping mall identified as a meet-up place for the Valley girls, a 1980s cultural label which became widely known because of the 1983 movie Valley Girl and a song of the same name by Frank Zappa. In addition, a portion of the 1982 movie Fast Times at Ridgemont High was filmed there. After being damaged in the 1994 Northridge earthquake, the Galleria eventually was torn down and replaced by an open-air retail and office complex that bears little resemblance to the original mall.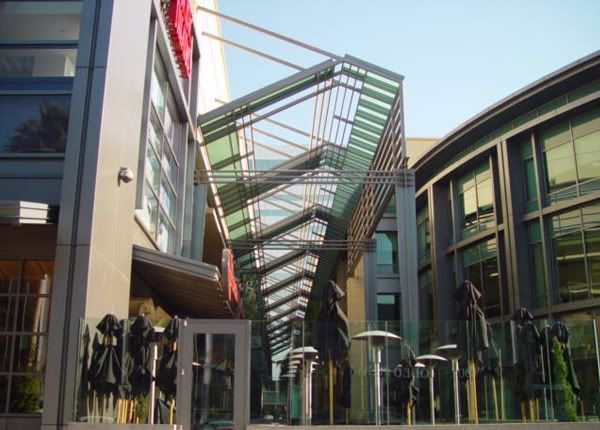 The Aerobics and Fitness Association of America operates in Sherman Oaks
(I had forgotten about that—I used to get my certification from AFA back in the day).
Every April and October, the Chamber of Commerce produces a popular Street Fair, closing down a half-mile stretch of busy Ventura Boulevard for booths, food, and entertainment (including rides for the kids). Upwards of 100,000 visitors stop by each year. Grand Marshals have included Coach John Wooden and actor/child-safety advocate Bryan Cranston (KidSmartz).




Media



Sherman Oaks has significant references in television.
• The short-lived 1990s sitcom, Sherman Oaks, centered around a wealthy plastic surgeon living with his family in Sherman Oaks.
• Parts of the television series, Buffy the Vampire Slayer were filmed at the Sherman Oaks Galleria.
• Scenes from the popular show Desperate Housewives are periodically filmed in Sherman Oaks, most often at Van Nuys Sherman Oaks Park and Maxson's Drug Store. • The final scenes of the film Escape from New York were filmed in Sherman Oaks.
• On several occasions Scrubs (TV series) has filmed throughout Sherman Oaks.
• Video game developer Spark Unlimited is based in Sherman Oaks.
• Premiere Radio is based out of Sherman Oaks.
• Sherman Oaks is also the home of Fox Sports Radio.
• A flower shop on Ventura Blvd. was filmed at frequently for the HBO hit Six Feet Under.
• Sherman Oaks is where Alan Harper's ex-wife Judith and son Jake live in the sitcom Two and a Half Men.
• Virtual Instruments Magazine is published and edited in Sherman Oaks.
• The mall scenes from "Fast Times at Ridgemont High" were filmed at the Sherman Oaks Galleria.
• Scenes from Crash were filmed in Sherman Oaks
• The character Jazz in Michael Bay's movie Transformers drops down from the roof of the Casa De Cadillac dealership, located on Ventura and Tyrone/Beverly Glen.
• Richard Pryor stayed at the Grossman Burn Center in Sherman Oaks in 1980, after lighting himself on fire when he was freebasing cocaine




Notable Residents



Over the years, many notable people have lived in Sherman Oaks, including:
• Bud Abbott, comedian
• Paula Abdul, singer/choreographer
• Loni Anderson, actress
• Jennifer Aniston, actress
• Tai Babilonia, figure skater
• Catherine Bach, actress
• Jillian Barberie, actress
• Drew Barrymore, actress
• Rachel Bilson, actress
• Wayne Brady, comedian
• Marlon Brando, actor
• James Brolin, actor
• Lindsey Buckingham, singer/guitarist
• Ryan Cabrera, pop singer
• David Caruso, actor
• Michael Chiklis, actor
• James Coburn, actor
• R.J. Colleary, writer
• Lou Costello, comedian
• Robert Crais, writer
• Elisha Cuthbert, actress
• Tony Danza, actor
• Jennifer Darling, voice actress
• James Dean, actor
• Shannen Doherty, actress
• David Draiman, lead singer of Disturbed
• Richard Dreyfuss, actor
• Kirsten Dunst, actress
• Shelley Duvall, actress
• Bret Easton Ellis, writer
• Harlan Ellison, writer
• Hector Elizondo, actor
• Dick Enberg, sportscaster
• Omar Epps, actor
• Sherilyn Fenn, actress
• Joely Fisher, actress
• Judy Garland, actress
• The Goossen Family, boxing promoters/trainers
• Tom Green, comedian
• Robert Guillaume, actor
• Oliver Hardy, comedian
• Jean Harlow, actress
• Neil Patrick Harris, actor
• Jenilee Harrison, actress
• David Hasselhoff, actor
• Eloise Klein Healy, poet
• Tippi Hedren, actress
• Natasha Henstridge, actress
• Paris Hilton
• Freddie Hubbard, jazz musician
• Vanessa Anne Hudgens, actress/singer
• Rachel Hunter, model/actress
• Keith Jackson, sportscaster
• Angelina Jolie, actress
• James Earl Jones, actor
• Chris Kattan, actor
• Stan Laurel, comedian
• Ron Leavitt, co-creator and producer of Married… with Children
• George Lopez, actor
• Liberace, entertainer
• Jerry Mathers, actor
• Jenny McCarthy, actress
• Kristy McNichol, actress
• Katharine McPhee, American Idol finalist
• Bret Michaels, singer
• Marilyn Monroe, actress
• Dave Navarro, rock musician
• Chris Noth, actor
• Tatum O'Neal, actress
• Ashley Olsen, actress
• Mary-Kate Olsen, actress
• Regis Philbin, television personality
• Pink, pop singer
• Jaime Pressly, actress
• Jason Priestley, actor
• Michael Reagan, conservative radio talk show host and son of the late President Ronald Reagan
• John Ritter, actor
• Pete Rose, former professional baseball player
• Jane Russell, actress
• Tom Selleck, actor
• Charlie Sheen, actor
• Nikki Sixx, rock bassist
• Slash, rock musician
• Snoop Dogg, rapper
• Ryan Stiles, actor/comedian
• Barbra Streisand, singer
• Mr. T, actor
• Tech N9ne, rap artist
• Lily Tomlin, actress
• Michelle Trachtenberg, actress
• Karen Valentine, actress
• Dick Van Patten, actor
• Marlon Wayans, actor/comedian
• Barry White, singer, record producer
• Natalie Wood, actress
• Ne-Yo, singer, actor, record producer, songwriter
• Howard K Stern, attorney/TV personality

Actress Lisa Rinna and her husband, actor Harry Hamlin, own a clothing boutique on Ventura Boulevard called Belle Gray and are also residents of the neighborhood.

Ken Davitian, who played Borat's producer Azamat Bagatov in the 2006 film Borat: Cultural Learnings of America for Make Benefit Glorious Nation of Kazakhstan, owns and operates a hot dog shop called "The Infield" at the corner of Ventura Boulevard and Beverly Glen Boulevard.
EDIT:
SANTA MONICA
I missed Santa Monica in more than one place, it seems. I think I was figuring that I didn't need to cover that one because it was somewhat covered when we did Ask The Dust. But some of you were not here for ATD. Here is a link to the tidbit from the Archives (and I have added it to the map above):
A couple of quotes from the book….

Pg. 77:
"He'd
(Spandau)
go to Santa Monica, have lunch on the beach, and wait for the girl of his dreams to come roller-skating into his life."
Pg. 278:
"He owned a thirty-acre estate a couple of miles inland and an office building or three in Santa Monica. But he preferred it there
(Thousand Oaks)
."
Sources:

Caltrans
Topanga Online
Wikipedia
WoodlandHills.com