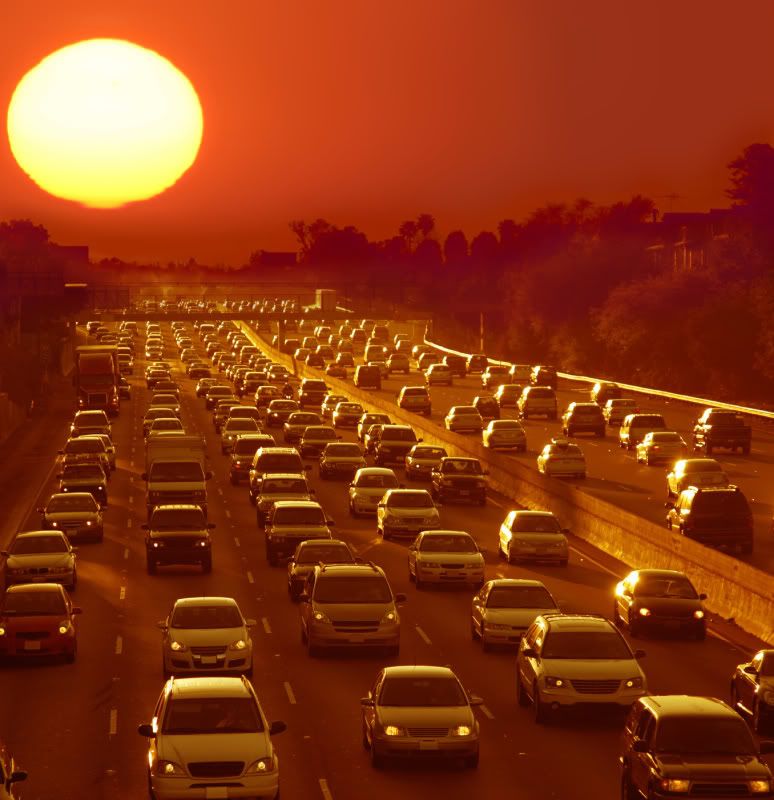 Pg. 2.
In Potts's opinion, you had to be an idiot or a maniac to enjoy driving in Los Angeles. Squiers qualified as both. Potts read somewhere that there were more than ten million people in L.A., people who spent literally half their lives on the roads. In some places twelve lanes of traffic going eighty miles an hour, bumper to bumper, within inches of one another. Careening along in several tons of glass and metal, your knuckles white on the wheel. You go too slow they run over your ass. You go too fast you can't stop in time when some old fart brakes at a senile hallucination, standing a lane of a hundred cars on its nose. You got no choice but to do whatever everybody else is doing, no matter how stupid. Mainly you just do it and try not to think about the mathematical impossibility of it all, the sheer, mindless optimism that any of this could function for longer than fifteen seconds without getting you killed or mangled. On the other hand, every fifteen seconds somebody actually was getting killed or mangled on an L.A. freeway, so it was perfectly sane to stress about it. You had to have a
death wish to drive in L.A.
I don't know about you, but I really got a kick out of Daniel's description of the LA Freeway system. I think we all have our biases about it….whether we've actually experienced it or not. I think that there is a general view that the LA transportation system is a sprawling overbuilt web of smog-choked freeways consisting of wall to wall cars moving at a snail's pace—the worst transportation system in the US. Eric A. Morris of the New York Times, claims in his Freakonomics blog that this stereotype "is as trite and clichéd as any that has spewed from the printer of the most dim-witted Hollywood hack. And it is just as fictitious. The secret is that Los Angeles doesn't fit the role it's been typecast in." (I thought this an interesting quote considering the subject matter of the book.) Morris, who has been studying LA traffic conditions for 18 years, set out to prove this in his recent series on the LA transportation system. He refers to most of the elements of the stereotype as "half-truths".

Below is the real skinny on the LA Freeways (that is, if you can believe what you read on the Internet). I apologize that it is a tad dry compared to the rant by Potts.




IS THE LA FREEWAY SYSTEM OVERBUILT?



Half-truth, according to Eric A. Morris:
"In a couple of respects, it is entirely justified to identify Los Angeles with the freeway; the city was a pioneer in freeway development. The Arroyo Seco Parkway (today's Pasadena Freeway), which opened in 1940, is considered by many to be the first true urban freeway. (Sadly, the builders didn't quite get it right. A jaunt down the road will remind you of a trip to Space Mountain; it twists like a snake, lacks acceleration and deceleration lanes, has inadequate shoulders, and features hair-raising exit ramps with tight turns and 5 m.p.h. speed limits.)

It is also correct that Los Angeles boasts an extensive freeway system. Counting Interstates and other expressways, the area ranks second in the nation in lane mileage, after New York.

But taking into account the area's vast size, the network is one of the most underdeveloped in the U.S. According to the Federal Highway Administration, of the 36 largest metro areas, Los Angeles ranks dead last in terms of freeway lane miles per resident. (Chicago is second to last, and New York is near the bottom as well. The most freeway-heavy big city by this measure is Kansas City.)

With rock-bottom road space per person, it's difficult to claim that the system is overbuilt (at least by U.S. standards), or that it dominates the region's transportation profile. It is, of course, possible that despite the paucity of freeway mileage, Angelenos are disproportionately heavy highway users, perhaps due to the region's geography or culture. I have some data on this, but to avoid spoiling the competition it will have to wait for a future post.

How did Los Angeles end up with such a skimpy system? Only about three-fifths of the lane mileage envisioned in Los Angeles's 1959 master plan was ever completed. Interestingly, the original plans included a freeway smack dab through Beverly Hills."
It turns out the freeway was one of the first to generate widespread community opposition, and its death marked the beginning of the end of Southern California's freeway building boom. There were two routes. The north route placed the freeway roughly between Melrose and Santa Monica through Hollywood then went into Beverly Hills and points west along Sunset. The southern route went into Hancock Park and the Fairfax district (roughly between Melrose and Beverly) and then connected with Santa Monica.

The opposition began in Beverly Hills. The state tried many things to win the city's support. At one point, officials proposed running the entire freeway through Beverly Hills in a tunnel below Santa Monica Boulevard with a shopping district and parks on top of it. The tunnel idea (and rising property values) made costs rise. By the late 1960s, opposition spread to Hancock Park, West Hollywood and the Fairfax District. By the early 1970s, there was talk of double-decking Santa Monica Boulevard as an alternative to a freeway, but that died too.

In a nutshell, LA has such a "skimpy" freeway system because of political opposition, growing enthusiasm for mass transit and the California tax revolt of the 70's.

Map of the LA aborted freeways: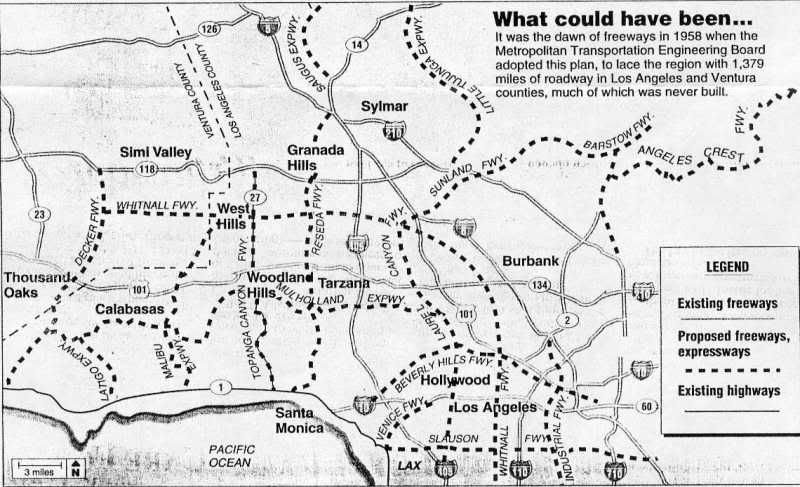 THE SMOG CLICHÉ



Morris also finds the smog stereotype to be a half-truth:
"Thanks to clear and sunny skies, warm temperatures, stable air, and an onshore sea-breeze, the Los Angeles area is an outstanding natural smog cooker.

Indeed, air pollution in the region long predates the arrival of the automobile. In 1542, Juan Rodriguez Cabrillo, the first European to lay eyes on Santa Monica Bay, saw the area shrouded in smog from native campfires and named it the Bay of Smoke.

Now, 450 years later, no one is rushing to rechristen it the Bay of Healthfulness. Each year, Los Angeles violates the national air-quality standards for ozone by a factor of more than two. Moreover, Los Angeles has serious problems with fine particles (PM2.5). This is especially true near the city's ports, where thousands of trucks spew diesel exhaust that we Angelenos breathe so that those of you in the rest of the nation can enjoy the imports from Asia that underpin your standard of living.

But while the situation is far from ideal, the numbers from the California Air Resources Board make it clear that Los Angeles has come a remarkably long way toward cleaning up the air.

In 1979, the South Coast Air Basin (of which Los Angeles is a part) experienced 228 days above the state one-hour ozone standard; in 2007, the number of days in violation was down to 96. The change is even more dramatic when looking at individual communities. From 1979 to 2007, Pasadena dropped from 191 days over the limit to 13, Reseda from 138 to 22, Anaheim from 61 to 2, Pomona from 167 to 19, and West Los Angeles from 76 to 2. This story is replicated across the region. It is also broadly true for the other pollutants that comprise smog.

The cleanup has not come due to reduced population or driving (both of these have risen rapidly in past decades), but to technological solutions: catalytic converters, unleaded gasoline, smog checks, etc.

According to the American Lung Association, Los Angeles doesn't even have the worst air quality in the nation any more — sorry, Pittsburgh. Second place is hardly a badge of honor for Los Angeles, but things have definitely been moving in the right direction."
SPRAWL



Morris claims that the "sprawling" cliché is false:
"As of the 2000 census, the Los Angeles region's urbanized area had the highest population density in the nation. Yes, that was the word "highest," not a smudge on your monitor. At 7,068 people per square mile, Los Angeles is considerably denser than New York-Newark, which ranks fourth at 5,309 people per square mile (behind San Francisco-Oakland and San Jose as well as Los Angeles)."
Although he points out that downtown LA has a low density compared with other urban areas (San Francisco, Midtown Manhattan & the Chicago Loop), its peripheral areas are considerably denser than the suburbs of other cities. He further states that Angelenos' homes sit on very small lots, in part due to the difficulty of providing water infrastructure to new developments. That combined with a large immigrant population living at very high densities and very few vacant lots spells high density. Assuming that the fundamental characteristic of sprawl is low density, Los Angeles is the least-sprawling city in the nation, according to Morris.




WALL TO WALL CARS



This is the one cliché that Morris proves true….that
"Angelenos spend more time stuck in traffic than any other drivers in the nation.

As anyone who's ever sat on Wilshire Blvd. at rush hour or experienced the frustration of trying to lead police on a high-speed freeway chase during peak travel hours can tell you, Los Angeles's traffic jams do indeed live up to the legend.

However, the reasons for Los Angeles's problems are murkier than they may seem. In fact, it's quite possible to make a plausible case that Los Angeles's traffic woes stem from the fact that it doesn't sprawl enough and has overinvested in costly rail transit at the expense of developing its undersized freeway network."
HISTORY



Southern California's romance with the automobile owes in large part to resentment of the Southern Pacific Railroad's tight control over the region's commerce in the late 19th and early 20th centuries. During his successful campaign for governor in 1910, anti-Southern Pacific candidate Hiram Johnson traveled the state by car (no small feat at that time). In the minds of Southlanders, this associated the automobile with clean, progressive government, in stark contrast to the railroads' control over the corrupt governments of the Midwest and Northeast. While the Southern Pacific-owned Pacific Electric Railway's famous "Red Car" streetcar lines were the axes of urbanization in Los Angeles during its period of spectacular growth in the 1910s and 1920s, they were unprofitable and increasingly unattractive compared to automobiles. As cars became cheaper and began to fill the region's roads in the 1920s, the Pacific Electric both lost ridership and slowed to a crawl; traffic congestion soon threatened to choke off the region's development altogether. At the same time, a number of influential urban planners were advocating the construction of a network of what one widely-read book dubbed "Magic Motorways", as the backbone of suburban development. These "greenbelt" advocates called for decentralized, automobile-oriented development as a means of remedying both urban overcrowding and declining rates of home ownership.

During World War II, transportation bottlenecks on southern California roads and railways convinced many that if southern California were to accommodate a large population, it needed a completely new transportation system. The city of Los Angeles favored an upgraded rail transit system focused on its central city. However, the success of the Arroyo Seco Parkway, built between Los Angeles and Pasadena in 1940, convinced many that a freeway system could solve the region's transportation problems. Leaders of surrounding cities, such as Whittier, South Gate, Long Beach, and Pasadena, accordingly called for a web of freeways to connect the whole region. Pro-freeway sentiments prevailed, and by 1947 a comprehensive freeway plan for Los Angeles had been drawn up by the California Department of Public Works (now "Caltrans"). San Diego soon followed suit, and by the early 1950s construction had begun on much of the region's freeway system.

The 1947 Master Plan: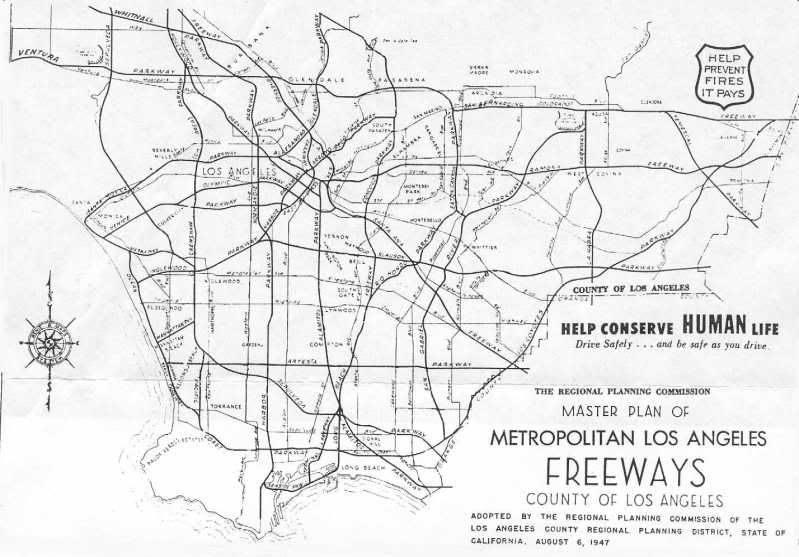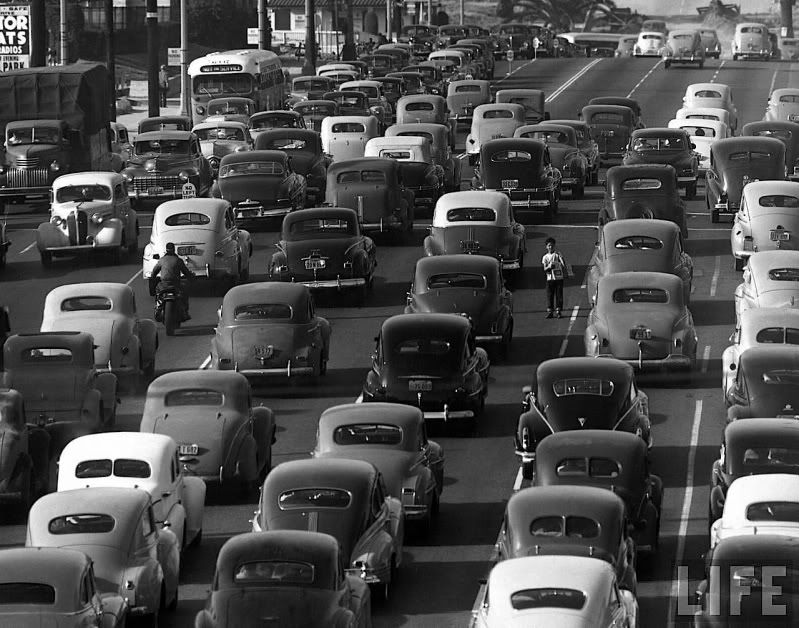 1947: Traffic in Los Angeles/ Olive and 6th/ Credit: Life Magazine





SOUTHERN CALIFORNIA FREEWAY FIRSTS



• First freeway in California (Arroyo Seco Parkway linking Pasadena, California and Los Angeles, California)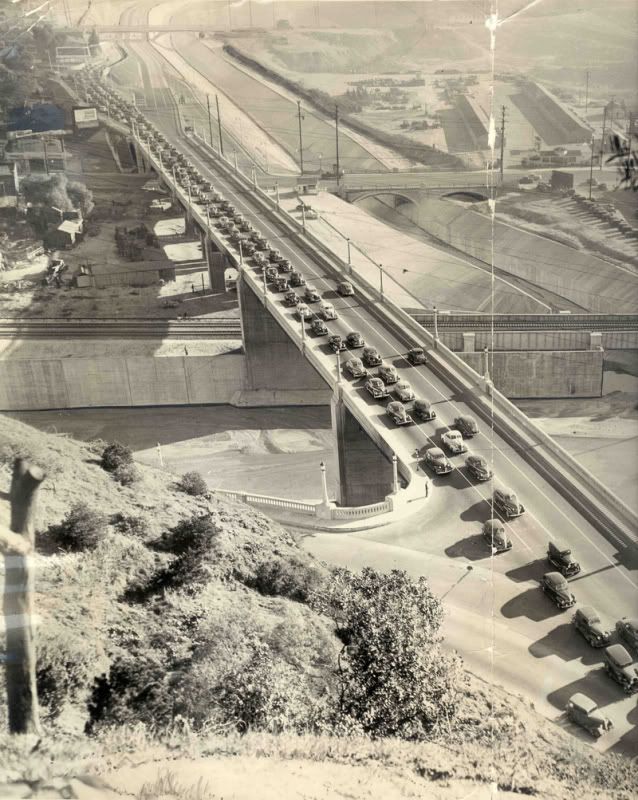 In a matter of months (Feb. 4, 1941) after the opening, the southbound Arroyo Seco Parkway (Pasadena Freeway) is backed up at the Figueroa Tunnels.


• First stack interchange (Four Level Interchange in downtown Los Angeles)



The famed "Four-level" interchange near downtown Los Angeles (1954)


• First grade-separated HOV lanes

• First fully automated toll way system (91 Express Lanes in northern Orange County)





NAMED FREEWAY INTERCHANGES



Below is a partial list of the major freeway interchanges in the LA area.



The Four Level (Bill Keene Memorial)



The Four Level Interchange (officially Bill Keene Memorial Interchange) was the first stack interchange in the world. Completed in 1949 and fully opened in 1953 at the northern edge of downtown LA, it connects U.S. Route 101 (Hollywood Freeway) to State Route 110 (Harbor and Pasadena Freeways). In July 2006, the freeway interchange was officially named after Bill Keene, former KNX and KNXT traffic and weather reporter, although the new name is rarely used. Keene referred to the interchange as "The Stacks" and the "4-H Interchange". During the 1960s, Dick Whittinghill on radio station KMPC sometimes called it the Four Letter Interchange.

The interchange was constructed as a stack interchange because surrounding buildings and terrain made construction of a cloverleaf interchange impractical. Also, the mainline traffic of US 101 is at the top of the interchange, above the ramps, a rarity in stack interchanges. Its distinctive architecture has long made it a symbol of Los Angeles' post-World War II development, and it appears on numerous postcards of the 1950s and 1960s.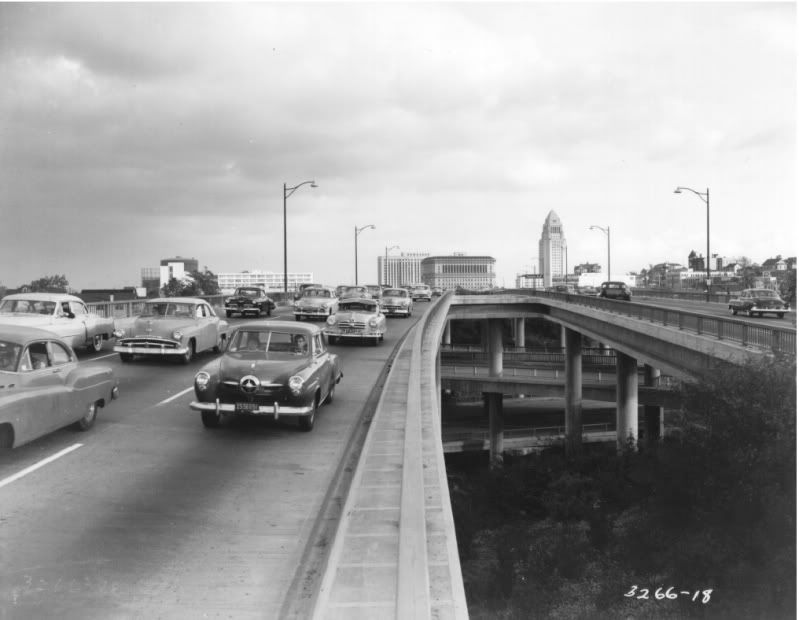 Hollywood Freeway at Four-Level Interchange, 1953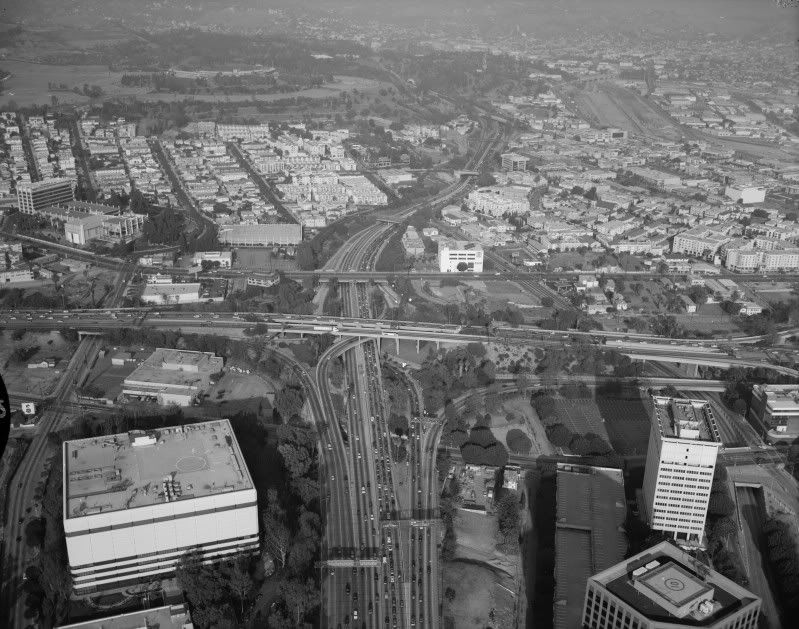 The Four Level Interchange Today looking NE




East Los Angeles Interchange



The East Los Angeles Interchange complex is the busiest freeway interchange in the world. At the time of its construction in the early 1960s it was considered a civil engineering marvel. Located about one mile east of downtown LA along the east bank of the Los Angeles River, the interchange comprises six freeway segments (i.e. there are six freeway 'paths' of travel into the complex). Note that the actual number of numbered highways intersecting at this interchange is four - these freeways are I-5, I-10, SR 60 and US 101.



In 1965

The primary reason why the complex is so 'complex' is that the intersecting freeways 'shift' alignments and directions. Also there is not complete freedom of movement within the interchange either. This is so complex that I won't even attempt to explain it.

Traffic congestion is exacerbated as vehicles moving at high rates of speed on the wider transition roads try to merge with slower moving vehicles coming from the narrow transition roads.

Although not commonly called such by residents and other reporters, the freeway intersection was often called "Malfunction Junction" by former KNX Traffic reporter Bill Keene, due to its complicated interchange structure.




The Hollywood Split



The Hollywood Split (officially Bruce T. Hinman Memorial Interchange) is a freeway interchange in the San Fernando Valley area of Los Angeles, California. It is the interchange of the following routes: US 101, SR 134 & SR170.

The interchange is the western terminus of SR 134 and the southern terminus of SR 170 and is also known as the interchange of the Hollywood Freeway and the Ventura Freeway (which is referenced a couple of times in the book). Motorists, especially visitors and newcomers to the Los Angeles area, find the interchange confusing for a number of reasons. The name "Hollywood Freeway" is attributed to US 101 south of the interchange and SR 170 north of the interchange, while "Ventura Freeway" is attributed to US 101 west of the interchange and SR 134 east of the interchange. The Ventura Freeway segment of US 101 has an east-west alignment, but is signed as a north-south highway. Throughout the San Fernando Valley, the same onramp may be signed as both 101 North and 101 West or 101 South/101 East.

Due to the freeways' acute intersecting angles, the interchange does not permit motorists entering the interchange to exit in all possible directions of travel. For example, motorists approaching the interchange on northbound US 101 may continue westbound ("northbound") on US 101 or northbound on SR 170 but not to eastbound SR 134.


This interchange is officially dedicated as the "Bruce T. Hinman Memorial Interchange." Hinman was a motorcycle officer with the California Highway Patrol who was killed by a drunk driver while assisting a stranded motorist at the interchange in 1995.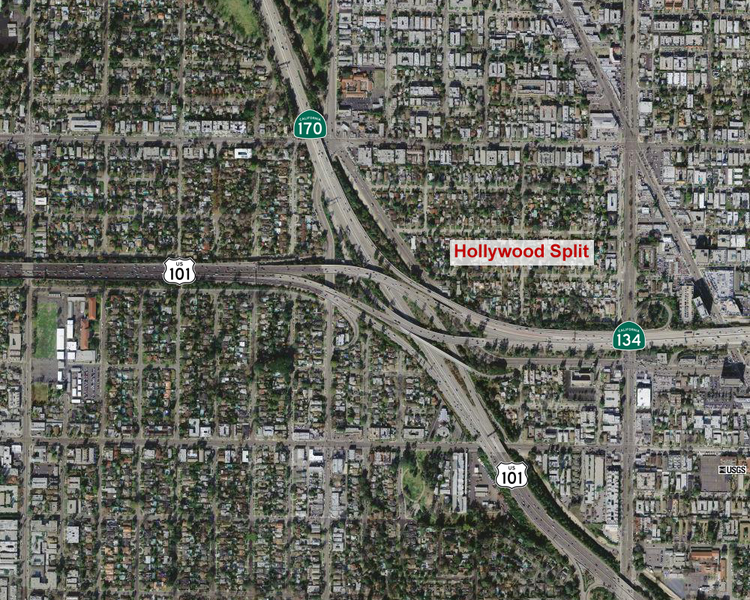 Hollywood Split




Newhall Pass (Clarence Wayne Dean Memorial)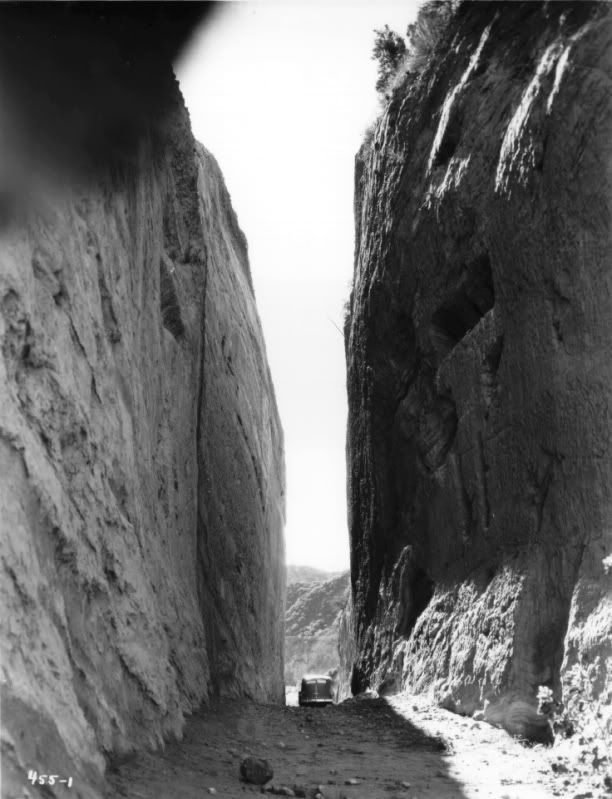 Beale's Cut, adjacent to the Newhall Tunnel in northern Los Angeles County (1937)

The Newhall Pass Interchange (officially Clarence Wayne Dean Memorial Interchange) is a highway interchange at Newhall Pass, north of San Fernando. It connects Interstate 5 with State Route 14 (Antelope Valley Freeway), and includes truck bypass roadways (that can also be used by cars). The main I-5 truck bypass is the original four-lane freeway, built as 99. The freeway is named after the LAPD motorcycle officer who was killed in the collapse of southbound State Route 14 to southbound I-5 overpass onto the southbound I-5 truck bypass in the 1994 Northridge earthquake. This is hauntingly similar to the collapse in the same interchange due to the 1971 Sylmar earthquake. It was a total collapse of the southbound Interstate 5 to northbound State Route 14 overpass. This collapse resulted in the additional collapse of the intersecting southbound State Route 14 to southbound I-5 overpass (as this connector bridge was directly beneath the 5/14 overpass). Both bridges fell directly onto the southbound I-5 truck bypass. A pictorial is displayed on the Doobie Brothers' album cover, The Captain and Me.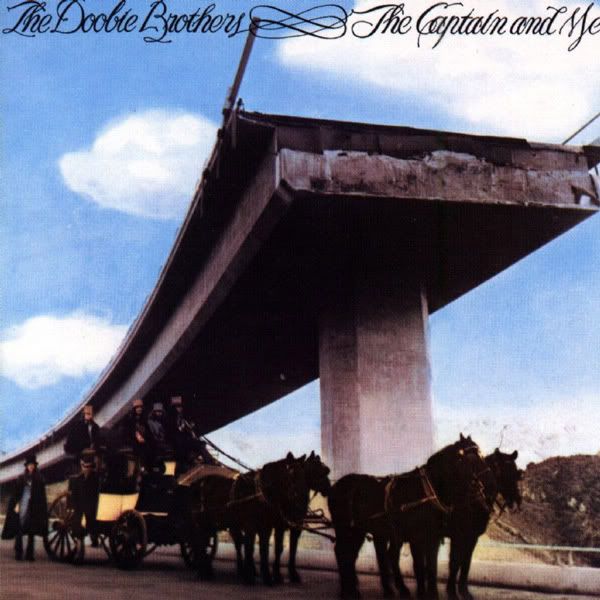 It seems this interchange has no manner of luck. In 2007, two trucks collided in the northernmost of two two-lane tunnels that take the southbound truck bypass roadway under the eight main lanes of I-5 where it travels adjacent to the northbound truck bypass lanes. 30 commercial vehicles and 1 passenger vehicle were involved in the traffic collision. A resulting fire soon spread from vehicle to vehicle, eventually encompassing the entire tunnel with flames shooting nearly 100 feet outside the tunnel. Three people died, including a 38-year-old male truck driver and his 6-year-old male passenger, and ten people were injured, none critically.





OTHER NAMED FEATURES OF THE FREEWAY SYSTEM





Sepulveda Pass



Sepulveda Pass, sometimes called Poop-Out Pass, is a mountain pass through the Santa Monica Mountains in Los Angeles, California. It connects the Los Angeles Basin to the San Fernando Valley via the San Diego Freeway (I-405) and Sepulveda Boulevard and experiences heavy traffic (over 330,000 cars a day) on a regular basis, commonly experiencing major traffic slowdowns and jams.

The Sepulveda pass on Interstate 405 begins just south of Ventura Boulevard in the San Fernando Valley, climbing to just south of Mulholland Drive, then descending to just north of Sunset Boulevard, where I-405 and Sepulveda Boulevard enter the Brentwood and Westwood areas of West Los Angeles. Northbound I-405 has five lanes (plus a sixth as the Ventura exit is approached), while Southbound I-405 has four lanes plus a carpool lane (although on the ascending portion there is a climbing lane).

Sepulveda Pass is home to the Skirball Cultural Center, Getty Center, American Jewish University and Milken Community High School.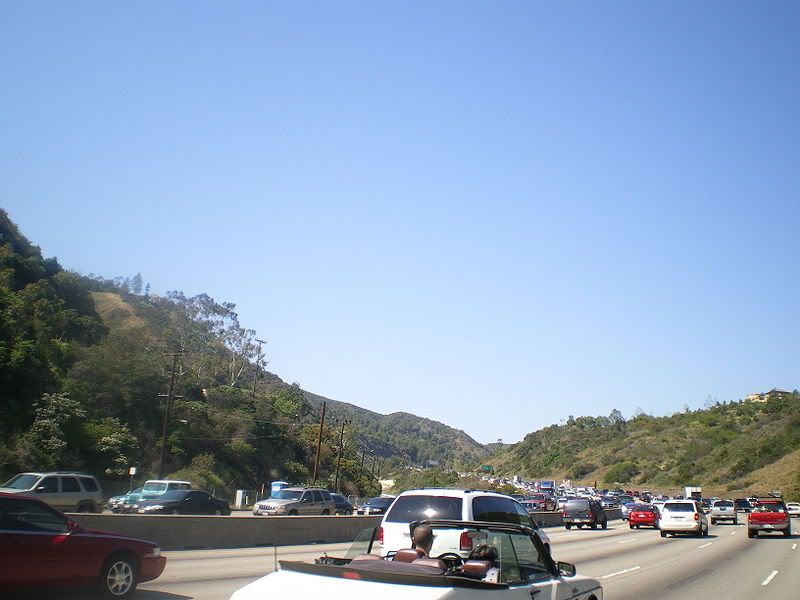 Sepulveda Pass: the Interstate 405 just south of U.S. Route 101 near the J Paul Getty Museum.




Ventura Freeway



The Ventura Freeway refers to the following two segments--US 101, from SR 1 west of Ventura to the junction with State Route 170 and State Route 134, and the entire route of SR 134.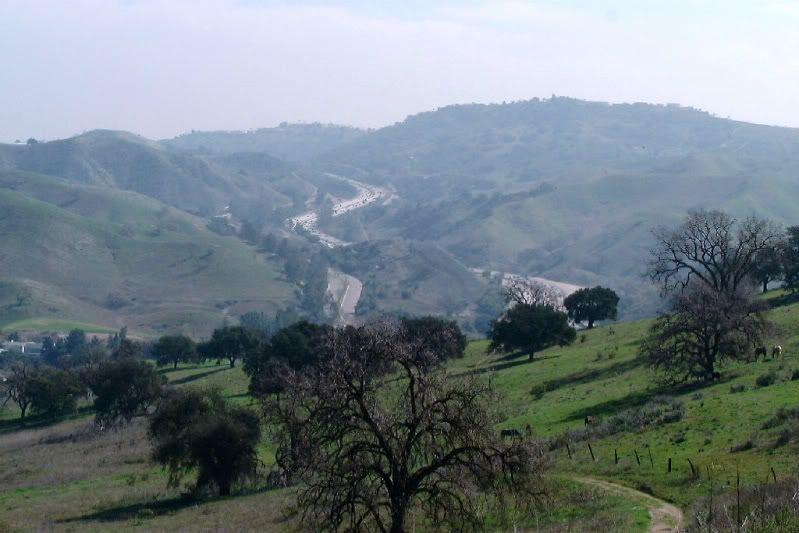 Ventura Freeway winding through the Conejo Valley




Cahuenga Pass



The Cahuenga Pass (pronounced /kəˈwɛŋɡə/ in English, from the indigenous Tongva language) is a mountain pass through the eastern end of the Santa Monica Mountains in the Hollywood district of the City of LA.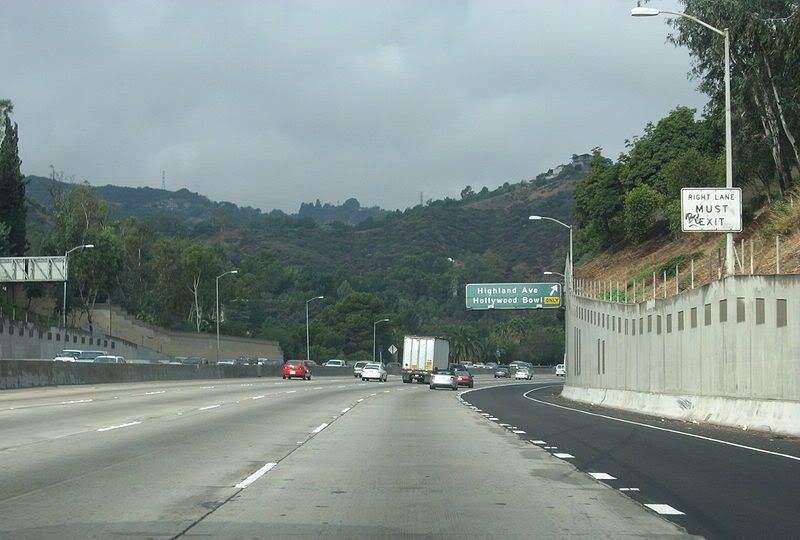 The northbound Hollywood Freeway entering the Cahuenga Pass

It connects the Los Angeles Basin to the San Fernando Valley via the Hollywood Freeway US101 and Cahuenga Boulevard. It is the lowest pass through the mountains.

It was the site of two major battles, the Battle of Cahuenga Pass in 1831 (a fight between local settlers and the Mexican-appointed governor and his men, two deaths), and the Battle of La Providencia or Second Battle of Cahuenga Pass in 1845 (between locals over whether to secede from Mexico.




Figueroa Street Tunnels



The Figueroa Street Tunnels are a set of four 4-lane tunnels that carry northbound traffic on SR 110 (the Pasadena Freeway) through Elysian Park in LA. The north three tunnels opened in 1931 as a bypass to a section of North Broadway; the southernmost (and longest) opened in 1935, connecting to Figueroa Street downtown. Connections were added in 1937 to the Figueroa Street Viaduct, 1940 to the Arroyo Seco Parkway (now the Pasadena Freeway), and 1953 to the Four Level Interchange. A new alignment for southbound traffic, passing through a cut to the west of the tunnels, opened in 1943.

Traffic through the tunnels is heavy at almost all times of day. At the north end of the tunnels is an interchange with I-5, in which the leftmost lane makes a hard left turn onto the off ramp. There are also sharp exit and entrance ramps on the right side at Solano Avenue after the first tunnel.

Since the tunnels' incorporation into Pasadena Freeway (now SR 110), Figueroa Street has been discontinuous. It merges into SR 110 at Alpine Street in Chinatown, south of the tunnels, and splits in Highland Park, north of the Figueroa Street Viaduct over the Los Angeles River.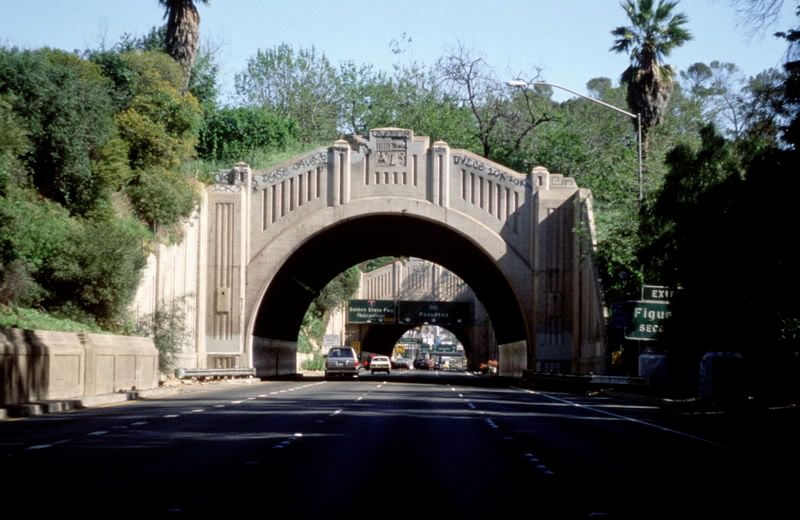 THE FUTURE



A list of 57 transportation projects – totaling $625 million – was adopted on March 11 of this year by the California Transportation Commission (CTC) as the first in line to receive infrastructure-focused federal economic stimulus dollars. The CTC also voted to allocate funding for 56 of these projects, pending only final approval by the Federal Highway Administration (FHWA) to release the stimulus funds, enabling construction to begin. Below are the projects listed in the LA area. However, due to the current CA budget cuts, there are many projects that have been frozen, one of which is a carpool lane on the 405 Freeway between the 10 and 101 freeways.

• $50,560,000. I-5, Sun Valley and Sylmar, from Hollywood Way to north of San Fernando Road. Slab replacements and grind.

• $75,050,000. I-710, Los Angeles from 0.3 mile south of Firestone Blvd to 0.2 mile south of Slauson Avenue. Roadway Rehabilitation. PROPOSITION 1B SHOPP AUGMENTATION PROJECT.

• $9,324,000. SR 39 In La Habra, from Route 90 to Los Angeles County Line; also on Route 72 from Route 39 to Los Angeles County line. Rehabilitate roadway.

• $6,921,000. SR 57 In Orange, Anaheim and Fullerton, from West Orangewood Avenue to the Los Angeles County line at various locations. Upgrade metal beam guard rail to concrete barrier.

• $555,000. I-210 In Los Angeles County in and near Pasadena, from Route 2-Angeles Crest Highway Separation to 0.2 mile west of Marengo Avenue Overcrossing.

• $2,220,000. SR 134 In Los Angeles County in Burbank, Glendale and Los Angeles, from Bob Hope Drive Undercrossing to Route 134/2 Separation.

• $1,628,370. SR 34 In Ventura County in and near Camarillo, from Daily Drive to Route 118.





TRAFFIC FATALITY STATISTICS



The Vital Statistics Death Statistical Master File of the California Department of Public Health indicates that in 2006, there were 409 Los Angeles County residents who were fatally injured in a motor vehicle. There were 4,889 non-fatal injuries. This works out to 14.5 injuries per day, which means that in 2006 every 99 minutes some LA resident was getting killed or mangled on LA roads/freeways. This number may have gone down, though, as California's 2007 Mileage Death Rate of 1.18 (traffic fatalities per 100 million vehicle miles traveled) is the lowest rate since California began calculating the rate in 1946. Traffic fatalities decreased 6.2% from 4,236 in 2006 to 3,974 in 2007, which represents the largest single year reduction since 1996-97.





LIZ'S RANT



My personal pet peeve about the LA freeways is their lack of clear exit signs. It is a tourist nightmare—"The Out-of-Towners" California style. And each wrong exit you take represents a half hour + off of your life and can cause you to miss important engagements such as studio tours, premieres or book signings. The nerve! And it is not due to my poor navigation skills—ask DITHOT. Angelenos are not affected by these inconveniences because they know their way around—or they have GPS.
I guess they want to frustrate interlopers by keeping our destination a secret. Is it a Hollywood insider conspiracy orchestrated to keep outsiders where they belong—out? Thank goodness the Beverly Hills Freeway never came to pass. Give me the endless stop lights of Sunset any day—just as long as I can avoid those freeways.






This is cool....



Click here for an up-to-date traffic report.




Sources:



California Department of Public Health
California Highways
California Office of Traffic Safety
Caltrans
LA Times
NY Times
Wikipedia