Ahoy, mateys! 'Tis a plethora o' pirates we be lookin' at in 2011!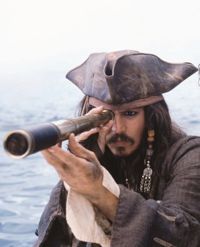 Once our boat...er, ship returns from Cannes we be readin' and discussin' On Stranger Tides by Master Tim Powers. Here's a bit o' writin' from other pirates about said book:
"On Stranger Tides is a 1988 historical fantasy novel written by Tim Powers. It was nominated for the World Fantasy Award for Best Novel and the Locus Award for Best Fantasy Novel.

This book follows the exploits of John "Jack Shandy" Chandagnac, who travels to the new world after the death of his puppeteer father to confront his uncle, who apparently has made off with the family inheritance. During the voyage, he gets to know a woman named Beth Hurwood and her father Benjamin Hurwood, an Oxford professor. Before they arrive, their ship is waylaid by pirates and, with the help of the professor and his assistant, the captain is killed and Chandagnac is forced to join the pirate crew. The reader discovers a sinister plot being concocted by the professor involving his dead wife, his living daughter, the Fountain of Youth, and Blackbeard. Chandagnac, now known as "Jack Shandy", must put a stop to these plans and save Beth Hurwood. It is full of voodoo, zombies, blood, gore, and weird fantasies on the part of one of the bad guys."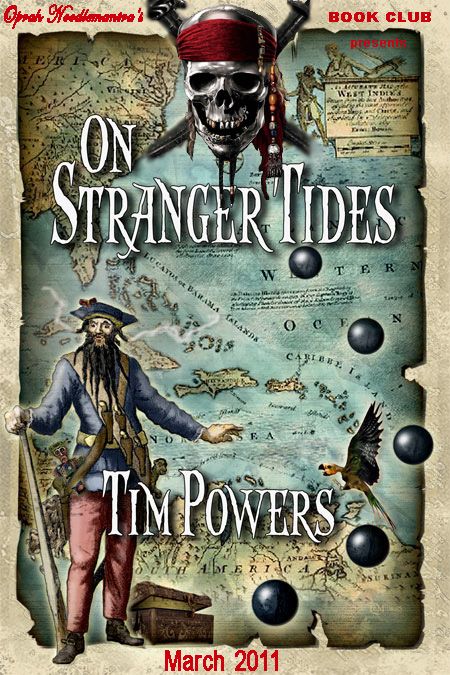 Well shiver me timbers!
Word on the street in Singapore is there be a movin' picture comin' soon with this same title. Now ain't that a coincidence!


This summer young Jack Sparrow sails into ONBC waters due to the bounty of Mistress Ann Crispin. She be pennin' a book she's callin' The Price of Freedom tellin' us how Jack Sparrow came to be the plunderin', pillagin' pirate we know and love. Mistress Crispin has generously offered us a sneak peek at said new novel with a Zone exclusive with part o' her writin' about Jack's first bath. Keep a sharp eye on the upper section of the ONBC board for the postin' of her creativity.

If you're willin' to sail into dark and dangerous waters, sign on to the ONBC crew this spring and summer or else we be comin' to Shanghai ya'!


(Ahem...we will get back to you with exact dates on both books. Ms. Crispin's book will be released in May, so we won't get started on it until June at the earliest!)