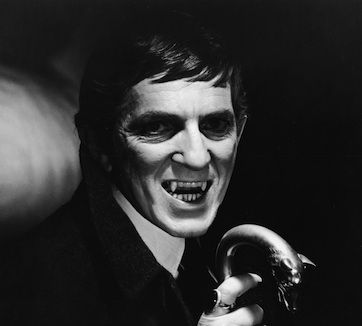 Jonathan Frid was born John Herbert Frid on December 2,1924, in Hamilton, Ontario, Canada. Born of Scottish ancestry, Frid was the son of Herbert Percival "H.P." Frid, a construction company executive, and the former Isabella Flora McGregor, a homemaker. He had two brothers, named Douglas and David (Kenneth), Ken followed their father into the construction business, while Douglas ran a ski lodge.

Cast in a prep school play, the shy youth found new presence, delivering a powerful performance. Spurred by this success, he continued to act, showing great range and an affinity for older characters and villains. His work for the Hamilton Players received critical attention, winning him an award for Best Actor.

Throughout World War II, Frid served in the Canadian Navy, later attending the Canadian McMaster University, where he was a prominent figure in the drama society. Following his graduation in 1948, he was accepted at the Royal Academy of Dramatic Arts, in London. Relocating to Britain, he joined a national tour of The Third Man and spent a year in repertory theatre. He later studied at the Lorne Greene Academy of Radio Arts, before earning an MFA in directing at the Yale School of Drama. As a student at Yale, Frid starred in the premiere of William Snyder's play A True And Special Friend. Frid spent thirty years in live theater, starring in the first productions at the Williamstown Theater in Williamstown, Massachusetts and stage productions in Canada, England and the United States, while occasionally working in television.

Throughout the 1950s and early 1960s, Frid continued to work in the theatre, essaying roles in many plays, including The Merchant of Venice, Auntie Mame, The Rainmaker, As You Like It, Taming of the Shrew, Romeo and Juliet, The Tempest, The Heiress, Much Ado About Nothing and the title role in Richard III, his favorite role. He also made appearances on television in both the States and Canada.

Frid had made plans to move to the U.S. West Coast to pursue a career as an acting teacher when he won the role that ultimately made him a household name. Frid explained on his website that he had just barely entered his apartment as the phone call from his agent came informing him that he won the role as Barnabas Collins. He agreed to accept the role after being told it was a short-term one that would provide him with extra cash while he prepared to move. As the character's popularity soared, Frid scrapped those plans.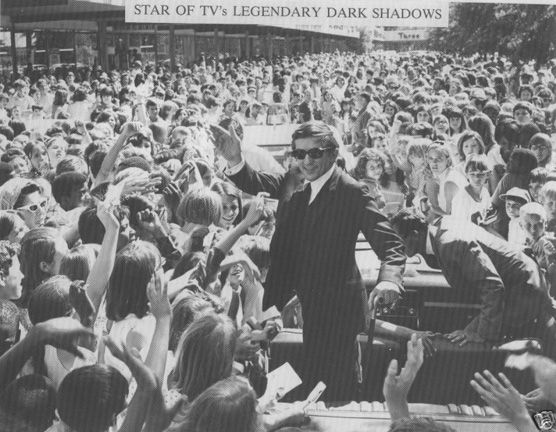 After Dark Shadows ended, he starred as Thomas Becket in Murder in the Cathedral, and in Wait Until Dark. Frid had previously played the role of a psychiatrist on the CBS Television soap opera As the World Turns. In 1973, Frid appeared in the TV movie The Devil's Daughter starring Shelley Winters, and the following year starred in Oliver Stone's directorial debut, Seizure (aka Queen of Evil). He took time off from acting and returned to Canada, reviving his stage career in 1978.

He spent the years that followed travelling, living in Canada and Mexico. Towards the end of the 1970s, Frid began experimenting with staged readings of classic texts, which came at the same time as the rising of the Dark Shadows convention circuit. Over the next few years, he would build on these experiments at events, honing his own unique brand of Reader's Theatre.

In 1986, Jonathan Frid formed Clunes Associates with Mary O'Leary, to properly market his Reader's Theatre productions, eventually building three distinct shows; Fridiculousness, Fools and Fiends and Jonathan Frid's Shakespearean Odyssey, which toured around the United States. This upshot in activity coincided with a starring role in the 1987 Broadway production of Arsenic and Old Lace, which proved a box office smash, eventually touring for 10 months.

In 1993, Jonathan realized his dream of directing, with a production of The Lion in Winter, which starred Dark Shadows cast-mate Marie Wallace. Soon afterwards, he entered semi-retirement, relocating from New York to his homeland of Ontario, Canada. In recent years, he formed Charity Associates, through which he continues to perform his acclaimed 'Reader's Theatre' shows to raise money for worthy causes.

In 1999, he began collaboration with writer Malia Howard on a full career biography, Jonathan Frid, an Actor's Curious Journey, which was published in 2001. 1999 also saw him inducted into the McMaster Alumni Gallery for his continued devotion to acting. In 2000, he returned to the stage for a brief engagement in the play Mass Appeal. Frid attended Dark Shadows conventions in New York in August 2007, Burbank, California, in July 2008, and Elizabeth, New Jersey, in August 2009. In 2010, he returned to the role of Barnabas for the first time in 39 years in a Dark Shadows audio drama, The Night Whispers. Along with former Dark Shadows cast mates Lara Parker, David Selby and Kathryn Leigh Scott, Frid spent three days at Pinewood Studios in June 2011 filming a cameo appearance for the upcoming Tim Burton Dark Shadows film, making this his final film appearance.

Frid died Friday, April 13, 2012 of natural causes in a hospital in his home town of Hamilton, Ontario at the age of 87. Commenting on his death, Jim Pierson, friend and spokesman for Dan Curtis Productions commented,

"Twenty million people saw the show at its peak in 1969. Kids ran home from school and housewives watched it. It had a huge pop culture impact," Pierson said.

Pierson said Frid, whose character was added in 1967, saved the show and stayed on until the end of its run in 1971. He said Frid was never into the fame and fortune and just wanted to be a working actor. He said he loved the drama and finding the flaws and the humanity in his characters.

"That's why he had this vampire that was very multidimensional. It really set the trend for all these other things that have been done with vampires over the last 40, 50 years," Pierson said. "Vampires were not in the vernacular. In 1967, there wasn't a pop culture of vampire stuff, so here he was in this mainstream network show that aired at 4 P.M. that really took off. And then he did the movie which was also a big hit."

Pierson said Frid had been in declining health in recent months. At Frid's request, there was no funeral and there will be no memorial. "He really was kind of a no-fuss guy," Pierson said. Frid never married. He is survived by a nephew, Donald Frid.

Jonathan Frid's 1968 appearance on Ron Barry's radio chat show was something of a milestone for the actor; it was to be the first broadcast interview Frid had ever given, having been extremely wary of the medium. The following link will take you the interview at collinwood.net:



An interview with Kathryn Lee Scott and Jonathan Frid:

[youtube]wKzxXyZA3Ro[/youtube]


Two interviews with Jonathan Frid:

[youtube]9aPcCEATn4Y[/youtube]


[youtube]MHd_EzZ3tX4[/youtube]


From the Dark Shadows Convention 2009

[youtube]CZcUztMmsA0[/youtube]


Sources:
Collinwood.net
Wikipedia
time.com