The automaton featured in The Invention of Hugo Cabret is based on a real automaton created by Henri Maillardet and donated to the Franklin Institute where Brian Selznik had the opportunity to meet the man who restored it. I have included video below of the automaton and of the demonstration at the Franklin Institute attended by Brian Selznik. There are also links to the Hugo Cabret website with more information on automata and links to the Franklin Institute for more information on the history and restoration of the Maillardet automaton.

Hugo Cabret website:




The Franklin Institute's Maillardet Automaton Demo 11/04/07

[youtube]jfeNC28vpYo[/youtube]

[youtube]lwkkDfs-RKg[/youtube]

A description of how the Maillardet automaton works and a history of the machine from the Franklin Institute is below.
A Brief (but fascinating) History of Automata and Mechanical Toys
The desire to bring inanimate forms to life is apparently basic to man-kind. As far back as ancient times, Egyptian, Greek, and Roman craftsmen managed to animate wooden statues through the use of hidden levers and hydraulic or pneumatic power, with seemingly magical results. Much later, town clocks in 16th century Germany had mechanical clockwork driven figures that struck the hour. These were the precursors of automata -- life-size forms that were made for royalty in the 17th and 18th centuries. The elaborate clockwork gearing of automata enabled them to perform many amazing tasks-from writing sentences to playing musical instruments. However, by the 1850s automata were being replaced by mass-produced mechanical toys that had spring-driven mechanisms and light, stamped gears instead of the heavy brass ones. Because they were inexpensive, these toys soon became hugely popular in Europe and America and remained so for a century.

The Ancient Greeks were clearly obsessed with the notion of creating mechanical living beings. We do know that they had very advanced engineering skills and most certainly managed to make partially animated Statues which would be used in Ceremonies. They were probable worked by levers and human powered, although there are descriptions of using steam and water as a source of power. The Greeks certainly had the technology and ingenuity to have used steam powered devises. Descriptions of wonderful mechanical people and objects not only came out of mythology but also other cultures from around the world.

One of the most well known early constructors of automatons was Al-Jazari of Mesopotamia. He is best known for writing the Book of Knowledge of Ingenious Mechanical Devices) in 1206, where he described fifty mechanical devices along with instructions on how to construct them. Al-Jazari built automated moving peacocks driven by hydropower. He invented the earliest known automatic gates, which were driven by hydropower. He also created automatic doors as part of one of his elaborate water clocks, and designed and constructed a number of other automata, including automatic machines, home appliances, and musical automata powered by water (see below). He also invented water wheels with cams on their axle used to operate automata. According to Encyclopædia Britannica, the Italian Renaissance inventor Leonardo da Vinci may have been influenced by the classic automata of Al-Jazari. Some of his creations were:

1. A waitress that could serve water, tea or drinks. The drink was stored in a tank with a reservoir from where the drink drips into a bucket and, after seven minutes, into a cup, after which the waitress appears out of an automatic door serving the drink.
2. A hand washing automaton incorporating a flush mechanism like those now used in modern flush toilets. It features a female humanoid automaton standing by a basin filled with water. When the user pulls the lever, the water drains and the female automaton refills the basin.
3. A peacock hand washing station described as follows: "Pulling a plug on the peacock's tail releases water out of the beak; as the dirty water from the basin fills the hollow base a float rises and actuates a linkage which makes a servant figure appear from behind a door under the peacock and offer soap. When more water is used, a second float at a higher level trips and causes the appearance of a second servant figure — with a towel.
4. A musical automaton, which was a boat with four automatic musicians that floated on a lake to entertain guests at royal drinking parties. The "musicians' could perform more than fifty facial and body actions during each musical selection.

Over 2000 years ago ancient Greeks used wind and water to power moving statues, manmade singing birds and self-opening doors. Mechanical toys were known as early as the third century BC and in the first century AD the Roman writer Petronius refers to a silver doll which could move like a human being. In India and Arabia moving dolls and mechanical birds were known in medieval times. These were displayed at European fairs and most of the average population saw such things as mysterious and with suspicion. The Church condemned them as instruments of the devil. Medieval and the pre-medieval history of Europe reveal that moving images of one sort or another were constantly billed as novel attractions at fairs.

The wealthier, however, welcomed these entertaining objects. In 1509 Leonardo da Vinci made a mechanical lion walk through a long hall and place a fleur-de-lis at the feet of the king Louis XII as a present. Thanks to written eyewitness accounts and mechanical drawings left behind by the artist, Leonardo da Vinci's fabled mechanical lion walks again after 500 years.

[youtube]xNWE2AdfNuo[/youtube]

In 1632 King Gustavus Adolphus received an extremely expensive cabinet in which two lavishly dressed dolls danced together. In the 17th century Louis XIV was given a richly decorated miniature carriage that had horses and servants. When the carriage travelled the length of a table and stopped in front of the king a little doll got out and curtseyed, presented a petition, returned to the carriage, and drove off again. In the second half of the 18th century, Pierre Joquet-Droz (a Swiss watchmaker) and his son Henry became so famous for their ingenuity that Louis XVI and Marie Antoinette invited them to their court. Among their inventions was a doll called 'the writer' that could write properly (and move to look like it was copying something). Another invention 'the designer' was a figure that drew pictures that looked like the king. 'The musician' was a young girl seated at a clavichord, which appeared to play a tune, and she moved to the music.

[youtube]75CXFwgslsY[/youtube]

One of their most famous devices was a clock that played nine tunes embellished with a woman seated on a balcony that waved her hand and took pinches of snuff, a flute-playing shepherd, a bleating lamb, and a dog that barked if anyone touched the tiny basket of apples he was guarding. One of the earliest surviving automatic toys today is a sixteenth century Hapsburg collection gondola thought to be done by Hans Schlottheim of Augsburg.

Other ingenious and interesting types of automata had also appeared. These were table decoration pieces, and here the art of the jeweler and goldsmith was combined with that of the mechanic. The first type was a complicated table fountain. The finest surviving example is an elaborate three level piece of silver gilt with some 32 outlets for wine. The flow of liquid operates water wheels which make a variety of bells ring. This fountain, which dates from the late fourteenth century, can be seen at the Cleveland Museum of Art.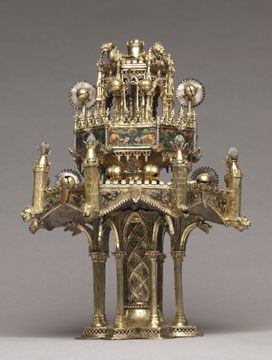 Related to the fountain was the nef, a model ship usually made of gold or silver and designed as a container for table utensils, wines or spices. In the sixteenth century modifications such as the addition of a clock and animated figures began to be made. Probably the finest surviving example, thought to have been made about 1580, is to be found in the British Museum. A later development was the triumphal chariot which usually contained a clock and moving miniature figures.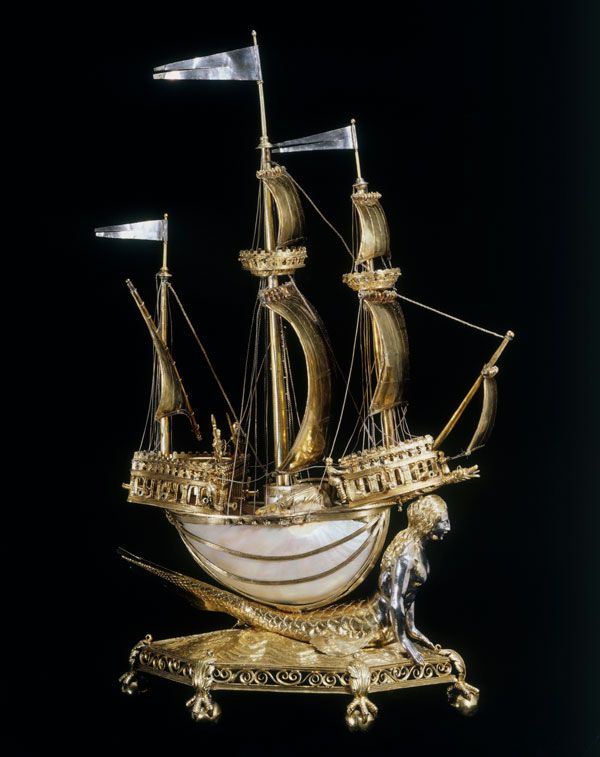 Sometime in this period there was developed the clockwork driven revolving pinned cylinder. The pins on the surface of the cylinder could be made to contact a series of levers in a set sequence, which permitted such a device to produce a series of predetermined actions. Refinements of this principle opened the way for mechanics to make the Eighteenth century the true Golden Age of Automata.

Jacques Vaucanson (1709 - 1782) may well be the most important figure in the history of automata, and his high position in the history of technology is assured. In 1735 he began construction of his first android, the life size figure of a flute player, which was completed in 1737. This was an extraordinarily sophisticated simulacrum, for the figure played its repertoire of eleven numbers by blowing through its lips, which acted as a human flutist's would, while the fingers actually moved the keys. In 1737 he also completed another life size figure that played a different type of flute with one hand while beating a small drum with the other. It had a repertoire of twenty melodies.

At the same time he completed his third android which may well have been his greatest accomplishment. This was a full size figure of a duck standing on a base which contained the driving and control mechanism. It floundered in water, drank, ate, digested and excreted the digested material. Chapuis and Droz devote considerable space to the construction of this figure, and it is apparent that the outer framework to which the feathers were attached was exceedingly complex, for the actions of the duck, down to the characteristic twitching of its tail, were extraordinarily lifelike. There were openings in the body through which the digestive process could be observed. In order to simulate intestines, Vaucanson used an India rubber (caoutchouc) tube he had made. This was the invention of rubber tubing.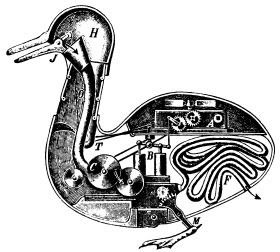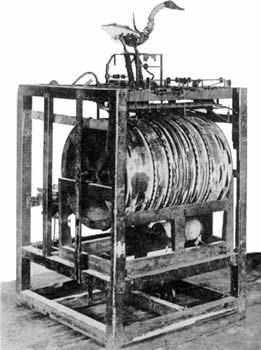 The Jacquet-Droz, father and son, produced a number of spectacular androids between 1772 and 1775, and in their way also contributed to technology. Their best known figures were The Writer, capable of writing a pre-set message of up to 40 letters, The Artist, a figure that could sketch four drawings, and The Harmonium Player that actually played by pressure of her fingers on the keys. She had a repertoire of five numbers which had been composed by Henri Louis Jacguet-Droz.

In the early Nineteenth century there began to appear another type of android, the fascinating miniature singing bird that popped out of a music box. Often made in silver or gold and decorated with enamels and jewels, these tiny boxes made in a variety of shapes sometimes had two birds that emerged, moved about and sang most realistically. Below is a video of a singing bird box by Droz.

[youtube]Z_BmpZ0-7lU[/youtube]

The last great exponent of this art was the Russian Court Jeweler Carl Faberge' (1846-1920) who produced some truly magnificent specimens.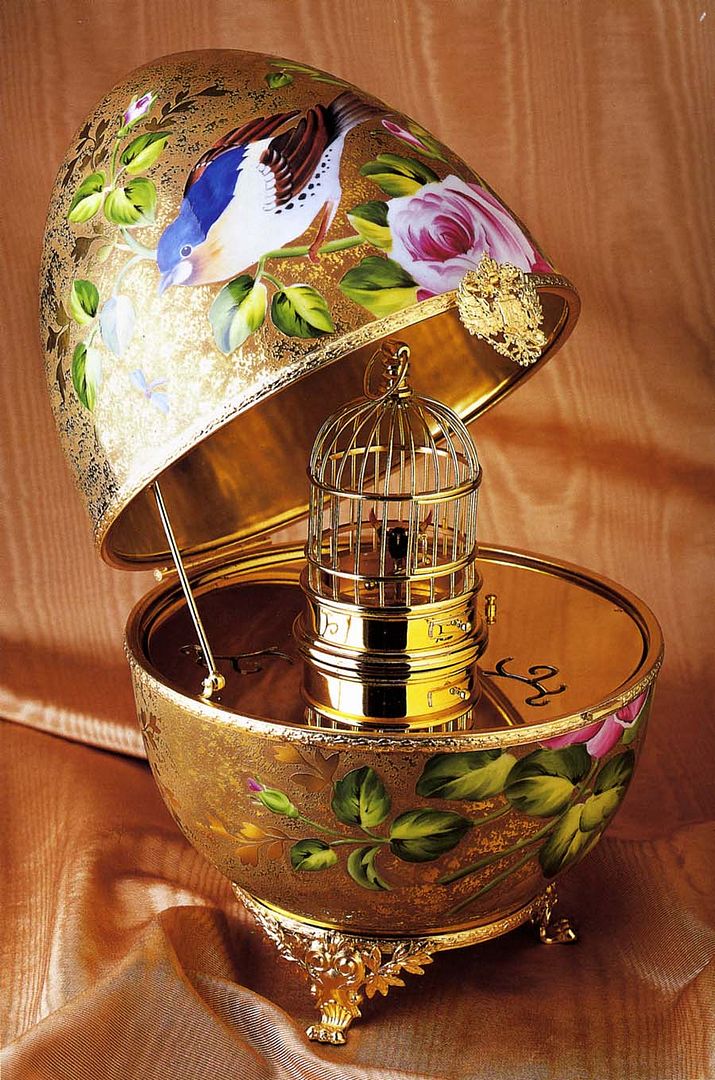 The manufacture of these tiny masterpieces and their widespread popularity coincided with the decline in the construction of the larger androids The one notable exception of the Nineteenth century was Robert-Houdin's writing and drawing figure which he presented at the Paris Exhibition in 1844.




In addition, Robert-Houdin (the inspiration for Houdini's stage name) made at least three other androids which still exist. All are based on the same idea - The Singing Lesson. A small figure of a young woman plays a little hand organ while a bird on a perch attempts to sing the melody. She shakes her head with dissatisfaction, plays the organ again, and when the bird sings a second time, she nods her head in approval.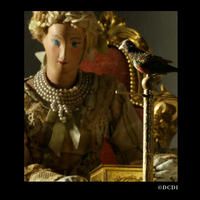 Although we tend to associate Robert-Houdin's name with many other androids which he used in his performances, the fact is they ware all pseudo automata. All but one were controlled by an assistant offstage.


The general public most probably never saw any of these elaborate gifts. Eventually clockworks became more common and simpler mechanisms were invented. By the Victorian era mechanical monkeys were very popular and were also used in advertising (e.g. smoking or drinking tea).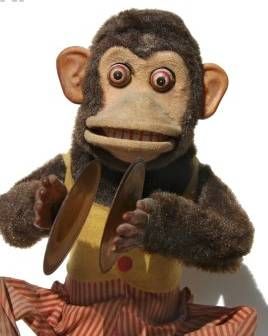 In the 1880's small steam engines were used to power miniature fire engines, locomotives and boats. Electrical batteries followed powering railroads and swings for dolls and all the things we see today.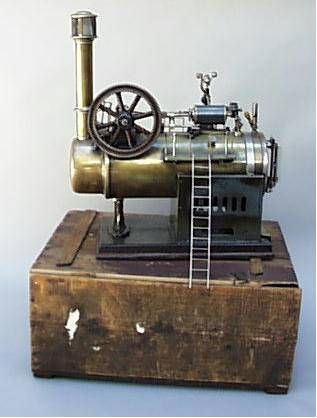 American clockwork toys (dancing figures, trains, steamboats) are memorable from the late 19th century and some of the only ones made with actual clock mechanisms. Produced for only 30 years primarily in the northeast, the centre of the clock making industry there, they were costly to manufacture and expensive at around 2.50 to 4.50 dollars each.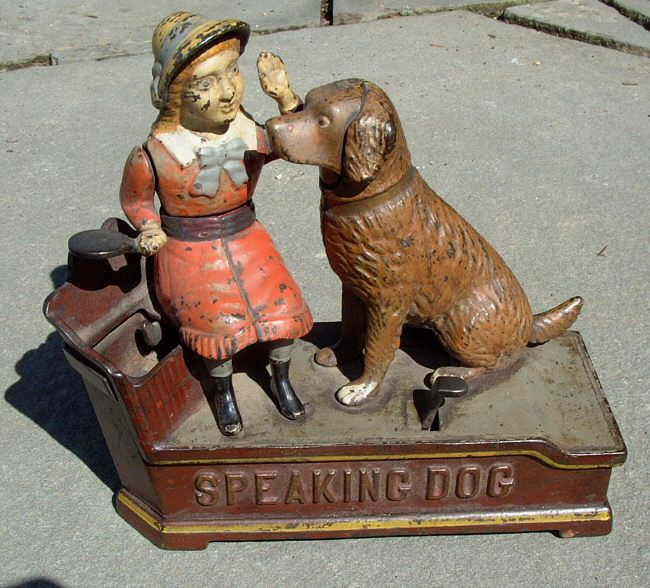 George Brown (introduced some in 1860) and E. R. Ives were both from Connecticut and were principal makers. They are activated by a key-wound spring that operates levers and rods connected to the movable parts. Some can work for up to thirty minutes. Heavy gauge brass gears are added to make parts run at different speeds.

There are two types of non-clockwork mechanical toys: spring driven and friction. Spring driven became popular after World War 1. In cars and other vehicles, the spring is wound by a key. These toys have cheap stamped tinplate gears instead of the heavy gauge brass ones (in clockwork) and they run for only two or three minutes.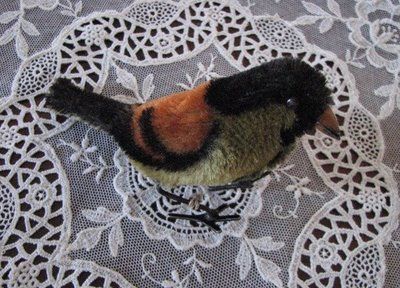 Spring wound bird from the 1920's

Friction toys are wheeled toys operated by a central inertia wheel called a friction wheel.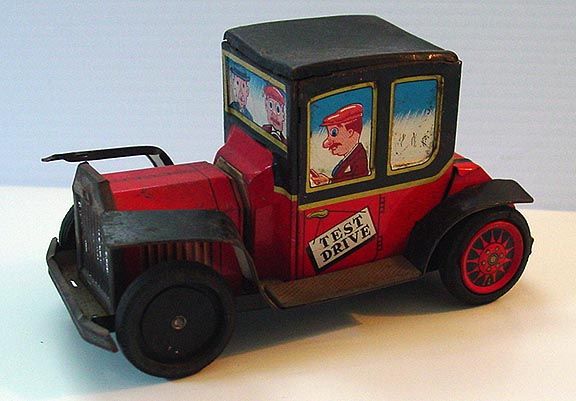 European friction toys have a small cast lead friction wheel connected to a pulley that is activated by being spun like a top. American ones have a heavy cast iron friction wheel, which is activated by spinning the rear wheels against a surface. When the toy is then placed on the ground, the friction wheel provides momentum to the ordinary wheel(s).

A lot of interesting automata were made and perfected in the 19th century. It was a prolific and golden era for automata. It was also a time when mass production techniques meant that automata could be made cheaply and easily and it is around this time that we see the automata becoming more of a child's toy rather than an expensive adult parlor amusement. It is from this time on that mechanical toys took over and although they were to survive well into the 20th century it is sadly now a thing of the past. Modern expectations of children and safety registration have lead to the demise of the clock work tin toy.