I found him singing at an all-night festival of Sufi singers. They were doing a long chant of Ali Munna, and I knew it could go on for hours, the singers passing chillums in glowing baton circles.
pg. 621
Sufism
Researching Sufism is a complicated journey.
According to patheos.com "Sufism is a Muslim movement whose followers seek to find divine truth and love through direct encounters with God." Most sources state absolutely that Sufism is a practice within the Muslim faith.
According to Wikipedia.org "Neo-Sufism," "pseudo-Sufism," and "universal Sufism" are terms used to denote forms of Sufism that do not require adherence to Shariah, or the Muslim faith. Western Neo-Sufi practices may differ from traditional forms, for instance having mixed-gender meetings and less emphasis on the Qur'an."
Again, according to patheos.com "Sufis have traditionally taken vows of poverty and celibacy."
Wikipedia states, "Some people believe that a Sufi must be without wealth. Actually, this is an incorrect view. To willfully insist upon living in poverty is itself an attachment. The Sufi, though, is free from all attachment. The essential point here is that the Sufis heart should have no attachment to wealth or worldly possessions. If a Sufi is rich one day, then poor the next, he or she remains unaffected by either condition."
The sama, which is a practice in which singing is a part of the devotion, is looked upon as being wrong by some segments of Islam which frown upon music used in prayer. Some Muslims believe Sufis are heretics because only Mohammed can be looked to for true guidance while there are many spiritual leaders and guides within Sufism.
With so much information out there, some of it conflicting, I offer a thumbnail sketch of Sufism and invite you to look further through the links if you wish to know more.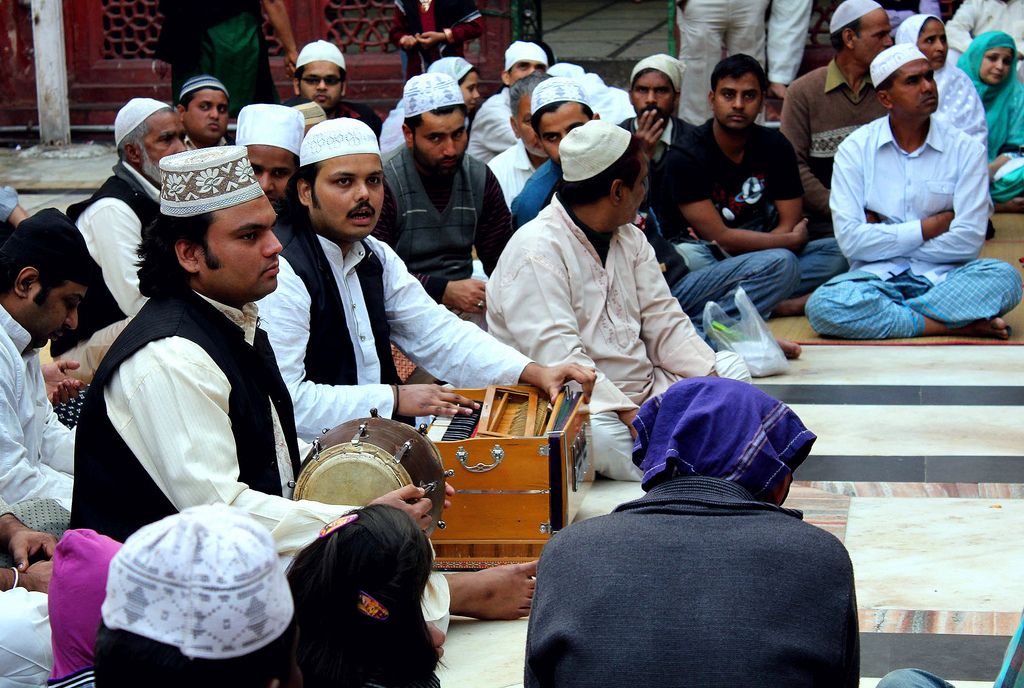 Hive Mind - Flickr Evening Prayers
The general consensus is that Sufism is a practice within the Muslim religion, with several different orders of Sufi practice. Sufis follow the dictates of Muslim ritual, including feast days, prayer five times daily, and more, but because of their intense desire to have a personal union with Allah, their entire lives become a prayer. Sufis live in society and work for a living, but everything they do has an aspect of developing a pure inner selflessness and union with Allah. Every action is a desire to please Allah and follow His will. While Muslims believe they will be united with Allah in the afterlife, the Sufis strive to have that perfect union while still on earth. This is a lifelong process of study and practice through the stages of purification:
1. self becoming emptied - letting go of negative qualities, the desires which originate from the self
2. self becoming illuminated - polishing the heart and soul of the tarnish of belief in and attachment to the self
3. self becoming adorned - one's inner being becomes adorned by Divine Attributes
4. self having passed away - Ultimately, the being of the disciple becomes completely filled by the Attributes of the Truth, to the extent that there is no sign of his own limited existence. (nimatullahi.org)

Sufi Music and Dance
"Taṣawwuf" is the Arabic word used to identify the practice of Sufis. Sama is the musical/ecstatic aspect. During the sama, the Sufi is enraptured, totally engaged with thoughts of the Beloved Diety. The music is rhythmic and often includes a recitation of Allah's name, aphorisms, passages from the the Qur'an, or Islamic poetry by Rumi and others. This practice is sometimes referred to as Dihkr. The Sufi order known as the Mevlevi order (mostly in Turkey) includes whirling, which is not actually a dance as it appears to be, but is another example of rapture experienced during prayer.
Here is a link to a traditional Sufi ceremony including chants and whirling. I hesitate to insert the video into this tidbit because the video asks that it not be published elsewhere, but it is definitely worth watching.
https://www.youtube.com/watch?v=CtPu-EAJf6s
Popular Sufi Music
A search of You Tube produces a long list of Sufi musical performances. This may be similar to the recording and performance of Christian Gospel music in the United States. My searches did not find the particular chant mentioned in the passage quoted at the beginning of this tidbit -- indeed, Ali Munna may refer to a singer not a song -- but by listening to a couple of these videos, it is possible to get a sense of what Abdullah must have been engaged in.
https://www.youtube.com/watch?v=1lVRxofWExg
https://www.youtube.com/watch?v=L4xl46mhwns
Bollywood and Sufi Music
Bollywood has taken the popularity of Sufi music to a new frontier. According to one Bollywood source, Sufi music is not a style in itself, rather it is the lyrics that make a song Sufi. By taking traditional Sufi music that expresses a love of God and changing the words to express romantic love, then adding a bit of modern sound, "Sufi music" has become part of the movies. Here is a sample of Bollywood's take on Sufi music.
https://www.youtube.com/watch?v=ka1JNhprlag
Sources:
https://www.youtube.com
https://en.wikipedia.org
http://islam.uga.edu/Sufism.html
http://fepeters.com/?p=300
http://www.oxfordislamicstudies.com/pri ... t236/e0759
http://islam.uga.edu/sufismdef.html
http://www.patheos.com/Library/Sufism
http://www.nimatullahi.org/what-is-sufism/
http://sufiway.org/about-us/the-origins-of-sufism
http://sunnirazvi.net/sufism/history/monks.htm
https://www.theguardian.com/music/2005/ ... worldmusic
http://www.religionfacts.com/sufism
http://www.beautyislam.org/practices_of_sufism.html
https://www.quora.com/Are-Sufi-Saints-a ... whole-life
http://sanat.orexca.com/2008/2008-2/roleofmusic/
http://www.mensxp.com/entertainment/bol ... songs.html
http://www.bollywoodpresents.com/qawwal ... songs.html