As you read Mr. Birkin's responses to our questions, please keep in mind that his answers are intended solely for the purpose of our readers. Please do not use his replies or take any quotes from them for any other purpose or post them on any other boards or websites. That was his only caveat when he agreed to participate, that our answers be kept "in house". I know you all will honor his request!
Jackie Wullschlager, in her 1995 book, Inventing Wonderland, goes to great lengths to document what she describes as an undercurrent of homosexuality and latent pedophilia, which run throughout JMB's life and writings. She describes scenes in his books which ooze sexual fantasies and discusses in detail what she sees as sexually symbolic figures, such as Hook, (who is) characterized by phallic symbolism from the start. Her attitude toward JMB is, I think, superior and condescending, yet I daresay that in another hundred years we will still be reading JMB, but will have no idea who Jackie Wullschlager is. At any rate, what are your thoughts on the supposed undercurrent of homosexuality or latent pedophilia in JMB's works and/or in his personal life?
AB:

When I first mentioned "paedophilia" to Nico back in 1975, he barely knew what the word meant, and – in its sexual sense – wholly denied that it applied to Barrie (other than in the literal Greek sense of platonic child-lover, as distinct from pederasty). Nico told a story about how his brother Peter had been at some cocktail party in the 1920s when the subject got onto pederastic authors. Like who? "Well, Sir James Barrie for one ... haven't you heard about him and his boys?" The drunken woman who cited the semi-humourous allegation had no idea who Peter was, but Peter himself found it very amusing – precisely because it was such a ridiculous idea. As Nico put it so succinctly, "I don't believe Uncle Jim ever felt any stirrings in the undergrowth for anyone, man woman or child." Barrie's problem was that he was physically impotent (Mary Ansell told Hilda Trevelyan and several others). Even Boothby – who thought Barrie's relationship with Michael was "unhealthy" – believed Barrie was impotent, and had no sexual lust for any of the boys (you can hear him on the audio site).

But Barrie also longed to be a father, and often expressed those feelings in words that to a modern ear sound ambiguous. The most notorious example is a chapter in "The Little White Bird", often cited as evidence of Barrie's paedophilic fantasies. The chapter describes an episode in which the Narrator (aka Barrie), who yearns for a child of his own whom he fondly calls Timothy, gains Mary's (Sylvia's) permission to let her five-year-old son David (George) spend the night with him, as a treat for them both. David sleeps on a spare bed in the narrator's bedroom. I actually dramatised this sequence in The Lost Boys ...

I think he had nigh fallen asleep again when he stirred and said,
"Is it going on now?"
"What?"
"The adventure."
"Yes, David."
Perhaps this disturbed him, for by-and-by I had to inquire, "You
are not frightened, are you?"
"Am I not?" he answered politely, and I knew his hand was groping
in the darkness, so I put out mine and he held on tightly to one
finger.
"I am not frightened now," he whispered.
"And there is nothing else you want?"
"Is there not?" he again asked politely. "Are you sure there's
not?" he added.
"What can it be, David?"
"I don't take up very much room," the far-away voice said.
"Why, David," said I, sitting up, "do you want to come into my
bed?"
"Mother said I wasn't to want it unless you wanted it first," he
squeaked.
"It is what I have been wanting all the time," said I......

Taken out of context, this episode could indeed be put forward as evidence of Barrie's fantasies, repressed or otherwise – a precursor to one of Michael Jackson's sleep-overs at Neverland ... But the narrator goes on –

... and then without more ado the little white figure rose and flung itself at
me. For the rest of the night he lay on me and across me, and
sometimes his feet were at the bottom of the bed and sometimes on
the pillow, but he always retained possession of my finger, and
occasionally he woke me to say that he was sleeping with me. I
had not a good night. I lay thinking.
Of this little boy, who, in the midst of his play while I
undressed him, had suddenly buried his head on my knees.
Of the woman who had been for him who could be sufficiently
daring.
Of David's dripping little form in the bath, and how when I
essayed to catch him he had slipped from my arms like a trout.
Of how I had stood by the open door listening to his sweet
breathing, had stood so long that I forgot his name and called
him Timothy.

If you've had children yourself, you will know the pleasures that Barrie is describing – indeed it's one of the great joys of fatherhood, being able to kiss and cuddle and stroke your children in bed. Of course if you start feeling stirrings in the undergrowth, then you have a problem... thank God I never did!

I don't believe that any reading The Little White Bird in full can sensibly conclude that this amounts to the Confessions of a Paedophile. Unless perhaps he's a paedophile himself. Such was the case with Dr Morris Fraser, who first went into print with accusations of paedophila back in 1976 in a book called "The Death of Narcissus" (published by the reputable Secker & Warburg). The dust-jacket blurb states the following:

"Dr Morris Fraser, psychiatrist, sets out to study those adults who are attracted to young children, who suffer the sexual disorder known as paedophilia of which so little is known, so little understood. Dr Fraser sees the creative artist as the uniquely qualified spokesman for any psychiatric abnormality of which he may be victim. By quoting from stories such as "Alice in Wonderland", "Peter Pan" and "Turn of the Screw", Dr Fraser pinpoints the paedophilic symptoms, sadly confirmed by the childhoods of his subjects, who include not only Lewis Carroll, J M Barrie and Henry James, but also Hugh Walpole, George MacDonald, Thomas Mann and Charles Kingsley."

I read the chapter on Barrie, and found it littered with factual errors, not merely clumsy (Frohman going down on the Titanic instead of the Lusitania) but also charged with the sense that many of these errors have arisen for a blatant disregard for the truth. Fraser's thesis states that paedophiles typically fall in love with themselves at the age at which they felt abandoned in childhood – in Barrie's case with the death of his brother and the resulting abandonment by his mother. Crippled by these early parental rejections, the "sad victims" spend the rest of their lives looking for themselves at that age in the body of another child of the same age. Thus all the objects of Barrie's affections were six-year-old boys.... or so stated Dr Fraser. But as we know, Barrie's relationship with the boys only intensified with age, particularly George and Michael. His last letter to George – written a few hours before George's death on the Western Front in 1915 – also contains ambivalent lines to a modern ear: " I do seem to be sadder to-day than ever", wrote Barrie from his lonely eerie, "...and more and more wishing you were a girl of 21 instead of a boy, so that I could say the things to you that are now always in my heart." Hardly paedophilic, given that George was by now a strapping soldier.
The letter continues: "For four years I have been waiting for you to become 21 & a little more, so that we could get closer & closer to each other, without any words needed. I don't have any little iota of desire for you to get military glory. I do not care a farthing for anything of the kind, but I have the one passionate desire that we may all be together again once at least. You would not mean a feather-weight more to me though' you came back a General. I just want yourself. There may be some moments when a knowledge of all you are to me will make you a little more careful, and so I can't help going on saying these things. ... I have lost all sense I ever had of war being glorious, it is just unspeakably monstrous to me now. Loving, J M B"

As his brother Peter wrote: "Surely no soldier in France or Flanders ever had more moving words from home than those in this tragic, desperately apprehensive letter. I think it well illustrates the peculiar and characteristic form which J.M.B.'s affection for George and Michael took: a dash of the paternal, a lot of the maternal, and much, too, of the lover — at this stage Sylvia's lover still imperfectly merged into the lover of her son. To criticise would be easy; yet I don't think it did, or would have done, George any harm."

Perhaps George himself left the best evidence that his relationship with Barrie was wholly non-sexual. Shortly before leaving for the trenches in 1914, George bought two copies of The Little White Bird. One he gave to his fiancee; the other he took with him in his kit-bag. Had "inappropriate" events taken place in his childhood, is it probable that George would have chosen the book containing the infamous sleep-over chapter to give to his girl – or keep him company by candlelight in some foreign field? I asked Dr Fraser this over lunch. We'd agreed to meet after I'd written to him with my criticisms. We'd barely finished our prawn cocktails when it slowly began to dawn on me. He'd dedicated the book "For Nasreen". Who's Nasreen? His analyst. "Is this book by any chance all about you?" It transpired that Dr Fraser had been deported from the United States a few years earlier. Drugs? Dr Fraser shook his head and stared at his prawns. Yes, you've guessed.... Having sex with an underaged boy in Griffith Park!

One of the purposes of putting so many audio clips on the jmbarrie website is to let people hear the "witnesses" I interviewed back in 1976 speak for themselves. Many of them found Barrie's intense relationship with Michael "unhealthy", but no one believed for a minute that he'd been a paedophile in any physical, sexual sense. I would suggest skeptics listen to their evidence rather than mine and form their own conclusions.

Timothy was described as being the narrator's dream-child in The Little White Bird. Barrie used the same words to describe Peter Pan – "a sort of dream-child of mine" – Barrie's own idealised son. He said as much himself. "Perhaps Peter is a boy who was never born at all. A boy whom some people longed for, but who never came." A cry from Barrie's heart if ever there was one. But not from his balls.
And thanks to Veronica, who sent us this picture, we now can show you what Andrew Birkin looks like. Thanks, V.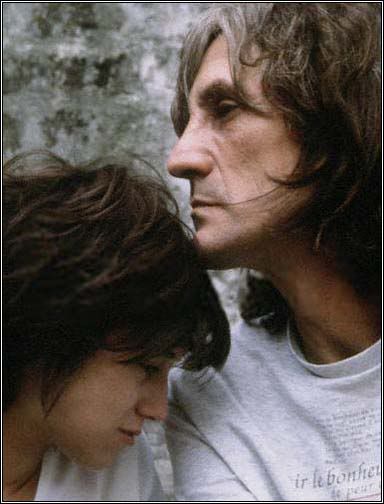 Andrew and his niece, Charlotte Gainsbourg