HAPPY 4th BIRTHDAY TO ONBC and 23 books later!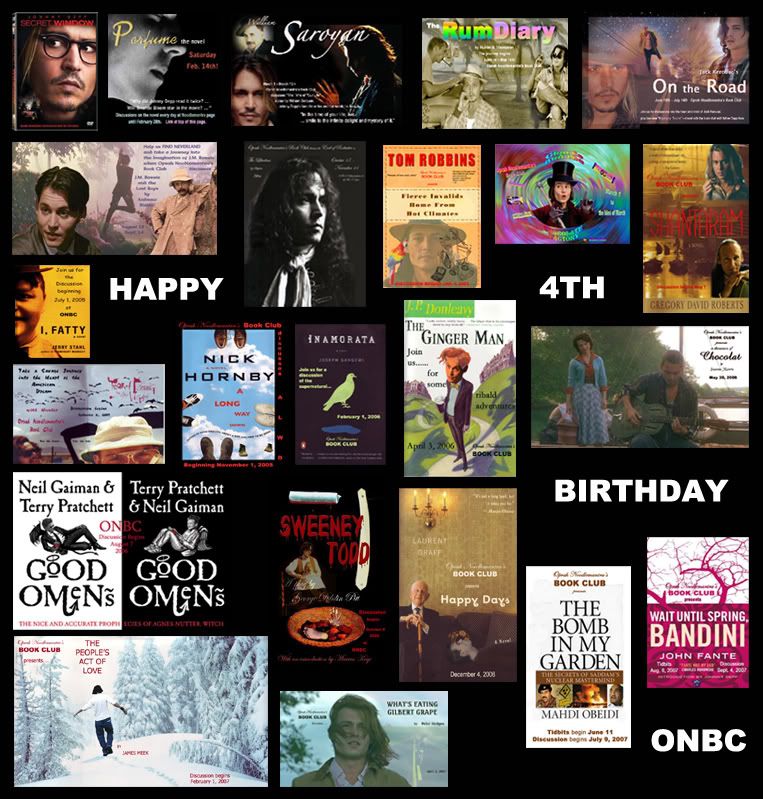 And welcome to the party!
We will start the party by revealing the rules to the contest…..an ONBC Q&A. Please note the following rules:


• All Zoners are welcome to participate.

• Send your answers to the questions via email to our ONBC addy: jdzonbc@yahoo.com
• It is time sensitive. Zoners who get the most answers correct in the least time will win the first, second or third prize. The official time will be determined by the time the email is received at the Yahoo account.

• The last day to submit your answers is Saturday, November 3rd at 2 Past Midnight, PST. We will post the winners Monday morning.
The Contest Questions:
1. Which author that we have read at ONBC wrote the screenplay for Perfume?
2. Name the children in the real Llewelyn Davies family.
3. In the book Shantaram, how does the bear escape?
4. What are Raoul Duke and Dr. Gonzo searching for in Las Vegas?
5. Who is the narrator of the book I, Fatty?
6. Who and what is Pantoufle in the book, Chocolat?
7. "All my life, I've let myself die." What book is this quote from and what is the significance to the character?
8. What is the significance of the lotus tree in The Bomb in My Garden?
9. What event comes to town every year in the book that has Arnie Grape so excited?
10. Name the authors or actors that have been interviewed by ONBC.
11. Who is Mark Ingestrie?
12. What is the setting of The Time of Your Life by William Saroyan? What is the name of the establishment and the city it is in?
13. Name 4 characters in The Rum Diary.
14. What caused Switters to be in a wheelchair?
15. How does the ending in Secret Window, Secret Garden by Stephen King differ from the ending in Secret Window?
16. Name 5 books in which Catholicism plays a major role.
17. Why do we always begin ONBC's birthday party at 2 Past Midnight, Halloween night?
18. What author has a thing for lists?
19. Name 12 ONBC books that were based on actual events or people. NOTE: Sweeney Todd does not count because the evidence is not conclusive one way or the other.
20. Match the characters to the books (NOTE: there is one more character than there are books):

Characters:

Sal
Joe
Johanna
Didier
Armande
Bébel
Walter
Sebastian
Crowley
Samarin
Maureen

Books:

The People's Act of Love
Good Omens
Happy Days
On The Road
Shantaram
The Time of Your Life
Sweeney Todd
The Ginger Man
Inamorata
Chocolat
Have fun, Noodlemantras!