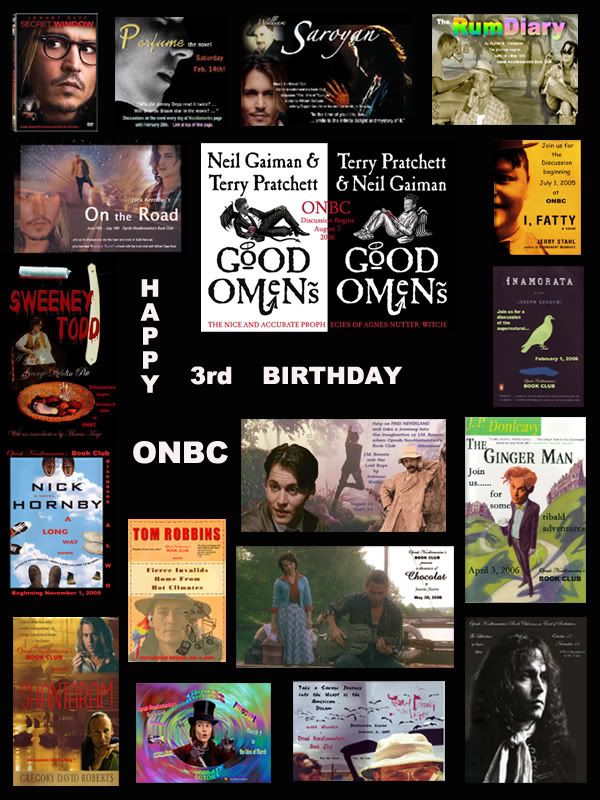 Oprah Noodlemantra's Book Club began at Two Past Midnight on November 1, 2003 with our first book selection, Stephen King's Secret Window, Secret Garden, also known as Two Past Midnight—the second in a compilation of 4 short stories entitled Four Past Midnight. We've been going strong ever since due to a little help from our friends—all of you—and due to Johnny's prolific interest in reading and optioning books.
Thank you Johnny and thank you Noodlemantras.
To celebrate our 3rd fruitful year, we thought we'd ask you to bring something to the party. No presents are required. But what we would like is for you to share your thoughts—your thoughts about the last 3 years. And we know how much you all like lists
(thank you, Nick Hornby).
So if you could be so kind……..
Please bring with you to the partay a list of 5 thoughts pertaining to the last 3 years:

1. A thought about books in general

2. A thought about ONBC

3. A thought about the Zone

4. A thought about Johnny

5. A thought about an inspiration from Johnny
And finally, if you would like, you may post your favorite Johnny pic from the last 3 years.
If you post to this thread by 11:59 p.m. PST Saturday, November 4, you will be eligible for a drawing for a door prize.
We will announce the winner on the Monday Night Thread on November 6.
DITHOT and I have had a blast over the last 3 years. All of you have been the major reason why. Thank you all for contributing your amazing insights and wit and making it so fun to be here. And thank you, Johnny. We would not be here without you.


Cheers to all.
Liz & DITHOT