Sorry this has taken me so long to post.
ThirdArm and I embarked on our Gonzo adventure Monday morning in the ONBCmobile, despite its need for a bath. The drive through San Francisco was an adventure in itself. Just ask ThirdArm.


http://img.photobucket.com/albums/v235/DITHOT/California%20November%202006/SF2.jpg

But we finally made it to North Beach where we did the beat tour. We were pleasantly surprised to find out the Beat Museum was open. The website said it was closed on Mondays, but the curator says that sometimes he opens up on Mondays in the summer. He must have known we were coming.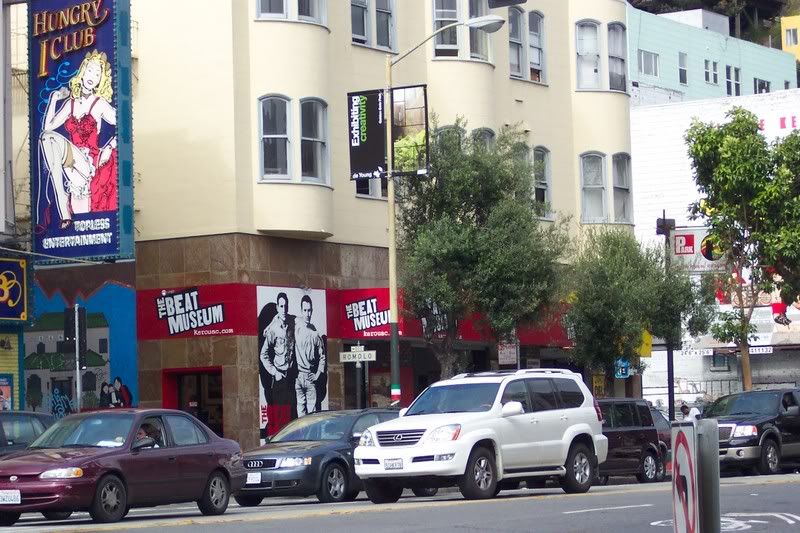 We also browsed through City Lights Bookstore. I still have yet to catch Lawrence Ferlinghetti actually in the shop.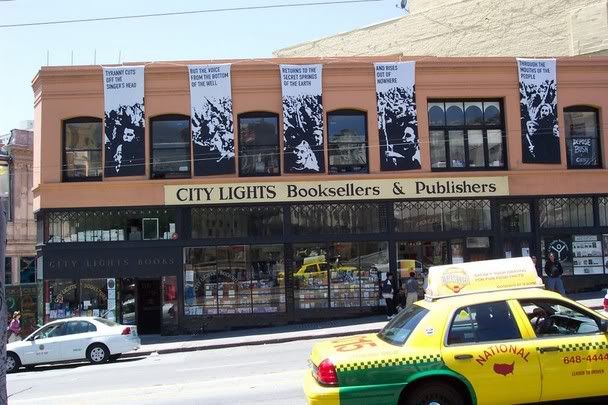 Jack Kerouac Alley has been beautifully repaved with quotes by various writers inlaid in gold (or faux gold?), one from Jack himself.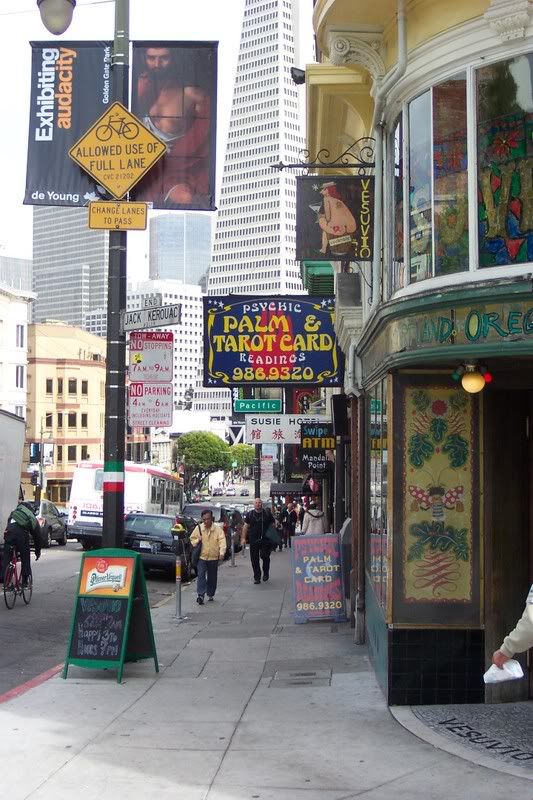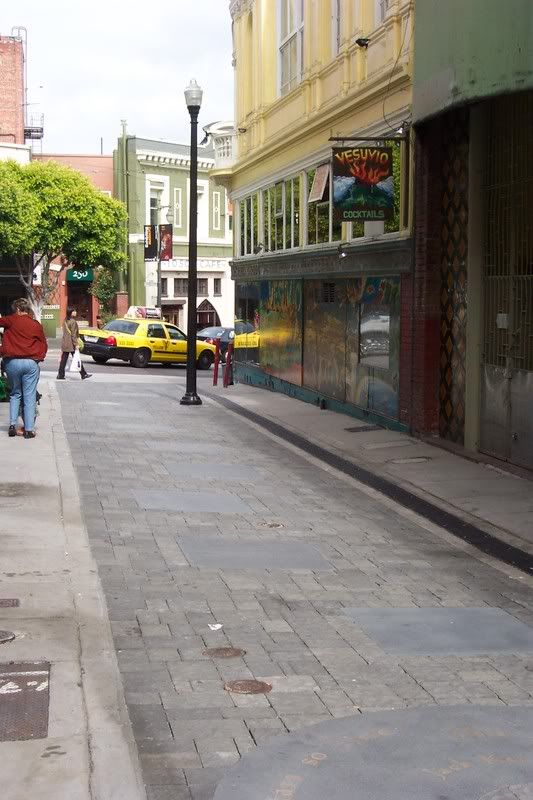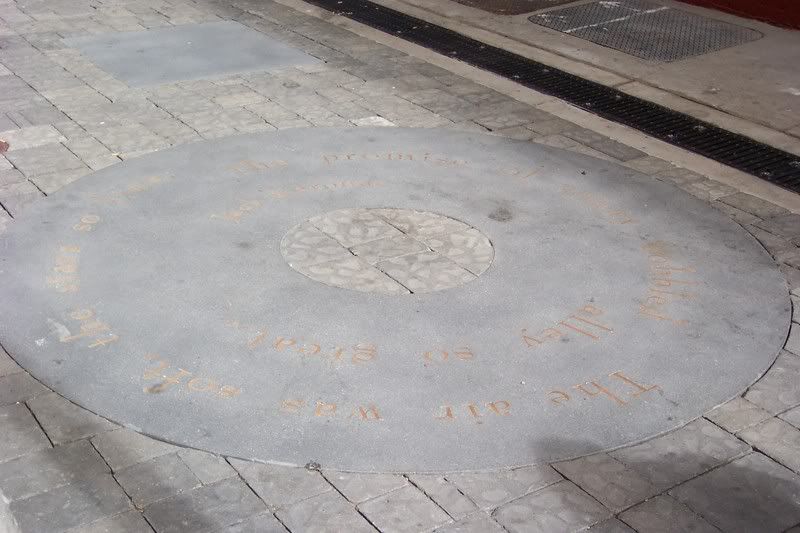 For those of you who don't know, Vesuvio was a favorite hangout for Jack and his friends. Legend has it that Jack missed an opportunity to meet with Henry Miller down the coast in Big Sur because he had one too many drinks at Vesuvio that day. I happened to notice (for the first time) that across the street from City Lights/Vesuvio/Jack Keouac Alley is another little alley named for another one of Johnny's favorite authors….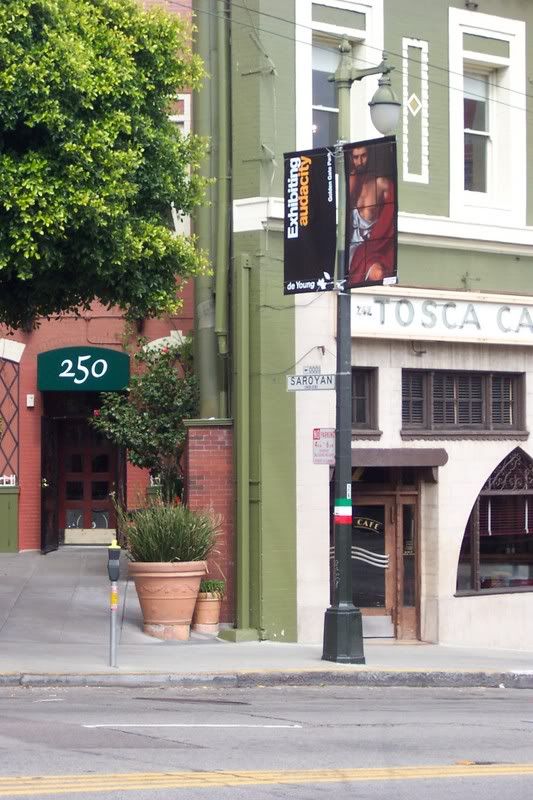 Having satisfied our need for nourishment—physical and intellectual—we headed out to the Haight/Ashbury, a favorite haunt of Hunter's and also the home of Booksmith, a nice little book store, which we were told by the owner or manager (not sure which) hosted Hunter and Johnny in 1997 for Hunter's book signing of The Proud Highway. I had never known that Johnny had been in my backyard for that. But then I wasn't really paying much attention to Johnny back in those days. Silly me.
He said that 90something people were lined up along Haight Street waiting to get in. And every one of them got his/her book signed, some actually having a drink with the Good Doctor.

What can I say about Anita? She is a lovely person—warm, friendly, gracious, genuine, articulate—but a bit nervous up at the podium.

She explained why she wrote the book—The Gonzo Way. It was a response to the many young (and older) Hunter fans who wrote to her because they were lost after Hunter's death. Below is the passage she read (pg. 97-100):
LESSON 6
Buy the Ticket, Take the Ride

Indeed, so I am Lono, as always, and I will always be with you. Always. Never doubt it, never be afraid of anything, no matter how weird it might seem to be, at the time. We are far beyond seems, and we have no Fear…. Only moments of Confusions new & then. Ho ho. That will always be our story, our first A.B./H.S.T. creation. We did it, all by ourselves & under some kind of intense deadline pressure in less than two hours' time, from start to finish—from my first desperate flash of a totally fictitious idea to your elegant, finished pages—it was surely the easiest & fastest and purest piece of high, high gibberish we had ever written together, until then. The Lion and the Cadillac. Stand back and bow down to the Morning Star. Mahalo.

--Hunter, in a letter to me in March 2003

One thing that Jack Kerouac and Hunter had in common was the understanding of and need for freedom. In the pantheon of American writers, they are perhaps the greatest students and champions of freedom. It is very possible that both decided to become writers not just because they had a talent for it, but because of what the life of a writer, if handled properly, could offer: freedom. Writing is perhaps the only profession you can choose wherein you can live a totally free life and still earn a living; you can go anywhere you want and do or be anything you want, as long as you write about it. Ever since Hunter was a child, he wanted nothing more than freedom—if he had it, everything else in life—fun, love, and nourishment—would fall into place.

He spent his life studying freedom, promoting it, practicing it, and finally writing about it. I believe a large portion of his formative years were spent researching what was necessary to attain freedom. And during that time he had to learn, perhaps the hard way, what to avoid—what is the antifreedom? I think he learned that fear is the antifreedom—because as we gain freedom, which is the opposite of security, we also reap fear. And fear can drive us away from freedom, in a hurry. That, I believe, is why Hunter spent so much of his life fighting fear—and teaching others how to do the same: how to slay the dragon.

His first major study of fear appeared in his first book, Hell's Angels, in which Hunter devoted 300 pages to discussing the fear factor and how it gave the Hell's Angels so much power over the public, and how embracing that fear gave the Angels a great deal of freedom. Fear and Loathing in Las Vegas is a 300-page argument for freedom in the face of fear. The list goes on, even to Hunter's memoir, Kingdom of Fear, a book that cannot be read without realizing that a nation governed by fear can never be truly free.

There is nothing more inhibiting, or more crippling, to freedom than fear. "Needless to say, fear is necessary; imagine if a wild beast had no fear," Hunter once said. And he had it right; fear is necessary, but if gone unchecked, it will make you constantly seek safety, which to Hunter, and perhaps to Kerouac as well as Hemingway and others is the same as being in prison. "My life is the polar opposite of safe, but I am proud of it," Hunter explained.

Confidence is crucial. He told me so. There is nothing in human life more crippling than fear. Yes a healthy amount of it is important. But giving it too much importance is unhealthy. Never, ever take yourself too seriously. If you do, you start thinking you have too much to lose, so you start to fear that loss; you lose your freedom. Nowhere was this lesson more apparent than in Hunter's attitude toward his own writing. A close friend and one of Hunter's editors, Jennifer Stroup, recalls, "Every day for Hunter was a warm-up to that hour when he would clear off his typewriter and get ready to work. He always kept the writing—his 'high white note'—in front of him: both the carrot and the reward."
After reading the passage she took questions. Out of that came some interesting answers:

• Hunter has 800 boxes in his "archives".

• She pointed out that Hunter chose the audiences he wanted to reach. When he worked for Rolling Stone he wanted to reach young people. When he worked for ESPN he was targeting sports fans.

• He had done some research into 911 before his death, and what he told her was to look at who financially benefited. "Follow the money." She then paused and said she couldn't say anymore. Then she paused again and said, "The Bush Administration." And there was a brief moment of silence.

• When I asked about the status of The Rum Diary she enthusiastically replied that they had just signed the deal with Graham King last week and that Johnny Depp would begin filming as soon as his "current project" was completed. She also added that "it might be out sooner than you think."

• She pointed out that Hunter had a stronger constitution than the average person (both physically and mentally). Thus he could ingest more substances than the average person but also more mental input. Every morning he read at least 4 newspapers and had the news on constantly while awake and asleep. He needed that constant input of information, which he was also able to retain.

She was very sweet and gracious as she signed my book, complimenting me on my Gonzo pin.
I am thrilled to have had this opportunity to meet her.
If she comes to your neck of the woods, do try to see her.