Interview with Roman Polanski
director of The Ninth Gate
by Cynthia Fuchs
PopMatters Film and TV Editor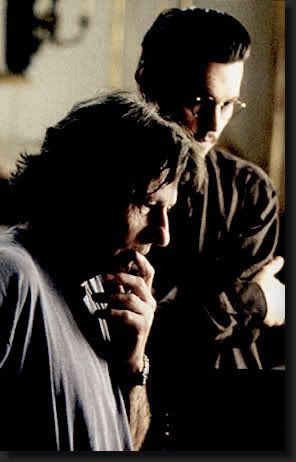 The emotion and the style
Roman Polanski is gracious and soft-spoken on the telephone from Paris. Once notorious for his eccentricity, ego, and offscreen misfortunes, the Polish director-writer-actor now seems, at 67, almost serene, or comfortable, as if he's come to terms with his genius and his excess. He also demonstrates a quick wit and sense of humor, which, he insists, ground the new film. The Ninth Gate is a psychological thriller and detective story, with requisite fiends and seductresses: Corso (Johnny Depp), who finds rare books for wealthy collectors, is hired by Balkan (Frank Langella) to locate a book of satanic invocation, reportedly written by the Devil himself. The search takes Corso all over Europe and into various conflicts with other maniacal collectors (Lena Olin and Barbara Jefford), and a mysterious, nameless Girl (Polanski's wife, Emmanuelle Seigner), who rides a motorcycle and kickboxes.
Polanski's difficult personal history has been well-rehearsed in the press. Born in Paris in 1933, he was raised in Krakow by foster parents when his parents were interned by the Nazis. After World War II, he studied at the Polish State Film School, acted in several movies (including Andrzej Wajda's A Generation [1954]), and then directed his first feature, the stunning and subtle Knife in the Water (1962). He revisited and ratcheted up this film's thematic interests in sexual repression and obsession, in Repulsion (1965) and Cul-de-Sac (1966). In quick succession, he made the classic horror film, Rosemary's Baby (1968), Macbeth (1972), and the hands-down brilliant neo-noir, Chinatown, which won six Oscar nominations in 1975, including Best Cinematography, Art Direction, Picture, and Director.
Following this ascent, of course, his career was sidetracked when his wife Sharon Tate (pregnant with their first child) was murdered by the Manson family. Moving back to France, he directed and co-wrote 1976's The Tenant (a remarkable study of dissolving self-identity, in which Polanski starred himself). The following year, after a party at Jack Nicholson's home, Polanski was charged with statutory rape in 1977. He fled to Paris, and has since remained self-exiled from the U.S. His subsequent films have ranged from intriguing (Tess in 1979) to strange (Frantic in 1988, Pirates 1986, 1992's Bitter Moon, and 1995's Death and the Maiden, based on Ariel Dorfman's deeply disturbing play). Currently, he's directing a stage musical version of his film, Fearless Vampire Killers, for production in Germany.
Cynthia Fuchs: What drew you to Arturo Perez-Reverte's novel, The Club Dumas?
Roman Polanski:
The suspense and humor of it, a lot of colorful secondary characters, the type of stuff that I know what to do with. There are several plots in it, mainly two, one of which deals with the lost manuscript for another chapter of The Three Musketeers. It's all very convoluted, one of those rambling books, enjoyable and literary, with clever observations, very erudite: Reverte obviously loves books. I enjoyed it very much; the problem was how to make a movie out of it because at first glance it really doesn't look like it's possible. We had to abandon a lot of elements, because a movie must be much more rigorous. But I had no hesitation, because I knew it would be fun to do.
CF:
It's interesting that it is so focused on books and obsession with books, given today's context.
RP:
It is an original thing to me, because today books have been abandoned to computers, so it seemed exciting to make a film with a central character in the form of a book.
CF:
I was also struck by your use of special effects in this film, as a way to get inside Corso's head.
RP:
There are masses of special effects in this film. I was trying to make them discreet, so you wouldn't notice them. I like all this stuff, what I like the most is making movies, the process of manufacturing them. It's probably why I'm really in this profession. As long as it doesn't stay in the way of the story or diminish the emotion, very often you can use it to enhance emotion, for example, the Girl's [demonic, catlike] eyes.
CF:
Or when she leaps off the stairway.
RP:
Exactly. Why is she leaping? Is she really, or is he imagining it? It allows me to tell the story in the first person, it's a subjective type of movie, so that you identify more with the central character, who is not that simpatico. You have to put yourself in his skin, observe more or less from his point of view, and that was something I explained to Darius Khondji, the director of photography, right away. And he understood it immediately, and having such a guy on my side, made it all very easy.
CF:
How do you see The Ninth Gate in relation to your other work, thematically or technically?
RP:
Well, that's a question for film critics.
CF:
Okay, I'll take it if you want.
RP:
(laughing). A movie comes to me like a dish in a restaurant. I pick up the menu and I don't ask myself why I order something. Of course, there's a certain element of thinking of my health, but there's no definite reason for why I choose a dish. At the given time I feel like making a certain type of movie. I think it comes from what I see around me. I love cinema and I see a lot. I do films that I would like to see at a given time, somehow I cater to my own desires. I do things instinctively, even though I'm very analytically-minded as far as other things are concerned, life in general and philosophy. I'm very interested in science, I read more nonfiction than fiction. But as far as my own work is concerned, I don't analyze until I'm asked a question by actors on the set or by the journalists, when I have to. And I always come up with an answer, but it complicates my life and my work. It's like the centipede, who's been asked which foot he puts first and which next, he couldn't walk anymore.
CF:
How do you see this movie compared to other films you've seen recently?
RP:
Well, more and more, there's the fruit salad editing, I react against it because it's so easy and so primitive. Then there is too much close up: those directors sit glued to their monitors, forgetting that there is also a normal when people sit in the cinema. Style is very important to me, the simplicity of the narration. I just try to tell the story, I care about the emotion and the style.
CF:
Johnny Depp seems like he'd be conducive to that project, since he's so expressive in his face but also in his body.
RP:
Yes, and at the same time, he also sort of plays it flat. That's interesting, particularly because he has so many wild characters around him, so he goes through this like a Holocaust trip, or one of those, what do you call those things, ghost trains.
CF:
You've written with your collaborator, John Brownjohn before [Tess, Pirates, Bitter Moon]. What's that process like?
RP:
We sit and talk and he types and we laugh a lot. I act it out, and we talk again and he rewrites, sometimes thirty times. We are always wondering if the people who will be watching will get it and have the same laughs that we have. Sometimes humor can be sort of private. For this movie, the book was a combination of suspense, occult, and some kind of irony, which brings humor to it. And for this film, the audience laughs. When you show it to producers, distributors, etc., you think, Christ, it doesn't work, but then you go to see it with normal people and they get every joke.
CF:
Your actors often give extraordinary performances: do you have a special means to that?
RP:
There are no secrets. I'm experienced, the fact that I've acted myself helps: I understand the problems. You can see the directors who started as actors often get good results with others. As a director, you try to get the maximum out of people, you try to inspire them. And I think I manage to do that, so that people feel happy, that they're doing something interesting.
CF:
Do you still feel surprised by people you work with?
RP:
Oh yeah, those are the greatest moments, when you have good collaborators and they come up with things that you did not anticipate. When you start the movie, you have some kind of model, and you meet reality and that original model starts being replaced by what you're actually creating. And sometimes what you're doing is better, sometimes it's less good.
CF:
Do you do a lot of rehearsal?
RP:
It depends on the film. For this we didn't, I didn't deem it useful. For this, maybe five days, some dialogue with Johnny and Frank Langella. He was a great sport, I must say, Langella, we almost burned him one time, when his character is on fire. And I love his voice, which was extremely important since he exists in this movie over the telephone, for most of it.
CF:
The movie brings together exoticism and menace, religious and sexual passions, in Corso's seduction.
RP:
That's what the whole movie is about. I can only look at religion with a certain dose of irony, because I'm not a religious person. And of course, sex and religion, they're always connected. Each religion has some sort of hangup about sex.
CF:
Where in some of your previous movies, the sex and especially the violence, are visceral and disturbing, here they seem more outrageous or cartoonish.
RP:
I think most of the violence is cartoonish, and some is not really possible. The baroness in her wheelchair [who goes spinning out of control, into a wall of flames]: we had a lot of laughs with that. I was seeing it as going overboard, a parody of the genre, the detective-private eye that we know so well from literature of the '30s and '40s. Corso seems like a character out of Phillip Marlowe. You know, cigarettes help, and hit him on the head from time to time. In every novel by Raymond Chandler, the hero loses consciousness.
CF:
It's an efficient way to move from scene to scene.
RP:
Yes, and it's fun to use those cliches, and to give them some new aspects, refurbish them, making unconventional stereotypes.
CF:
Who do you think will see this movie?
RP:
When I start a movie, it seems to me obvious that everyone should like it. By the time I'm through with it, I start asking myself questions, whether there will be anybody. So I can't answer that. I haven't done a movie yet that I can be truly proud of.
CF:
Is that because there are little things about each film that bother you?
RP:
Yes, but there are a lot of things I like about my movies. Still, there's no one that has all elements I like, like content that is important and form that would be impeccable. I haven't managed yet to put those two together.
CF:
What would you consider important content?
RP:
Well, I don't always know. But the next movie I'm doing has an important content, the Holocaust. I've always wanted to do it, but was waiting for the right time and the right material, and I found a book, The Pianist. It's memoir of a Polish pianist and survivor of the Warsaw ghetto. I've always wanted to go back to these days, but I didn't know which moment, or when I would be ready to get myself into it. And I thought now is the time, I can't be pushing it back anymore. A lot of things have changed in Poland, so shooting over there is easier. And I have grown, I'm married, I have children, so I can go back there without too much pain.
CF:
Have you been back to Poland recently?
RP:
Yes, I was there for the opening of The Ninth Gate about four weeks ago. It's a different country now. It's a normal country, it seems so strange that you can talk in a taxi and not whisper. Sometimes I look at the driver and think, Jesus, can I be saying all these things?
CF:
And the younger people there, they assume this is the way it is and has been?
RP:
The kids, yes, they don't even know what was going on. It's amazing how short the human memory is, how it doesn't penetrate the new generation. I'm glad I'm doing The Pianist now, it seems timely.
To read the original script click below:
http://www.dailyscript.com/scripts/theninthgate.html