Part 1…some interesting folks on page 227 - Hus, Paracelsus and Agrippa .



Pg. 227
"Torchia chose to live in Saint Mary of the Snows, the district of magic, near Jungmannove Square, where there is a statue of Jan Hus. Do you remember Hus at the stake?"…Prague whose streets still echoed with the steps of Agrippa and Paracelsus, where the last manuscripts of Chaldean magic and the Pythagorean keys, lost or dispersed after the murder of Metapontius, were to be found."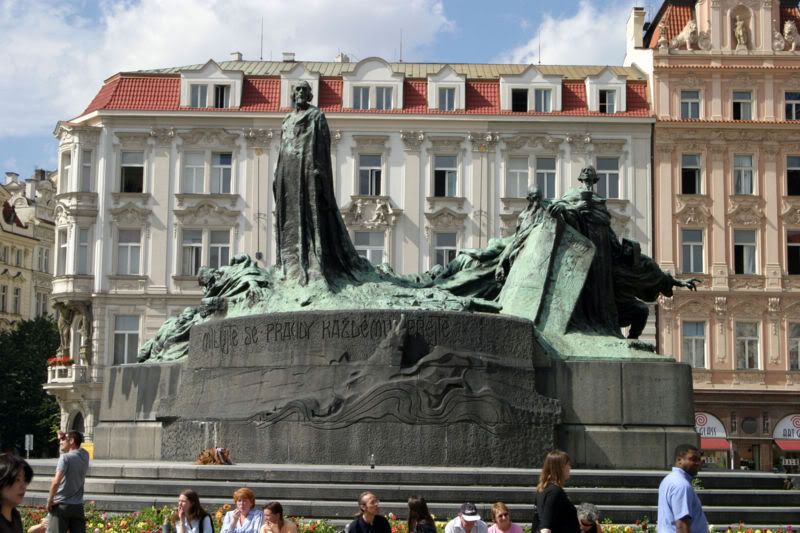 The statue was erected in 1915.
John Huss (Jan Hus) of Bohemia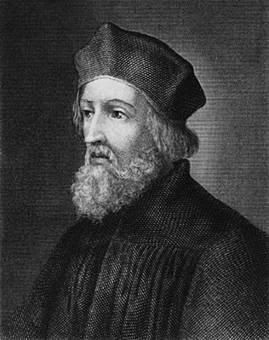 John Huss is together with John Wycliffe among the forerunners of Protestantism. Convicted of heresy, John Huss of Bohemia was burned at the stake in 1415. At that time, Bohemia was ruled by the King Wenceslaus (1361-1419). Shortly after Wenceslas accession to the throne, in 1400, the German princes accused Wenceslas of incompetence and alcohol abuse, and elected his brother Sigismund as the king.

Wenceslas retaliated by issuing a decree giving the Czechs control over the Prague's Emperor Charles IV University, founded in 1348 by his father and nominated John Huss as its Rector. The tenure of John Huss as an academic administrator was disastrous, leading to a mass exodus of the German professors and students. Huss mandated the use of a new alphabet he invented by adding numerous diacritical signs to the Latin alphabet, fostered the Slavic vs. Germanic controversy, and modified the liturgy by incorporating several features of the Wycliffe's ecclesiastic reform. Huss was accused, tried, and convicted of heresy and burned at the stake. The King Wenceslas used this event to encourage the Hussite movement. After Wenceslas' death, the followers of John Huss, the Hussites, refused to acknowledge the rule of Wenceslas' brother, the Emperor of the Holy Roman Empire Sigismund (ruled 1410 -1437), and instituted a religious rule in Bohemia instead, exacting criminal penalties from 'sinners' and transgressors of the church law. The Hussite Wars (1419-1436), followed, lasting 17 years, and resulting in a staggering loss of life. The Hussite Wars ended in a draw, when an amendment to the peace treaty legalized both Catholicism and Protestantism in Bohemia. However, the tension between Bohemian Catholics and Protestants continued, culminating in 1618 when Protestants attempted a coup d'état, starting the Thirty Years' War (1618-1648).



Philippus Aureolus Paracelsus (1493-1541) - original name Theophrastus Bombastus von Hohenheim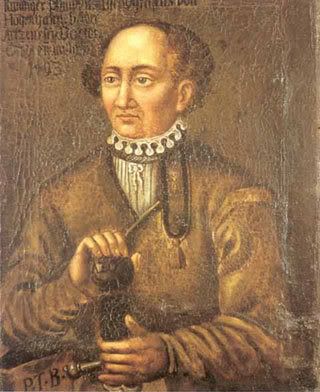 Swiss physician, chemist, alchemist, one of the fathers of modern medicine. Paracelsus was the pseudonym of Dr Theophrastus Bombastus Hohenheim, which meant 'beyond Celsius', implying that he was greater physician than the then-revered Roman physician Aulus Cornelius Celsius. A rebellious thinker, Paracelsus developed his own system of medicine and philosophy.

Theophrastus Bombastus Hohenheim (Paracelsus) was born as the only son of a poor German physician in Einsiedeln, Switzerland. His father was the illegitimate offspring of a disgraced Swabian nobleman, who had lost both reputation and estates. Around 1509 Paracelsus started his studies of chemistry and medicine at the University of Basle. After receiving his bachelors degree in 1510, he learned about metals and minerals and mining diseases at the mines in the Tirol.

Between the years 1510 and 1524 he wandered through Europe, Russia and the Middle East, learning the practice of medicine as a military surgeon and acquired a considerable knowledge of alchemy. It is thought that he learned the Hermetic secrets from Arabian adepts in Constantinople. "The physician," he wrote, "is he who in the bodily diseases takes the place of God and administers for Him." In his wide travels, Paracelsus became acquainted with remedies not familiar to contemporary physicians, and which brought him high prestige. After great success as an army physician, he set himself to reforming medicine. He opposed scholastic physicians and medical authorities and emphasized the importance of practical knowledge.

His writings, which he dictated to his disciples, comprise most of what is known about the ancient Hermetic system of medicine. In Philosophia Occulta Paracelsus wrote that human beings have two kinds of spirits - one is from the heaven, one from the nature, but they should follow their heavenly spirit in life. All diseases originate from salt, sulfur, or mercury, which correspond respectively matter (body), soul, and spirit (in Paramirum). A doctor should trust more in his intuition and reason that what the patient tells. All wisdom belongs to God (De Fundamento Sapientiae) - and thus we should try to understand ourselves to be able to know the divine truth, which has been given to human beings.
In 1528, owing to quarrel with the magistracy, he was driven out of the town. Paracelsus spent a wandering life in Switzerland, Alsace, and southern Germany. In 1541 the Arch-Bishop Duke Ernsty of Bavaria invited Paracelsus to Salzburg. It is believed that he was poisoned or killed by assassins who were hired by his enemies. Paracelsus died on September 23, 1541. After he was buried his bones were dug up several times, moved and reburied.



Heinrich Cornelius Agrippa von Nettesheim

(September 14, 1486 – February 18, 1535) was a German magician, occult writer, astrologer, and alchemist.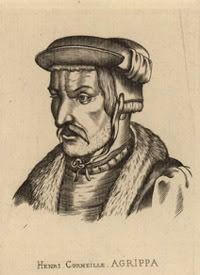 Agrippa was born in Cologne in 1486. In 1512, he taught at the University of Dole in France, lecturing on Johann Reuchlin's De verbo mirifico; as a result, Agrippa was denounced, behind his back, as a "Judaizing heretic." Agrippa's vitriolic response many months later did not endear him to the University.

In 1510, he studied briefly with Johannes Trithemius, and Agrippa sent him an early draft of his masterpiece, De occulta philosophia libri tres, a kind of summa of early modern occult thought. Trithemius was guardedly approving, but suggested that Agrippa keep the work more or less secret; Agrippa chose not to publish, perhaps for this reason, but continued to revise and rethink the book for twenty years.
During his wanderings in Germany, France and Italy he worked as a theologian, physician, legal expert and soldier. He was for some time in the service of Maximilian I, probably as a soldier in Italy, but devoted his time mainly to the study of the occult sciences and to problematic theological legal questions, which exposed him to various persecutions through life. He would be privately denounced for one sort of heresy or another. He would only reply with venom considerably later. Agrippa died in Grenoble, in 1535.