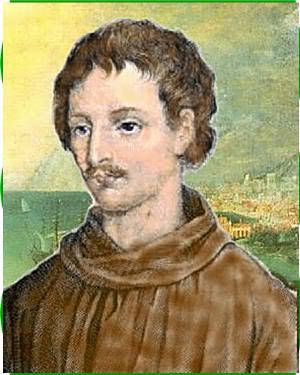 Pg. 59:
"There's one last connection," said the book dealer. "Giordano Bruno, martyr of rationalism, mathematician, and champion of the theory that the Earth rotates around the sun…." He waved his hand contemptuously, as if all this was trivial. "But that was only part of his work. He wrote sixty-one books, and magic played an important role in them. Bruno makes specific reference to the Delomelanicon, even using the Greek words delo and melas, and he adds: 'On the path of men who want to know, there are nine secret doors.' He goes on to describe the methods for making the Light shine once more. 'Sic luceat Lux,' he writes, which is actually the motto:--Borja showed Corso the printer's mark: a tree split by lighting, a snake, and a motto—"that Aristide Torchia used on the frontispiece of The Nine Doors….What do you think of that?"….

"Or precautions. Giordano Bruno forgot the golden rule for survival: Scire, tacere. To know and keep silent. Apparently he knew the right things, but he talked too much. And there are more coincidences: Bruno was arrested in Venice, declared an obdurate heretic, and burned alive in Rome at Campo dei Fiori in February 1600. The same journey, the same places, and the same dates that marked Aristide Torchia's path to execution sixty-seven years later: he was arrested in Venice, tortured in Rome, and burned at Campo dei Fiori in February 1667. By then very few people were being burned at the stake, and yet he was."
Giordano Bruno was an Italian philosopher born in the small town of Nola in the Kingdom of Naples, in 1548. When Bruno was eleven he went to Naples to study "humanity, logic, and dialectic". Four years later, he entered the Order of St. Dominic, at that time taking on the name of Giordano. He made his novitiate there, being ordained a priest in 1572.

Giordano did not fit into the Dominican mold and was a little too frank about his original views. His outspoken criticism of accepted theological doctrine got him into trouble; and in 1576 formal accusation of heresy was brought against him. At this point he went to Rome, where he continued to speak openly of the mysteries of faith. Thus accusations were again brought against him at the convent of the Minerva, causing him to flee the city and cast off all allegiance to his order.

He then travelled to Geneva and briefly joined the Calvinists, before he was excommunicated for slandering the philosophy professor Antoine de la Faye. After Bruno apologized his excommunication was revoked, but in autumn 1579, deeply disappointed by Calvinist intolerance, he left for France.

In 1581 Bruno went to Paris and began to give lectures on philosophy. It was not an uncommon thing for scholars to wander from place to place. He made contacts easily and was able to interest any group with whom he came in contact with the fire of his ideas. His reputation reached King Henry III who became curious to look over this new philosophical attraction. Henry Ill was curious to find out if Bruno's art was that of the magician or the sorcerer. Bruno had made a reputation for himself as a magician who could inspire greater memory retention. Bruno satisfied the king that his system was based upon organized knowledge. Bruno found a real patron in Henry Ill.

During this period, he published several works on mnemonics, a.o. De umbris idearum ("The Shadows of Ideas"), Ars Memoriae ("The Art of Memory"), Cantus Circaeus ("Circe's Song"), based on his model of organised knowledge, opposed to that of Petrus Ramus. In 1582 Bruno also published a comedy summarizing some of his philosophical positions, titled Il Candelaio ("The Torchbearer").

In 1583 he went to England where, for a short period, he won the favor of Queen Elizabeth. Living in the house of the French ambassador in London, he completed his book Cena de le Cenert ("The Ash Wednesday Supper"), in which he unreservedly accepted the Copernican heliocentric model of our solar system, in which the Sun is the center of the solar system and not the earth, as was widely believed at the time. He also completed De L'Infinito, Universo e Mondi ("On the Infinite Universe and Worlds"), in which he stated that the universe is infinite, with an infinite number of worlds, and that all the worlds are inhabited by intelligent beings.

For him the universe had a unity that signified a prevailing order--individual things are not isolated but are animated by a common life and a common cause. This cause is immanent, not transcendent, and the soul which gives life to the whole is God. It is God who "is not above, and not outside, but within and through, all things." Bruno also published an Italian dialogue, De gli eroici furori (1585; The Heroic Furies ), in which he presents the Renaissance conception of Platonic love.

The year 1591 found him in Frankfurt. Apparently, during the Frankfurt Book Fair, he received an invitation to Venice from the patrician Giovanni Mocenigo, who wished to be instructed in the art of memory, and also heard of a vacant chair in mathematics at the University of Padua. Apparently believing that the Inquisition might have lost some of its impetus, he returned to Italy.

He went first to Padua, where he taught briefly, and applied unsuccessfully for the chair of mathematics, which was assigned instead to Galileo Galilei one year later. Bruno accepted Mocenigo's invitation and moved to Venice in March 1592. For about two months he functioned as an in-house tutor to Mocenigo. When Bruno announced his plan to leave Venice to his host, the latter, who was unhappy with the teachings he had received and had apparently developed a personal resentment towards Bruno, denounced him to the Venetian Inquisition, which had Bruno arrested on May 22, 1592. Among the numerous charges of blasphemy and heresy brought against him in Venice, based on Mocenigo's denunciation, was his belief in the plurality of worlds, as well as accusations of personal misconduct. Bruno defended himself skillfully, stressing the philosophical character of some of his positions, denying others and admitting that he had had doubts on some matters of dogma. The Roman Inquisition, however, asked for his transfer to Rome. After several months and some quibbling, the Venetian authorities reluctantly consented; and Bruno was sent to Rome in February 1593.



His Trial and Execution



In Rome he was imprisoned for seven years during his lengthy trial, lastly in the Tower of Nona. Some important documents about the trial are lost, but others have been preserved, among them a summary of the proceedings that was rediscovered in 1940. The numerous charges against Bruno, based on some of his books as well as on witness accounts, included blasphemy, immoral conduct, and heresy in matters of dogmatic theology, and involved some of the basic doctrines of his philosophy and cosmology. Luigi Firpo lists them as follows:

1. Holding opinions contrary to the Catholic Faith and speaking against it and its ministers.
2. Holding erroneous opinions about the Trinity, about Christ's divinity and Incarnation.
3. Holding erroneous opinions about Christ.
4. Holding erroneous opinions about Transubstantiation and Mass.
5. Claiming the existence of a plurality of worlds and their eternity.
6. Believing in metempsychosis and in the transmigration of the human soul into brutes.
7. Dealing in magics and divination.
8. Denying the Virginity of Mary.

Bruno continued his Venetian defensive strategy, which consisted in bowing to the Church's dogmatic teachings, while trying to preserve the basis of his philosophy. In particular Bruno held firm to his belief in the plurality of worlds, although he was admonished to abandon it. His trial was overseen by the inquisitor Cardinal Bellarmine, who demanded a full recantation, which Bruno eventually refused. Instead he appealed in vain to Pope Clement VIII, hoping to save his life through a partial recantation. The Pope expressed himself in favor of a guilty verdict. Consequently, Bruno was declared a heretic, handed over to secular authorities on February 8, 1600. At his trial he listened to the verdict on his knees, then stood up and said: "Perhaps you, my judges, pronounce this sentence against me with greater fear than I receive it." He was brought to the Campo dei Fiori, a central Roman market square, and was burned at the stake on February 17, 1600.

All his works were placed on the Index Librorum Prohibitorum in 1603. Four hundred years after his execution, official expression of "profound sorrow" and acknowledgement of error at Bruno's condemnation to death was made, during the papacy of John Paul II. Attempts were made by a group of professors in the Catholic Theological Faculty at Naples, led by the Nolan Domenico Sorrentino, to obtain a full rehabilitation from the Catholic authorities.

In 1885 an international committee for a monument to Bruno on the site of his execution was formed, including Victor Hugo
(who I believe was one of Dumas's buddies)
, Herbert Spencer, Ernest Renan, Ernst Haeckel, Henrik Ibsen and Ferdinand Gregorovius. The monument was sharply opposed by the clerical party, but was finally erected by the Rome Municipality and inaugurated in 1889.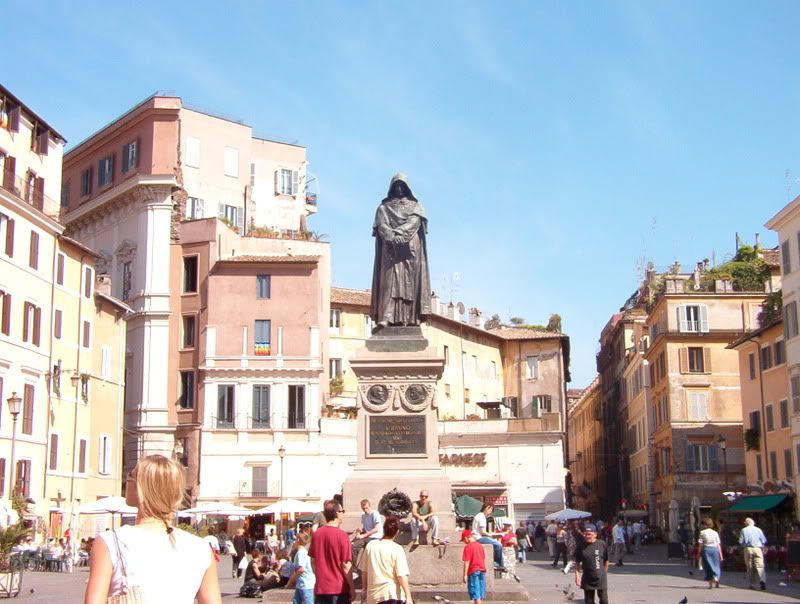 The monument at Compo dei Fiori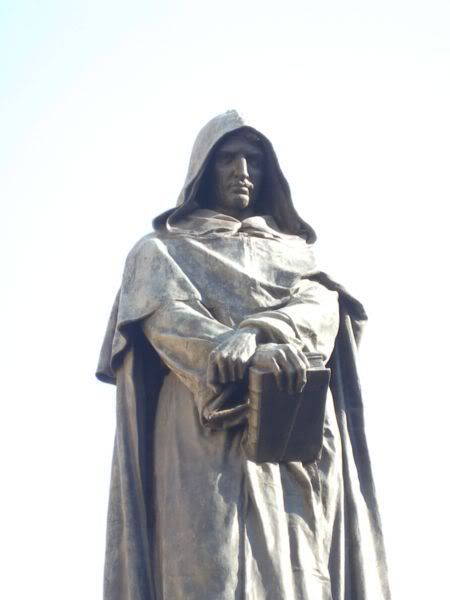 Sources:



Encyclopedia of World Biography, 2nd ed. 17 Vols. Gale Research, 1998.

http://www.infidels.org/library/histori ... bruno.html

http://www.newadvent.org/cathen/03016a.htm

Wikipedia

World of Physics. Online. Thomson Gale, 2006