Rafael Sabatini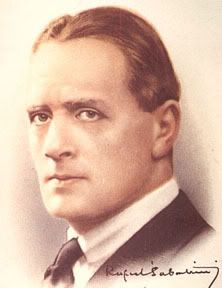 Pg. 6-7:
He took his canvas bag off his shoulder and put it on the floor by his scuffed oxfords. He stared at the framed portrait of Rafael Sabatini that stands on my desk next to the fountain pen I use for correcting articles and proofs. I was pleased, because most visitors paid Sabatini little attention, taking him for an aged relative. I waited for Corso's reaction. He was half smiling as he sat down—a youthful expression, like that of a cartoon rabbit in a dead-end street. The kind of look that wins over the audience straightaway. In time I found out he could also smile like a cruel, hungry wolf, and that he chose his smiles to suit the circumstances. But that was much later. Now he seemed trustworthy, so I decided to risk a password.

"He was born with the gift of laughter," I quoted, pointing at the portrait. "…and with a feeling that the world was mad…"….
"….and this was his entire inheritance." He completed the quotation effortlessly, then settled himself in the armchair and smiled again. "But to be honest, I prefer Captain Blood."

With a stern expression I lifted my fountain pen. "You're mistaken. Scarmouche is to Sabatini what The Three Musketeers is to Dumas." I bowed briefly to the portrait. " 'He was born with the gift of laughter…' In the entire history of the adventure serial no two opening lines can compare."

"That may be true," Corso conceded after a moment's reflection. Then he laid the manuscript on the table, in a protective folder with plastic pockets, one for each page. "It's a coincidence you should mention Dumas."
More on page 13.
And the quote of Chapter 10 on page 206:
Number Three. "They suspected that he had no heart." ~ R. Sabatini, Scaramouche
Rafael Sabatini (April 29, 1875 - February 13, 1950) was an Italian/British writer of novels of romance and adventure.

Rafael Sabatini was born in Jesi, Italy to an English mother and Italian father. His parents were opera singers who became teachers.

At a young age, Rafael was exposed to many languages, living with his grandfather in England, attending school in Portugal and, as a teenager, in Switzerland. By the time he was seventeen, when he returned to England to live permanently, he was the master of six languages. He consciously chose to write in English because, he said, "all the best stories are written in English."

After a brief stint in the business world as a translator for the Brazilian trade, Sabatini went to work as a writer. He wrote short stories of romance in the 1890s, and his first novel came out in 1902. In 1905 he married Ruth Goad Dixon, the daughter of a Liverpool merchant. It took Sabatini roughly a quarter of a century of hard work before he attained success with Scaramouche in 1921. This brilliant novel of the French Revolution became an international best-seller. It was followed by the equally successful Captain Blood in 1922. All of his earlier books were rushed into reprints, the most popular of which was The Sea Hawk from 1915. Sabatini was a prolific writer; he produced a new book approximately every year. While he perhaps didn't achieve the mammoth success of Scaramouche and Captain Blood, nonetheless Sabatini still maintained a great deal of popularity with the reading public through the decades that followed. The public knew that in picking up a Sabatini book, they could always count upon a good read, and his following was loyal and extensive.

His only son, Rafael-Angelo (nicknamed Binkie), was killed in a car crash on April 1, 1927. In 1931, he and his wife Ruth divorced. Later that year he moved from London to Hay-on-Wye. In 1935 he married the sculptor Christine Goad, his former sister-in-law. They suffered a further tragedy when Christine's son, Lancelot, flew over their house the day he received his RAF wings. The plane went out of control and crashed in flames before their eyes.

During World War I, Sabatini became a British citizen, when he was threatened with conscription by the Italian Army. He worked in British Intelligence as a–what else?–translator. His talents in the field, it seems, were exceptional, but his work is still cloaked in secrecy.

By the 1940s, illness forced the writer to slow his prolific method of composition. However, he did write several additional works even during that time. He died February 13, 1950 in Switzerland. He is buried at Adelboden, Switzerland. On his headstone his wife had written, "He was born with a gift of laughter and a sense that the world was mad," the first line of his best-known work, Scaramouche.

He is best known for his world-wide bestsellers:

The Sea Hawk (1915), a tale of the Spanish Armada and the pirates of the Barbary Coast;
Scaramouche (1921), a tale of the French Revolution in which a fugitive hides out in a commedia dell'arte troupe;
Captain Blood (1922), in which the title character is admiral of a fleet of pirate ships (Sabatini also wrote two sequels); and
Bellarion the Fortunate (1926), about a cunning young man who finds himself immersed in the politics of fifteenth-century Italy.

The first three of these books have been made into notable films in the sound era -- in 1940, 1952, and 1935, respectively. However, the silent films of his novels, less well known, are also notable. His second novel was made into a famous "lost" film, Bardelys the Magnificent, directed in 1926 by King Vidor with John Gilbert in the lead, and long viewable only in a fragment excerpted in Vidor's silent comedy Show People. A few intact reels have recently been discovered in Europe. Two silent adaptations of Sabatini novels which do survive intact are Rex Ingram's Scaramouche (1923) starring Ramon Novarro, and The Sea Hawk (1924) directed by Frank Lloyd and starring Milton Sills. This is actually a more faithful adaptation than the 1940 remake with Errol Flynn. A 1924 silent version of Captain Blood, starring J. Warren Kerrigan, is partly lost, surviving only in an incomplete copy in the Library of Congress.



Works





Series



Scaramouche
Scaramouche (1921)
Scaramouche the Kingmaker (1931)

Captain Blood
Captain Blood (1922) (also known as Captain Blood His Odyssey)
Captain Blood Returns (also known as The Chronicles of Captain Blood ,1931)
The Fortunes of Captain Blood (1936) (N.B. Captain Blood Returns and The Fortunes of Captain Blood are not sequels, but collections of short stories set entirely within the timeframe of the original novel.)



Novels



The Lovers of Yvonne (also known as The Suitors of Yvonne ,1902)
The Tavern Knight (1904)
Bardelys the Magnificent (1905)
The Trampling of the Lilies (1906)
Love-At-Arms: Being a narrative excerpted from the chronicles of Urbino during the dominion of the High and Mighty Messer Guidobaldo da Montefeltro (1907)
The Shame of Motley (1908)
St. Martin's Summer (1909)
Mistress Wilding (also known as Anthony Wilding ,1910)
The Lion's Skin (1911)
The Strolling Saint (1913)
The Gates of Doom (1914)
The Sea Hawk (1915)
The Snare (1917)
Fortune's Fool (1923)
The Carolinian (1924)
Bellarion the Fortunate (1926)
The Hounds of God (1928)
The Romantic Prince (1929)
The King's Minion (also known as The Minion ,1930)
The Black Swan (1932)
The Stalking Horse (1933)
Venetian Masque (1934)
Chivalry (1935)
Scaramis (1936')
The Lost King' (1937)
The Sword of Islam (1939)
The Marquis of Carabas (also known as Master-At-Arms ,1940)
Columbus (1941)
King In Prussia (also known as The Birth of Mischief ,1944)
The Gamester (1949)
Saga of the sea (1953)
The Treasure Ship (2004)



Collections



The Justice of the Duke (1912)
The Banner of the Bull (1915)
The Nuptials of Corbal (1927)
The Reaping (1929)
Turbulent Tales (1946)
Sinner, Saint And Jester: A Trilogy in Romantic Adventure (omnibus, 1954)
In the Shadow of the Guillotine (Omnibus comprising Scaramouche, The Marquis of Carabas and The Lost King ,1955)
A Fair Head of Angling Stories (1989)
The Fortunes of Casanova and Other Stories (1994, stories originally published 1907-21 & 1934)
The Outlaws of Falkensteig (2000, stories originally published 1900-2)
The Camisade: And Other Stories of the French Revolution (2001, stories originally published 1900-16)



Plays



The Tyrant: An Episode in the Career of Cesare Borgia, a Play in Four Acts (1925)



Anthologies Edited



A Century of Sea Stories (1935)
A Century of Historical Stories (1936)



Non Fiction



The Life of Cesare Borgia (1912)
Torquemada and the Spanish Inquisition (1913)
The Historical Nights' Entertainment (1917)
Heroic Lives (1934)


Sources:

rafaelsabatini.com
Wikipedia