A musketeer (French: mousquetaire) was an early modern type of infantry soldier equipped with a musket. Musketeers were an important part of early modern armies, particularly in Europe.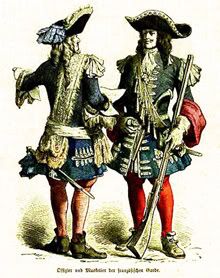 Musketeers in France



The Musketeers of the Guard were a junior unit of roughly company strength of the military branch of the Royal Household or Maison du Roi. They were created in 1622 when Louis XIII furnished a company of light cavalry (the "carabineers", created by Louis' father Henri IV) with muskets. Musketeers fought in battle both on foot (infantry) and on horseback (dragoons). As a junior unit in the Royal Guard, the Musketeers were not closely linked to the royal family. Traditional bodyguard duties were in fact performed by the Garde du Corps and the Gardes suisses. Because of its junior status, the Musketeers were open to the lower classes of French nobility or younger sons from noble families whose oldest son served in the more prestigious units. The Musketeers soon gained a reputation for boisterousness and fighting spirit as the only way for social and career advancement was excelling at their task as mounted light dragoons.

Their high esprit de corps and can-do attitude gained them royal favor and they became a popular fixture at court and in Paris. Shortly after their creation, Cardinal Richelieu created a bodyguard unit for himself. As not to offend the King with a perceived sense of self-importance, Richelieu did not name them Garde du Corps like the King's personal guards but rather Musketeers after the Kings' junior guard cavalry. This was the start of a bitter rivalry between both corps of Musketeers. At the cardinal's death in 1642, the company passed to his successor Cardinal Mazarin. At Mazarin's death in 1661, the cardinal's Musketeers passed to Louis XIV to the disgust of both the King's Musketeers and the Cardinal's Musketeers. The Musketeers were subsequently reorganized as a guard cavalry regiment of two companies. The King's Musketeers became the first company, popularly known as "Grey Musketeers" (mousquetaires gris) from the color of their horses while the Cardinal's Musketeers became the second company, known as "Black Musketeers" (mousquetaires noirs) because they rode black horses.

The Musketeers were among the most popular of the military companies of the Ancien Régime. This popularity was due to the lower entrance requirements. The senior guard units were in effect closed to all but the most senior and wealthy of French nobles so for the vast majority of French nobles (many of whom lived in genteel poverty), service in the Musketeers was the only way to join a cavalry unit in the Royal Household and perhaps catch the King's eye.

In 1776, the Musketeers were eliminated by Louis XVI, for budgetary reasons. Reformed in 1789, they were eliminated shortly afterward. They were reformed on July 6, 1814, and definitively eliminated on January 1, 1816.



Who were the real Musketeers?





D'Artagnan








Statue of D'Artagnan in Maastricht



In The Three Musketeers, Dumas details the adventures of three musketeers -- Athos, Aramis and Porthos, and the aspiring musketeer, D'Artagnan. Incredibly, all of these characters were based on actual persons. Charles de Batz-Castelmore, Count d'Artagnan, was born in 1610 or 1611 in the castle of Castelmore in Lupiac, in the French province of Gascogne and had four brothers and three sisters. One of D'Artagnan's brothers joined the Musketeers in 1633 but died shortly thereafter. Another of his brothers was an army captain that governed a district in the Pyrenees for forty years and died at the ripe old age of ninety-four, having outlived all his siblings. The real D'Artagnan left for Paris in 1638, though Dumas had him arriving in the city of lights much earlier, 1625. There he became commander of the 'grey' musketeers, named after the color of their horses. In fact, they were the king's lifeguards, and accompanied him everywhere. D'Artagnan accomplished delicate tasks at the service of the crown: he escorted important prisoners and carried secret messages.

In D'Artagnan's first combat as a soldier it is reputed that he returned unscathed with a bullet hole in his hat and three more through his uniform. He was impetuous and a skillful swordsman, distinguishing himself during various sieges from 1640-1642. By some historical accounts, instead of challenging the musketeers to a duel at the Pre' aux Clercs, he instead had gone there with them to duel several of the Cardinal's guards. D'Artagnan once nursed back to health one of his defeated dueling rivals, a man by the name of Bernajoux, who later became his good friend. Later D'Artagnan was appointed command of the king's Grand Musketeers, the most coveted appointment in France. His first (and last) marriage lasted only six years, his wife leaving him citing neglect (they had no children). After being made governor of Lille, D'Artagnan was shot through the throat and killed in 1673 at the siege of Maastricht, a few feet from Captain Churchill, Winston Churchill's great-great-great-grandfather.

The d'Artagnan Romances are a set of three novels by Alexandre Dumas. Dumas based the life and character of d'Artagnan on the 17th century captain of musketeers Charles de Batz-Castelmore, Comte d'Artagnan, and Dumas' portrayal was indebted to the semi-fictionalized memoirs of d'Artagnan written 27 years after the hero's death by Gatien de Courtilz de Sandras (published in 1700).

The three novels are:

The Three Musketeers, set in 1625; first published in serial form in the magazine Le Siècle between March and July 1844. Dumas claimed it was based on manuscripts he had discovered in the Bibliothèque Nationale.

Twenty Years After, set in 1648; serialized from January to August, 1845.

The Vicomte de Bragelonne: Ten Years Later, set between 1660 and 1673; serialized from October 1847 to January 1850. This vast novel has been split into three, four, or five volumes at various points in the history.



Athos



Athos was, in real life, Armand de Sillegue d'Athos d'Auteville. Born around 1615, he joined the Musketeers at the age of 25 in the late 1630's or early 1640's, and died in Paris from a duel in 1643 before D'Artagnan ever joined the Musketeers. His name was found listed amongst the fallen duelists in a monastery. - He was probably a nobleman, as Athos was, and was a Gascon, as D'Artagnan was, and was also a cousin to M. de Treville, captain of the musketeers from 1634-1642.



Aramis



Aramis was Henri d'Aramitz, born in Gascony, joined the musketeers in 1640, married in 1654, had four children, became a churchman, and died around 1674. He was the nephew of M. de Tresvilles, the captain of the Musketeers from 1634-1642



Porthos



Porthos was Isaac de Portau, born in Pau, Gascony, a town close to one from which d'Artagnan came. He arrived in Paris only a year before D'Artagnan and was initially turned down by the Musketeers. He was a member of Captain des Essart's company of the King's Guards until 1643. After 1643, he served as a Musketeer with d'Artagnan
So what really happened to Porthos? Dumas' character was killed at Belle Isle en Mer, in Brittany, by a collapse of huge rocks in a grotto which now bears his name, Le Grotte de Porthos. It is located a mile south-west of Locmaria, at a promontory called the Pointe Ar Skeul or Pointe de l'Echelle. The real Porthos, however, did not die in so grand a style as the fictional character. Isaac de Portau died at the age of ninety-five in Pau on Wednesday, July 13, 1712, of an attack of apoplexy. While he may not have been fat, the great age to which he lived shows that he must have been fit, and endowed with a strong constitution. Isaac de Portau was buried in the chapel of Saint-Sacrement, in the church of Saint-Martin.