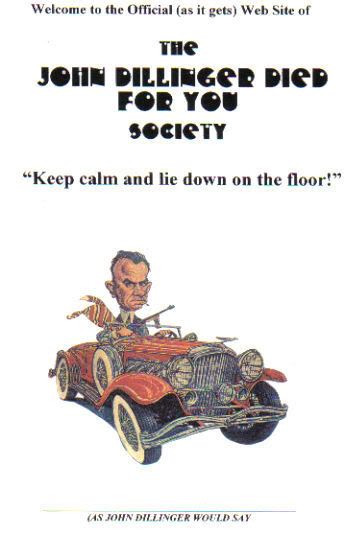 To this day, loyal fans continue to observe "John Dillinger Day" (July 22) as a way to remember the fabled bank robber. Members of the "John Dillinger Died for You Society" traditionally gather at the Biograph Theater on the anniversary of Dillinger's death and retrace his last walk to the alley where he died, following a bagpiper playing "Amazing Grace".





The following information is from the John Dillinger Died For You site(s):




The John Dillinger Died For You Society was established by a group of graduate students in Austin, Texas in 1966 to celebrate the first time a major American university agreed to accept a thesis on a machine gun towards a masters degree in history. The school was The University of Texas and the subject was the Thompson submachine gun which permitted its author to regale fellow students with learned discourses on John Dillinger through the simple expedient of revising the same paper's first and last paragraphs to accommodate the academic requirements of any given class from Abnormal Psychology to American Folklore. The thesis was published by MacMillan in 1969 as The Gun That Made the Twenties Roar.

The Legendary Founder and Eternal C.E.O. was/is an undocumented individual known as Hoarce Naismith who is reputed to be the illegitimate son of John Dillinger. The first objective of the Society is:

1. To correct certain misconceptions about Mr. Dillinger, a prominent economic reformer of the 1930's whose unorthodox banking methods enabled the U.S. Justice Department to overcome state's rights opposition to Federal anti-crime laws. He gave his life that a little known and poorly regarded division of that Department might be transformed into today's awesome Federal Bureau of Investigation.

Doctor Horace Naismith is (or was, he has since disappeared) the undocumented founder of The John Dillinger Died For You Society.

He ostensibly was born on July 22, 1934, possibly to Evelyn Frechette (birth records are not clear), and has claimed to be the bastard son of Mr. Dillinger himself. He enrolled at The University of Texas under an assumed name--in violation of his parole--following his unlicensed operation of The Good Neighbor Marriage Counselling Clinic in Del Rio, Texas, where he represented himself to be a certified EMT (Emergency Marital Technician) who was charged with Grand Theft Auto (despite his defense of genetic obligation) after selling the pickup truck left as collateral by a patient, whose father happened to be a county judge.

The inaugural meeting of the John Dillinger Died For You Society,was held in Austin, Texas, in 1966. Over the years the Society has gone national (probably, for no one keeps records )and annually congregates outside the Biograph Theatre where local celebrities (mainly Richard Crowe and Michael Flores) drink themselves into a state of readiness at the Lion Pub across the street. They then address the crowd and observe one minute of silence before a bagpiper plays the mournful strains of "Amazing Grace."

"A cross born willingly is a burden nonetheless."

So says Dr. Horace Naismith after he founded The John Dillinger Died For You Society at The University of Texas at Austin in 1966. What began as a spoof on Elvis Pressley-style fan clubs instantly became an active organization of about thirty members who had heard him, that very day, read the more thrilling parts of his MA thesis on the history of the Thompson submachine gun, written under the pseudonym William J. Helmer. Following that particular American Studies class, the students commonly congregated at Scholz' Garten, a popular indoor-outdoor tavern and restaurant a few blocks south of the University.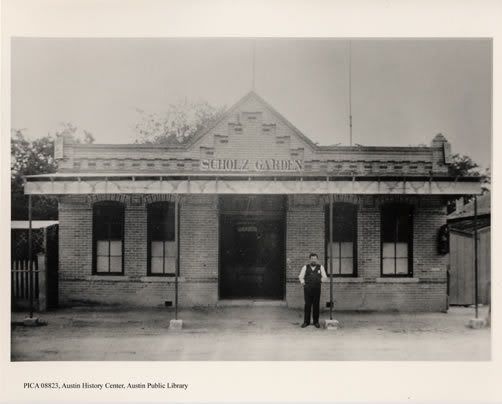 In the group was Dr. William Goetzmann, a prize-winning historian who thought (after several beers) that the delivery was exceptionally good and immediately proposed the founding of The John Dillinger Died For You Society. (A previous student had delivered of herself an exceedingly boring paper on comparative religions.)

He went on to proclaim that the Society needed a Founder, and who else should that be but Horace Naismith—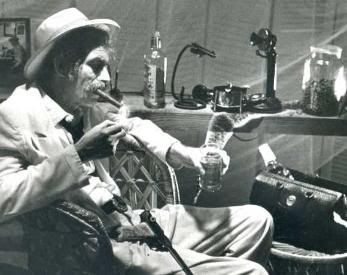 an undocumented individual whose name (everyone quickly realized) would seem vaguely familiar for having done something or invented something, some time or another. A paper was drawn up on the back of a Scholz's menu, proclaiming that everyone in the Society would automatically be an Assistant Treasurer authorized to recruit new members for whatever amount of cash they had on them at the time--and keep it, Because John Would Have Wanted It That Way. Within a week the Society, using a small, very old flat-bed press for printing handbills, had turned out its two official membership cards: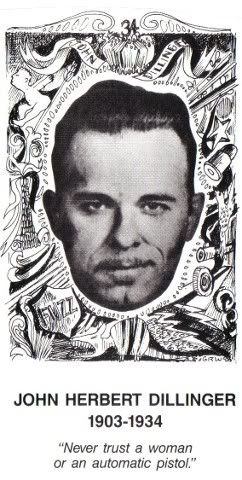 About this time Dr. Goetzmann, worried because his reckless idea had caught on so quickly, wrote a very formal and officious letter to the Society resigning his membership, believing that would be the end of it. He was wrong. Not only is Dr. Goetzmann still celebrated as the inspiration for the Society, but he provided its members with their Perpetual All-Purpose Excuse: "Dr. Goetzmann said it would
be okay."

It should probably be mentioned that as an assistant treasurer, anyone at any time and anywhere, can call an official meeting of the John Dillinger Died For You Society. The only requirement is that one chair be left empty out of respect for the Dear Departed Member.
The 73rd anniversary gathering at the John Dillinger death site (1934-2007)

SHOOTING OF JOHN DILLINGER
PUBLIC ENEMY NUMBER ONE

The John Dillinger Died For You Society invites you to the Red Lion Pub, 2446 North Lincoln Avenue, Chicago, on Sunday, July 22, 2007, from 8:00 to 10:30 p.m. for a

SPECIAL COMMEMORATION

Watch movies and newsreels on Dillinger, meet fellow gangster buffs, authors & authorities, indulge in pub specials, and enter to win a special prize for the "Hottest Lady in Red". Shortly after 10 p.m. there will be a bagpipe procession led by Mike Dietz (of the Celtic rock group Stirling) retracing the last steps of Dillinger to the alley by the Biograph Theater where there will be a ceremony -- on the very spot that the outlaw met his grisly fate!

Words will be spoken by Michael Flores of the Psychotronic Film Society on "the place of John Dillinger in pop culture & modern society."

And Richard Crowe, famous Chicago folklorist and ghosthunter, will talk on the "supernatural legacy & legends of John Dillinger."

Guest historianss will also speak on Dillinger's life of crime, dramatic death at the hands of the FBI, and his impact on Depression-era America and American history.

Note: This event may be filmed for newsreels! Be prepared to protect your identity by wearing a disguise, if necessary.

YOU DON'T WANT TO MISS THIS!

FREE ADMISSION
Half-price for Ladies in Red

CASH BAR and CASH MENU
Authentic English pub potables and provisions (please tip your servers)

RED LION PUB
2446 North Lincoln Avenue (UPSTAIRS)
One block north of Fullerton
ACROSS FROM THE BIOGRAPH THEATRE

Brought to you by the JOHN DILLINGER DIED FOR YOU SOCIETY, in collusion with the PSYCHOTRONIC FILM SOCIETY and GHOSTHUNTER RICHARD CROWE'S SUPERNATURAL TOURS!