On page 223 Arturo was sitting in class thinking about baseball while "phony little applepolising" Agnes Hobson was reading aloud from Sir Walter Scott's Lady of the Lake.
SIR WALTER SCOTT


Sir Walter Scott, 1st Baronet (August 15, 1771 – 21 September 21, 1832) was a prolific Scottish historical novelist and poet popular throughout Europe during his time. In some ways Scott was the first author to have a truly international career in his lifetime, with many contemporary readers all over Europe, Australia, and North America.

Born in College Wynd in the Old Town of Edinburgh in 1771, the son of a solicitor, the young Walter Scott survived a childhood bout of polio in 1773 that would leave him lame in his right leg for the rest of his life. To restore his health he was sent in that year to live in the rural Borders region at his grandparents' farm at Sandyknowe, adjacent to the ruin of Smailholm Tower, the earlier family home. Here he was taught to read by his aunt Jenny, and learned from her the speech patterns and many of the tales and legends which characterized much of his work. In January 1775 he returned to Edinburgh, and that summer went with his aunt Jenny to take spa treatment at Bath in England. In the winter of 1776 he went back to Sandyknowe, with another attempt at a water cure being made at Prestonpans during the following summer.

Scott began studying classics at the University of Edinburgh in November 1783, at the age of only twelve so that he was a year or so younger than most of his fellow students. In March 1786 he began an apprenticeship in his father's office, to become a Writer to the Signet. When it was decided that he would become a lawyer he returned to the university to study law, first taking classes in Moral Philosophy and Universal History in 1789-90. After completing his studies in law, he became a lawyer in Edinburgh. As a lawyer's clerk he made his first visit to the Scottish Highlands directing an eviction. He was admitted to the Faculty of Advocates in 1792.

At the age of 25 he began dabbling in writing, translating works from German, his first publication being rhymed versions of ballads by Bürger in 1796. He then published a three-volume set of collected Scottish ballads, The Minstrelsy of the Scottish Border. This was the first sign of his interest in Scottish history from a literary standpoint.

Scott then became an ardent volunteer in the yeomanry and on one of his "raids" he met at Gilsland Spa Margaret Charlotte Charpentier, daughter of Jean Charpentier of Lyon in France, whom he married in 1797. They had five children. In 1799 he was appointed Sheriff-Deputy of the County of Selkirk, based in the Royal Burgh of Selkirk.

In his earlier married days, Scott had a decent living from his earnings at the law, his salary as Sheriff-Deputy, his wife's income, some revenue from his writing, and his share of his father's rather meagre estate.

"Our wishes for riches are seldom satisfied by possessing more than we can use, enjoy or bequeath," Walter Scott once wrote in his journal. However, like much of Scott's life, this comment displays a contradiction between his life and his words, between the intellect and the heart. In reality, Scott--made a baronet in 1818 and thereafter known as Sir Walter Scott--had wishes that far exceeded personal use. After becoming a successful poet with publication of the fabulously popular The Lay of the Last Minstrel and Lady of the Lake, Scott purchased an estate on the banks of the Tweed which he called Abbotsford, and proceeded to build a fake medieval castle, complete with turrets, but also with such modern conveniences as toilets and gas lighting. He planted 500 acres of this domain with mature oaks to give it the appearance of age, and took up the life of the landed country gentry. Yet Scott was no more of the gentry than his ersatz castle, and he poured so much money into its building that when financial difficulties later arose, he would have to spend the rest of his life paying off debt, turning out book after book in the effort.

Scott continued to be fascinated with the lore and lure of bygone ages up unto his death in 1832. All his works are imbued with this antiquarian passion; indeed he single-handedly created the genre of historical fiction, bringing to vivid life not only Scottish history, but English as well (Ivanhoe). In his Scottish novels such as Waverley, The Heart of Mid-Lothian, Rob Roy, The Bride of Lammermoor, and The Pirate, Walter Scott displayed on paper the dichotomy at work in his own life: "the regret for the old days when Scotland was an independent but turbulent and distracted country," as the critic David Daiches put it in his Literary Essays, coupled with a "satisfaction at the peace, prosperity and progress which he felt had been assured by the Union with England in 1707 and the successful establishment of the Hanoverian dynasty on the British throne." In short, Scott wrote of medieval castles with modern plumbing. Always present in his work is the tension between the benefits of civilization and the sacrifice of heroic and chivalric values of another age which had to be made to attain such progress. Though Scott was, according to Gary Kelly in the Concise Dictionary of British Literary Biography, "the most influential novelist in world literature," he paid dearly for such personal progress.

After Scott had founded a printing press, his poetry, beginning with The Lay of the Last Minstrel in 1805, brought him fame. Scott followed up this success with the poem Marmion, and a measure of his instant popularity was the fact that he was paid one thousand pounds for it--a sizeable sum in 1808--by the publisher Archibald Constable. Scott had established himself as a best-selling author in short order and was quickly becoming known for his political views, as well. His conservative Tory opinions were being disseminated in the Quarterly Review, which he helped to found. But he was no simple stodgy man of letters; he blended social and political conservatism with a progressive agenda. He saw the costs of progress, but championed it nonetheless.




LADY OF THE LAKE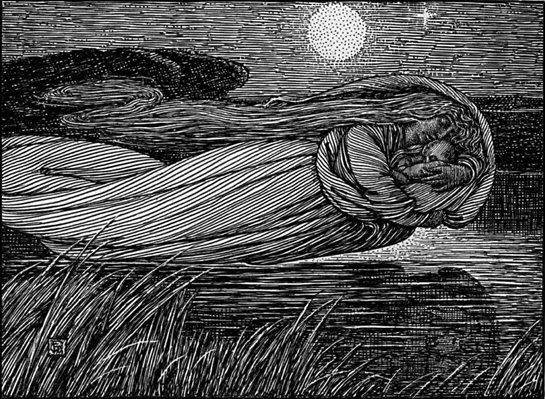 The Lady of the Lake taking the infant Lancelot. From Tennyson's Idylls of the King.
Illustration by George Wooliscroft Rhead, & Louis Rhead


In 1810 Scott published The Lady of the Lake, yet another best-selling poem, set in the Scottish Highlands. It concerns the adventures of the hero James Fitz-James, the villainous hero Roderick Dhu, and the love interest Ellen Douglas. Something of an Arthurian romance (see the legend of Lancelot and the Lady of the Lake below) transposed to the Highlands, the poem narrates the attempts of Fitz-James to establish a Scottish kingdom and the ensuing conflict with the Dhu clan in this effort. It is generally regarded as his most accomplished poem in terms of plot, and though seven further verse narratives were to follow over the years, none gained such wide popularity as The Lady of the Lake and the two preceding it. While some contemporary reviewers, including Jeffrey, applauded Scott for his ability to reach such a wide readership, others, including the English poet Samuel Taylor Coleridge, thought the poem tedious and "endless," as Coleridge wrote to William Wordsworth. "I never remember a narrative poem in which I felt the sense of progress so languid."

Portions of the German translation of this work were later set to music by Franz Schubert. One of these songs, Ellens dritter Gesang, is popularly labeled as "Schubert's Ave Maria".


In La Donna del Lago, Scott's poem material furnished subject matter for an opera by Gioacchino Rossini (Naples 1819). It was the first of a fashion for operas with Scottish settings and based on Scott's works, of which Donizetti's Lucia di Lammermoor is the most familiar.




THE LEGEND OF THE LADY OF THE LAKE

(from Encarta)

Lancelot is the son of King Ban of Brittany, but when he is a child, the fairy Vivienne, known as the Lady of the Lake, steals him. After Lancelot reaches manhood, the Lady of the Lake takes him to Arthur's court, where he becomes a knight. Lancelot and Queen Guinevere fall in love, and while under the spell of a potion, Lancelot lies with the lady Elaine, thinking that she is Guinevere. Elaine bears a son, Galahad. Arthur discovers Lancelot and Guinevere's love affair when Agravain, brother of the knight Gawain, reveals it. Arthur's system of justice then demands that he condemn Guinevere to death.

Lancelot escapes with Guinevere to his own castle. Arthur and Gawain lay siege, forcing Lancelot to return the queen and flee. Arthur and Gawain then pursue Lancelot to Brittany. During the king's absence, his illegitimate son Mordred seizes the kingdom and attempts to marry Guinevere. Arthur then returns and drives Mordred back into the west of England. In their final battle on Salisbury Plain, Arthur kills Mordred but is grievously wounded and is taken away to the island of Avalon. Lancelot then returns to England, but after finding that Guinevere has withdrawn to an abbey, he himself takes religious vows and has visions confirming his destiny in heaven. Lancelot and Elaine's son, Galahad, eventually completes the quest for the Holy Grail, the sacred cup used by Jesus Christ at the Last Supper.




THE TEXT



The full text (100+ pages) of The Lady of the Lake can be seen here:
http://www2.hn.psu.edu/faculty/jmanis/w-scott/lady-lake.pdf



Sources:



Authors and Artists for Young Adults. Vol. 22. Gale Research, 1997
Encarta
Wikipedia