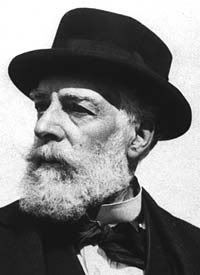 James Ensor

is touched upon briefly on page 62 in reference to the Christmas Eve party:
With Mireille on my arm, I escort my date to the dining hall, where a good number of the residents have already gathered. It's a portrait gallery à la James Ensor, a riot of rouge, a permanent-wave contest, a fashion show of out-of-fashion styles on centenarian models. Sitting around the tables, the elderly revelers strike dignified poses in their party clothes for some hypothetical jury.
James Ensor, a draftsman and Symbolist painter of the 19th Century, is considered a precursor to Surrealism and Expressionism.

Symbolism was a late nineteenth century art movement of French and Belgian origin in poetry and other arts.
Rimbaud
has been associated with Symbolist poetry.

French Symbolism was in large part a reaction against the Naturalism and Realism movements. These movements invited a reaction in favour of spirituality, the imagination, and dreams and the path to Symbolism. Symbolists believed that art should aim to capture more absolute truths which could only be accessed by indirect methods. Thus, they wrote in a highly metaphorical and suggestive manner, endowing particular images or objects with symbolic meaning.

The Symbolist painters used mythology and dream imagery for a visual language of the soul, seeking evocative paintings that brought to mind a static world of silence. The symbols used in Symbolism are not the familiar emblems of mainstream iconography but intensely personal, private, obscure and ambiguous references--more a philosophy than an actual style of art.

Born in Ostend on April 13, 1860, to a Belgian mother and an English father, James Ensor studied at the Brussels Academy in 1877-79, then returned to his native town, where he remained for the rest of his life. In 1883, he joined Les XX (the Twenty), whose goal was to promote new artistic developments throughout Europe. They provided him with the only opportunity he could find to exhibit his work. Although Ensor was considered the group's leader and founder, he had sharp differences of opinion with other group members. He was asked several times to withdraw his work from the society's exhibitions, and there was even at one time a move to expel him from its ranks.

Ensor had a fondness for the masks. Maybe it had to do with his family. They were shop keepers who sold souvenirs, curiosities, exotic objects and toys. At carnival-time, they also sold masks.

Ensor's first mask painting dates from as early as 1879, but the theme had its greatest importance for him from the mid 1880's onwards. This was also the time at which there was a decisive change in his palette. From being rather dark, his paintings now, under the influence of French Impressionism, became flooded with light. And in response to the French pointillist style, he used palette knives, spatulas, and both ends of his brush to put down patches of colors with expressive freedom. Below I will touch on three of his mask paintings.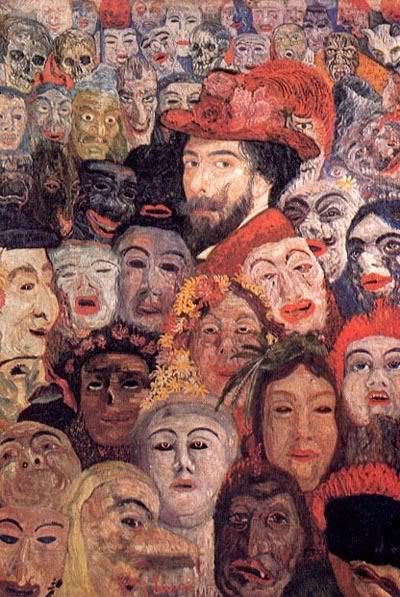 Self-portrait with Masks (1899) offers an introduction into how to read Ensor's work. The painter himself appears in the center of the composition, wearing a carnival hat adorned with a feather. This portrait is a paraphrase of a well-known self-portrait by Rubens. The rest of the picture is crowded with masks. All but one or two of these masks appear to ignore his presence among them. The other two stare at him mindlessly. The apparent meaning behind this painting is related to Ruben's great worldly success. Ensor presents himself as a poor parody of Rubens's greatness, a carnival-king of painters. Around him crowd the representatives of ordinary bourgeois society. With these, the mask has become the face; the disguise for spiritual ugliness is itself more hideous than reality could ever be. The crowded airlessness of the composition seems to express Ensor's own feeling of claustrophobia. It is to be found in many of his compositions.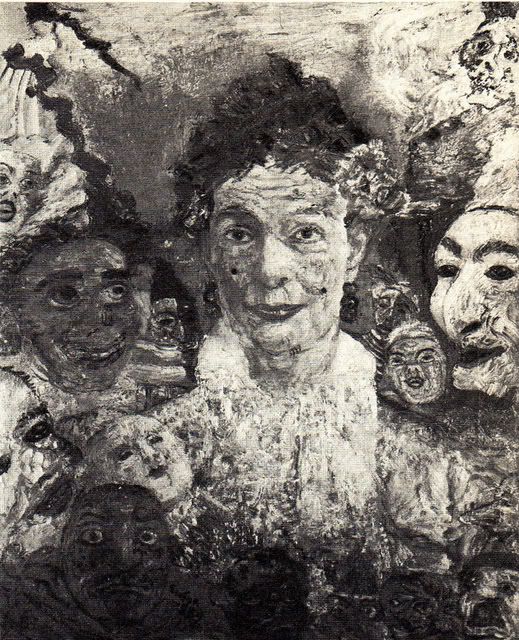 Two other mask paintings can be taken in conjunction with the Self-portrait. One is the Old Woman with Masks (1889). This is said to have begun as a commissioned portrait (almost the only commission of its kind given to Ensor during this period). The sitter rejected the painting as too ugly, whereupon Ensor took it back, emphasized the ugliness even further, and added the masks. It is thought by Edward Lucie-Smith that "we are intended to see the living face and the masks as equivalents. The suggestion is that the old woman is in the process of turning into the hollow mask she already resembles. Yet there is also a feeling of compassion. Ensor is not blind to the pathos of age, or to the still keener pathos of our hopeless attempts to resist it."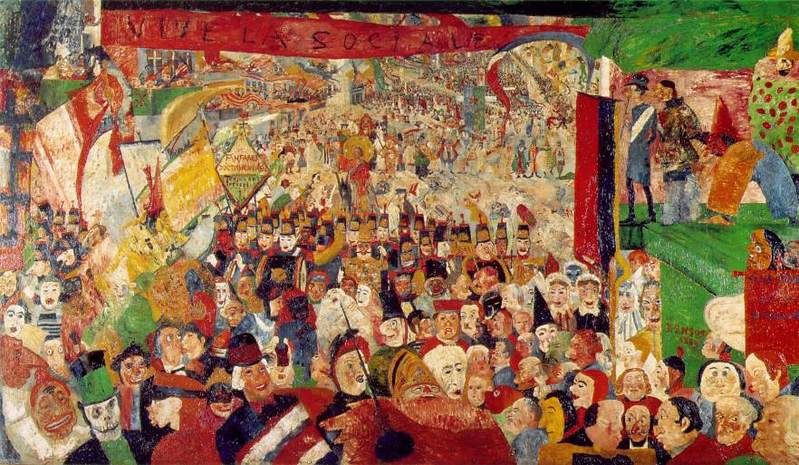 The third mask painting is the most ambitious Ensor ever painted—The Entry of Christ into Brussels (1889). This was the painting that led to his near expulsion from Les XX (he was saved by one vote—his own). The implication behind the picture is that if Christ were to return for the second coming that the Belgians would treat him as he was treated in Jerusalem. The banner at the top of the painting—LONG LIVE SOCIALISM!—adds a fierce touch of political irony.

Ensor's society is a mob, threatening to trample the viewer--a crude, ugly, chaotic, dehumanized sea of masks, frauds, clowns, and caricatures. Public, historical, and allegorical figures along with the artist's family and friends made up the crowd. The haloed Christ at the center of the turbulence is in part a self-portrait: mostly ignored, a precarious, isolated visionary amidst the herdlike masses of modern society. Ensor's Christ functioned as a political spokesman for the poor and oppressed--a humble leader of the true religion, in opposition to the atheist social reformer Emile Littré, shown in bishop's garb holding a drum major's baton leading on the eager, mindless crowd. It is said that for a time during his career he really identified with Christ, feeling his suffering as an obscure artist with unkind critics paralleling Christ's suffering.

After rejection by Les XX, the artists' association that Ensor had helped to found, the painting was not exhibited publicly until 1929. Ensor kept The Entry of Christ into Brussels with him throughout his life, and as with many of his paintings, he made a number of alterations to it. An etched version of the subject from 1898 shows the banners and posters more clearly. Corporate and political advertising banners are given great prominence. Slogans for the socialist party and Colman's mustard are also included. This painting illustrates a facet of Ensor's art which has often been commented upon: its spatial discontinuity, which in this case gives a feelilng of the uncontrollagle movement of a vast crowd. The crowd itself is one of Ensor's characteristic images—one of the ways he projects his feeling of alienation.

The Entry of Christ into Brussels is currently on display at The Getty Center Los Angeles.

It has been said that the work which Ensor was producing during his most intense and original period should be regarded as the reflection of a psychosis. Dominant are images of panic, such as the swarming crowd which appears in his etching The Cathedral, and images of alienation—masks, skeletons and phantoms. All these images serve to suggest that the artist is moving through a world which lacks some dimension of reality, and in which all other individuals appear as ghosts.

In the mid-1880s, Ensor suffered from an ulcer and from a personal crisis. His family forbade him to marry the woman he loved. He returned to painting religious subjects and plunged to the depths of despair when he decided to sell the contents of his studio in the 1890s.

After the turn of the century, Ensor finally won acclaim and respectability. He was knighted by King Albert and given the title of Baron. The 1908 publication of a book about his life and works confirmed his standing and reputation. In later years, he wrote music, designed sets for ballets, and continued to paint until his death at eighty-nine.

Also interesting to note is that the European contemporary who had the greatest kinship with Ensor was undoubtedly the Norwegian painter Edvard Munch (The Cry). If you will remember from one of my earlier tidbits Laurent Graff referred to Munch in his commentary on Le Cri (The Cry), his most recent novel. An excerpt from that commentary:
True icon, the chief of work of Edvard Munch is universally known. It intrigues, it causes, it worries, it disturbs. What does one see? A man, the open mouth, closes the ears of the two hands, under an apocalyptic sky color blood. Does it hear a terrifying cry and it is protected some? Or is this him which pushes this formidable howl of horror? This cry is it interior or external? By looking at painting, one cannot prevent oneself from feeling concerned, implied, threatened, taken in the storm of the table. This cry touches us all, speaks to us about our destiny.
And it would only be fitting to show James Ensor's gravestone: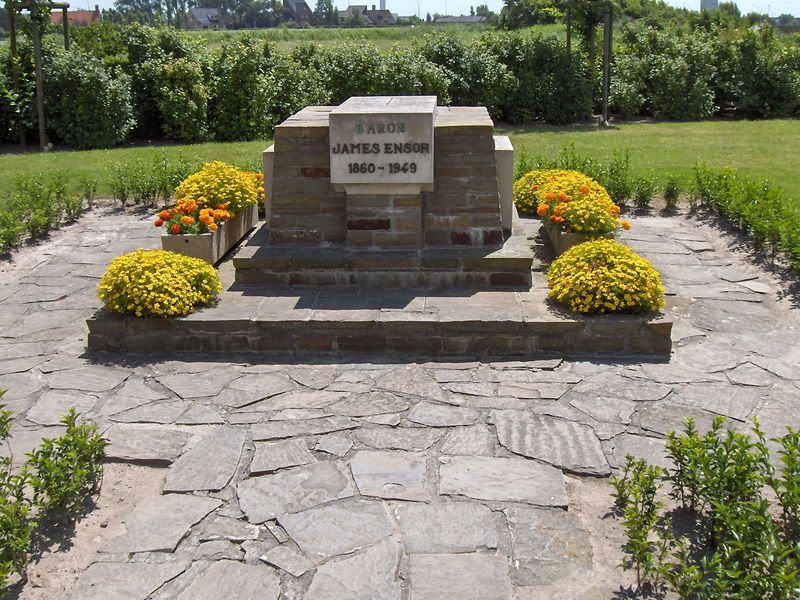 Sources:

http://www.getty.edu/art/gettyguide/art ... ?maker=253

http://www.bc.edu/bc_org/avp/cas/fnart/art/ensor.html

Symbolist Art, Edward Lucie-Smith, 1972

Wikipedia