Tim Burton recently referred to Sweeney Todd as an "urban myth". But most myths and legends have a basis somewhere in truth. And Sweeney Todd is no exception.

According to Peter Haining, there really was a mad barber, he really did use a trapdoor and straight razor to rob and kill customers, and most of his victims did indeed end up as meat pie filling. British author, Peter Haining, has written a book (Sweeney Todd: The Real Story of the Demon Barber of Fleet Street) which claims that Mr. Todd was very real. According to Mark Gribben in an article on crimelibrary.com, Mr. Haining's research "has shown this without a doubt". I never was able to locate the book (at a decent price, that is). Thus I cannot verify Mr. Gribben's claims. However, one of our Noodlemantras (Gilly) did get her hands on the book and gave us some insight on the matter. I welcome any others (like Gemini) who have since read the book to jump in and add anything that we haven't covered here.

What I am about to impart are passages from "Sweeney Todd - Man or Myth?" by Mark Gribben, http://www.crimelibrary.com/serial_killers/weird/todd/index_1.html with added insight from Peter Haining's book…..



Sweeney Todd was the only child of a pair of silk industry workers who labored in their home in the slum of Stepney. His parents were both alcoholics who placed a desire for gin above everything else in life. Sweeney quickly learned where their priorities were; and he did not rank high on the list.

He wasn't alone in this regard. Gin, which had recently been introduced to England from the Netherlands, was increasingly becoming the true opiate of the masses. Made from cheap corn and fermented juniper berries, gin was partly responsible for the rising crime and lower life-expectancy in London, where gin mills frequently advertised "drunk for a penny, dead drunk for two pence, clean straw provided." Beer, wine and sherry were much too expensive for the laboring classes.

Colin Wilson reports that in the year following Sweeney Todd's birth, eight million gallons of gin were consumed in England, with Londoners responsible for 14 gallons each. As gin consumption increased, so did crime and cruelty.

William Hogarth, whose etchings frequently took on a moralistic tone, reveals the upper-class attitude toward the liquor in his artwork, Gin Lane, which features a half-naked drunken woman oblivious to her child, who is falling out of her arms, head first to the ground. In Hogarth's London, gin was cheap, and alcoholism was rampant. The pawnbroker, distiller, and funeral home are the only sturdy structures in this crumbling, desperate landscape of suicide and starvation. In 1751, the year in which this print was circulated, a Gin Act was passed in Parliament that finally exerted control over the distribution of gin.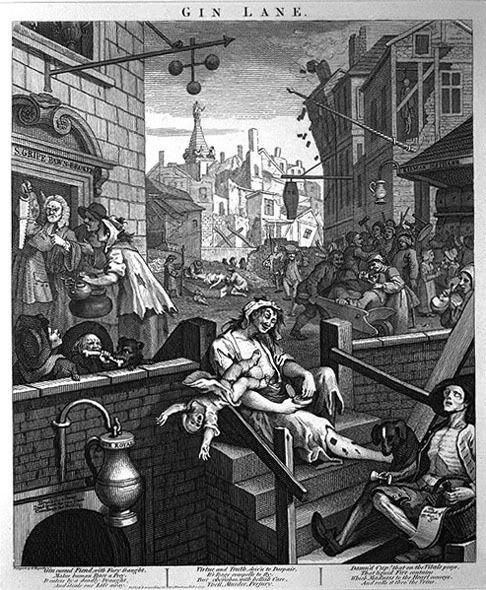 Gin Lane
Etching and Engraving

Sweeney Todd obviously did not enjoy a happy childhood, and at an early age he was forced to go to work helping his family load silk threads onto bobbins for the clothing mills. The Todds would never be able to afford the clothes they were making. Flax and wool, not silk, formed the basis for their clothing. And they didn't own much more than the clothes on their backs. "The poverty and distress of some of these people is inconceivable; very generally a family in every room with very little bedding, furniture or clothes. The few rags on their backs comprised the principal part of their property," a contemporary writer said about the silk industry workers.

Young Sweeney grew up in the shadow of the infamous Tower of London, which in his youth had been converted into a museum and the Royal Zoo. According to Gribben, Haining reports that Sweeney spent as much time as possible in the tower, where he was fascinated by the displayed instruments of torture, the stories shared by Tower workers, as well as by the cruelty which the zookeepers inflicted on their imprisoned pets. His penchant for violence was further enhanced during the 1758 Silk Workers Riots, where impoverished workers infuriated over the importation of cheap calico, went on the warpath and attacked women wearing the inexpensive cotton cloth imported from India.

Gribben also tells us that by all accounts, Sweeney was loved by his mother, but beaten and ignored by his father. His mother's affections, however, weren't returned: "I was fondled and kissed and called a pretty boy," he testified in court. "But later I used to wish I was strong enough to throttle her. What the devil did she bring me into this world for unless she had plenty of money to give me so that I might enjoy myself in it?"

According to Gribben, Sweeney's parents permanently abandoned him when he was 12 or 13 years old:
It was unlikely that they knowingly abandoned their only child; Haining supposes that they went out in search of alcohol and either found it and froze to death or died trying to find a drink. In his interrogation following his arrest, Sweeney Todd gave this account of his birth and family: "The church I was christened at burnt down the day after, and all the books burned. My mother and father are dead, and the nurse was hanged and the doctor cut his throat." The next records pertaining to Sweeney Todd show that the youngster was turned over to the local parish, which was charged with finding apprenticeships for orphans.
The first input from Gilly:
It's interesting that in Chapter 1 of Haining's book, the first page, there is a Johnny connection...''To generations of children he has been held up as a razor-wielding bogeyman who would cut them up and make them into meat pies-long before Freddy Krueger became a nightmare in today's Elm Street movies''..Later on in the chapter he makes a connection with Jack the Ripper in that, just like Jack, ST's identity has remained a mystery and a figure shrouded in conjecture……

Haining says that ST was born in a 3 story 18 th century house in Brick Lane in Stepney,..a house that was already in decay and neglected.His birth was a difficult one and Mrs Todd had no more children..His parents were often out of work.One day he awoke to find that they had deserted him.Haining conjectures that they possibly froze to death ,because the winter of 1768 was particularly severe.He never did find out what happened to them ..Haining again conjectures that the time between their desertion and his becoming an apprentice was perhaps when he developed his resourcefulness and cunning that served him well later…

Haining's book is all conjectural. He says he has 'sources' but he doesn't list these sources. It seems to me that he's gleaned his info from penny dreadfuls,anecdotes,some imaginative newspaper articles,apocrypha and the like. I've only read the first part of the book, but in the back of my mind,I keep thinking where's the proof?..But it is an entertaining read…..

Well, in all this, I would say there is some truth. Haining says he has researched documents and newspapers ,novelisations and serialisations. From all this, he has sifted fact from fiction, or so he says. But, for example, he claims ST was born in 1756 in Brick Lane, but he doesn't quote actual parish records or any specific genealogical sources. He says things like,''we are told'' or ''in one report'', or ''the facts concur with''. But I have not got up to the bit with the trial and I do believe there, Haining quotes directly from The Newgate Calendar. This was a tabloid type publication, which recorded famous trials and crimes. It was a lurid publication,but claimed to contain transcripts from court. In the earlier days of it's life..it lasted til 1825, Haining says that it was more factual than fictional ,but later it became more fictional and less reliable….

I've read a bit more of the book now . Haining has certainly done alot of research. He has read lots of publications and early histories of the area...Although alot of what he says could be construed as conjecture..[he doesn't have hard proof,references from primary sources from the 18th century publications,eye witness accounts] certainly there is a lot of material out there, particularly from the 19th century that mentions ST..There is a commonality amongst all of these writings and it's this commonality that Haining has refined down….

I'm not surprised that some of the sources couldn't be located. One source he said was really hard to get hold of and there aren't many copies extant..Convenient,one might say.. He still manages to quote some interesting statistics..for example, that ST's premises were crammed with clothes and property for 160 people...
Gilbert's Girl added:
BtW I just looked to see if there was any mention of Sweeny Todd on the Genealogy site I use and guess what. In 1881 on the Census is a man calling himself Sweeny Todd he is aged 36 and is a Barber. But GG indicated that "it couldn't really be his real name so he must have taken it." The reason being that "he dosen't appear on previous census returns under that name, or anywhere else."
SWEENEY TODD, THE APPRENTICE



Gribben informs us:
Under the sign of the "Pistol and C" in Great Turnstile, Holborn, the aptly named John Crook had set up shop, fashioning any number of articles from backgammon tables to gunpowder, but specializing in razors. Apprentices in the 18th century were little more than slaves to their masters, and foul treatment at the hands of the teacher was the norm. The students lived in disheartening poverty, and those orphans who had no one to stand up for them, were most cruelly used.

"Any person, master or journeyman, man or woman, housekeeper or lodger, who would undertake to provide food, lodging and instruction, could take an apprentice," wrote Dorothy George. "All the earnings of the apprentice, whether they were for the master or a third person, became the property of the master."

A report issued by the government around the time of Todd's apprenticeship to Crook, reveals a common practice: "The master may be a tiger in cruelty... (and) few people take much notice. The greatest part of those who now take poor apprentices are the most indigent and dishonest, and it is the fate of many a poor child, not only to be half-starved and sometimes bred up in no trade, but to be forced to thieve and steal for his master, and so is brought to the gallows into the bargain."
According Gribben, two years after he joined Crook's shop he was arrested and convicted of petty larceny. The details of the crime are scarce. Sweeney could have been hanged for a theft conviction. However, because he was only 14 years old, the judge at Old Bailey took pity on the orphan and sentenced him to five years in Newgate Prison. The mercy shown to Sweeney Todd was, as noted above, unusual. Children trained as pickpockets were hanged for as little as the theft of a handkerchief, and any kind of shoplifting was punishable by death.

From Gilly:
Apparently a cutler would have made a wide variety of goods, including ''tinder boxes,tooth pick cases,gun hammers,wig springs,back-gammon tables,saw strops,squirrel chains,tobacco tongs,line rowls and best battle gunpowder'',but John Crook's true speciality was razors..Haining makes the point that apprentices belonged to their masters,body and soul.Orphans were apprenticed so that they wouldn't be a burden on the parish and child labour was acceptable.In some of the worst scenarios,as you have quoted Liz,apprentices were sent out to thieve for their masters and if caught,they went to the gallows.ST was lucky to escape death.At the time,there were still 200 +crimes on the statute books,punishable by death..
PRISON



Gribben on Sweeney's Time in Prison:
Punishment and repentance, not reform and rehabilitation were the watchwords of the British penal system at the time. Faced with mounting crime, authorities struck back with cruelty. It was thought that punishment should be a deterrent, so harsh penalties for minor offenses were common. Once executed, criminals were turned over to "barber-surgeons" for dissection, and they often faced cruel torture before being hanged. Burning them with hot irons and breaking them on the rack were soon abandoned, however, because there were far too many criminals to do this effectively. Later, gibbets were erected with iron cages in which the rotting bodies of executed criminals could serve as a warning to others, and it was not unusual to dump the criminal's body on the doorstep of the victim to show that justice had been done, Wilson* reports!

In the prison, Sweeney Todd managed to convince the prison barber, a convict himself, that his previous apprenticeship as a cutler would make him an ideal soap-boy for the barber. It was necessary for the orphan to find some means of support in the prison, for convicts were required to pay bribes to their guards for even the simplest necessities. Someone with no money was likely to soon find himself naked and starving in Newgate.

Plummer the barber, who was four years into a sentence for embezzlement when Sweeney Todd was imprisoned, had found a niche in the prison society, thanks to the large number of well-to-do prisoners who still enjoyed a smooth shave now and then. He accepted Sweeney Todd as his apprentice and shared some of his meager income. One of Plummer's duties was to shave the prisoners slated for execution, and Sweeney Todd would often help in this job. The pair hit it off well, both were unscrupulous and dishonest, and Sweeney Todd learned not only the barber's trade from Plummer, but how to filch the meager change from the pockets of his reclining customers.
* Wilson, Colin. 2000. The Mammoth Book of the History of Murder. London: Carroll & Graf.

From Gilly:
Haining says that ST's privileged position in gaol led to resentment and he took several cruel beatings,once nearly to death.He also says that ST's hatred of society built up in the five years in prison and that when he walked free in 1775,he was astrapping 19 year old with a profession.But the years had made him a morose,cruel and bitter man.
SWEENEY'S DESCRIPTION
This is fun to look back on now that we know what Johnny Sweeney looks like.…
In the penny dreadfuls he is described as a scary-looking character with bright red hair and heavy eyebrows that seemed to meet over his nose. He rarely was in good humor, frequently complaining about the high levels of crime, poverty and drunkenness outside his doorway. His eyes had an evil glimmer, the papers reported upon his arrest. "There was also something very sinister about him with his pale face and reddish hair," wrote Gentleman's Magazine in an 1853 retrospective. "At times he was like some hobgoblin, his strange, dark eyes agleam with greed and cunning." Another later account called him "so repulsive in appearance that it is a wonder that...customers...did not immediately flee when the demon in human frame commenced operations."

As a master, Sweeney Todd showed little compassion for the parish boys he took in as apprentices, and in one case, the knowledge of what his master was up to drove one poor lad to insanity and incarceration in the local madhouse. Sweeney Todd drank alone in the taverns, and he was never seen to touch gin, opting instead for the more refined brandy.
From Gilly:
Here's another description Haining mentions. ''He was a long,loose-joined,ill-shaped fellow with a huge mouth filled with black teeth.His hands were of abnormal size,he had immense fet and wiry hair,sometimed bristling with the combs used in his trade.He also squinted and was..a ugly wretch''......I don't know why,but this reminds me of descriptions I've read of Blackbeard the pirate..
SWEENEY'S SHOP



According to Mark Gribben, several years after his first murder, Sweeney Todd had managed to scrape together enough capital to buy a shop on Fleet Street near Temple Bar, where the Strand and Fleet Street intersect. The choice of Fleet Street for a barbershop was not typical because it was not the section of town where barbers normally practiced their craft. However, Todd probably was unable to afford a shop in the more gentrified sections of London. Also, being one of the few barbers on Fleet Street ensured less competition.

Gribben continues to share his research on the "real" Sweeney:
Early maps of London show that St. Dunstan's and Sweeney Todd's shop were on the north side of Fleet Street, just a few blocks away from the Royal Courts of Justice. Fetter Lane curved in from the east, and Chancery Lane came in from the west, providing a narrow triangular shape to the block where Sweeney's shop was located. One block over from Chancery Lane lay Bell Yard, which intersected the Temple Bar and provided a perpendicular demarcation between Fleet Street and The Strand.

The church next door to Todd's shop had been rebuilt several times prior to 1785, and had one time occupied more land on the narrow block. Beneath the church lay forgotten and seldom used tunnels, some of which served as catacombs for long dead parishioners. One of these tunnels fortuitously ran on a 45-degree angle beneath the church, passing under Chancery Lane between Bell Yard and Fleet Street. Somewhere, Todd had learned of these tunnels, whether it was before or after he purchased the lease on 186 Fleet Street will never be known.

"The presence in the street of a large number of taverns had much to do with this state of affairs and the defective means of policing the streets made it an easy matter for the lawless to perpetrate their daring deeds, and then to hurry off to the asylum of the contiguous byways and alleys, or to seek shelter in the wilds of Whitefriars," wrote E. Beresford Chancellor in the most complete history of Fleet Street.
How Haining would actually know this much detail I do not know:
At 186 Fleet Street, between St. Dunstan's Church and the Hen & Chicken Court, Sweeney Todd hung out his shingle with the catchy rhyme "Easy shaving for a penny — As good as you will find any." In the window of his shop, Haining reports, Todd made reference to the other, more surgical, duties of a barber. He placed jars with teeth he had pulled and blood he had let, along with wigs made of human hair he had braided. The shop, by all accounts, was a small, dark place, with a single barber chair in the middle of the floor, a bench for waiting customers and a rack filled with combs, scissors and, of course, razors. It was a two-story building, with Todd using the upstairs as his apartment. There was a basement, too, for which Sweeney Todd soon found a nefarious purpose.

One of the most difficult aspects of murder is disposing of the body. Even in 18th century London, where detection and prosecution was a haphazard affair, it wouldn't do to have evidence of homicide lying around. Using the skills he had learned as a cutler's apprentice, Sweeney Todd built the ingenious device that would help him get rid of the evidence of his crimes. Tying in his cutler's engineering skill, his barber training and the knowledge of the underground tunnels, Sweeney cut a square hole in the center of the floor of his shop. He then attached a pipe to the center of the bottom of the cut out, and fastened the pipe to the ceiling of the basement. Then Sweeney fashioned a series of levers that would allow him to withdraw a latch holding the square in place. When the customer reclined in the chair, his weight would cause the trap door to rotate, tumbling the unwitting victim into the basement below. Another barber chair, fastened to the bottom of the trap door would swing up into place, ready for the next victim.

Normally the fall would kill the victim, as it was apparently quite a drop, but sometimes Sweeney would be forced to hurry to the basement and dispatch the victim with a flick of the razor. Having the killing take place outside the one-room shop was convenient and clever, for Sweeney Todd never had to worry about someone walking in on him butchering a victim, and the empty chair which swung into place would alleviate concerns about a barbershop with no barber chair.
More sources Haining used:
As to sources,there are none listed in the front or back of Haining's book.But he mentions various serialisations, novelisations and early histories/recollections..One is'' Sweeney Todd,the Demon Barber of Fleet Street'' written anonymously in 1878.Another anonymous tract is ''A life of Sweeney Todd''' [1897].Another source is Notes and Queries,published in the 1890's , ''The Crimes of London'' by H.W.Maskell [1876],''London mystery and Mythology ''[1952]by William Kent,''A Playgoer's Memories'' by H.G.Hibbert [1920],''Memories of Old London'' by Thomas Nelson [1904],C.W. Biller's book ''The Story of Sweeney Todd [1924]...e.t.c.He quotes from various journals/publications.e.g. the London Evening News,The String of Pearls,the Daily Courant.e.t.c...He also says that his researcher W.O.G. Lofts has come up with various 'facts'..including the story that when some very old buildings near St Dunstan's were pulled down in the 1880's,a large number of cellars were found and a large pit containing 186 bones.But as these were close to where the original St Dunstan's stood,it's probably part of the original crpyt..Haining allows that this is probably what they are,but then suggests that ST could have hidden his victim's bones amidst the earlier relics....Another source Haining uses is Gentleman's Magazine of 1853,which gave an account of ST and ,more importantly, he quotes from the Newgate Calendar about the trial....Interposed with these sources, Haining quotes from some 19th/early 20th century books written about London,notably ''Annals of Fleet Street'',by E. Beresford Chancellor,published 1912.....He has obviously spent alot of time,reading though contemporary writings and from that has deduced that there are remarkable similarities in the story of ST...I guess he doesn't have hard proof, [though I'm only half way through his book]..It is not a scholarly book,it's only 150 pages long,his statements are not referenced,he hasn't quoted primary resources from the 18th century as of yet .Of course alot of this can be put down to persistent oral tradition,a story that has been told and retold for generations.But I'm a believer that these oral recollections are based on truth..I hope this has clarified Haining a bit..
THE FIRST MURDER



According Gribben, Sweeney was released from prison when we was 19 and now had a trade to practice.
He first set up shop as a "flying barber," one of the city's countless gypsy tradesmen who practiced their craft wherever they could find space. Flying barbers guarded their territory jealously, and contemporary newspapers frequently reported episodes of territorial battles ending in bloodshed.
Gribben tells us that It was during this time as a flying barber that circumstantial evidence points to Sweeney's committing his first murder. He further states that Haining was able to find reports that Sweeney had shacked up with a woman of reportedly loose morals. It appears Todd was a jealous lover. A drunken cavalier came to him for a shave one day. He bragged to Sweeney of having experienced the favors of a woman matching the description of Todd's lover. This would be Todd's first murder victim.

Gribben reports:
"My first 'un was a young gent at Hyde Park Corner," Todd would later confess. "Slit him from ear to ear, I did."

The London papers reported the murder: "A most remarkable murder was perpetrated in the following manner by a journeyman barber that lived near Hyde Park Corner, who had been jealous of his wife...A young gentleman, by chance coming into the barber's shop to be shaved and dressed, and being in liquor, mentioned having seen a fine girl in Hamilton Street, from whom he had had certain favours the night before, and at the same time describing her person. The barber, concluding this to be his wife, and in the height of frenzy, cut the young gentleman's throat from the ear to ear and absconded."
Somehow, Todd managed to escape the Bow Street Runners, never being brought to justice for his crime. It appears he ended the relationship with his lover and moved elsewhere to practice his trade and his murders.

From Gilly:
That's a close summary of what Haining says..He does add that Sweeney's temper was already getting the better of him.He mentions that he ill treated his apprentices/soap boys with a mixture of indifference and cruelty.He says there was an interesting document found in ST's effects after his arrest.It was a bill from Peckham Rye Asylum where ST is said to have confined his first apprentice,Thomas Simkins.The document read '' Mr ST,Fleet Street London,Paid one year's keep and burial of Thomas Simpkins,aged 15.Found dead in his bed after residing at the asylum for 10 months and 4 days.''...Haining implies that ST confined him to the asylum because the apprentice may have found out about/suspected the early murders.
MORE MURDERS



From Mark Gribben:
The Daily Courant, a Fleet Street-published broadsheet, reported a killing in 1785 that almost certainly was committed by Sweeney Todd. "A Cut-Throat Barber," goes the headline in the April 14, 1785 Courant. "A horrid murder has been committed in Fleet Street on the person of a young gentleman from the country while on a visit to relatives in London.

"During the course of a walk through the city, he happened to stop to admire the striking clock of St. Dunstan's Church and there fell into a conversation with a man in the clothing of a barber.

"The two men came to an argument, and of a sudden, the barber took from his clothing a razor and slit the throat of the young man, thereafter disappearing into the alleys of Hen and Chicken Court and was seen no more."

Records indicate only one barbershop between St. Dunstan's and Hen and Chicken Court — that of Sweeney Todd. How he was ever able to escape justice is almost unimaginable; not even the Keystone Cops could have been this ignorant, but somehow, Sweeney Todd evaded the apparently short arm of London Law.

Sweeney Todd's name is brought up in connection with a third murder shortly after. An apprentice, apparently on an errand for his master, stopped off in Todd's shop for a haircut and let loose with the comment that he was carrying a large sum for his employer. That remark sealed his doom, and although the master came looking for the boy in Todd's barbershop, no trace of the boy was ever found and Sweeney Todd was not made to answer for that crime.

Later, another man who was seen in heated conversation with Sweeney Todd turned up brutally murdered — his throat was slit and his back broken. Again Todd was questioned, but nothing came of it.

Todd later killed a Jewish pawnbroker near his shop, but interestingly the murder was excused as "temporary insanity" — perhaps a bit of anti-Semitism came into play — and once again Todd cheated the hangman.

The only detailed record of a murder occurring in Sweeney Todd's shop is sheer conjecture, but the facts seem to fit and personal property of the victim were found among Sweeney's effects. A beadle, or minor security official at St. Bartholomew's Hospital near Fleet Street, who was notorious for his fastidiousness ducked into Todd's shop on his way to work one evening, as he was unhappy with his appearance. Apparently, during conversation with Todd, the beadle, Thomas Shadwell, proudly displayed his gold pocket watch, which had been given for a number of years' service to St. Bart's. Sweeney Todd felt that the watch was worth killing for and dispatched Shadwell via his trap door. No trace was ever found of Shadwell, but his watch was found in a cupboard in Sweeney's home after his arrest. Shadwell's son later became a minor celebrity, recounting his father's death at the hands of the Demon Barber.

Shadwell's death is notable among the various crimes for which Todd was accused simply because it was one of the few where actual details of the events which transpired in the shop were known.

As more people entered his shop never to be seen again, rumors sprang up in the neighborhood about the mad barber, and whispers of what really went on in his shop were passed from gossip to gossip. No one ever thought to contact the Bow Street Runners, however. "It was true that all sorts of unpleasant rumours and surmises began to be whispered regarding him, but no one could prove that he had anything to do with (the) disappearances."
From Gilly:
According to Haining,''Crime was rampant in London in1785-86 but this spate of murders near Fleet Street gave rise to the suggestion that a Human Ghoul was preying on the vicinity,a kind of forerunner to the Victorian era's infamous Jack the Ripper.Certainly there is evidence of this name being bandied about in local gossip.''
MRS. LOVETT

According to Gribben,

Sweeney Todd's accomplice was , in fact, Mrs. Lovett; but whether her first name was Margery or Sarah remains a mystery. He claims that Haining argues in favor of Margery, as most of the articles written about her use that name. According to articles written at the time of her arrest, she was less than beautiful, "and her smile came not from her heart, but was as false as the veal filling in her pies."

Gribben further states:
Mrs. Lovett was a widow, whose first husband had died under mysterious circumstances and no one was ever able to place her in Sweeney Todd's presence in public. The pair were lovers, though, and apparently their passions were fulfilled after a successful murder and butchering job. She liked the finer things in life, considered herself better than her working class background, and used her portion of the profits to furnish silk sheets and fine furniture in her apartment above her Bell Yard bakery.

How she met Sweeney Todd is a mystery, but apparently he set her up in her shop in Bell Yard. He had been busy "polishing off" — Sweeney's own play on words - his customers for some time before he brought Mrs. Lovett into the act. Until she started using his victims in her meat pies, Todd had been using the abandoned crypts beneath St. Dunstan's church to hide his handiwork. There, he managed to store the bodies amid the dozens of family crypts that time had all but forgotten. But he was running out of room and needed a new way to dispose of his murder victims.

Thomas Peckett Prest was the first author to write the tale of Sweeney Todd and Margery Lovett shortly after their arrest and trial. He had worked on Fleet Street and was familiar with Lovett's two-story pie shop. In the basement of the shop was the bakery, and a false wall could be opened to reveal the catacombs behind. It was through this false wall that Todd would apparently deliver his ghastly pie fillings. Prest described the shop this way: "On the left side of Bell Yard, going down from Carey Street, was, at the time we write of, one of the most celebrated shops for the sale of veal and pork pies that London had ever produced. High and low, rich and poor, resorted to it; its fame had spread far and wide; and at twelve o'clock every day when the first batch of pies was sold there was a tremendous rush to obtain them.

No one believes that Mrs. Lovett was solely responsible for baking her renowned meat pies. A 1924 account states that she had a hired girl and a male pie maker who helped with the preparation. It was unlikely that either of them suspected where Mrs. Lovett's meat supply came from, and C.W. Biller, in that 1924 biography, asserts that anyone who began to suspect "they, too, became pie filling."
From Gilly:
Haining quotes various 'descriptions' of her..One description is '' a plain,middle-aged woman,with a cold and uncomfortable smile,'' while another is ''she was tall and slender-like with a mass of dark curling hair and the golden peach-like complexion of the true brunette.Her lips were vividly crimson,her long heavily lashed eyes of a dark green hazel,flecked near the pupils with little specks of gold.She carried herself with a half insolent air of one who was fully aware of the value of her own beauty and her voice,when she spoke, matched her appearance and possessed a surprisingly cultured accent''..Haining says that in her teens she married a butcher Joe Lovett and they ran a business at Holborn.After his death she lived with a 'Major Barnet' who proved to be a fraud.She then became the mistress of a wealthy merchant.The first meeting with ST was a few years after he had settled in Fleet Street.ST was anxious to make more money and was on the look out for new opportunities and he apparenty sensed something of a kindred spirit in Mrs Lovett's calculating eye''The attraction between the big,ugly man and the buxom young widow was also strongly sexual'...It makes me wonder what sort of physical type they're going to look for ,for the movie….

The over -glamourous description comes from a book by C.Arthur Pearson,published in 1949..Haining doesn't state the title.But it's interesting to note that by 1949 there had been several film versions of ST.The description reads like something from a film......

Haining says that Mrs L commited suicide in prison,after she had made a full confession,but before she was due to face Sweeney in court..It was suicide by poison,which was smuggled in to her.
THE FINAL OUTCOME



Mark Gribben's account of the arrest and trial of Sweeney Todd:
The Runners Close In



St. Dunstan's was old and musty, but the smell, which permeated the church and sacristy, was putrid beyond comprehension. They had been burying people in the catacombs there for hundreds of years, and never before had the smell of decay and death been so prevalent. It got so bad that ladies attending the services would require a handkerchief scented with vinegar or perfume in order to sit through the services, and the parson himself was reported to "sneeze in the midst of discourse and to hold to his pious mouth a handkerchief, in which was some strong and pungent essence, for the purpose of trying to overcome the effluvia."

The matter went on for some months before anyone thought to contact the authorities to investigate. At first the church leaders were afraid that some sort of disease was rampant in the facility, and they contacted the London health department (such as it was in the 18th century), but a study of the parishioners and others nearby found no more deaths or sicknesses than normal. At their wits' end, the church fathers sought the help of the Bow Street Runners to begin an investigation. The Beadle of St. Dunstan's, known to history only as "Mr. Otton", was also a constable for the Runners and he took the matter to his chief, Sir Richard Blunt, who had taken charge of the police force after the death of Henry Fielding.

The smell, Otton told Blunt, reminded him of the smell of rotting corpses, but no one had been buried in St. Dunstan's in many years, and the catacombs below the church had been adequately sealed. Blunt and Otton launched an investigation, descending into the bowels of the church and inspecting the vaults they found there. None had been disturbed, although the stench was much stronger in the crypt. The sewers, which ran near the church, were also scrutinized, and they were found to be in working order and not leaking offal into the church. Blunt left the church with a firmer understanding of the problem, but with no idea what the cause might be.

Another Runner was to provide the link between Sweeney Todd and the mysterious stench of St. Dunstan's Church. It seemed that the rumors of the mysterious disappearances of several sailors who vanished after seeking a polishing off at Sweeney's barbershop had started the gossips' tongues wagging, and the constable dutifully reported the chit-chat to Blunt. Sir Richard didn't immediately put Todd together with the smell, but employing the now-common police technique of records investigation, Blunt found that Sweeney Todd had once been accused of theft of a pair of silver shoe buckles. The case had not stood up because the buckles were of a fairly common sort, but the woman who charged the barber with the theft was adamant that her husband, who had mysteriously disappeared one day, had worn the exact same buckles on his shoes.

Sir Richard was savvy enough to assume that where there is smoke, there is fire, and he put Todd's shop under a close watch. In typical bureaucratic fashion, Sir Richard reported his suspicions to his superiors and was given the green light to "use whatever means might be necessary" to solve the mystery. Over the next several months, three Runners watching Sweeney's barbershop reported that men had entered the store for a shave or haircut and had not been seen to leave. Sir Richard became more convinced that Todd was murdering clients, and that somehow, St. Dunstan's Church was involved. He decided to revisit the vaults, this time with a crew of Bow Street's finest, to get to the bottom of the issue.

Armed with just a compass, walking stick, and oil lanterns, the men descended once again into the fetid stench of the church's crypt. After a few moments of searching they stumbled across the crypt of the Weston family, which had been one of the Demon Barber's favorite dumping grounds. What they found there was reported in the newspapers in gruesome detail: "Piled one upon each other and reaching halfway up to the ceiling, lay a decomposing mass of human remains. Heaped one upon another heedlessly tossed into the disgusting heap any way, lay pieces of gaunt skeletons with pieces of flesh here and there only adhering to the bones. Heads in a similar state of decay were tumbled about, the whole enough to strike such horror into the heart of any man," wrote the Courier in its account of Sweeney Todd's trial.

Coming to the horrible realization that they had finally located the source of the stench, the Bow Street Runners pressed on, following bloodstained footprints until they disappeared at the back of a shop, apparently on Bell Yard. Sir Richard, who was known as an acute thinker, realized that Sweeney Todd was murdering his clients, and what was worse, he was disposing of the evidence by serving the meat in a pie.



A Race Against Time



But still more evidence was needed. There was thought to be no way to identify the remains found in the Weston crypt, and no way to tie the murders to Sweeney Todd and Margery Lovett, save for the gossips on Fleet Street. The Runners would have to move quickly, yet carefully, lest a blatant investigation scare the murderous duo away. There was no requirement for a search warrant at the time, and Sir Richard ordered his men to accompany every customer into Sweeney Todd's barbershop to keep him from practicing his macabre craft until a Runner had a chance to search his apartment for more evidence. Undoubtedly, for the next several days, the Bow Street Runners were the most neatly shaved police force in the world as they kept tabs on the Demon Barber. The chance to search the house came two days after the discoveries beneath the church, and the Runner dispatched to the house was able to locate a veritable treasure trove of booty from Sweeney Todd's apartment. He noted the names and initials found in some of the clothing and jewelry and reported in to Sir Richard.

Wasting no more time, Blunt dispatched a group of Runners to arrest Margery Lovett, and set out with another squad to pick up Sweeney Todd. The arrest of Mrs. Lovett was not without incident. When the Runners arrived at her shop, she was serving some of her ever-present customers and as they learned the horrid contents of their delicious meals, they attempted to lynch Margery Lovett.

"The people who were in the shop spread the news all over the neighbourhood and the place was soon jammed up with a maddened mob. They poured from Fleet Street and Carey Street determined to tear her to bits and hang her on the lamp post in the middle of Bell Yard," reports an anonymous author in an 1878 version of Sweeney Todd's life.

The Runners were able to hurry Mrs. Lovett away in a waiting carriage, and she was taken to a cell in Newgate Prison.

Blunt's arrest of Sweeney Todd, on the other hand, went without incident. The barber was alone in his shop when the Bow Street Runners entered and clapped the handcuffs, or darbies, on the Demon Barber. He was already behind bars in Newgate Prison before any civilians knew he was involved in the horror of Bell Yard.



Margery Cheats the Hangman



Even in a sprawling city like London, news about the goings-on in Bell Yard and Fleet Street spread rapidly by word-of-mouth. The street outside Sweeney Todd's shop was soon packed with the curious and the vengeful, and Bell Yard, which served as a pass-through for lawyers on their way to the court buildings nearby, was made impassable by the sheer number of gawkers who came to peer in the windows of Margery Lovett's once popular pie shop.

The newspapers of the time had a field day with the story, reporting rumors and fact with equal zeal. Sir Richard was considered a hero by the people, and as he continued to gather evidence for the upcoming trial, interest in the work of the Bow Street Runners was diverting much of his attention.

Margery Lovett had wasted no time in confessing her sins to the governor of Newgate Prison. She revealed the entire plot and Sweeney Todd's role in it, "believing herself on the edge of the grave" and wishing to come clean before she was hanged. It was clear by her confession that she intended to take Sweeney Todd with her when she swung from the gallows. But Margery Lovett was to cheat the hangman, and nearly squash the Crown's case against the demon barber.

Acting in the dual role of police and prosecutor, Sir Richard was stunned in December 1801 when he was advised that Mrs. Lovett had poisoned herself in her cell at Newgate. How she came by the poison is unknown, but as a woman of means she might have been able to bribe a jailer, and authorities learned that she had had a delivery of some clothes from her home shortly before she died. Haining surmises that Lovett might have had poison hidden away in the clothes for just such a situation.



The Trial of Sweeney Todd — The Crown



London was abuzz as the trial of Sweeney Todd approached in December 1801. "Scarcely ever in London has such an amount of public excitement been produced by any criminal proceedings as by the trial of Sweeney Todd," wrote the Daily Courant. "So great is the excitement that sober-minded men, who do not see any peculiar interest in the sayings and doings of a great criminal, are disgusted that the popular taste should run that way.

"Be that as it may, the case of Rex v. Sweeney Todd will certainly be one of the trials of the age."

That prescient prediction by the newspaper was held to be true as the trial opened. Sweeney Todd had not been told of the death of Margery Lovett prior to his trial, and when he was informed, he apparently turned pale, "like some great, gaunt ghost."

Todd was actually on trial for just one murder, that a seaman, Francis Thornhill. Despite the large number of bodies and the mountain of evidence found at his home, police could scarcely identify any other victims. Sir Richard had rightly surmised that although the barber was a mass murderer, one slaying would be sufficient to send him to the gallows.

Dressed in a red gown, chain, and white peruke, the attorney general, representing King George III, opened his case. A reporter for the Newgate Calender — the long-serving recorder of criminal behavior in England — dutifully took down the statements.

"Mr. Thornhill had been commissioned to take a certain string of Oriental pearls, valued at 16,000 pounds, to a young lady in London," the prosecutor began. "He was anxious to fill this request, and as soon as the ship docked, went into the City with the pearls. It appears that upon his route to deliver them, he went into the shop of the prisoner at the bar to be shaved, and no one ever saw him again."

The captain of the ship and a friend of the dead man retraced his route to the city when he failed to show up, and questioned Todd. Sweeney admitted shaving the sailor but said he completed the job and Thornhill went on his way. Col. Jeffrey, the friend of Thornhill remained in London after the ship sailed to Bristol, sure that the string of pearls would soon show up.

"Gentlemen, it did," the prosecutor continued. "It appeared at the Hammersmith residence of Mr. John Mundel who lent money upon securities and it will be deposed that one evening the prisoner at the bar went to this Mr. Mundel and pawned a string of pearls for one thousand pounds."

Describing in graphic details the scene beneath St. Dunstan's Church, the attorney general revealed some of the more horrifying facts of the case of the Demon Barber. "Almost every vault was full of the fresh remains of the dead. (Sir Richard) found that into old coffins, the tenants of which had mouldered to dust, there had been thrust fresh bodies, with scarcely any flesh remaining on them — yet sufficient to produce the stench in the church".

The prosecutor then went on to describe the connecting tunnel between Fleet Street and Bell Yard, and then tied it all together with the evidence found in Sweeney Todd's shop.

"Sweeney Todd's house was found crammed with property and clothing sufficient for 160 people," he said to the stunned courtroom. "Yes, gentlemen of the jury, I said 160 people, and among all that clothing was found a piece of jacket which will be sworn to have belonged to Francis Thornhill."

There was still more evidence, the prosecutor said.

"Is a piece of sleeve enough to convict a man? Wisely, the law says no and looks for the body of a murdered man," he said confidently. "We will produce that proof. For among the skeletons found contiguous to Todd's premises was one which will be sworn to as being that of the deceased Mr. Thornhill."

Colonel William Jeffrey took the stand for the prosecution and told how he had gone in search of Thornhill, and how he later sought the help of the Bow Street Runners. He descended into the catacomb with Sir Richard and a doctor, who removed a bone from a skeleton they found there. Jeffery made his mark upon the bone for identification.

Next up for the prosecution was its star witness, the hero of the hour, Sir Richard Blunt. He told of how the rumors of Sweeney Todd had been brought to his attention and how he had linked Todd with the stench of St. Dunstan's. "After careful inquiry, I found that out of 13 disappearances, no less than ten had declared their intention to get shaved, or their hair dressed, or to go through some process which required them to visit a barber.

"My attention was directed to the peculiar odour in the church and from that moment, I, in my own mind, connected it with Sweeney Todd and the disappearances of the persons who had so unaccountably been lost in the immediate neighborhood of Fleet Street. And in the midst of this, I had formal application made to me concerning the disappearance of Mr. Francis Thornhill, who had been clearly traced to the shop of the prisoner at the bar and never seen by anyone to leave it."

The final witness for the prosecution was Dr. Sylvester Steers, who identified the leg bone found beneath Todd's shop as one belonging to Thornhill. How did he come to this conclusion, the prosecutor asked.

"Mr. Thornhill met with a very unusual and painful accident," the doctor replied. "The external condyle or projection on the outer end of the thighbone, which makes part of the knee joint, was broken off, and there was a diagonal fracture about three inches higher upon the bone. I had the sole care of the case, and although a cure was effected, it was not without considerable distortion of the bone."

"From my frequent examination I was perfectly well acquainted with the case, and I can swear that the bone in the hands of the jury was the one so broken to which I attended."

Forensic evidence such as this had never before been produced in a court trial, and the question of whether the jury, educated men though they might be, would accept it. The evidence of Todd's guilt was certainly apparent if circumstantial evidence was to be believed. The job of the prosecutor would have been made so much easier if Mrs. Lovett had only been alive to testify.



The Trial of Sweeney Todd — The Defense



Now it was the defense's turn to address the jury. The defense counsel, appointed by the court to serve the Demon Barber, quickly went to the bizarre and circumstantial nature of the case against Sweeney Todd. To be sure, establishing innocence in the face of such hatred that the spectators felt for Sweeney Todd would be difficult, at best. But the defense counsel, whose name remains shrouded by the mists of time, gave it his all.

"Instead of evidence, near or remote fixing the deed upon him, we have nothing but long stories about vaults, bad odours in churches, moveable floorboards, chairs standing on their heads, secret passages and pork pies," he began. "Really, gentlemen of the jury, I do think that the manner in which the prosecution has been got up against my virtuous and pious client is an outrage to your common sense."

He then attacked the prosecution's pieces of evidence one by one. First, how could the disappearance of respectable men from their homes have anything to do with Sweeney Todd, he asked. Then, answering his own question, he said "We are told that the respectable men want to get shaved, and that Sir Richard Blunt had a shave several times at my client's shop, yet here he is quite alive and well to give evidence today, and no one will say that Sir Richard is not a respectable man."

And what about the smell in St. Dunstan's? "You might as well say that my client committed felony because this court was not well ventilated!"

The most serious evidence against Sweeney Todd was the disappearance of Francis Thornhill. "Really, this is too bad. Hundreds of people may have seen him come out — and no doubt did so — but they happened not to know him. So just because no one passed the time of day with this man, my client is declared guilty of murder."

As for the bone, the barrister held no account of forensic evidence. "Gentlemen of the jury, what would you think of a man who should produce a brick and swear that it belonged to a certain house?"

Calling the prosecution's case "sophistry" he questioned the death of Margery Lovett. He placed the blame for the murders squarely on her shoulders and said that she accused Sweeney Todd, "a man well-known for his benevolence and piety," out of spite. Then declining to call any witnesses for the defense, he rested his case.

The judge quickly summed up the case for the jury. In the tradition of the time, his summation amounted to almost a restatement of the prosecution's case against Sweeney Todd. Then, he charged the jury to determine the guilt or innocence of the Demon Barber.

The next phase of the trial, deliberation and sentencing, took less than 10 minutes. The jury retired to consider the details of the case and returned a guilty verdict after five minutes. The judge, placing a black cloth atop his white wig, asked Sweeney Todd if he had any words before sentence was passed.

"I am not guilty!" Todd shouted.

"It is now my painful duty to pass upon you the sentence of the law, which is that you be taken from here to a place of execution and hanged by the neck until dead. May Heaven have mercy upon you.

"You cannot expect that society can do otherwise than put out of life someone who, like yourself, has been a terror and a scourge."

On January 25, 1802, in the prison yard at Newgate, Sweeney Todd was strung up on the gallows before a crowd of thousands, where he apparently "died hard." After his execution, his body was given over to a handful of learned "barber-surgeons" where it was dissected. Sweeney Todd ended up, like so many of his victims, as a pile of meat and bones.
From Gilly:
Before his death, ST is said to have felt some guilt.Haining sayse that says a gaoler in Newgate Prison claimed that ST had awoken from a nightmare and told him that he had been haunted all night by the faces of his victims 'a sailor,a quaker and a hundred others'..So maybe a smidgin of remorse.
Tomorrow is the big day!
So keep a sharp eye for our first question for discussion--probably midday EST.