Purely in the aspect of ONBC research
, Bix and I visited The Ginger Man Pub in Austin today. We felt a little field work was in order to get the proper perspective on the book.
It is a very cozy place, lots of dark wood and conversational corners with comfortable couches and chairs as well as wooden tables and a nice patio in the back. There is also a long bar on one side and on the back of the wall are all the taps for the draught beer. In the pictures you can see all the tap levers! The wall is polished copper and there was one poor lad who was polishing away while we were there. Quite a formidable task! There were also several of the old Guiness advertisements featuring animals but none of the kangaroo. I didn't take too many pictures since there were other customers who probably didn't want to end up on ONBC! Thanks for coming along, Bix!


This was posted as a tidbit previously, but here is the link to all the Ginger Man Pubs.

http://www.gingermanpub.com/

Exterior: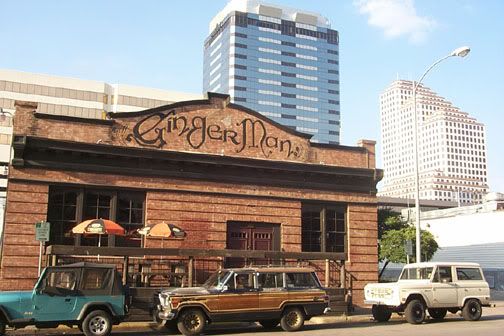 Back wall with all the draught beer taps:
The wall behind the pool table…cans surround a Guinness mirror.