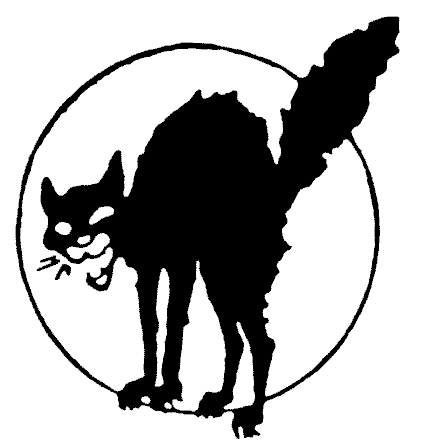 The black cat, also called the "wild cat" usually with an arched back and with claws and teeth bared, is closely associated with anarchism, especially with anarcho-syndicalism*. It was designed by Ralph Chaplin, who was a prominent figure in the IWW. As its stance suggests, the cat is meant to suggest wildcat strikes and radical unionism. The Industrial Workers of the World (IWW or the Wobblies) is an important anarcho-syndicalist union, involved in early unionization drives in America in the early 1900s and currently involved in projects such as the unionization of the first Starbucks coffee shop in New York City. They embrace the black cat as a symbol of the worker's movement.

The name Black Cat has been used for numerous anarchist-affiliated collectives and cooperatives, including a well-known music venue in Austin, Texas (which was closed following a July 6, 2002 fire) and a now-defunct "collective kitchen" in the University District of Seattle, Washington.

As a symbol, the black cat has historically been associated with witchcraft, ill omens, and death. It dates back to ancient Hebrew and Babylonian cultures. The witchcraft usage has persisted into modern times; anarchism shares the black cat symbol with witchcraft and Wicca, though the latter two generally do not represent the cat with its back arched in a fighting stance.

Perhaps coincidentally, one variety of religious Witchcraft, Stregheria, is an essentially anarchistic religion (in which both the government/capitalists and Christian Church are deemed "The Oppressors"). The black cat has special meaning for the Streghe, as the goddess Diana is believed to have taken the form of a cat in order to conceive Aradia by Lucifer in his sleep.

*

A movement which combines the principles of trade unionism and anarchism, in which trade unions are regarded as the instruments of working-class action to overthrow the state apparatus

.