The final lines of The Great Gatsby: "Gatsby believed in the green light, the orgastic future that year by year recedes before us. It eluded us then, but that's no matter — tomorrow we will run faster, stretch out our arms farther. . . And then one fine morning— So we beat on, boats against the current, borne back ceaselessly into the past."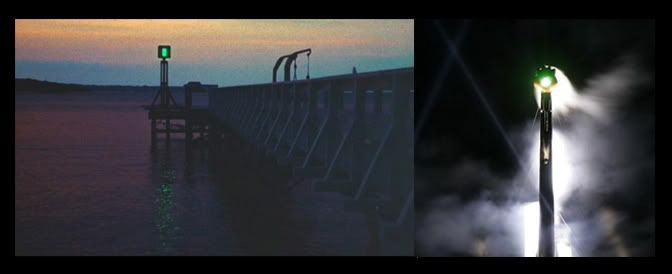 Hunter repeatedly mentioned F. Scott Fitzgerald in his letters, often comparing himself to "Fitz". He even gave Juan "Fitzgerald" as a middle name. He has also made references to The Great Gatsby in regards to F&ILV. In reading an analysis of The Great Gatsby I uncovered that Fitzgerald, as did the narrator, Nick, found the new lavish lifestyle of the Jazz Age seductive and exciting. On the other hand, he saw through all the wealth and glitter to the moral emptiness and hypocrisy underneath. He longed for the absent moral center. The Great Gatsby is seen as Fitzgerald's attempt to confront his conflicting feelings about the Jazz Age.
Does Raoul Duke struggle with a similar internal conflict?
*Thanks, Theresa, for going out and renting the movie in order to make us a screencap of Gatsby's Green Light.