I know you all remember the scene from the book and the movie where Dr. Gonzo is in the tub and he asks Raoul to throw the radio in the tub while he is listening to the song "White Rabbit". Here is a little background on the song and its origins and you can even have a listen!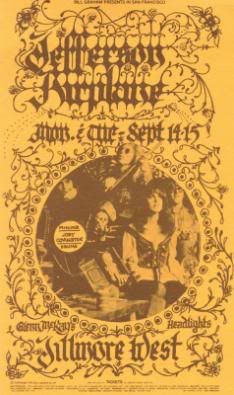 The band that represented the counterculture at large, the concept of the Summer of Love, Haight-Ashburydom, and better living through chemistry in the public imagination across the nation was Jefferson Airplane. Jefferson Airplane's debut show was on August 13, 1965 at the Matrix nightclub in San Francisco. The first performance featured Marty Balin on vocals, Paul Kantner on vocals/rhythm guitar, and Jorma Kaukonen on lead guitar. Signe Anderson, (who sang on Jefferson Airplane's first recording "Jefferson Airplane Takes Off'') also performed. The bass player, Jack Casady and drummer Skip Spence, (who was later one of the original members of Moby Grape) joined the band two months later. Spencer Dryden became the drummer in June of 1966 and Grace Slick joined as vocalist in October of 1966. Kantner brought in the 27-year-old Chicago native Grace Slick (born Grace Wing), whom he had seen playing with Great Society, a band that included her husband, from whom she would soon separate. Great Society was a raga-rock outfit of moderate popularity on the Haight, but their real draw was the powerful voice of Slick, as well has her good looks (she had done some modeling in her early 20's). Great Society was breaking up due to tensions between Slick and her husband, and her desire to work with better musicians; she was the perfect replacement for the excellent-in-her-own-right Anderson. In 1970, an atmospheric live double album of early Great Society recordings from the Matrix became available as Grace Slick & The Great Society: Collector's Item.



Click below to listen to a partial recording of the original version as performed by Grace Slick and The Great Society. On the original recording by The Great Society, the song is less recognizable due to Grace's higher voice before several throat operations that progressively lowered her range.



http://www.geocities.com/SunsetStrip/Lo ... rabbit.wav

Slick was with the band when they returned to the recording studio in October 1966, bringing with her two of the Great Society's crowd pleasers, the uptempo "Somebody To Love" (written by brother-in-law Darby Slick) and "White Rabbit", a psychedelic tribute to Alice in Wonderland set to a bolero tempo, which she had written. Both would be retooled into far superior versions by her new band, and would become the band's only top-40 hits. The band performed the first concert for Bill Graham at the legendary Fillmore Auditorium in San Francisco in February of 1966.

("White Rabbit" was used in the movie "Platoon". It's playing from a stereo in the scene where Chris takes drugs the first time.)

Click here to listen to Jefferson Airplane perform White Rabbit:
http://www.jwsrockgarden.com/JA_VCD.htm

Their music was capable of great beauty, and scary psychedelia. It was literate and acute. It was experimental, yet accessible. The thrills the Jefferson Airplane provided remain quite thrilling today; anthropology aside, they benefited in their classic period from the stunning three-part harmonies of leader Marty Balin, Paul Kantner, and Grace Slick. Jorma Kaukonen could effortlessly mix country blues picking with folk-rock conventional leads or some of the most cutting, expressive acid rock guitar ever laid to wax. Jack Casady rumbled underneath with a booming bass, bluesy, funky, or staid. Spencer Dryden brought in jazzy drums, a rarity in what began life as a folk-rock band. Balin, Kantner, and Slick were all good songwriters; Kaukonen became one over time, as well.


They were the only band to play all three of the biggest 60's festivals: Monterey, Woodstock, and Altamont (the Dead were present at Altamont, but didn't play). The group spun off two successful subgroups. As many have noted in the past, their career trajectory and musical sound perhaps best mirrored the evolution of the counterculture itself; from wide eyed lysergic innocence, through euphoric optimism, through hallucinatory psychedelicisms, through angry anti-establishmentarianism, through revolution, through drug absorbtion, through dissipation, through back-to-nature, to ultimate commercialism. Jefferson Airplane's timeline of 1966 to 1973 corresponds with the counterculture's perfectly; even Jefferson Starship reflects its day and age.

Grace retired from performing in the 1990s and wrote her autobiography, Somebody to Love?, published in 1998.



A recent picture…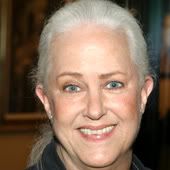 Grace Slick photographed at Woodstock.
And this one, well, just because…I needed to post it.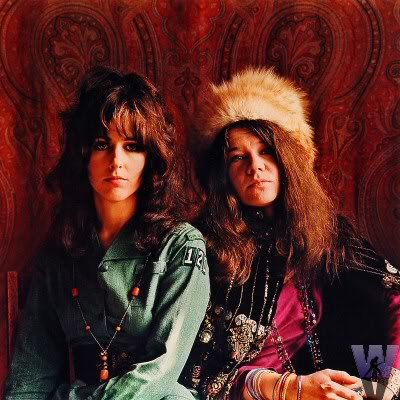 Jefferson Airplane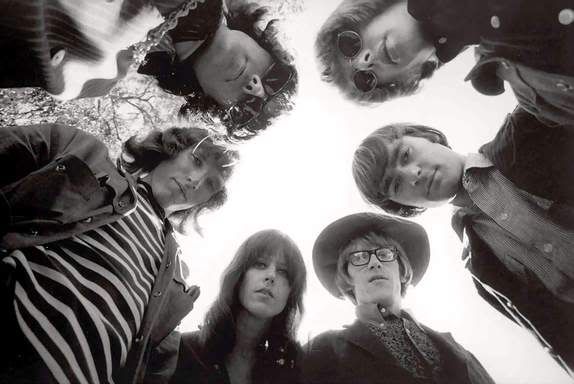 The band was inducted into the Rock and Roll Hall of Fame in 1996.



Aug. 23, 2005: Paul Kantner's "Blows Against the Empire," which includes guest musicians such as Grace Slick, Jerry Garcia, Jack Casady, Mickey Hart, Bill Kreutzmann, Graham Nash, and more, will be released by Sony/BMG Music and will be in stores September 13, 2005.






Much of this information was found on the website below. To read the full bio just click.


http://freewayjam.blogspot.com/2005/06/weekly-artist-overview-jefferson.html


White Rabbit
Jefferson Airplane

One pill makes you larger
And one pill makes you small
And the ones that mother gives you
Don't do anything at all
Go ask Alice
When she's ten feet tall

And if you go chasing rabbits
And you know you're going to fall
Tell 'em a hookah smoking caterpillar
Has given you the call
To call Alice
When she was just small

When the men on the chessboard
Get up and tell you where to go
And you've just had some kind of mushroom
And your mind is moving slow
Go ask Alice
I think she'll know

When logic and proportion
Have fallen slowly dead
And the White Knight is talking backwards
And the Red Queen's off with her head
Remember what the doormouse said:
"Feed your Head
Feed your Head!"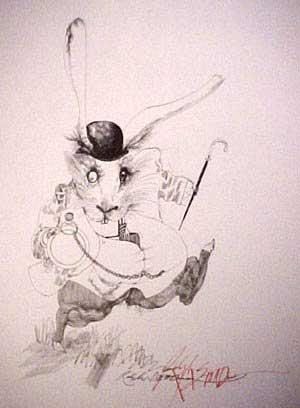 The White Rabbit by Ralph Stedman