DEBBIE REYNOLDS
Gotta love her quotes…….
She's been a ball of fire since she whirled on the Hollywood scene at 16 during MGM's grandest years. With that always adorable face and saucy sparkle, she has personified cheerful bounce and youthful innocence since the earliest days of her career. As sexy as her silver screen colleagues, she was ironically the most wholesome as well - even after more than 50 years in show business - first as a film star, then on stage and in nightclubs, then television - there is little she has not done. But if her career has been distinguished by long-lasting and varied achievement, her personal life has been marked by continual misfortunes that would have devastated most people. However, like the character she portrayed in her Oscar-nominated film, The Unsinkable Molly Brown, Debbie Reynolds is a survivor.

She was born Mary Frances Reynolds on April Fools' Day, 1932, in El Paso, TX. The Reynolds family was poor, but little Frannie (as she was affectionately known to family and friends) and older brother Bill nevertheless had a happy and secure childhood.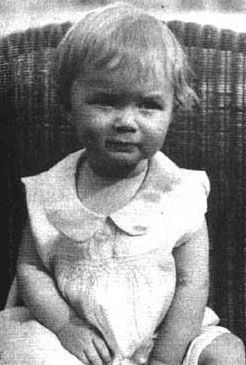 Surrounded by boys, her one brother, Bill Reynolds, who is a year older, and her four young uncles, the tiny girl learned to fend for herself and became a top-notch scrapper, able to endure a variety of hardships. "Five of us slept in one bed," she recalls. "Three at the top and two at the bottom. I always remember sleeping with feet in my face, and all of us sharing one bathroom, which I hated. We lived on jackrabbits, which we shot in the desert, and Mexican food, which is still my favorite. I was never aware I was poor because everyone around me was in the same circumstances." Living among the boys helped to mold her unique sense of humor which, she says, she got from her mother's brother, Uncle Owen: "He was screamingly funny," she says. "He bought a bar so he couldn't get kicked out. He was so funny and so rowdy, and he'd always get kicked out. So he met a bartender lady who owned half a bar, married her and bought the other half."

Better employment called in 1940, the Reynolds clan packed up and went west, to California, finally settling in Burbank - just a short distance from the heart of Hollywood and the major movie studios that would one day become playgrounds to this star.

At ten she was a proud and active member of the Girl Scouts, loving the outdoors, the hikes, the swims, the camping. She won 47 merit badges before her scouting days were over and later became a troop leader herself when her own daughter joined. She's been a lifelong Scout supporter. Her former leader once recalled: "I'm not surprised Frannie made good in motion pictures, but she would have been successful in any field. She was one of the most cooperative girls in the troop, and she won every badge we could give. She was very friendly and all the other girls loved her. But what I remember most was her willingness to tackle anything."





Music-minded, in high school she played the French horn with the Burbank Youth Symphony, doubling on the bass violin. She also twirled a mean baton and was a pro in sandlot baseball - so capable was she in the world of athletics that she was determined to go on to college and later become a gym teacher. But as far as an interest in acting growing up: "I never got in any of the school plays. When I was in the eighth grade I was pretty heartbroken about one of them, too. It was 'The Eyes of Taylock,' a three-act murder mystery, and I was dying to play in it. I tried out for one of the very dramatic leads. I did a big crying scene and I was such a ham that by the end of it they were all hysterical! I was terribly hurt. The girl who got that part married a minister, and the girl who got the other lead has a husband and three children - and I'm acting. I always wound up backstage as prop girl or prompter or doing sound effects. I knew all the parts in the plays, but I never got on. I was the footsteps, the ring of the doorbell, the lightning, or feet sloshing through mud." Thus Debbie gave up trying out.

After surprising family and friends in 1948 by entering the local "Miss Burbank" beauty contest as a lark (to get the free blouse and scarf offered to all contestants) it turned out that it was she who was most surprised when she took home the crown - and a Warner Brothers contract.

Studio talent scouts had noticed the enthusiastic girl applauding other performers in the wings during the contest and were delighted when the tiny teenager wobbled onstage in heels and a bathing suit to pantomime Betty Hutton's "I'm a Square in the Social Circle".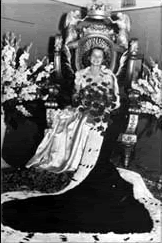 "After I won the Miss Burbank contest at 16, I was called to Warner Bros. for a screen test. They asked me, 'What do you want to be?' And I said, 'A gym teacher.' I guess they thought it was provocative that I didn't want to be a movie star, so they put me under contract for $65 a week."

The young novice was given an uncredited bit in a Bette Davis picture, June Bride (1948), and then nothing at all until The Daughter of Rosie O'Grady (1950) came along. Talent executive William Orr took notice and got her into the film as June Haver's kid sister, having had the producer write in her miniscule part - she had roughly ten lines, eight of which got big laughs. Orr was also the man who dubbed the kid Debbie Reynolds. "Cute name for a cute girl. The Delmar Davises had a little girl named Debbie and I thought she sounded like Frannie. So we named Frannie Debbie." The girl in question remembers: "They changed my name to Debbie, which I never liked until three years later. I wouldn't even answer to it. Mr. Warner wanted to change my last name, too, to Morgan. I said, 'No. Debbie you can do, but Reynolds is my father's name, and I won't change it. I was called Frannie growing up."

Once the world discovered her, "Debbie" shot up to the top of the list of the most common names for baby girls and stayed there for several years.

She lit up the screen with her outstanding personality, freshness and vivacity, but Warners let her go. After an approach by her agent, the lucky company who picked her up was MGM, who gave her a song in Three Little Words - "I Wanna Be Loved By You", in which she mimed to Helen Kane's original recording.

That same year Debbie was spotlighted with Carleton Carpenter in the show-stopping number "Aba Daba Honeymoon" in the film Two Weeks With Love which starred Jane Powell and Ricardo Montalban. Debbie and Carleton's high-speed rendition of the novelty smash went on to become a huge record hit, the first of her career. Her role as the 'boop-boop-a-doop' girl got her plenty of notice and she was soon cast as Jane Powell's peppy kid sister in Two Weeks With Love.



Debbie with Carleton Carpenter

"I didn't expect to become a movie star," she says. "I didn't even want it. I still wanted to be a gym teacher. I thought I could save the money I was making by acting so that I could go to college." But she kept on making movies - six in three years.

In the biggest role she'd played yet and what is viewed today as one of the crowning achievements of her career, Debbie was upped to star-billing opposite Gene Kelly and Donald O'Connor in Singin' in the Rain. She began production with the skills of an enthusiastic gymnast, but with no previous dance training. What followed were months of stressful early mornings and grueling instruction in the MGM rehearsal hall until her feet bled - ultimately coming out of it a pro. In the finished print she was amazingly up to par with both Kelly and O'Connor. Best of all, her natural acting conveyed the sincerity of the aspiring neophyte that was both the role and the performer, and a star was born overnight. "When my brother saw Singin' in the Rain, he was shocked that I looked so pretty. My friends were shocked that I went from being a tomboy and a cut-up to a movie star overnight. They were just astounded. And so was I."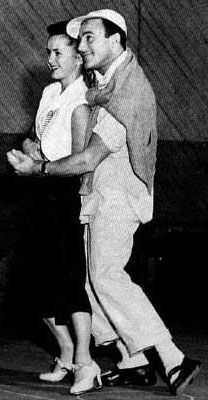 Debbie and Gene Kelly

Now a full-fledged leading lady, Debbie was hurriedly tossed into a few minor musicals following that rain movie: I Love Melvin (1953) a cute comedy which teamed Debbie and Donald O'Connor once again; The Affairs of Dobie Gillis (1953), a campus comedy with talented hoofers Bobby Van and Bob Fosse, the latter going on to star again with Debbie in 1953's Give a Girl a Break, years before he became the immortal Fosse.

When not toiling away on the MGM lot, Debbie packed up and shipped out - to the far East. As a member of USO's illustrious stable, Debbie toured air force bases and MASH units across war torn Korea and later Japan, entertaining the American troops stationed there during the early 1950s, as well as spending much of her free time back home writing letters to homesick soldiers - sometimes as many as three hundred letters a week.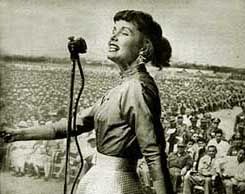 Debbie entertaining the troops in Korea

Between military junkets came a ten week loan-out to Howard Hughes' RKO for the hit comedy Susan Slept Here (1954), with Dick Powell as the man-about-town and Debbie as the loveable little juvenile delinquent Susan. The popular picture received two Academy Award nominations, one for Best Song went to Don Cornell's dreamy rendition of "Hold My Hand", which topped the music charts that year.

Newly dubbed one of the ten most popular stars of 1954, MGM signed Debbie to a seven-year contract with improved terms later that year. They did not give her improved pictures, but what she later called "junk films", despite several excellent musical sequences in each. As was typical of MGM and the studio system as a whole, most were considered too formulaic, though the underrated Give a Girl a Break (1953) was full of ideas and energy, as well as Bob Fosse's inventive choreography. Athena was a musical satire on health fads which missed by a mile, despite the likable pairing of Debbie and crooner Vic Damone; and Hit the Deck (1955) was a so-so version of the old musical. Then came The Tender Trap, with Frank Sinatra, which starred Debbie as a budding actress whose ambition is to be married. And although she wasn't expecting it, life imitated art...

Enter Eddie Fisher, the Coca-Cola Kid and America's most popular singing sensation, he was asked on a stop in California whom he would most like to meet. His answer? Debbie Reynolds.

"They brought him down to the set. They were bringing this new young singer around to meet other young talents. He called my house the next day and asked if I'd go to the Coconut Grove, where he was going to open. He was very cute. So I said yes. He was very famous. He had 20 gold hit records, more than anybody had ever had. My mother loved him. I was a young starlet, actress-type person. I guess he thought I was pretty cute too because we both enjoyed dating and kissing. He was a darling person - I don't know what happened."

Soon after, romance inevitably blossomed in the fishbowl that is celebrity life, and the world fell in love with these young couple. Time Magazine wrote that they were "the entertainment world's most refreshing romance." Despite its very public and unhappy ending, and the 40 some years that have passed, Debbie sometimes still recalls their courtship with an almost girlish delight: "It was very romantic at the beginning. Any girl would have loved to have been in my shoes. It really was like a fairy tale. When we went to Yankee Stadium, the crowd stood up and cheered. Eddie asked me to marry him on the third date. He sent me flowers and gifts. Everything was terrific. We got married, had a beautiful baby girl and then our son."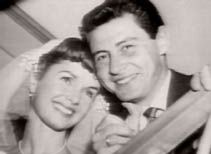 Debbie & Eddie

"I always thought their whole courtship was a sort of press release," says their daughter, Carrie Fisher. "They were riding the wave of being a media couple more than having any real compatibility. And I think the burn-off on the infatuation was very quick."

At the studio, however, the young Mrs. Fisher was making headway. Considered a career landmark for Debbie, The Catered Affair (1956) was the first major dramatic film she appeared in, and she shone brightly among such cinema greats as Bette Davis, Ernest Borgnine and Barry Fitzgerald. Director Richard Brooks made excellent use of Debbie's previously untapped talent for serious acting in her role as Jane Hurley, a young bride from a lower-middle-class family whose wedding causes all the fuss. Her remarkable performance, a major departure from the cute-comedy genre she'd previously been known for, was well received by both fans and critics. She won the National Board of Review Award for her tender and quiet performance, and Time Magazine was prompted to remark that "Debbie is astonishingly believable – a Hollywood butterfly turned into an authentic urban grub." Though it might have been the vehicle which could have taken her career into a more serious direction, The Catered Affair remains today one of the highlights among the few dramas in her filmography.

During this time Debbie also made a few cameo appearances on television - such as spots on "What's My Line?" and "The Tonight Show" - and was a semi-regular on "The Eddie Fisher Show" when in New York with her husband. Back on the west coast, and in an effort to cash in on Hollywood's hottest couple, RKO paired Debbie and Eddie in Bundle of Joy, a flop musical remake of Ginger Rogers' Bachelor Mother.

Tammy and the Bachelor (1957)
(the part of the tidbit you've been waiting for)
didn't start out as a beloved classic. The first waves of audiences found it likeable enough, but it wasn't faring well at the box office. Debbie's sentimental rendition of the theme song, however, suddenly became a smash hit single and Universal quickly pulled the picture from theatres, allowing the record to gain further popularity. After five weeks at Number One on the Billboard charts, Tammy and the Bachelor was re-released - and went on to gross millions.
(this scenario sounds familiar)

Tammy

"Tammy" ended up being Debbie's personal theme song as well providing her with the nickname that has stuck forever since. "It took me into the recording business. I had never made records before," she says. "I was very young - I was at MGM and that was a Ross Hunter Universal Picture. They had me sing the title song, 'Tammy,' and it was a hit in the rock 'n' roll era - in the Elvis era - so it was a shock to everyone. It's a very pretty song and everyone requests it, of course, and I'm very lucky to have had it." She never closes a performance without it.

Meanwhile Debbie and Eddie's marriage had muddled along until, in 1958, just after the birth of their second child, Todd, Eddie's best friend, producer Michael Todd and namesake of the baby, died in a tragic airplane accident on his way to New York. Eddie rushed to console the grieving widow, Elizabeth Taylor, and romance followed. He soon announced that he would leave his wife, America's darling, for the star considered to be the world's most beautiful woman. Debbie later wrote: "I could understand why he wanted her. I couldn't understand why she wanted him. In the long run, Elizabeth did me a big favor." Debbie faced raising two young children, Carrie, then one and a half, and Todd, just six months, on her own, not to mention living through one of the most public divorces in Hollywood history.

"It's bad enough when a man walks out on you, but to have millions of people watching...The fact that the public took it as an absolute affront to them, that was unbelievable. I had billions of letters ... poor Debbie, bad Liz ... I couldn't answer any of them. It was blown all out of proportion. It would never happen today. Morals and attitudes have changed."
(You sure about that, Debbie?)
The massive public sympathy for Debbie meshed with her wholesome screen persona, which had fully matured by that time, and she made the exhibitors' poll of top ten box office stars in both 1959 and 1960. Fan magazines thrived on the soap opera-like story, dubbing it 'The Debbie-Eddie-Liz-Biz'. It became one of the most famous scandals in the annals of cinema.

The fan magazines called her "The New First Lady of Hollywood" and one of them stated that her salary had risen from $75,000 to the millions. "Maybe," ventured the same source, "the cloud of her break-up from Eddie Fisher had this silver-lining because it won her great public sympathy."

Debbie's brother Bill moved in with her and the children the week after Eddie left. She said of him at the time: "Bill's a real right arm and a left one, too. He's like my dad. They can both build or fix anything. You should see the work they do around here on a weekend when my mother and dad come over. In addition to being such a handy man, Bill loves kids and he rough-houses with my Todd and Carrie, which is just what they need."

A lively and playful comedienne, Debbie ventured into a number of romantic comedies which served to showcase her natural comedic skill. 1959 brought Say One for Me, with Debbie as Father Bing Crosby's most devoted parishioner and the good girl to Robert Wagner's sly wolf; It Started With a Kiss, with Glenn Ford, as a nightclub dancer who marries serviceman Ford right off the bat; and with Ford again in The Gazebo, a comedic spoof of Hitchcockian films. The day after she'd finished The Gazebo, she was off to Paramount starting work on the impressive film version of Garson Kanin's The Rat Race (1960). In this heavier dramatic role, she starred opposite Tony Curtis as a tough girl struggling to survive in the rat race that is life in New York City.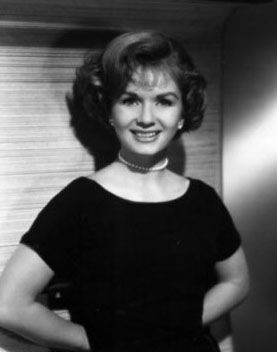 The Rat Race

Always a devoted mother, she didn't work at first after the births of her children, and she later lost a picture at Paramount because she refused to work Wednesday afternoons when Carrie's Girl Scout troop met. It was out of concern for the children that in 1960 she married Harry Karl, a multi-millionaire shoe-manufacturer and business mogul, within a year of her divorce from Fisher. "I wanted to have a father for my children. I was also looking for security. Harry was 18 years older than I, wealthy and not in show business - all good signs. I thought he would never leave me."

Married for 13 years, they were happy together for the first seven and Karl did indeed prove himself to be a good father. Though they both wanted children, Debbie had two heartbreaking miscarriages in the early years of their marriage, tragedies later discovered to be caused by an unusual vitamin deficiency.

Karl was a heavy gambler, and he overextended himself, borrowing millions of dollars. When his business failed and the bill collectors came knocking, Debbie found herself personally responsible for her husband's debts, owing to the notes she had signed and California's community property law. "We had a mansion in Beverly Hills, servants, Rolls-Royces, everything. I took it for granted. I thought it would always go on, which is the wrong attitude for anyone to take. You should always protect your money. You should know where it is and be smart enough so that when your husband hands you papers to sign, you know what they mean. I didn't." Her own considerable fortune - estimated at over $15 million - was also gone.

And Karl himself became of no help. "He just fell down at the end. He just left me there to fend for myself and the children. I resented it very much."

"I was 39 at the time, an age when you should be entering a more comfortable stage in your life. You have everything you've worked hard for, then suddenly you have nothing. You have $2 million in debts and children who are still living with you. The banks took everything - the house, the beach house, all my jewelry and art. I had to sell it all, and for very little money, because when people know you're broke and desperate, they drive a very hard bargain."

Home may have been devastating, but work was not. Debbie scored one of the triumphs of her career in 1964 as The Unsinkable Molly Brown, a frontierswoman who rises to wealth and power when her husband strikes it rich in Colorado and goes on to become a heroine when she survives the sinking of the Titanic.




The Unsinkable Molly Brown turned out to be a huge success for MGM, becoming the third highest-grossing film of 1964. The picture garnered six Oscar nominations, including Debbie's Best Actress nod (the only one she would get) and helped make her the #2 box office draw in the world.

Then she went on to play what she has described as one of her favorite parts, The Singing Nun (1966), the true story of Sister Ann, a Belgian nun who became a most unusual '60s pop-star with her chart-topping 1963 song - "Dominique".




Raising her children, as well as three of Karl's from a former marriage, kept Debbie busy and her on-screen work slowly began to decline during the mid-sixties. Her vehicles continued to be full of good-natured fun, buoyed by her sincere charm and energy; gradually, though, the new frankness in films began to date her image, and when she finally did try Doris Day-style sex farce in pictures like Divorce American Style (1967) and How Sweet It Is (1968), even that vogue was waning. She was still considered the girl-next-door. "Unfortunately, even though I'd matured and changed, I was still thought of in those terms," she says, explaining why the casting directors weren't calling. "The image of me was that strong." A few television spots and a first try at an NBC sitcom, "The Debbie Reynolds Show" did little to stem the tide.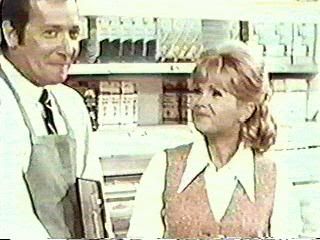 VEGAS

In 1962, with the help of a few creatively artistic friends, Debbie began putting together her first nightclub act, slated to open only weeks later in Las Vegas, where other Hollywood stars had gone before her and had met with wild popularity. Sammy Davis, Jr., Peter Lawford, Mitzi Gaynor and others had all enjoyed great success with their nightclub revues. In late December of 1962, Debbie bounced on the stage of the Riviera Hotel before a star-studded opening night audience. She was joined by talented partners Jerry Antes and Roy Fitzell, both of whom received high praise after the act's fabulous debut. The show began with a lively rendition of "I Want to Be Happy", finished with Debbie in full clown getup singing "Be a Clown", and for an encore, a sweetly-sentimental version of "Tammy". The act met with rave reviews wherever it went from then on; Houston, then back to Vegas, later on Miami.



Debbie with partners Jerry Antes and Roy Fitzell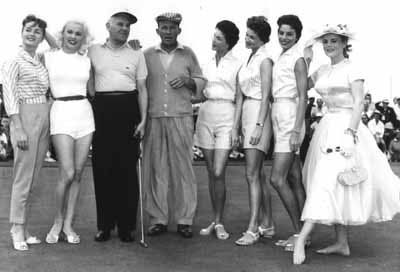 From left, Debbie Reynolds, Mamie Van Doren, Walter Winchell, Bing Crosby, Christine, Phyllis and Dorothy McGuire and Marie Wilson are just some of the stars who have visited the Desert Inn Golf Club.

When her film work had slowed down in the late '60s, Debbie was better able to concentrate on her stage performances. In 1967, she was back again at the Riviera, where she'd made several returns since her first opening there, and would continue to make many more. She appeared in the hotel's Versailles Room that year, as did notables such as Ann-Margret, Louis Armstrong, Allen & Rossi, Roy Fitzell (now going solo), Trini Lopez, Sheila MacRae, and Tony Martin with Dan Daley.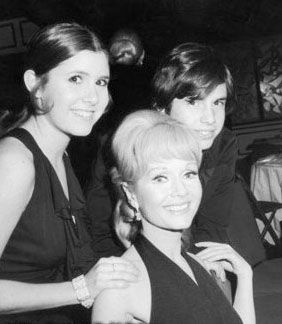 Debbie with Carrie and Todd 1973

Determined to pay back the extensive debts her second marriage had saddled her with but lacking any film offers, she took to the road and embarked on a new phase in her career. With a number of stage appearances already behind her, including what one Las Vegas columnist touted as being "one of the town's most lucrative contracts", she signed on to star on Broadway in the sensational revival of "Irene", ultimately winning the 1974 Tony Award. By this time she'd polished the nightclub talent she had first tested in the early '60s and having put together a rousing show, took a solo turn in Australia and made a stop at the London Palladium. In 1977 she teamed with Molly Brown co-star Harve Presnell in "Annie Get Your Gun", which played in San Francisco.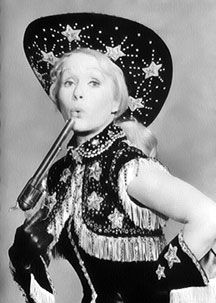 Having comfortably settled herself in a tiny cottage in North Hollywood with her Broadway earnings, Debbie bought a property in the same area, went to great pains to have it refurbished, and established the Debbie Reynolds Professional Rehearsal Studios, which has since become one of the entertainment industry's leading rehearsal, as well as professional, training studios. Some of Hollywood's brightest stars and a new generation of Hollywood hopefuls take lessons and rehearse for shows there.

Never having abandoned her wish to be a gym teacher, Debbie's always been in top physical form, and in 1983 she put together an extremely popular exercise program on video entitled "Do It Debbie's Way". She commented at the time of its release: "I've had a light workout that I've done forever. Women would ask me how I stay fit, and I'd say, 'Well, I don't like aerobics, I don't like working hard, I just like looking good.' This program will let you do it." Scores of women did it Debbie's way and benefited from the entertaining workout and still continue to do so.

Five years later, Debbie published her widely popular memoir entitled simply, "Debbie, My Life". In an interview on its publication she explained: ''I wanted to write a woman's story, I wanted to explain that you can suffer and be taken in by men and still survive.'' This magnificent autobiography serves to reassure readers that despite her travails, the sunny, upbeat Debbie on the big screen is not so far from the truth. In Turner Classic Movie's recent interview, she discussed the idea of updating the last quarter of the book and retitling it "Unsinkable Debbie".

In 1992 Debbie appeared briefly as herself in the Whitney Houston/Kevin Kostner hit The Bodyguard, and a small role in Oliver Stone's 1993 Vietnam tale Heaven and Earth marked her second tentative step towards returning to Hollywood on a regular basis. In a famous quote, she said of her absence from the screen: "I stopped making movies because I don't like taking my clothes off. Maybe it's realism, but in my opinion, it's utter filth."

A celluloid Reynolds Renaissance began when writer/director/actor Albert Brooks threw out his casting net in search of an older actress who hadn't been seen in movies in recent years for his hysterically funny script, Mother (1996). He had met with Nancy Reagan and Esther Williams (but offered neither the role), and had sought Doris Day, but discovered she was retired. In the course of checking out more than 300 actresses, Brooks called old friend Carrie Fisher one day and asked about casting her mother as the difficult title character Beatrice Henderson. "Carrie said, 'What is the part - a lovable monster?'" Brooks recalls. "I said yes. Carrie said she'd be perfect." Carrie then sent her mother the script, but Debbie, who'd been appearing nightly at her Las Vegas theatre, didn't read it for weeks.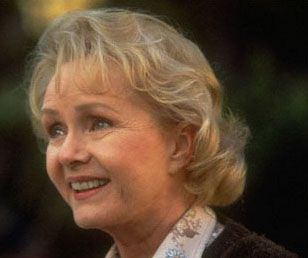 "I don't like picking up my mail," Debbie explains, "It's always so much. It's very heavy. And those big Federal Express packages require me finding a butcher knife, and I've never figured out how those arrows work. So I let them sit there."

Carrie pestered her until Debbie agreed to read the script. She loved it, but again Carrie had to badger her into flying to Los Angeles and auditioning for Brooks. "I had never auditioned in my life," she said. "I was under contract to MGM for 17 years and when you're under contract, they just put you in the picture."

Brooks was so impressed by her audition that he cast her after she read only two scenes.

Beatrice Henderson provided an ideal showcase for Debbie. At once sunny and edgy, matronly and a little sexy, Debbie's slyly understated performance scored her a Golden Globe as Best Actress in a Musical/Comedy and the widespread attention she received helped pave the way for her casting as Kevin Kline's mother in the highly acclaimed In and Out (1997).

But Debbie offers something for the kids, too. From the beloved story of Charlotte's Web (most people under 30 are invariably shocked to learn that Debbie Reynolds was the voice of Charlotte) to her recent work in The Rugrats in Paris as Lulu Pickles as well as the celebrated Halloweentown movies, she is continually a hit among children - an enduring inspiration for scores of young fans who appreciate her wise-cracking sense of humor and a seemingly never-ending supply of vim and vigor.

Now, Debbie is nearly as famous for being Carrie Fisher's (Princess Leia, Star Wars) mother as for being Debbie Reynolds. The two worked together in their much-anticipated television project, These Old Broads. Written by Carrie and Elaine Pope of Seinfeld fame, the movie features Debbie, Shirley MacLaine and Joan Collins as feuding actresses who are unhappily reunited and turned into cult icons when one of their old films is re-released. Even after all these years, their rivalries remain as fresh as their mouths - and their looks. "We all tried hard to look good in the movie," Debbie said. "We don't look like young girls, but we look like terrific broads, which is what we're playing." Elizabeth Taylor, in what amounted to a small role, plays the actresses' agent, who is as legendary as her clients. She lands them a lucrative new deal, but rehearsals quickly dredge up old rivalries that jeopardize their renewed fame. While it occasionally had its funny moments, These Old Broads ended up a disappointment, yet managed to top the competition, drawing 15.2 million viewers, becoming the fifth highest watched TV movie of the season.

Today Debbie is involved in a number of activities, entertaining and public speaking, aside from film and television work. But she focuses primarily on her nightclub act. She's performed in concert in every major American city, not to mention venues abroad, touring on the average of forty-two weeks a year in a variety show that blends laughter, song, and dance - including a screened review of her most famous films, Broadway show tunes, classic movie blooper reels, a tribute to Judy Garland, and top-notch impressions of stars such as Katharine Hepburn, Barbra Streisand, Zsa Zsa Gabor, Dolly Parton, Cher and an occasional Jimmy Stewart. Her splendid Bette Davis imitation is outstandingly funny. Accompanied only by piano, a canned orchestra and an ever-ready percussionist, Debbie continually reveals her notorious zest for fun, ad-libs like crazy, and has the audience at her feet, clamoring for more.

"I'm having fun, and I'm doing what I love to do," she says. "It's quite simple, really. A long time ago, when I was young, I realized that I loved to sing, dance, and make people laugh. The trick is finding something that you like and sticking with it," she muses. "You know, age is kind of a surprising experience to me. Just yesterday, it seems, I was 39. Then, 52. Now, all of a sudden, I'm 70. But I like that. It means that I'm doing the right things. I don't define my life and my happiness on a number."
Happiness abounds though - Debbie is embraced by a lively bunch - a tight-knit and loving family of which she is very proud. In 1992, Carrie made Debbie a grandmother, giving birth to a beautiful baby girl, Billie Catherine. Debbie says of Billie: "My granddaughter likes Tammy and the Bachelor. She calls me Aba Dabba instead of Grandma ... she already does dialects like me, and impressions, and she loves to sing."

A bundle of energy and charm and beauty, Debbie Reynolds remains a highly talented and versatile actress, a celebrated American fixture, a genuine personality, and one who stands today as a symbol of sweeter times, still enriching the lives of millions with her laughter.


Source: debbiereynoldsonline.com