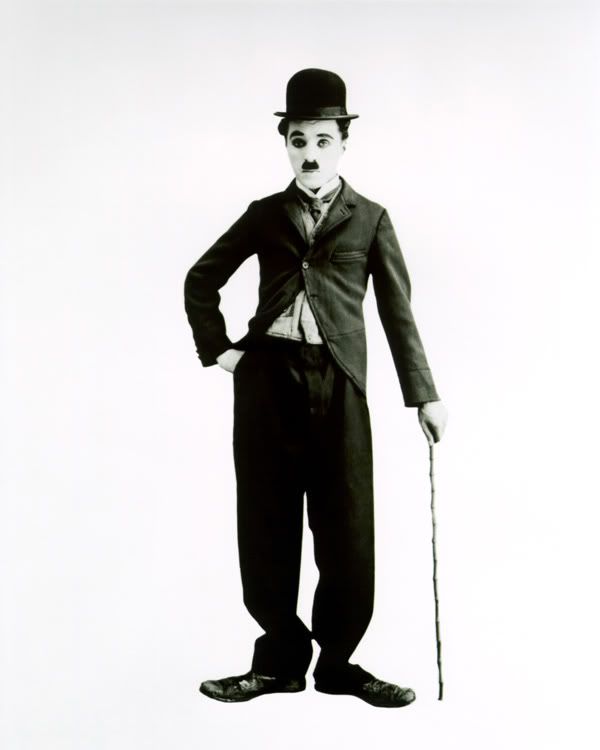 Charles Spencer Chaplin


1889-1977


Nationality: English
Source: Contemporary Authors Online, Gale, 2003.
Entry Updated : 02/19/2003

Few entertainers have received more recognition in their time than Chaplin. He was lovingly known the world over as "the tramp," an impoverished "never say die" hero of more than eighty films. For over thirty years he was a major force in comedy. He wrote, directed, and acted in the vast majority of his films, most of which are now considered classics. "His films, always modern, are eternal," said French comedian Jacques Tati, "and his contribution to the cinema and to his century irreplaceable." He was "the original great one in our business," noted Bob Hope. "We're fortunate to have been alive in his time."

Chaplin's early life was that of the struggling entertainer. He was placed in an orphanage in 1894 when his parents, both hard-luck vaudeville performers, became unable to support their family of five. When he left the orphanage, Chaplin earned money as an extra in small vaudeville shows.
(LIZ NOTE: The other version of the story from American Decades, Gale Research, 1998, is: His father, Charles Chaplin, Sr., was an alcoholic music-hall performer who soon abandoned his family; his mother, née Hannah Hill, was an unsuccessful music-hall performer who suffered from mental illness most of her adult life. As a result of the unstable family life, Charles, Jr., and his older brother Sydney spent much of their youth in charity institutions, though Hannah, whom Chaplin revered, did what she could for her sons. In fact, Chaplin remained devoted to his mother, one of the most influential people in his life, until her death in 1928.)
Soon he was playing major parts in touring productions, and in 1906 he joined Fred Karno's vaudeville troup. Chaplin rose to star billing within four years as a comedian in Karno's company and one night, during a performance of "A Night in an English Music Hall," his acting drew the attention of Hollywood film mogul Mack Sennett. Sennett was impressed with Chaplin's performance and offered him a weekly salary of $150 to appear in three shorts for Keystone Films. Chaplin replied by demanding $200 although Sennett's offer was twice what he was making with Karno. They eventually agreed on terms of $150 for three months and $175 for nine months thereafter.

When Chaplin arrived in Hollywood in 1914, he was given the star dressing room, the same one used previously by Roscoe "Fatty" Arbuckle and also by Sennett. But despite the star treatment, Chaplin worked only sporadically, often going an entire week with no assignments. Then one day Chaplin spied Sennett in conversation with a fellow actor. Impatient with inactivity, Chaplin persistently placed himself in Sennett's line of vision in order to gain the filmmaker's attention. Sennett eventually spotted Chaplin, though apparently unaware of the ploy, and told him to dress for a comedy sequence. As Chaplin recalled: "I had no idea what make-up to put on . . . . However, on the way to the wardrobe I thought I would dress in baggy pants, big shoes, a cane and a derby hat. I wanted everything a contradiction: the pants baggy, the coat tight, the hat small and the shoes large." After adding a small moustache to the disguise, he went to meet Sennett. "I had no idea of the character," Chaplin said. "But the moment I was dressed, the clothes and the make-up made me feel the person he was. I began to know him, and by the time I walked onto the stage he was fully born." The guise proved so successful that Chaplin was to adopt it as his exclusive on-camera garb for the next twenty years.

Chaplin soon found himself under the direction of Mabel Normand, a top comedy actress but a novice director. Chaplin immediately began plaguing her with countless suggestions on how to improve their film. Normand disagreed and the confrontation resulted in Chaplin's refusal to perform in a specific scene unless his ideas were implemented. Normand stalked off to Sennett for arbitration. His immediate reaction was to fire Chaplin. However, that very day he'd received a demand from New York distributors for more Chaplin films. Sennett conferred with Chaplin and asked for his cooperation. Chaplin replied that if Sennett were to let him direct, there would be no problem. After some consternation, Sennett agreed to let Chaplin direct a film provided he cover for any financial loss.

Buoyed by the prospect of directing his own films, Chaplin returned to the set where Normand and crew waited. He immediately noticed a new attitude on Normand's part and responded by turning in a string of admirable performances. Normand and Chaplin created several successful films together, including "Caught in a Cabaret," "Mabel's Busy Day," and "Mabel's Married Life." However, Chaplin felt himself better suited to working under his own direction. "Tillie's Punctured Romance," co-starring Normand and Chaplin and directed by Sennett in 1914, was his last film under another director. Sadly, Normand's career declined with the advent of sound.

Chaplin's contract with Keystone Films expired in 1915, whereupon he joined the Essanay Company. He made fifteen short films for Essanay before signing with Mutual Film Company in 1916. There he made twelve more two-reelers, including the popular "Easy Street" in which Chaplin, in his tramp guise, plays a policeman who overcomes his assailant by placing his head in a gas street lamp.

Upon expiration of his agreement with Mutual, Chaplin signed an eight-film pact with First National Exhibitors' Circuit which netted him more than one million dollars and made him one of the highest paid entertainers in the world. Some of Chaplin's most acclaimed films were made for First National. "A Dog's Life," "Shoulders Arms," and "The Idle Class" are all highly regarded films, as are "The Pilgrim" and "Pay Day." But Chaplin's biggest success up to that time came with his first full-length film, "The Kid." The story of a tramp's relationship with an abandoned child was much praised for its blend of humor and pathos. Looking back, one critic remarked that "The Kid" "would have owned many awards had they been as prevalent then as they are now." Chaplin himself was so inspired by the film's popularity that after completing his contractual obligations with First National, he never again made a film of less than feature length.

With completion of "The Kid," Chaplin felt drained. Chaplin's first divorce coincided with the film's release. His uncertainty of the film's potential, coupled with his disintegrating marriage, forced Chaplin into taking a much needed vacation. In 1921, he went to Europe. There he was greeted by enthusiastic crowds in Paris, Berlin, and London. The trip seemed to rejuvenate him. "I was reluctant to leave England," he remembered. "But celebrity could give me no more. I was returning with complete satisfaction--though somewhat sad, for I was leaving behind not alone the noise of acclaim or accolades of the rich and celebrated who had entertained me, but the sincere affection and enthusiasm of the English and the French crowds that had waited to welcome me . . . . I was also leaving behind my past. . . . " He felt that a visit to his old home "had completed something within me; I was satisfied to return to California and get back to work . . . . "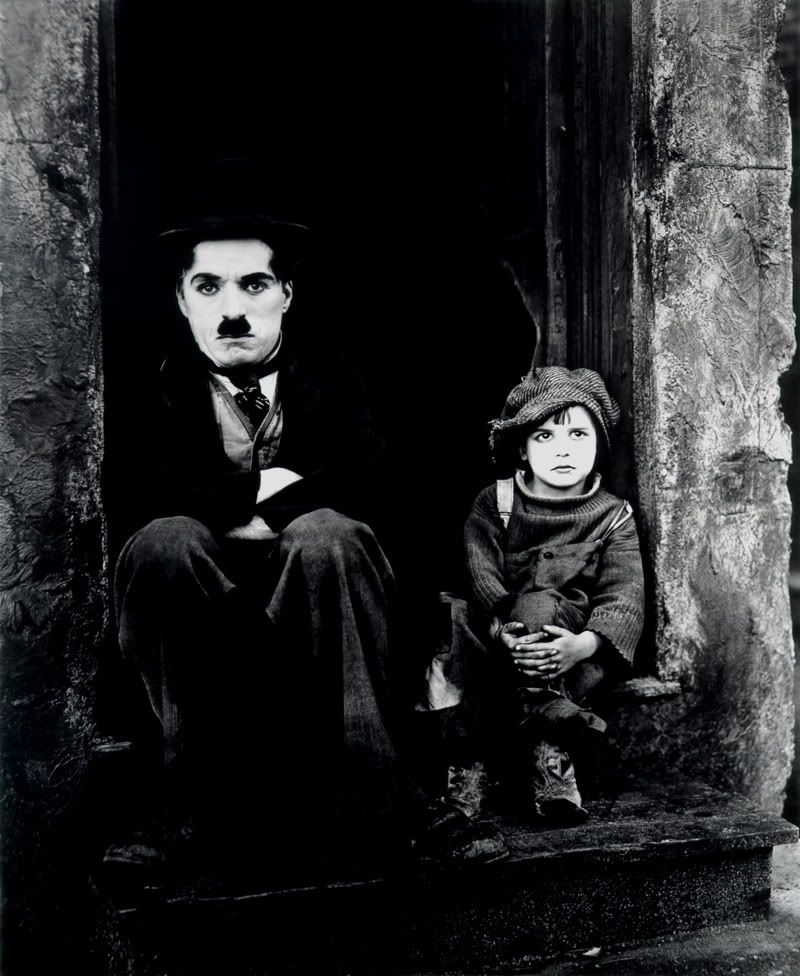 The Kid

Upon returning from Europe, Chaplin made three more shorts, thus ending his contract with First National. He then began working for United Artists, a releasing company he co-founded in 1919. Chaplin's first film for his own company was a marked departure from what the public had come to expect. The film was "A Woman of Paris." It was not a comedy but a serious study of upper-class life in Paris. It did not star Chaplin. He made the film as a vehicle for his long time co-star Edna Purviance with the hope that she could start her own career as a "serious" actress. Although it received critical praise, the film was met with ambivalence by Chaplin's followers and was rarely seen in the United States following its initial release. However, the film underwent a revival in 1977, in New York City, and was considered by many critics as one of the best films shown that year. "A Woman of Paris" is now a highly regarded film in its own right although it failed as a showcase for Purviance's talents. Later, Chaplin commissioned Joseph von Sternberg to direct Purviance in an adaptation of Chekhov's The Sea Gull. But despite claims by viewers that "The Sea Gull" contained an excellent performance by Purviance, Chaplin refused to release the film. She did remain under contract to Chaplin until her death in 1958, but aside from appearing as an extra in two later films, she made only "The Education of a Prince," a French film never released in the United States.
Chaplin followed "A Woman of Paris" with what is generally acknowledged as his finest comedy, "The Gold Rush." Released in 1925, the movie contains some of Chaplin's best known scenes: the tramp eating a boot and later using a dog leash to tie his pants up, a cabin that almost falls over a cliff, and a delirious fellow prospector imagining the tramp to be a chicken. Called "the outstanding gem of all Chaplin's pictures" by Mordaunt Hall, "The Gold Rush" was the one film Chaplin hoped to be remembered by. It was selected as the best motion picture comedy in a recent polling of national critics.

After "The Gold Rush," Chaplin made "The Circus," a film in many ways reminiscent of his early two-reelers. The film was another success and was nominated for several awards in the first year of the Academy of Motion Picture Arts and Sciences.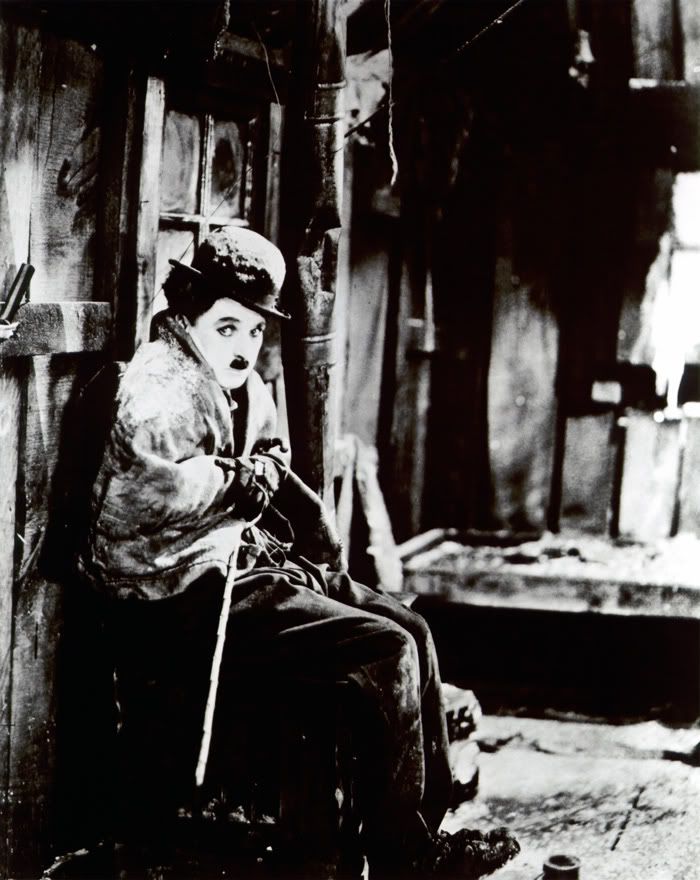 The Gold Rush

It took almost three years for Chaplin to make his next movie, "City Lights." Like "The Gold Rush," "City Lights" was warmly received by both critics and the public but, unlike the former, "City Lights" contained a serious and more sentimental theme; in its pathos, it is often compared to "The Kid." The movie is about the tramp's affections for a blind girl. He takes care of her and when he learns an operation can restore her sight, he obtains the money from a millionaire friend. Unfortunately, the police believe the tramp stole the money and he is put in prison. When he gets out, he meets the girl and she realizes who he is. One critic called the final scene "the most moving he [Chaplin] ever created."

Another critic, James Agee, said that "it is enough to shrivel the heart to see and it is the greatest piece of acting and the highest moment in movies." Though "The Gold Rush" is referred to as Chaplin's best comedy, "City Lights," with its pathos, is widely considered his greatest film.

Chaplin had taken a chance with "City Lights." By the time of its release in 1931, sound had been incorporated into the movies. He chose to make "City Lights" as a silent picture anyway and the film proved to be one of the top box-office winners that year. With the release of "Modern Times" in 1936, Chaplin again refused to use sound. However, the lack of sound did not keep "Modern Times" from being a resounding success. Chaplin called the film "a story of industry, of individual enterprise--of humanity crusading in pursuit of happiness." Like "The Gold Rush," "Modern Times" too contains some of Chaplin's most classic sequences. Most notable are the first scenes when the tramp, as an assembly line worker, goes crazy from the monotony of the job and dives into the mechanisms of the line. After being rescued, he attempts to tighten anything which will fit his wrenches, including the buttons on a woman's dress. Other famous gags include the tramp being mistaken as the leader of a demonstration when he retrieves a red flag, and a scene where cocaine is used by prison inmates. However, despite the popularity of "Modern Times," it was Chaplin's last film without spoken dialogue and, more importantly, it marked his last appearance as the tramp.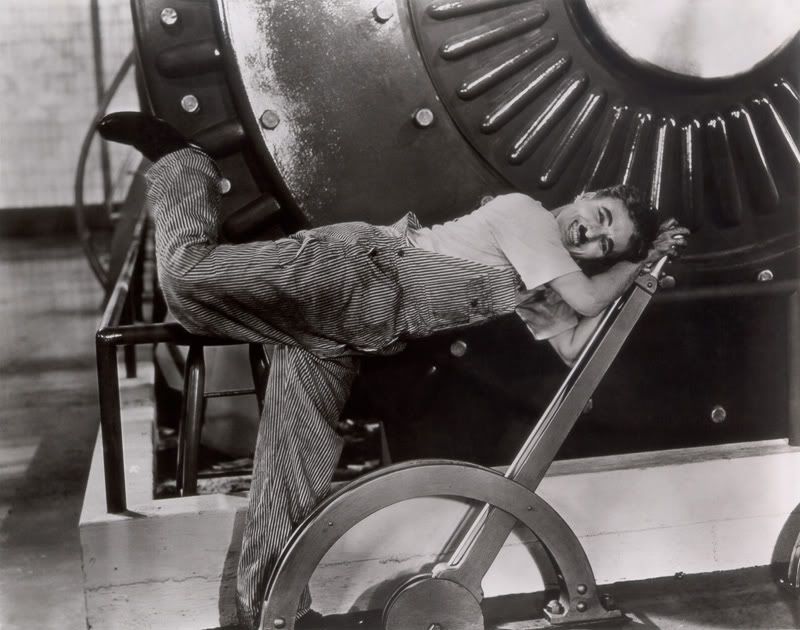 Modern Times

"The Great Dictator" was released in 1940 amid great controversy. Chaplin's first sound film was a parody of Adolf Hitler, whose tyranny Chaplin could not imagine when he began production in 1937. As one critic pointed out, "Chaplin did not know that Hitler's racist policies included the mass slaughter of Jews; if he had, `The Great Dictator' probably would never have been made as a comic satire."

Nonetheless, "The Great Dictator" was as popular with his followers as the previous films and it too contained many timeless moments: the dictator Adenoid Hynkel dancing with the globe and sliding up the curtain, the Jewish barber fighting off Hynkel's henchmen, and Hynkel's confrontations with fellow dictator Napaloni. Although Chaplin received some criticism for the excessive dialogue which ends the film, most critics applauded his decision to abandon the tramp character in favor of the demanding dual role. Bosley Crowther called the movie "a truly superb accomplishment by a truly great artist--and, from one point of view, perhaps the most significant film ever produced."

With "Monsieur Verdoux," Chaplin continued the bold approach to characterization he began in "The Great Dictator." The movie is a black comedy about a fashionable socialite who marries rich women and then murders them. Eventually, he is caught and put on trial. The end sequence is similar to the speech that closes "The Great Dictator" but without the grand gestures for freedom. In "Monsieur Verdoux," Chaplin justifies the murders by rationalizing that Verdoux is no less a killer than a ruler who plunges his country into war. Verdoux suggests that these rulers cause more deaths than he has. With such a radical theme, Chaplin began to lose his following. One critic noted that "Monsieur Verdoux' was made, perhaps, before audiences were ready to contemplate such a thesis." Another critic, Howard Barnes, called it "an affront to the intelligence." Kate Cameron was equally negative, saying that the joke was on Chaplin. But the film has grown in stature over the years. It is shown frequently at art houses and film festivals and many critics today rate "Monsieur Verdoux" as one of Chaplin's finest works.
"Limelight" proved to be an apt title for Chaplin's last film in the United States. The sentimental story of an aging music hall comedian whose greatest triumph is followed by his death typified Chaplin's own feelings on life. Bosley Crowther wrote: "Out of his knowledge of the theatre and his sense of the wistfulness of man in the ever-repeating cycle of youth taking over from age, Charlie Chaplin has drawn the inspiration and the poignantly sentimental theme." And critics were universal in their praise of the scene in which Chaplin and Buster Keaton perform at a benefit show.

Chaplin, however, had little opportunity to rejoice over the reviews of "Limelight.' In 1952, Chaplin vacationed in England. Owing to two scandalous marriages, a paternity suit, and various political stands, Chaplin was informed by the attorney general that he would have to prove his "moral worth" before he could be allowed back in the United States. Insulted, Chaplin went back to England and later settled in Switzerland.

Chaplin made two more films before he died. "A King in New York" was generally viewed as a swipe at McCarthyism without the subtle humor Chaplin was known for. Made in 1957, the film was not released in the United States for almost twenty years. In 1967, Chaplin directed his own screenplay, "A Countess From Hong Kong," but despite commendable performances by Sophia Loren and Marlon Brando, it too is regarded as an inferior film.

In 1972, Chaplin was allowed to return to the United States to accept a special Academy Award for his contributions to cinema. It was an emotional situation for Chaplin, who expressed himself by saying: "Words are so futile, so feeble. I can only say thank you for the honor of inviting me here. You're wonderful, sweet people. Thank you."
Recently published papers have revealed that Chaplin's knighthood was withheld for nearly twenty years before the Queen honored him in 1975. Scandals regarding Chaplin's personal life prevented him from receiving the honor in 1956, when it was first proposed.

PERSONAL INFORMATION

Family: Born April 16, 1889, in London, England; came to United States, 1914; died December 25, 1977, in Vevey, Switzerland; son of Charles Spencer (a singer) and Hannah (singer, pianist, and actress under stage name Lily Harley) Chaplin; married Mildred Harris, 1918 (divorced, 1920); married Lolita McMurray (an actress under stage name Lita Grey), 1924 (divorced, 1927); married Pauline Levy (an actress under stage name Paulette Godard), 1936 (divorced, 1942); married Oona O'Neill, 1943; children: Charles Spencer, Jr., Sydney Earl, Geraldine, Michael, Josephine, Victoria, Eugene O'Neill, Jane, Annette-Emilie, James.

AWARDS

Received special Academy Award, and nominations for Academy Awards for best actor and best comedy director, all from Academy of Motion Picture Arts and Science, all 1928, all for "The Circus"; nomination for Academy Award for best actor, best screenplay, and best film, all 1940, all for "The Great Dictator"; nomination for Academy Award for best screenplay, 1947, for "Monsieur Verdoux"; special Academy Award, 1972; knighted, 1975.

CAREER

Actor and vaudeville performer; screenwriter, producer, and director of motion pictures; author. Vaudeville performer with Fred Karno troupe, 1906-14; actor in motion pictures for Keystone Films, including "Making a Living," 1914, "Kid Auto Races at Vienna," 1914, "Mabel's Strange Predicament," 1914, "Between Showers," 1914, "A Film Johnnie," 1914, "Tango Tangles," 1914, "His Favorite Pastime," 1914, "Cruel, Cruel Love," 1914, "The Star Boarder," 1914, "Mabel at the Wheel," 1914, and "Twenty Minutes of Love," 1914. Co-founder of United Artists Releasing Corp., 1919.

WRITINGS BY THE AUTHOR:

• Charlie Chaplin's Own Story: Being the Faithful Recital of a Romantic Career, Beginning With Early Recollections of Boyhood in London and Closing With the Signing of His Latest Motion-Picture Contract, Bobbs-Merrill, 1916.
• My Trip Abroad, Harper, 1922.
• "The Great Dictator": Synopsis of the Film, Charles Chaplin Film Corp., 1941.
• Les Feux de la rampe (screenplay; title means "Limelight"), Gallimard, 1953.
• My Autobiography, Simon & Schuster, 1964.
• My Life in Pictures, Bodley Head, 1974.

Screenplay; all as director, unless otherwise noted; released by Keystone Films, 1914:

• (Co-director with Mabel Normand) "Caught in a Cabaret".
• "Caught in the Rain".
• "A Busy Day"; "Laughing Gas".
• "The Property Man".
• "Recreation".
• "The Masquerader".
• "His New Profession".
• "The Rounders".
• "The New Janitor".
• "Those Love Pangs".
• "Gentlemen of Nerve".
• "His Musical Career".
• "His Trysting Place".
• "Getting Acquainted".
• "His Prehistoric Past.".

Released by Essanay:

• "His New Job," 1915.
• "A Night Out," 1915.
• "The Champion," 1915.
• "In the Park,"1915.
• "A Jitney Elopement," 1915.
• "The Tramp," 1915.
• "By the Sea," 1915.
• "Work," 1915.
• "A Woman," 1915.
• "The Bank," 1915.
• "Shanghaied," 1915.
• "A Night in the Show," 1915.
• "Charlie Chaplin's Burlesque on Carmen," 1915, revised, 1916.
• "Police," 1916.
• (With Leo White) "Triple Trouble," 1916.
• "The Essanay-Chaplin Revue of 1916" (contains "The Tramp," "His New Job," and "A Night Out"), 1916.
Released by Mutual:
• "The Floorwalker," 1916.
• "The Fireman," 1916.
• "The Vagabond," 1916.
• "One A.M.," 1916.
• "The Count," 1916.
• "The Pawnshop," 1916.
• "Behind the Screen," 1916.
• "The Rink," 1916.
• "Easy Street," 1917.
• "The Cure," 1917.
• "The Immigrant," 1917.
• "The Adventure," 1917.

Released by First National:

• "A Dog's Life," 1918.
• "Shoulder's Arms," 1918.
• "Sunnyside," 1919.
• "A Day's Pleasure," 1919.
• "The Kid," 1921.
• "The Idle Class," 1921.
• "Pay Day," 1922.
• "The Pilgrim," 1923.

Released by United Artists:

• "A Woman of Paris," 1923.
• "The Gold Rush," 1925.
• "The Circus," 1928.
• "City Lights," 1931.
• "Modern Times," 1936.
• "The Great Dictator," 1940.
• "Monsieur Verdoux," 1947.
• "Limelight," 1952.

Other:

• "A King in New York," Archway, 1957.
• "A Countess From Hong Kong," Universal, 1967.