Since Roscoe spent some time in vaudeville performing this type of act, I thought a brief history of illustrated songs would be in order… the first music videos.





In the 1890's a man named George Thomas first put music together with projected photographic images to entertain an audience. Known as live model illustrated songs, these ancestors of MTV were a nationwide craze by 1900.

Here's how it all began. Thomas photographed people acting out a song called "The Little Lost Child." The photographic images were printed on glass slides, and painted in color by hand. In the theater, musicians played and sang the song while the slides were projected on a screen.

George Thomas's first illustrated song show was a disaster. He accidentally projected one of the images upside down. The audience went wild with laughter. But by the second performance, Thomas had his act together. And this time the audience went wild with delight.

Thanks to illustrated song performances, "The Little Lost Child" became a nationwide hit. A huge industry was born. At one time, as many as 10,000 small theaters across the country featured illustrated songs. And customers lined up to see the show. For music publishers, it was a gold mine.


Today, record companies use music videos to sell CDs. In 1900, CDs didn't exist. But many people played musical instruments for entertainment in their homes. Sheet music publishers used illustrated song performances to sell sheet music to these living-room musicians. The publishers rented or gave song slides to theater owners so they could put on illustrated song shows.

At the end of an illustrated song performance, the words to the song's chorus were projected on the screen. The singer encouraged everybody to sing along. Music publishers knew that people who left the theater singing a tune would probably buy the sheet music. And it worked. Songs like "The Little Lost Child" sold millions of copies of sheet music nationwide.


Millions of glass song slides were produced between 1890 and 1914. Large studios created many of them. Models earned about $3 per day to pose for photos. Artists colored the slides by hand. The results were often stunning. In fact, song slide makers created the first "special effects." They sandwiched two or more slides together to create dazzling shots, such as a couple floating on a cloud, or a person "blooming" from the middle of a flower.


llustrated songs first became popular in vaudeville theaters. In vaudeville, live performers put on brief acts such as juggling, singing, or playing musical instruments. Groups of vaudeville performers toured the country, putting on shows. And illustrated songs went along for the ride.

As movies became popular, song slides showed up in movie theaters. Many early movies were very short. So theater owners used illustrated songs to help fill out the night's entertainment. Also, most early movies were shown in black and white. The beautifully colored song slides made for a spectacular show.



Movies helped make illustrated songs popular. But movies and other forms of entertainment helped put an end to the illustrated song. Theater-goers found movies much more exciting than song slides. And many music lovers bought phonographs. With phonographs, people could listen to hit songs whenever they wanted. By about 1914, the live model illustrated song was dead. Theater owners dumped out millions of the slides.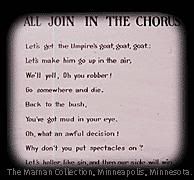 Fortunately, thousands of song slides were saved by collectors. And thanks to modern technology, you can view an authentic song slide performance. Just click on the buttons below to look and listen to the music video, turn-of-the-century style.


http://pbskids.org/wayback/tech1900/music/lobby.html


Source: http://pbskids.org/wayback/tech1900/music/music3.html