http://www.eians.com/stories/2005/07/27/27film.shtml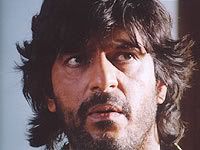 Chunkey Pandey's Hollywood debut

Bollywood has-been Chunkey Pandey, who is tasting success after a long time with the Hindi gangster film "D", is excited about his impending Hollywood debut in "Shantaram" based on the eponymous book.

The film happened to him quite unexpectedly when he recently bumped into the author of the book, who was once a junior artist on his sets.

It later came to light that almost four pages of the book had been dedicated to the author's experiences with Chunkey.

The rights of the book were subsequently sold to Johnny Depp and Warner Brothers and a film is on the cards. From what he has heard so far, Chunkey is likely to play an important role in the film, reports Bollywood Trade.

"I am told that the film will have the mafia and Bollywood angle, with a riveting story line based on the book," Chunkey reveals. "

Shooting will begin in February next year and the film will be shot in Mumbai, Afghanistan and Australia.

Before that I will be given a detailed narration of my role."

Chunkey admits his career is on a roll after 'D'. The offers are pouring in from Priyardarshan and Raj Kanwar among others.

He also starts shooting for Ram Gopal Varma's next film, which tells the story of how everything goes topsy-turvy for four characters in a period of 48 hours. "I am playing one of the four characters in the film," Chunkey says happily.