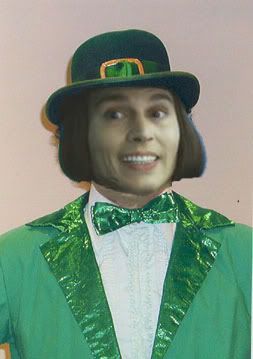 Today we wrap up our discussion of Charlie and the Chocolate Factory. But I can't let it go without bringing up one more bit of controversy. The following is an article I found on GrumbleMagazine.com:

http://www.grumblemagazine.com/articles/martini/willy.html

After you've read the article feel free to comment.

Also, here is your chance to bring up anything about CATCF that you wanted to discuss that we may not have covered. Thank you all for participating, and we hope to see you here for the discussion of Shantaram in May. So without further adieu may I present
Deconstructing Willy



-by Martini

First of all, stop sniggering. It's not that kind of article.

Or that kind, either.

And it's definitely not a riposte to Crack's piece about the habit men have of attaching pet names to their... erm, equipage. Lord knows we don't need to go there again.

No, this was going to be a piece on the rather noisome crop of offerings recently on TV. Usually a writer in my position (i.e., one continually dodging the eternal cry of the editor, "Where's the $@%*#ing article?!") can count on Sweeps Week to provide enough grist for my column's mill. February TV looked like a veritable El Dorado, too -- the FOX special Who Wants to Marry a Multimillionaire?, which took the phrase "Of course I did it for the money" to heretofore unplumbed depths, seemed tailor-made for all manner of abuse, invective, and flip commentary. And having already leapt cannonball-style into the worlds of both beauty pageants and game shows, this seemed a natural progression for my punditry. The apotheosis of both trends, as it were.

Well, it didn't happen. I got scooped. And quite admirably, more's the pity, in a joint savaging co-written by Fajitas and Our Fearless Leader, Fish. (Apparently Our Fearless Leader couldn't schedule a colonoscopy soon enough to make deadline, or you'd be reading about that, too.)
Still trolling for a story, I thought I'd take a peek at the marathon playing over on Inside Edition, which featured Deborah Norville going to jail for a week in a correctional facility for young mothers (I think it was called "When Mommy's Up the River" or somesuch) to see how these women's extraordinary pluck and uncommon ability to Keep Hope Alive gets them through their hardships and blah-de-blah-de-blah. That idea fell through, however, when I realized that I'd actually have to sit through an entire week of this wadded offal and still not get to see the selfsame Ms. Norville get shivved in the gut during exercise hour for half a pack of cigarettes.

Basically, I was getting that sinking feeling most columnists get when they realize that their subject matter isn't as fertile as they previously thought and the article they promised the editor two weeks ago isn't going to spontaneously generate itself and they've got to, against all their better judgment and normal work habits, write something, when lo and behold, I found something else to complain about. (Aren't you lucky.)

And I didn't even have to turn the TV on to find it. That's probably for the best, because Sweeps Week had renewed the feeling in the more conservative parts of my brain that maybe we'd all be better off putting the remote down and picking up a book.

How wrong I was.

This semester, I am reading (I say "I am" instead of "My students are" because I don't like to make dangerously flawed generalizations if I can avoid it) a textbook called Millennium: A History of the Last Thousand Years, by some Oxford professor whom you've never heard of. You may well have seen this book in the History section of Borders, or more likely, you may have seen the companion miniseries (and home video set) on CNN -- and the fact that any book from which I am trying to impart some amount of historical knowledge to these students has its own CNN tie-in video box set should demonstrate the level of disesteem in which I hold this particular tome. (I've seen the videos, too, and speaking frankly, for the amount of disposable cash that Ted Turner has lying around the house, the production values are little better than your average porno film. Shame, shame, Theodore.)
Moreover, I appear to be the only one around the office who holds this opinion. No less an influential voice than the New York Times Book Review says that "[the author] has accomplished a Herculean task... [it is] a pleasure to hold and read."

Couldn't prove it by me. Counting index, table of contents, and footnotes, Millennium clocks in at no less than 816 single-spaced pages of unmistakably Oxonian prose. It's about as thick as a Nebraska linebacker and as pleasurable to hold as an engine block. Just getting through the damned thing is a Herculean task in itself: an Augean-stable-cleaning, Great-Zeus-what-is-that-STENCH? kind of task.

But assuming you're the sort of intrepid soul who considers a book like this a challenge (as opposed to what my students consider it, namely a waste of $18.95 plus shipping, handling, and collegiate bookstore mark-up), there will come a point where Millennium stops you dead in your tracks. Right on page 377, to be exact.

Some background is probably in order. Page 377 sits somewhere in the middle of the section on imperialism. It features a drawing from the children's story Charlie and the Great Glass Elevator. (Those of you who have read this book and its predecessor Charlie and the Chocolate Factory, and/or have seen the Gene Wilder movie Willy Wonka and the Chocolate Factory, will no doubt remember Roald Dahl's work fondly.) Anyway, the drawing is an illustration of the unflappable Mr. Wonka himself alighting from his great glass elevator onto the shores of the land of the oompa-loompas, those unforgettable factory workers of his.

At this point, you're probably wondering, What is Willy Wonka doing in a history textbook, apart from breaking up the monotony of a chapter on early industrial trade patterns?

Better brace yourself. The caption to this idyllic little tableau reads thus:
"Roald Dahl's hero Willie Wonka steps onto the banks of the chocolate river 'where everything was eatable' to recruit 'hundreds and hundreds of tiny oompa-loompas' for his chocolate factory. The oompa-loompas are a rather equivocal image of the effects of the exploitation of colonial environments for consumer products: in Mr. Wonka's chocolate factory they are effectively imprisoned and enslaved, yet they effuse happiness and loyalty."

...I'll give you a minute to read that again. Pay attention to the emphasized passages:

"Roald Dahl's hero Willie Wonka steps onto the banks of the chocolate river 'where everything was eatable' to recruit 'hundreds and hundreds of tiny oompa-loompas' for his chocolate factory.
The oompa-loompas are a rather equivocal image of the effects of the exploitation of colonial environments for consumer products: in Mr. Wonka's chocolate factory they are effectively imprisoned and enslaved, yet they effuse happiness and loyalty."
You're not hallucinating. It's right there, on page 377, in black and white, sucking all the fun out of my childhood and yours. I couldn't believe what I was reading. It made as much sense as some of the things my students write in essay exams, which is to say none at all. And this from someone who apparently teaches at Oxford Frigging University. With tenure, apparently. After reading that little passage, I almost felt guilty for writing that article about the stupid things my students say on tests.1

Apparently we who have grown up respecting and idolizing Willy Wonka have been fed a diet of empty colonialist lies. It's high time that we face facts, folks. I know it's hard, but it's best for ourselves and future generations if we all confront the ugly truth. And now, without further ado:

THE CHOCOLATE MANIFESTO
(in convenient FAQ form)

Q. Go over this again; I didn't get it the first two times.

A. (laborious sigh) All right, pay attention.
Willy Wonka, the heartless capitalist exploiter that he is, keeps his factory running by "recruiting" hundreds of foreign workers to man the confectionery machines in his factory.

These workers, ripped from their homeland and deposited in an alien culture, with no allies among the general populace -- in fact, since the Wonka factory closed its gates to the world in fear of being destroyed by competition (remember, the whole golden-ticket lottery was held for the chance to see inside the Wonka Chocolate Company's factory for the first time in a long while), they remain imprisoned inside Wonka's workhouse, the value of their work2 being exploited by WonkaCorp to turn out more and more delicious chocolates for the global consumer marketplace.

Q. You gotta be kidding me, right?

A. I wish I was. Building off Marx's discussions of working-class alienation3, the Oompa-loompanproletariat doesn't even get to see the fruits of its labor. As the global confectionery market becomes more and more cutthroat, ConglomoWonka must take whatever steps it can to maximize profits and increase efficiency. And if that means some German kid on a company tour falls into the river of chocolate and gets shot through the pipes into the fudge room... well, sorry, that's international trade for you.

Q. Wait a second. I thought Willy Wonka saved the oompa-loompas. He said that they were in danger of being eaten by all those other bigger, nastier, predatory species. He said that he offered them all jobs in his factory, where they'd never be harmed again.

A. Man, where've you been? Cartelization of the candymaking industry and advancing industrial technology forced all countries to modernize in order to keep pace with market saturation. The land of the oompa-loompas had to switch from a pre-industrial economy to a modern factory system in order to remain viable in today's marketplace. Such restructuring led to the wholesale seizure of inefficiently-used land, which forced all of the "predatory species" that you so naively whine about into the oompa-loompas' homeland, thus making them prime fodder for extinction. Wonka's offer of salvation was simply substituting one kind of death for another.

Q. But I saw the movie. They're happy. They're singing all the time.

A. So they're singing. Big fat hairy deal. Singing is nothing more than a manifestation of the working classes' feeble attempt to maintain some individual dignity in the face of the overwhelming industrial complex. The oompa-loompa song is the equivalent of "Let My People Go." The line "I've got another puzzle for you" is the oompa-loompas' subtle attack on their capitalist exploiter and his cronies (in other words, everyone who tours the factory, Charlie included). By presenting them with a puzzle, the intelligence, and thus the authority, of Wonka and the other members of the bourgeois management is called into question, which gives the oompa-loompas a feeling, however momentary, of superiority to their capitalist exploiters.

Q. But there's a river of chocolate. It's just like home to them.

A. And what happens to that river of chocolate? It's used by GlobalWonkaInc. to extract the raw materials for chocolate making. Moreover, by making the oompa-loompas do the actual extracting and filtering, the capitalist Wonka is involving the oompa-loompas themselves in the metaphorical spoliation of their homeland, thus making them complicit in the entire process.

As if that wasn't enough, the final insult comes when August Gloop (fat little German kid = representation of decadent and overindulgent plutocracy) falls into the river of chocolate during the tour, thereby irreversibly contaminating the symbol of the oompa-loompas' homeland.

I mean, what are you, dim?

Q. But Charlie gets the factory at the end. He was the only one who wasn't mean or selfish. Even if all you say is true, Charlie will be good to the oompa-loompas, right?

A. Have you been listening to anything I've said? No, Charlie won't be good to the oompa-loompas, because the capitalist bureaucracy already in place now runs of its own accord. The problem, you see, is systemic. Regardless of who's in charge or how benevolent they might be, the harsh reality is that the global marketplace requires more exacting efficiency and product saturation than ever before. Hell, by now Charlie's probably got a website up and running for the company and has downsized half the labor force. Now more and more oompa-loompas will join the Surplus Army of the Unemployed unless they can find jobs in another line of work -- like dwarf-tossing, or something.4
And is that the fate you wish to consign them to? Dwarf tossing?

Q. Man, this sucks.

It often does. Truth be told, I had no idea what a complete and utter bastard Willy Wonka really was. Maybe the oompa-loompas' song was too hypnotic for me to see beneath the surface. Maybe I was too preoccupied wondering when Veruca Salt was going to SHUT THE LIVING BEJEEZUS UP to contemplate the human -- or in this case, the oompa-loompan cost involved. But now I know. And now I can tell the truth to my students.

And you, too, can tell the truth to anyone you meet, now that I've re-educated you. Of course, you can try to disbelieve what I've said. But whenever you have another piece of candy, I guarantee you'll not soon forget this little session in enlightenment.

So go ahead. Take another bite of that chocolate bar.

You fascist pig.
________________________________________

1 Almost.
2 Marx's Labor Theory of Value states that the value of a product is determined by the amount of labor required for its production. That's why, according to the theory, a Wonka chocolate bar would have to be sold for about the price of a beachfront condo for the oompa-loompas to get fair and equitable compensation.
The punch line is, I'm not kidding. People -- mostly the Soviets -- built entire economies around this theory. Not ones that worked, granted, but they still built 'em.
3 None of which I will bother reiterating here, mind you.
4 Another one of Marx's brilliant observations that it's better you not think too hard about. (The Surplus Army of the Unemployed, that is. Not dwarf-tossing.)